TUF Gaming F15 FX507ZC4-HN002W
2.3 GHz (24M Cache, up to 4.7 GHz, 14 cores: 6 P-cores and 8 E-cores)
Nvidia GeForce RTX 3050 4GB
512GB PCIe® NVMe™ M.2 SSD
15.6-inch, FHD 16:9, Value IPS-level, Anti-glare display Refresh Rate:144Hz, Adaptive-Sync, MUX Switch + Optimus
Backlit Chiclet Keyboard 1-Zone RGB
56WHrs, 4S1P, 4-cell Li-ion
1x 3.5mm Combo Audio Jack 1x HDMI 2.0b 2x USB 3.2 Gen 1 Type-A 1x USB 3.2 Gen 2 Type-C support DisplayPort™ / G-SYNC 1x RJ45 LAN port 1x Thunderbolt™ 4 support DisplayPort™
354 x 251 x 22.4 ~ 24.9 mm
Asus TUF Gaming F15 FX507ZC4-HN002W
Intel Core I7-12700H 512GB SSD 16GB Ram Nvidia GeForce RTX 3050 4GB 15.6'' Inch FHD Win.11
BRAND NEW DESIGN:
The ASUS TUF Gaming case has undergone a redesign for the 2022 release, boasting a 4.5% reduction in size compared to the previous year's models. Alongside this, the TUF logo has received a fresh interpretation, featuring both embossed and laser-sculpted variations. Notwithstanding this reduction in dimensions, the all-new 2022 TUF Gaming F15 laptop maintains a spacious touchpad adorned with anime-inspired details and four-way indicators.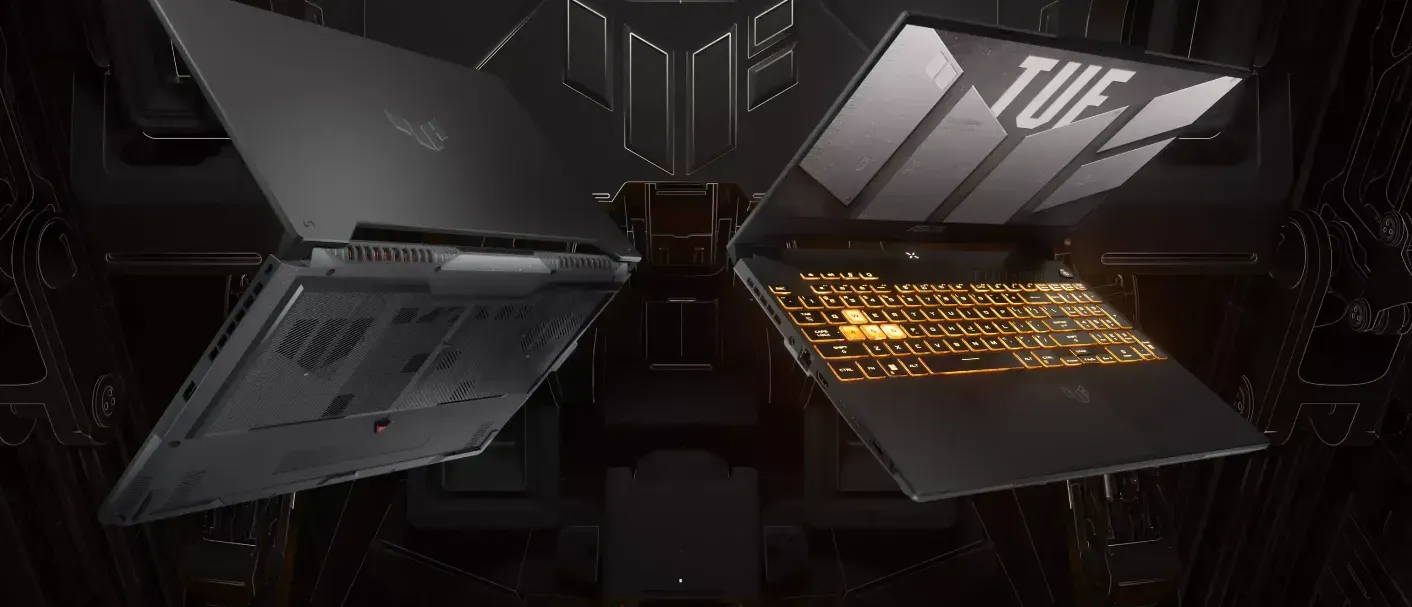 READY FOR ANYTHING:
The TUF gaming laptop F15 allows you to dive straight into your favorite games with ease. Thanks to an Intel® Core™ i7-12700H and up to 16GB of incredibly fast 4800MHz DDR5 RAM, you can stream and multitask seamlessly on Windows 11. With a dedicated MUX Switch, you can fully utilize the gaming performance of the GeForce RTX™ 3050 gaming GPU. When you run out of storage space for your game library, upgrading capacity is simple with an empty M.2 NVMe PCIe Gen 4x4 SSD slot.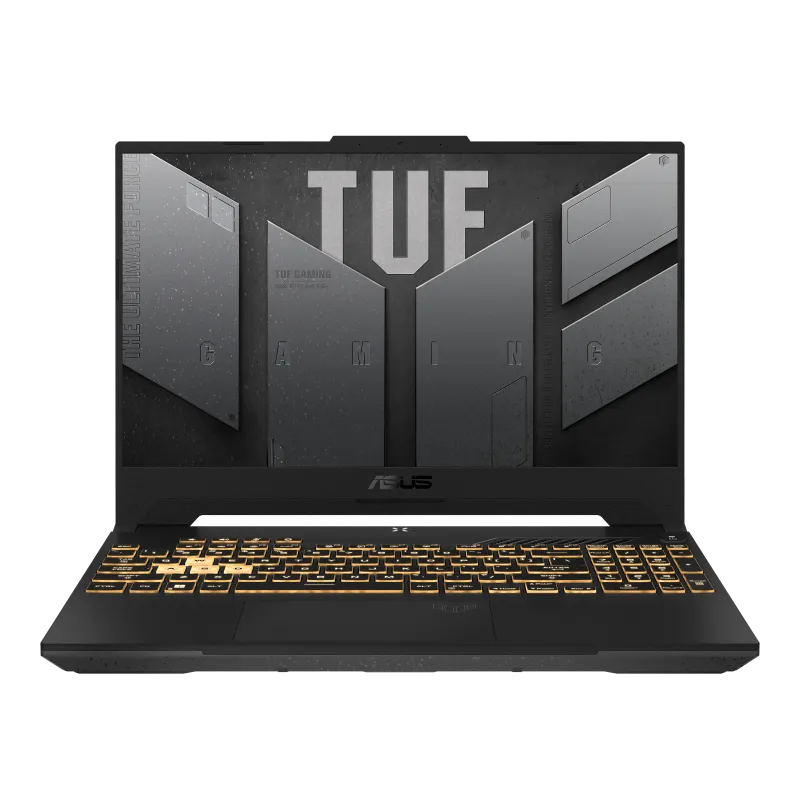 RIVETING GRAPHICS:
The advanced GeForce RTX™ 3050 gaming laptop GPU ensures that gameplay graphics are exceptionally smooth, providing high frame rates for many modern games at 1440p resolution. Furthermore, AI-powered technology such as DLSS allows supported games to run at even higher FPS for an ultra-fluid and seamless motion experience.

GET MORE WITH MUX:
Most modern gaming laptops use dedicated graphics chips for optimal performance, but often send frames through the integrated graphics of the CPU before displaying them on screen to preserve battery life. However, this can limit the full potential of the GPU's gaming laptop performance. To address this, all 2022 TUF laptops are equipped with a MUX switch. This switch allows you to switch to a direct GPU mode for competitive games, which reduces latency and improves performance by an average of 5-10%.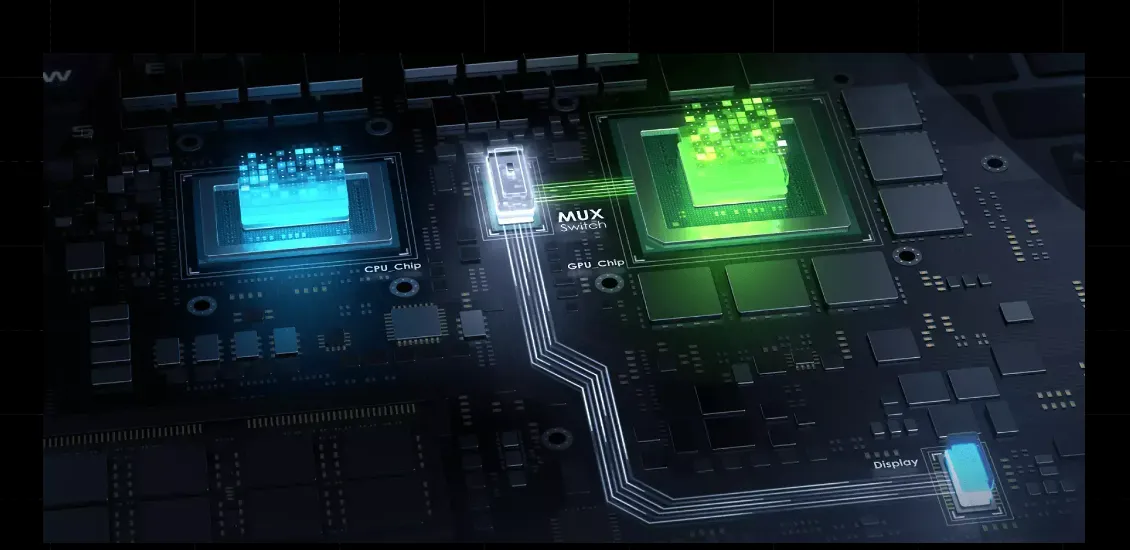 BLOW AWAY THE COMPETITION:
High core count CPUs generate a significant amount of heat when operating at full capacity. To effectively manage this heat, the ASUS TUF gaming laptop F15 is equipped with a pair of 84-blade Arc Flow Fans™. The fans of Asus TUF Gaming F15 feature a new variable thickness design that enhances cooling performance without creating additional noise by increasing pressure and reducing turbulence. Additionally, the 2022 TUF gaming laptop F15 incorporates up to four exhaust vents and five dedicated heatpipes to ensure optimal cooling even during the most demanding gaming sessions.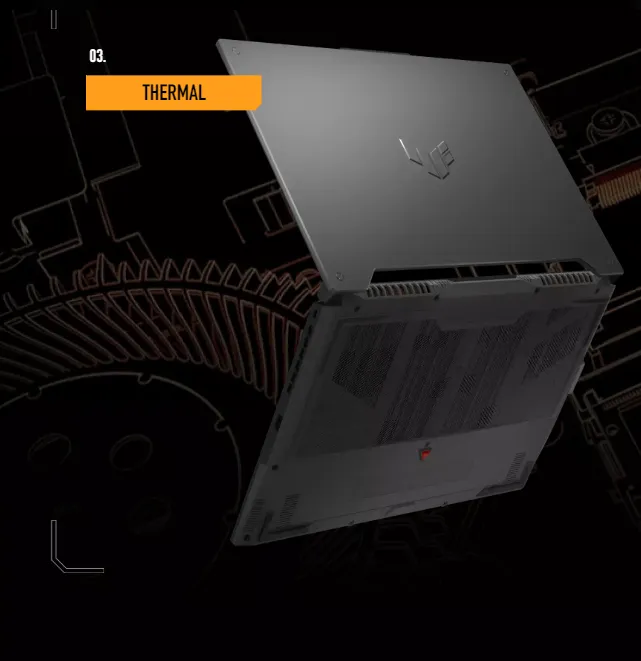 ARC FLOW FANS:
Given the constrained space within the slender chassis, we dedicated our efforts to refining every aspect of the Arc Flow fans™ in the 2022 version. Each fan incorporates 84 blades with a progressive thickness from their base to tip, strategically designed to optimize the circulation of air. Additionally, these blades are crowned with a unique aerodynamic wave pattern, intentionally crafted to minimize both turbulence and noise. This meticulous engineering results in a consistent and evenly controlled airflow, contributing to heightened long-term dependability.
Crafted from a specialized liquid-crystal polymer, the fans possess remarkable durability, allowing them to spin at high revolutions per minute (RPM) even within the confines of an ultra-thin structure. This breakthrough in material strength facilitates our greatest blade density achievement to date, ultimately enhancing airflow by an impressive margin of up to 13%.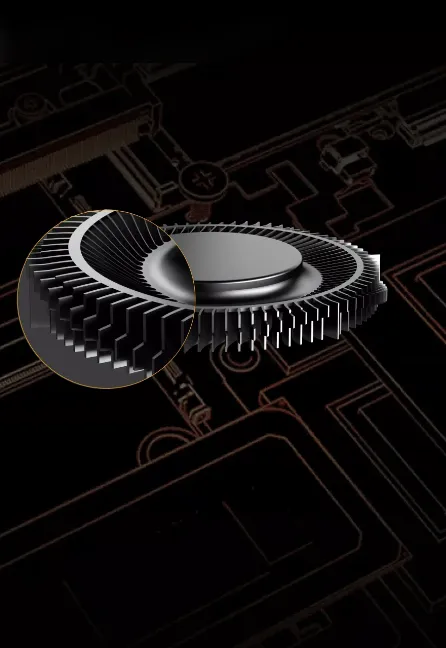 NEVER MISS A MOMENT:
The TUF gaming laptop F15 offers two display options to suit your gaming needs. You can choose between a QHD 165Hz or FHD 300Hz panel, both of which incorporate Adaptive-Sync technology. This technology synchronizes the refresh rate of the display with the output of the GPU to minimize lag, stuttering, and visual tearing for a lifelike and ultra-smooth gameplay experience. The QHD panel covers 100% of the DCI-P3 color space, while the FHD display reproduces colors accurately within 100% of sRGB. Both displays of gaming laptop are encased within an impressive 80% screen-to-body frame, providing an immersive viewing experience without compromising on portability.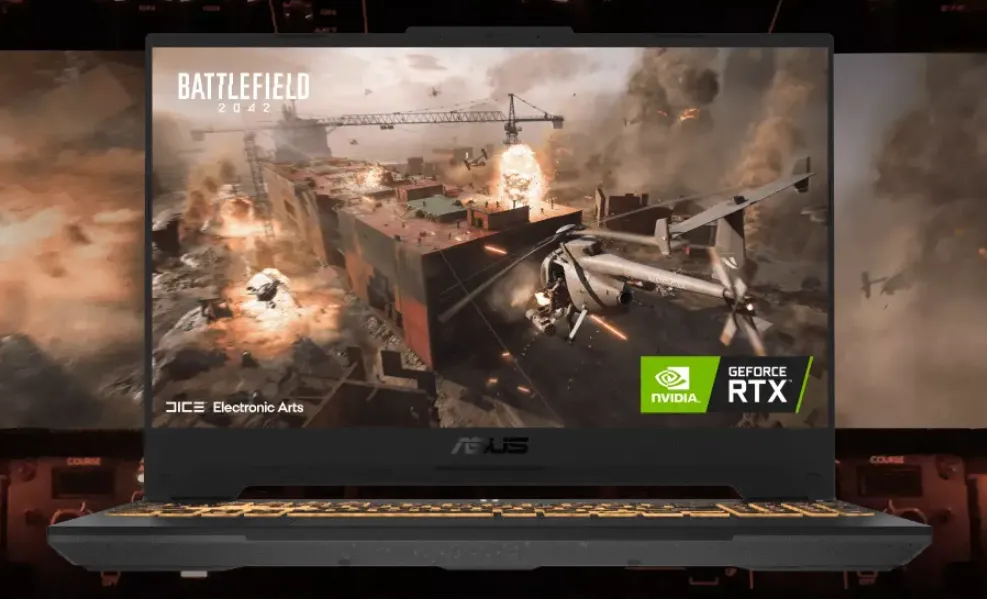 MILITARY GRADE TOUGHNESS:
To bear the TUF Gaming name, our gaming laptop undergoes a series of strenuous MIL-STD-810H tests. During these tests, the devices are subjected to drops, vibration, humidity, and extreme temperatures to ensure their reliability. As a result, the F15 is designed to withstand accidental bumps and knocks that occur during everyday use. Rest assured that this gaming laptop will remain dependable even in harsh conditions.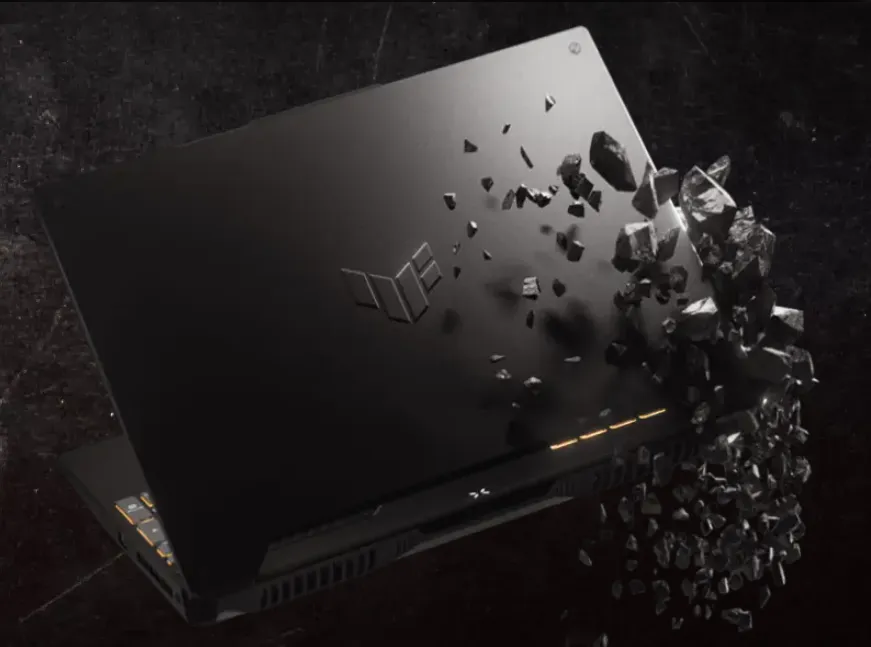 You have access to everything you need right at your fingertips:
The ASUS TUF gaming laptop F15 features a gaming-optimized desktop-style keyboard designed to provide you with an immersive gaming experience. The keyboard has uniform RGB backlighting that allows you to customize the lighting to your personal preference. Additionally, the WASD keys are highlighted to provide a visual shortcut to key movement commands. The keyboard of this gaming laptop is equipped with overstroke technology, which triggers higher in each keystroke to improve responsiveness and control. Furthermore, each key is engineered to withstand over 20 million presses, ensuring long-term reliability and precision. Lastly, the touchpad is 26% larger, providing ample space for easy control.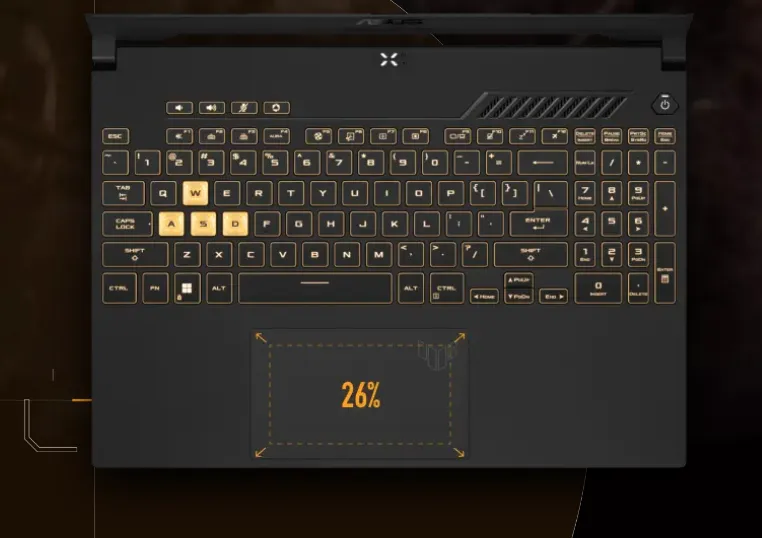 TAKE CHARGE:
The TUF gaming laptop F15 is equipped with a 90Wh battery and an energy-efficient Intel® Core™ i7-12700H processor, providing you with extended battery life for browsing the web and watching videos. With fast charging technology, you can recharge up to 50% of the battery in just 30 minutes.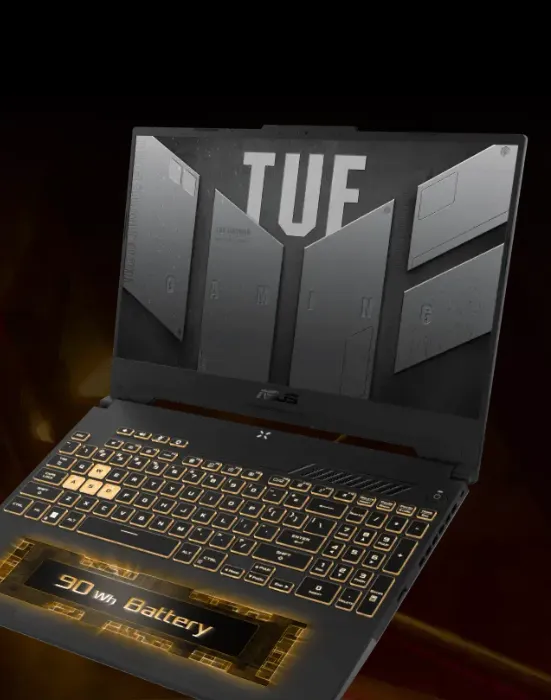 HEAR IT ALL:
The TUF gaming laptop F15 is equipped with two speakers that are powered by Dolby Atmos, providing a high-quality soundstage for your games and media. Hi-Res Audio technology ensures that you can enjoy your music with the same level of detail and clarity as the artist intended, especially when using headphones. Additionally, the gaming laptop F15 features two-way AI Noise Cancelation technology that eliminates background noise during communication, allowing you to stay focused on the task at hand.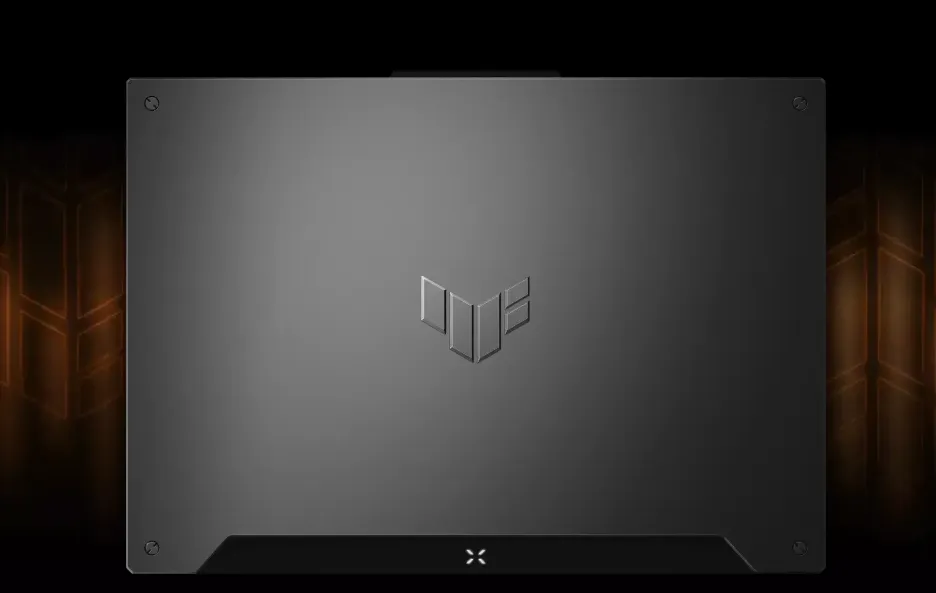 The most comprehensive control center:
Armoury Crate is an intuitive and comprehensive software that enables you to manage your system and lighting controls with ease. The software of this gaming laptop offers extensive customization options that allow you to personalize your aesthetic preferences, adjust audio settings, and fine-tune game profiles. The Scenario Profiles feature allows you to define and customize preferences that automatically optimize performance and other settings when launching your preferred apps and games. Armoury Crate provides you with complete control over your experience.