TP-Link TL-SL1218MP
TP-Link TL-SL1218MP 16-Port 10/100 Mbps 2-Port Gigabit Rackmount Switch 16-Port PoE+
16 Po + 10 / 100Mbps RJ45 ports, 2 Gigabit RJ45 ports, 2 Gigabit SFP combined ports.
smart switch Po High Power Budget up to 30W at PoE port and 250W at PoE port.
Up to 250 meters data transmission and power with advanced mode specially designed for monitoring system.
Prioritize ports 1-8 to ensure the quality of confidential applications such as video display.
Isolation mode allows you to identify customer traffic with one click for maximum security and performance.
Easy to use, no configuration or installation required.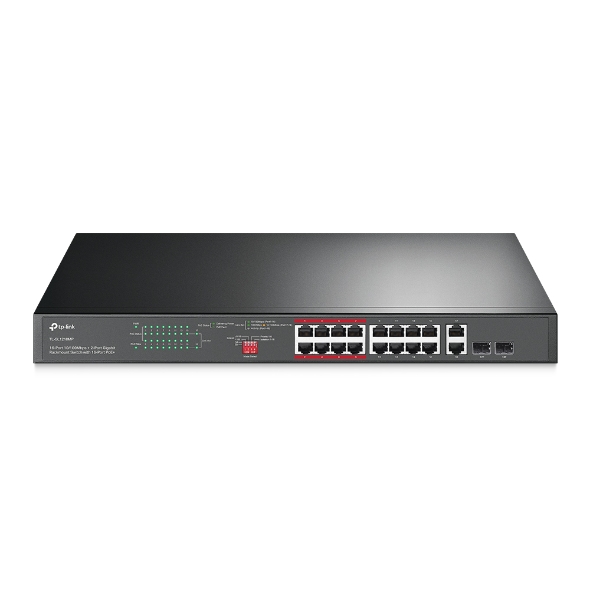 Dedicated 16-Port PoE+ Switch (250 W Budget) for Numerous Applications:
802.3af / in PoE + Compatible supports up to 30W per PoE port. The total PoE * power budget 250W * makes it ideal for 16 PoE + ports for many applications such as monitoring, offices, dormitories and small businesses. It is fully compatible with IP cameras, access points, IP phones, computers, printers, etc.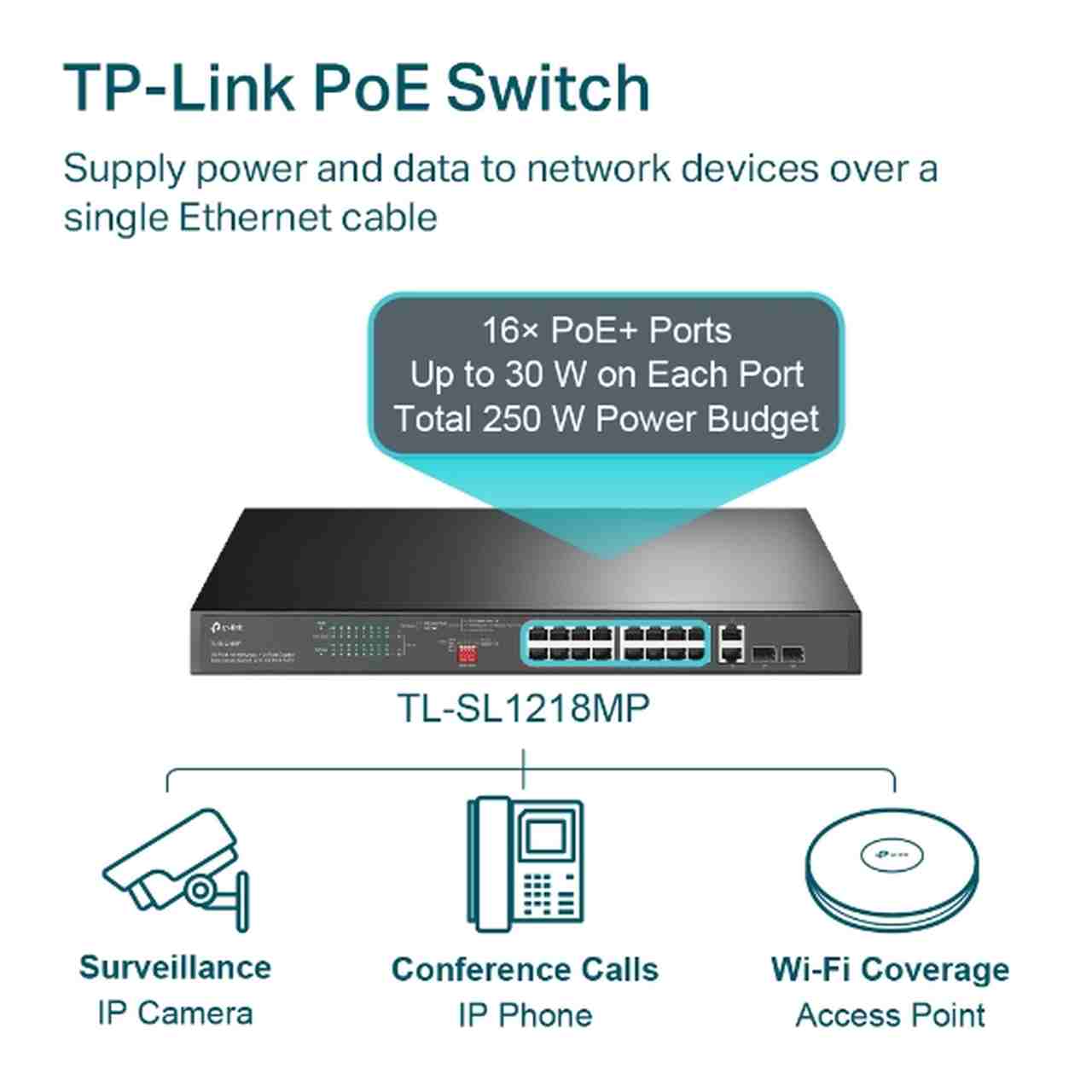 Ideal for IP Surveillance—Up to 250 m Transmission:
smart switch TP-Link In extension mode, the PoE transmission range up to 250 m.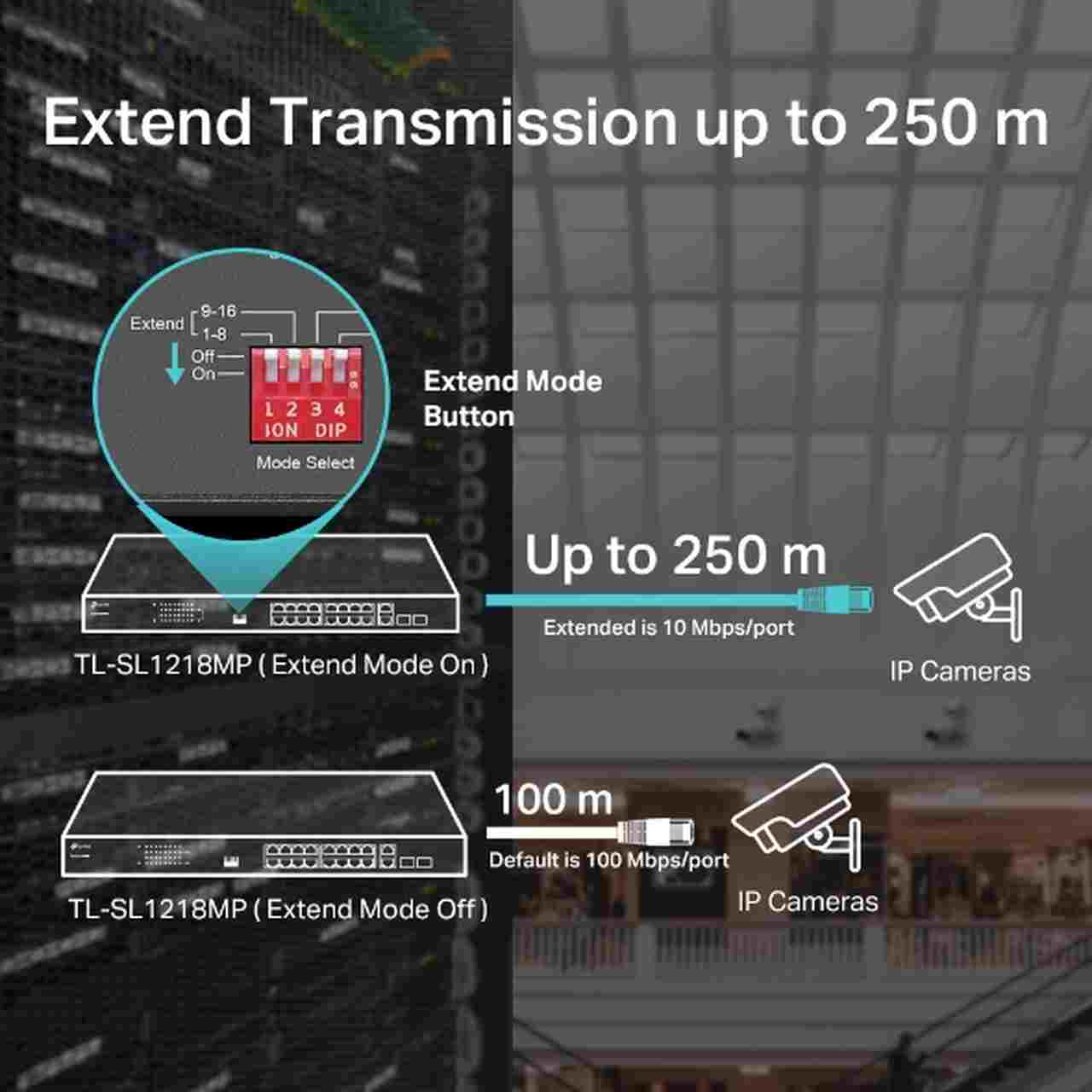 Ideal for IP Surveillance —Higher Performance and Security:
Pre- and quarantine mode makes monitoring easy and secure.
Priority Video Quality Guaranteed: The quality of encrypted applications such as video surveillance in critical business environments is verified by prioritizing 1-8 ports when enabled for one-touch priority mode.
One-Click Traffic Separation for Ports 1-16: With one click, Isolation Mode easily distributes traffic through 1-16 ports to avoid flirting and touching. This switch helps to dissipate the hurricane, improve the security of the local network and the transmission of information.

Smooth HD Video Monitoring:
switch sports 2 Gigabit RJ45 ports and 2 Gigabit SFP ports 16 HD IP cameras also ensure uninterrupted streaming while simultaneous.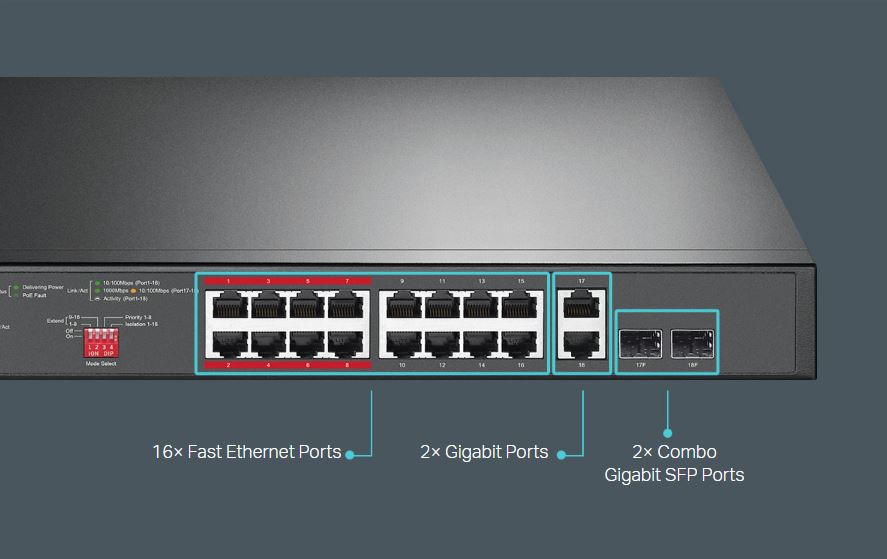 Plug and Play:
switch sports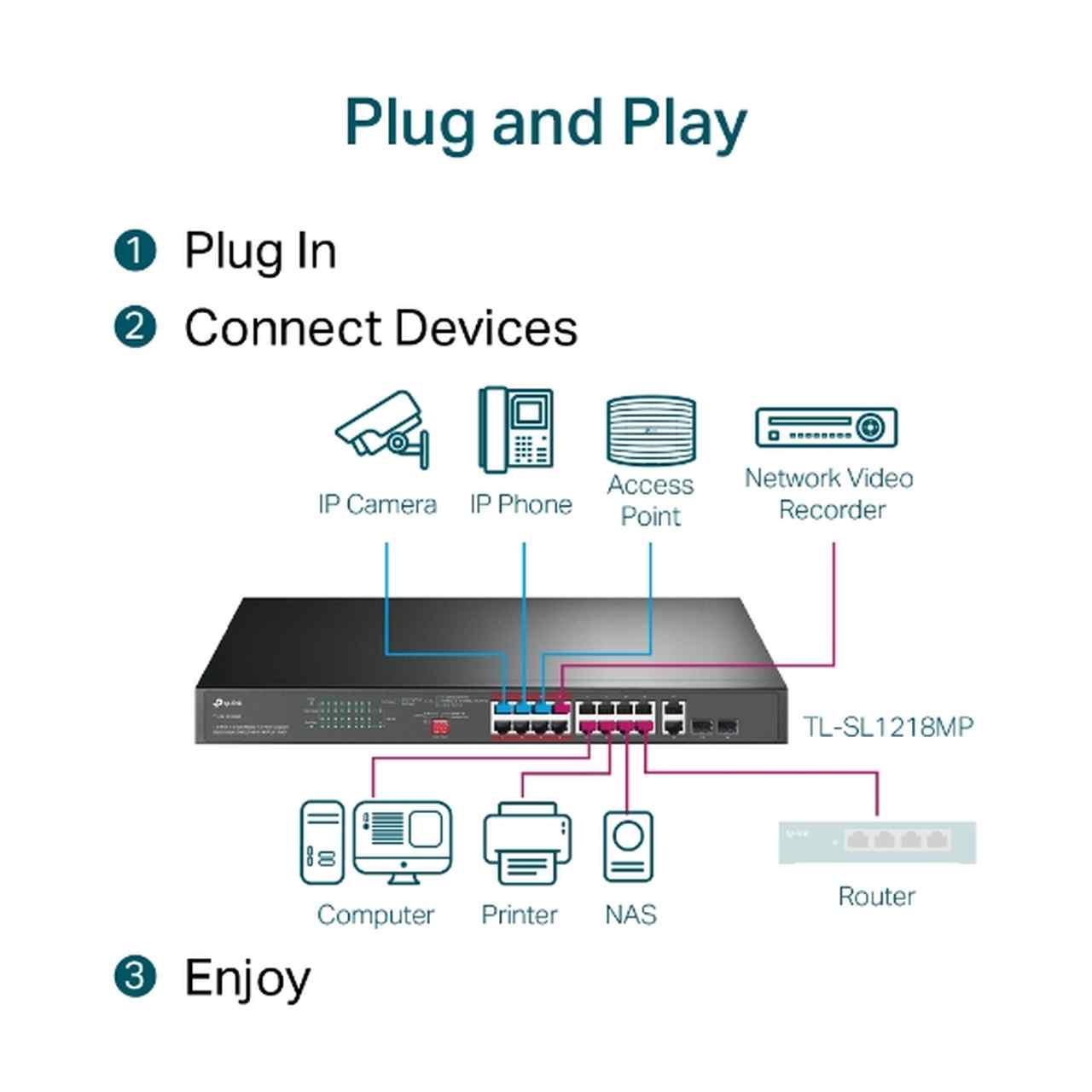 Intelligent Power Management to Prevent Power Overload:
When total power consumption exceeds 250 watts, intelligent power management automatically shuts down low-priority ports to ensure priority is given to priority ports. This prevents the device from overheating. It also automatically detects the PoE power your device needs and protects non-PoE devices from damage.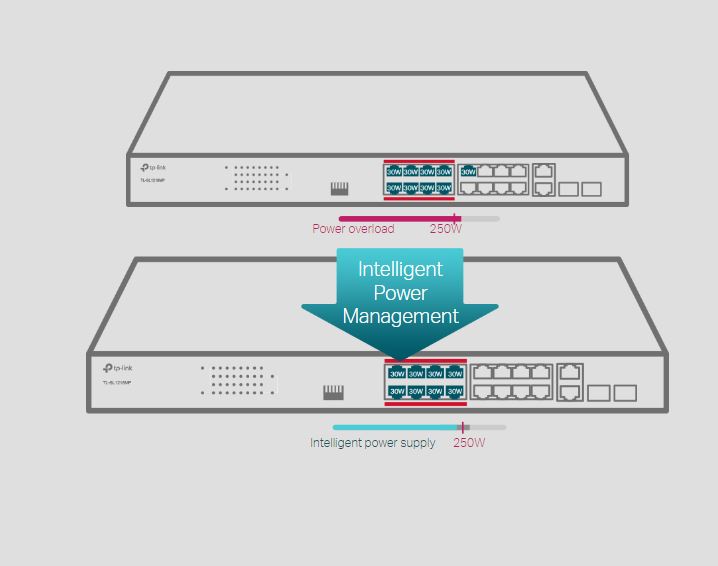 Wide Operating Temperature with Good Heat Dissipation:
The design of a sealed metal housing and professional heat exchanger ensures reliable performance at ambient temperatures (0-50 ° C).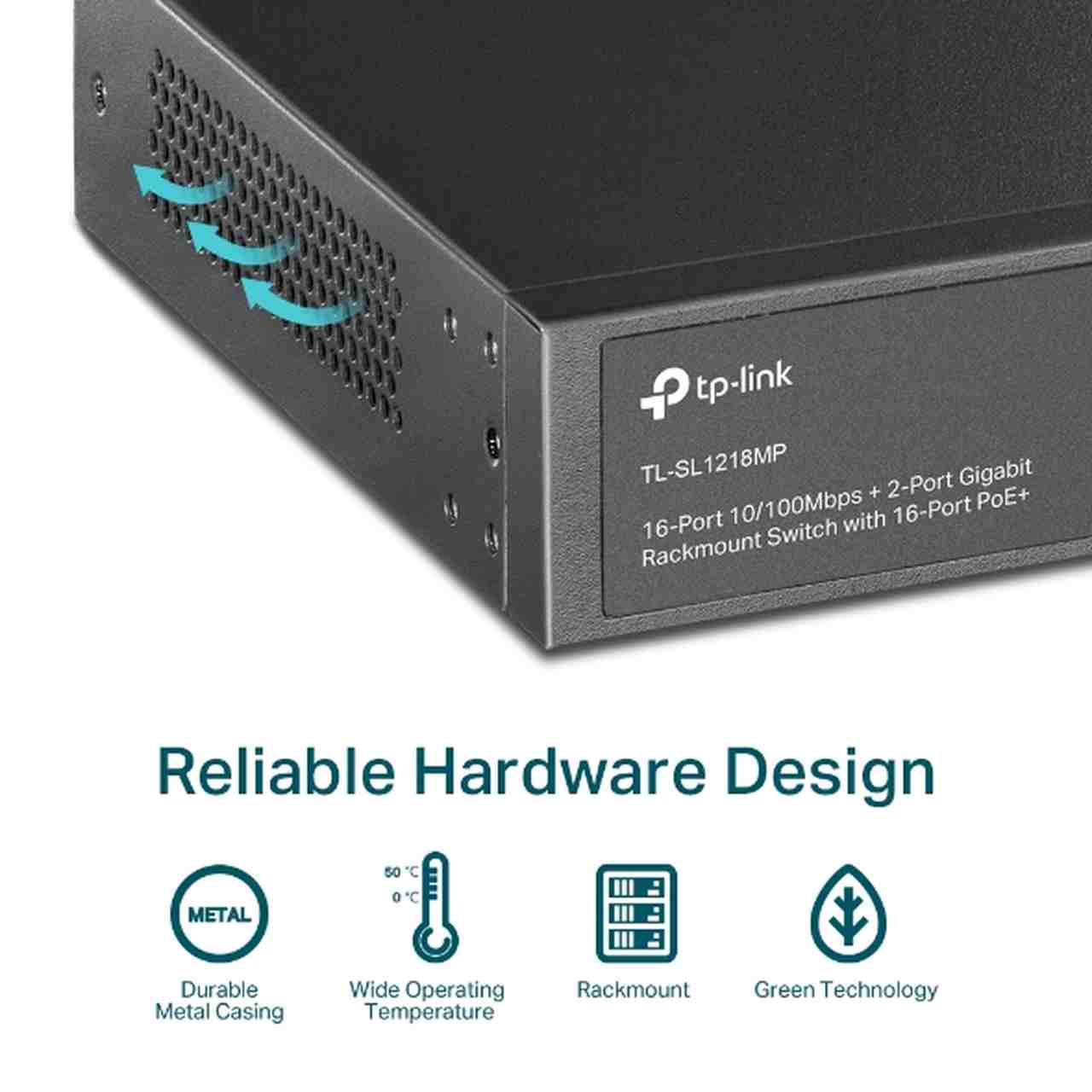 Multiple Application Scenarios:
smart switch TL-SL1218MP is fully compatible with PoE devices such as IP cameras, access points and IP phones. switch sports Work with PoE cable devices to provide gigabit connections such as computers, printers and IPTV.