D-Link DES-1210-28P
D-Link DES-1210-28P 28-Port PoE Fast Ethernet Smart Managed Switch
24 ports 10/100BASE-TX Po + 2 ports 10/100/1000BASE-T
2 combined 10/100/1000BASE-T / SFP ports
Power budget of 193 W
It supports IEEE 802.1p.QoS
CoS per traffic class DSCP/ToS/TCP/UDP/IPv6
Download capacity control
Automatic VLAN monitoring
Automatic voice VLAN
Cable diagnostics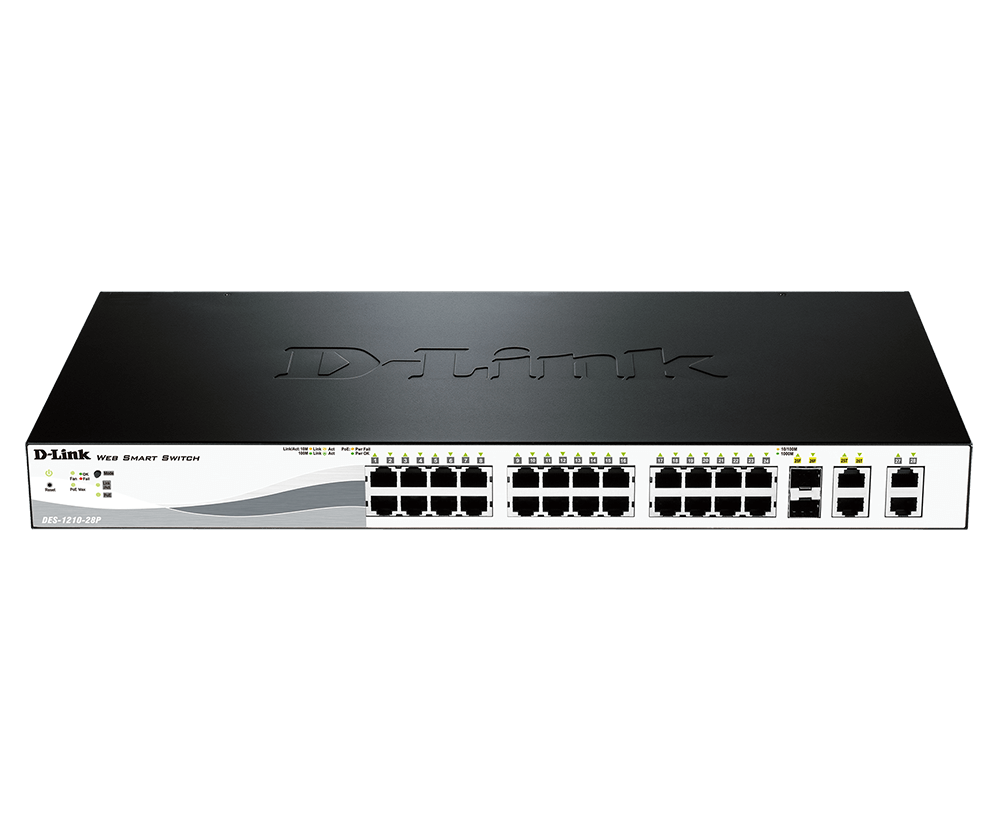 Optimal Network Performance:
The DES-1210 Series Smart Managed Ethernet Switches are equipped with 8, 24, or 48 10/100Mbps ports, two 10/100/1000BASE-T ports, and two 10/100/1000BASE-T/SFP combo ports. It supports IPv6 management for improved performance and scalability, including advanced management and security features, ensuring your network investments remain protected after upgrading from IPv4.
With PoE/PoE+ and many management options SNMP, web management, D-Link Network Assistant, compact command line,
This series of converters is a complete and affordable solution.
Suitable for small and medium businesses as well as enterprises.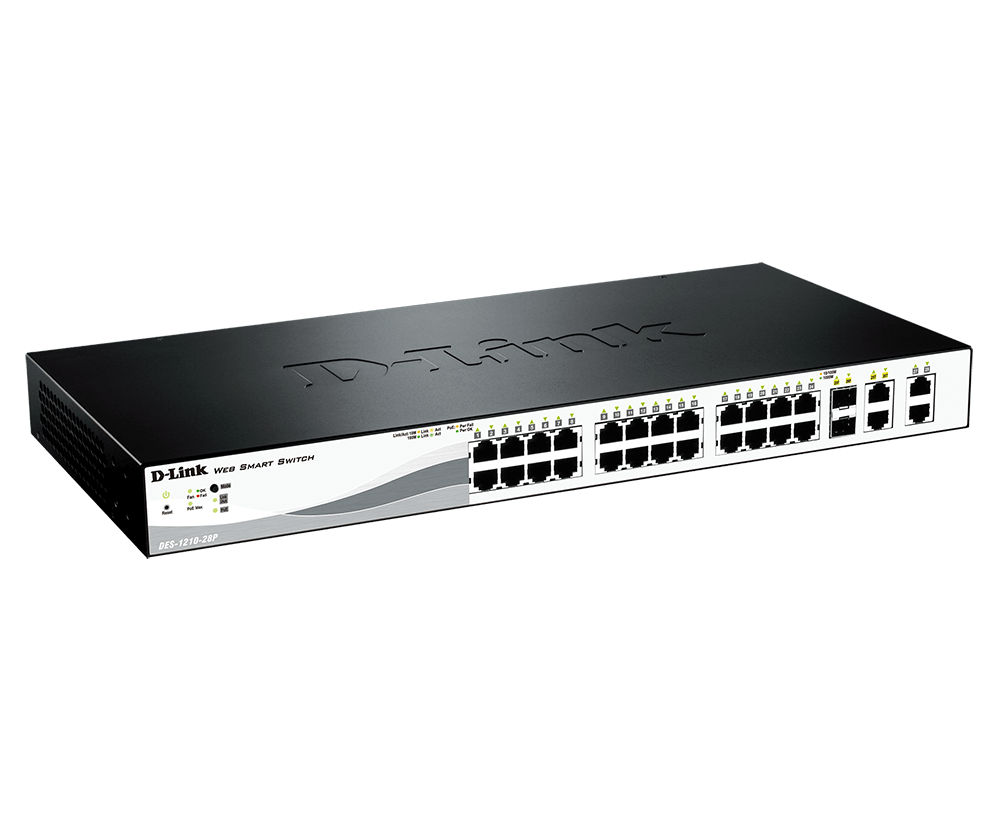 Seamless Integration:
The DES-1210 series is designed to give SMB users total control over their network. With Fast Ethernet and Gigabit copper ports that can connect to existing CAT5/5E/6 twisted-pair cable, these switches eliminate the need for costly network rebuilds. The DES-1210 series provides flexible connectivity to a network or server backbone. In addition, all ports support automatic MDI/MDIX cross-array, eliminating crossover cables or uplinking ports.
Extensive Layer 2 Features:
Equipped with full L2 features, these switches include IGMP Snooping, Port Mirroring, Spanning Tree and Link Aggregation Control Protocol (LACP). IEEE 802.3x flow control allows servers to connect directly to the switch for reliable data transmission. Network maintenance features include loop detection and cable diagnostics. Loopback Detection is used to detect loops created by a specific port and automatically disable the affected port. Cable diagnostics allow network administrators to quickly check the quality of copper cables and determine the type of cable failure.
QoS, Bandwidth Control:
The DES-1210 series supports auto-VLAN monitoring (ASV) and auto-VLAN and is well suited for CCTV and VoIP deployments. Auto Surveillance VLAN is a new industry-leading technology that integrates video and surveillance data transmission on a single managed Fast Ethernet Smart Switch, allowing companies to save on dedicated hardware and resources. ASV provides real-time video quality for monitoring and control without disrupting traditional network traffic. Additionally, with bandwidth management, network administrators can reserve bandwidth for critical tasks that require more bandwidth or higher priority.
Secure Your Network:
D-Link's innovative protection system helps prevent overspills caused by virus attacks. The DES-1210 series supports 802.1x port-based authentication, which allows network authentication through external RADIUS servers. In addition, the Access Control List (ACL) feature improves network security and helps protect your internal IT network. Address Resolution Protocol (ARP) spoofing prevention prevents hackers from hijacking your network using a spoofed ARP.
Versatile Management:
The DES-1210 series offers D-Link Network Assistant, which allows administrators to remotely manage their network down to the port level. The facility allows customers to easily access multiple D-Link Fast Ethernet managed switches on the same L2 network segment. With this utility, users do not need to change the IP address of their computer, which greatly simplifies the initial configuration of the switches.