Syble
8808, Imager, Scanner,
Advanced digital Technology:
The XB-8808 2D Barcode Scanner uses the latest advanced digital imaging technology to provide 1d and 2d barcodes easily recognizable and fast scan quality without compromising performance and performance. It can also read damaged, weak, dirty and damaged barcodes. Like mobile device barcodes, fast scanning and reliability make this universal 2D barcode scanner suitable for supermarkets, pharmacies, gas stations and other similar retail stores.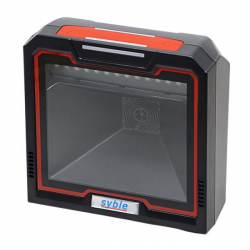 Automatic Sleep:
Automatic sleep and wake modes to save energy and extend life
Easy To Use:
Easy switching with multiple interfaces and cable replacement
High Performance:
High performance and reliable decoding
Fast Scan:
High-speed scanning up to 150 ips for 1D barcodes and up to 60 ips for 2D barcodes Excellent exercise durability Read all 2D and 2D barcodes from printed paper and mobile screens
Tech Parameters
Model Number

XB-8808

Performance Parameters

Light Sources

SXGA-W(Width1280*high1024) Ratio(5:4)

Supported Symbologies

1D:EAN-8、EAN-13、EAN-13 2 add-on、EAN-13 5 add-on、ISSN、ISBN、UPC-A、UPC-E、Code11、Code 32、Code 39、Code 93、Code 128、Codabar、Industrial 2 of 5、Interleaved 2 of 5、Matrix 2 of 5、ISBT-128、GS1-128、GS1 DataBar(RSS14)、GS1 DataBar Limited、GS1 DataBar Expanded.

2D:PDF417、MicroPDF417、QR-code、MicroQR, Data Matrix、QR、Aztec.

Scan Range

5mil(Code39) 1cm~15cm; UPC-13mil 1cm~33cm; 20mil(code39) 1cm~40cm; 20mil(QR Code) 1cm~28cm

System compatibility

Linux、Android、Windows XP、7、8、10、MAC

Minimum recognition accuracy

Code 39 4mil

Barcode Type

1d or 2d barcodes for Paper or Film;1d and 2d for screen ,like Phone tablets

Motion tolerance

3.8meters/second

Scan Mode

Automatic continuous reading mode

Support Keyboard

Support Multi-Language

Barcode output editing

Support for adding suffixes

Print contrast

20%

Recognition angle range

Turn angle ±360°, elevation angle ±60°, declination angle ±70°

Mutual Move

Led: Red and blue bi-color indicator: red light reading code, blue light power indicator.

Beeper: Startup prompts, reading tips.

Keys (touch keys): Key Switch and 2d barcodes.

Interfaces

USB(Drive - Free)、RS232

Physical Parameters

Dimensions

119mm*135mm*166mm

Weight

390g

Material

ABS+PC

Cable Length

180CM(±3CM)

Environmental Parameters

Operating Temperature

-20℃~55℃

Storage Temperature

-20℃~60℃

Relative Humidity

5%~95% RH(non-condensing/non-freezing)

Shock Resistance:

Withstands three times1 . 5 meters drops to concrete

Waterproof and Dustproof

IP54 standard

Ambient Ligh

0-70000LUX

Electrical Parameters

Working Voltage

DC5V

Power

USB Interface: Standby Power 0.2mA/1W; Operating Power 0.33mA/1.65W

Maximun Operating Power 0.481mA/2.405W.

RS232 Interface: Standby Power 0.2mA/1W; Operating Power 0.33mA/1.65W;

Maximun Operating Power 0.484mA/2.42W