Printer Specification
Hi-Speed USB 2.0, built-in Fast Ethernet 10/100Base-TX
HP CP5225DN
Color LaserJet Printer
An A3 color printer, which is a type of printer that can print on paper up to A3 size (approximately 11.7 x 16.5 inches). It is being marketed as affordable and versatile, which suggests that it is a cost-effective option that can handle a variety of printing needs for a business.
a specific type of toner called HP ColorSphere for use in a printer. The toner is being marketed as providing consistently high-quality output on a range of business documents, which suggests that it will produce sharp, clear text and images on various types of paper and in different printing scenarios.
Easy to use, share and maintain with a user-friendly control panel and replaceable consumables.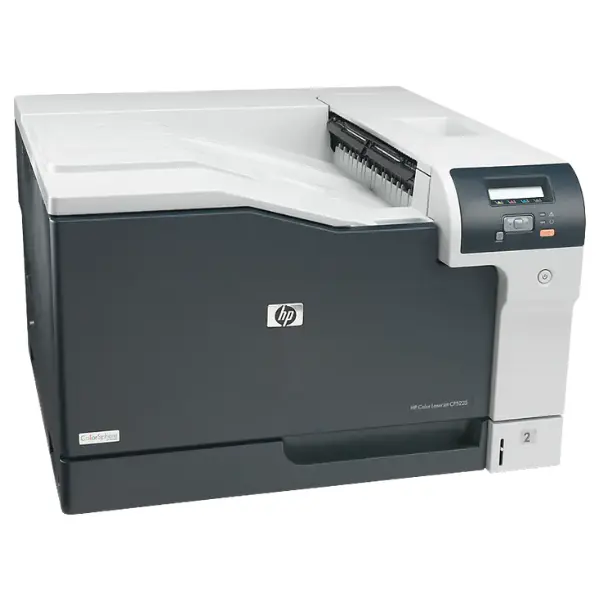 2-sided printing:
Allows for duplex printing, or the ability to print on both sides of a page. This feature is being marketed as a way to reduce paper consumption by up to 50% by cutting the number of sheets of paper used in half. This feature is environmentally friendly and cost-effective for the user.
Only the power you need:
HP Auto-On/Auto-Off Technology that is included in a product, likely a printer. The feature is being marketed as a way to save energy, which suggests that the device can automatically turn off or enter into a low power mode when not in use and turn on when it is needed again. This feature helps to reduce energy consumption and save cost on electricity.
Print on the go with HP ePrint:
HP ePrint is a mobile printing solution that allows users to print from their mobile devices such as smartphones and tablets. This feature allows the user to print photos, documents, and more from anywhere, which means the user can print when they are on the go and not restricted to a specific location. This feature is convenient and efficient for people who need to print documents or photos while they are traveling or away from their office or home.
Ethernet (printer):
Add this device to your office Ethernet network to share with your workgroup.
Take the guesswork out of fleet management:
Centrally monitor and control your printers with HP Web Jetadmin.
Simplicity all around:
Make it easy for all to print with one common driver.
Pull print jobs from your pocket:
Walk up and print from a USB drive, using the easy-access USB port.
Eliminate the wait from your workday:
This printer wakes up fast and prints your first page as quickly as 16 seconds.