Eaton 9E1000I
1000VA/ 800KW Online Tower UPS
The Eaton 9E UPS (Uninterruptible Power Supply) is a reliable and efficient power backup solution designed to protect your electronic devices and equipment from power outages and fluctuations. With its robust features and certifications, it ensures uninterrupted power supply for critical applications.

Featuring a compact and space-saving design, the Eaton 9E UPS has a product length/depth of 356 mm, a height of 228 mm, and a width of 144 mm. It weighs 22.1 kg, making it suitable for both home and office environments. The UPS comes in a sleek black color, adding a touch of elegance to any setting.
With a warranty of 2 years, the Eaton 9E UPS provides peace of mind and assurance of its quality and durability. It complies with CE Mark, TUV, IEC/EN 62040-1, IEC/EN 62040-2, CE, and EAC certifications, ensuring that it meets industry standards for safety and performance.
The UPS is equipped with a sealed, lead-acid battery, offering reliable backup power. It has two replaceable batteries with a rating of 12 V / 9 Ah each. The UPS also features automatic battery testing and deep discharge protection, enhancing the battery's lifespan and performance.
In terms of electrical output, the Eaton 9E UPS has four C13 receptacles, allowing you to connect multiple devices simultaneously. It operates at a voltage of 230V with a wattage of 800 W. The output power factor is 0.8, and the output voltage range is 220/230/240 V with a tolerance of +/- 2%. The output waveform is a clean sine wave, ensuring safe and stable power delivery.
The UPS has a VA (volt-ampere) rating of 1000 VA, making it suitable for various applications, including computers, networking equipment, and small servers. Its online/double-conversion topology guarantees continuous power supply, even during unstable or poor-quality input power conditions.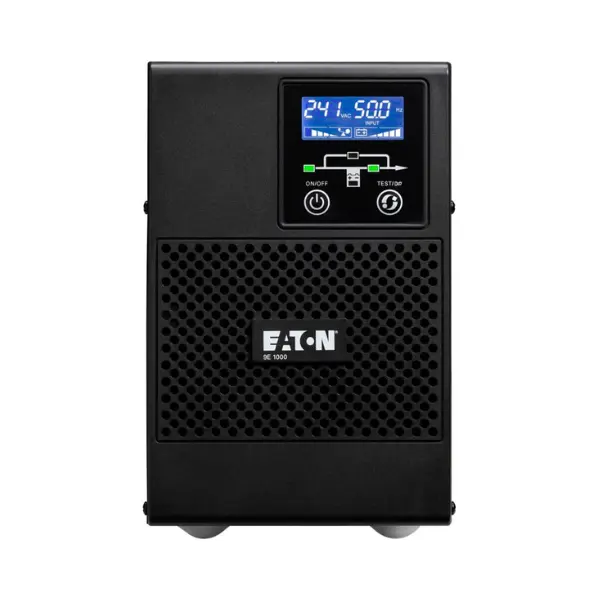 For electrical input, the Eaton 9E UPS features a C14 connection. It operates at a nominal voltage of 230V and a frequency of 50/60 Hz. With an input power factor greater than 0.99, it efficiently utilizes the input power. The UPS accepts a wide input voltage range of 176-300 V (100 V-300 V with derating) and an input frequency range of 40-70 Hz.
The UPS provides convenient communication options, including a USB port (HID compliant) and a serial port (RS232). It also has a communication slot for adding optional communication cards. However, it does not include a network card or an Ethernet interface.
The user interface features an LCD display, allowing you to monitor the UPS status and configure settings easily. The UPS does not have a potential-free switch contact but offers one slot for an optional communication card, expanding its functionality. It is compatible with Eaton Intelligent Power Manager and Eaton Intelligent Power Protector software for advanced power management.
In terms of environmental specifications, the UPS operates within a temperature range of 0°C to 40°C (32°F to 104°F) and can withstand altitudes of up to 3000 m. It operates quietly with a noise level of less than 37 dB at a distance of 1 meter. The UPS can handle a relative humidity of 0-95% without condensation.
The Eaton 9E UPS is a free-standing model, making it easy to place in any desired location. The package contents include the UPS unit itself, a USB cable, a serial cable, a quickstart guide, and safety instructions. It is designed for single-phase output (1) and features an internal bypass for added reliability. It also has an auto shutdown function to protect connected devices during extended power outages.
With an efficiency rating of 91%, the Eaton 9E UPS minimizes energy waste and reduces operating costs. Please note that it does not come with a rack mounting kit and does not support hot-swappable power.
Overall, the Eaton 9E UPS is a high-quality and versatile power backup solution, offering reliable performance, easy-to-use features, and comprehensive protection for your valuable electronic equipment.