Aruba AP-305 Access Point
The Aruba 300 Series Wave 2 access points at the entry level offer excellent performance and a top-notch user experience in medium-density environments. These access points come with 3x3:3SS MU-MIMO capability, advanced ClientMatch radio management from Aruba, and integrated Aruba Beacons, making it possible to create a fully wireless digital workplace cost-effectively.
These access points deliver a maximum concurrent data rate of 1,300 Mbps in the 5GHz band and 400 Mbps in the 2.4GHz band, resulting in an aggregate peak data rate of 1.7Gbps. This ensures a consistently connected wireless network experience with the necessary performance for enterprise use. They are particularly well-suited for cost-conscious medium-density settings in various industries.
The high-performance 802.11ac 300 Series supports multi-user MIMO (MU-MIMO) and 3 spatial streams (3SS), enabling simultaneous data transmission to multiple devices (up to two). This maximizes data throughput and enhances overall network efficiency.
The 300 Series also incorporates enhanced ClientMatch technology, which builds upon client steering technology with MU-MIMO client awareness. It can automatically identify mobile devices capable of MU-MIMO and direct them to the nearest MU-MIMO capable Aruba access point. This grouping of MU-MIMO capable devices allows for simultaneous transmission, increasing network capacity. These dynamic roaming policies, based on device types, help organizations achieve optimal WLAN performance in mixed device environments during technology transitions.
Additionally, the Aruba AP-305 features an integrated Bluetooth Aruba Beacon, simplifying the remote management of a network of large-scale battery-powered Aruba Beacons. It also offers advanced location services, indoor wayfinding, and proximity-based push notification capabilities. This empowers businesses to leverage mobility context for developing applications that enhance the user experience and add value to their wireless networks.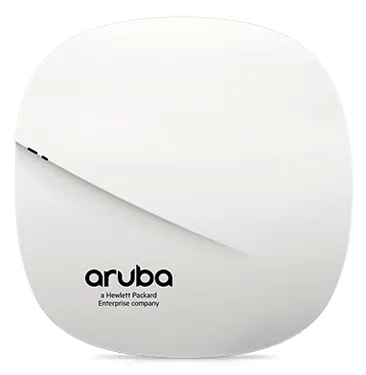 Choose your operating mode:
The Aruba 300 Series access points offer various operational modes to cater to your specific management and deployment needs:
Controller-Managed Mode: When under the management of Aruba Mobility Controllers, the Aruba 300 Series access points provide centralized configuration, data encryption, policy enforcement, network services, and both distributed and centralized traffic forwarding.
Aruba Instant Mode: In Aruba Instant mode, a single access point can autonomously distribute the network configuration to other Instant access points within the WLAN. Setting up an Instant WLAN is quick and easy: power up one Instant access point, configure it wirelessly, and plug in the other access points – this entire process typically takes around five minutes. If WLAN requirements change, there's a built-in migration path that allows 300 Series Instant access points to seamlessly transition into a WLAN managed by a Mobility Controller.
Remote AP (RAP) for Branch Deployments: This mode is ideal for branch office deployments, enabling access points to function effectively in remote locations.
Air Monitor (AM): The access points can operate as Air Monitors for wireless intrusion detection, rogue device detection, and containment.
Spectrum Analyzer: Aruba Access points can be configured as dedicated or hybrid spectrum analyzers, helping identify sources of RF interference in the wireless environment.
Secure Enterprise Mesh: These access points support secure mesh networking for extended coverage and redundancy.
For large-scale deployments spanning multiple sites, the Aruba Activate service streamlines the deployment process by automating tasks such as device provisioning, firmware upgrades, and inventory management. With Aruba Activate, Instant access points are pre-configured at the factory and can self-configure when powered up at their deployment sites.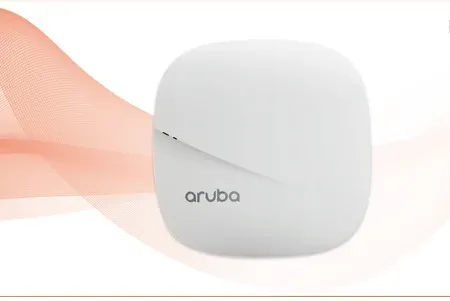 A dual-radio 802.11ac access point featuring Multi-User MIMO capabilities.
It provides a maximum data rate of 1,300 Mbps in the 5 GHz band when used with 3 spatial streams (3SS) and VHT80 clients, while in the 2.4 GHz band, it offers up to 400 Mbps with 2 spatial streams (2SS) and VHT40 clients.
Integrated Bluetooth Low-Energy (BLE) radio
Allows for location-based services with Bluetooth Low Energy (BLE)-enabled mobile devices that can receive signals simultaneously from multiple Aruba Beacons.
Facilitates the management of your battery-powered Aruba Beacon deployment.
Enhanced Cellular Coexistence (ACC)
Reduces interference originating from 3G/4G cellular networks, distributed antenna systems, and commercial small cell/femtocell equipment, thus ensuring high-quality service for unified communication applications.
Ensuring app visibility and control with a focus on quality of service.
Offers priority handling and enforces policies specifically designed for unified communication applications, such as Microsoft Skype for Business, which includes encrypted videoconferencing, voice communication, chat, and desktop sharing.
RF Management
The Adaptive Radio Management (ARM) technology automatically handles tasks like assigning channel and power settings, ensuring fair airtime allocation, and safeguarding access points (APs) against RF interference sources. This results in the delivery of dependable, high-performance wireless local area networks (WLANs).
The Aruba 300 Series access points offer versatile configuration options. They can be set up to perform either part-time or dedicated air monitoring for tasks like spectrum analysis and wireless intrusion protection. Additionally, they can establish VPN tunnels to connect remote locations with corporate resources and provide wireless mesh connections in situations where Ethernet connections are unavailable.
Intelligent app visibility and control
The AppRF technology utilizes deep packet inspection to categorize and either block, prioritize, or restrict bandwidth for more than 2,500 enterprise applications or sets of applications.
Security
The integrated wireless intrusion protection provides threat detection and mitigation, eliminating the necessity for standalone RF sensors and security appliances.
IP reputation and security services are in place to recognize, categorize, and block malicious files, URLs, and IPs, ensuring comprehensive protection against sophisticated online threats.
Moreover, there is an integrated Trusted Platform Module (TPM) for the secure storage of credentials and encryption keys.
Intelligent Power Monitoring (IPM)
The access point (AP) has the capability to consistently monitor and report its real-time power consumption. Additionally, it can autonomously decide to disable specific functionalities if necessary.
Specifically, for the 300 Series APs, the IPM (Intelligent Power Monitoring) feature comes into play when the AP is powered by an 802.3af PoE source. By default, if the AP's power usage surpasses the available power budget, it will first deactivate the USB interface. In exceptional circumstances, further power-saving measures may be required, but for the most part, the 300 Series APs will continue to operate without restrictions.