U.P.S Specifications
9.5 cm x 35.6 cm x 17.1 cm
Vertiv Liebert PSA PSA500MT3-230U
500VA/300W 230V UPS
The Liebert® PSA is equipped with user-friendly controls, making it easy to operate. It offers up to five minutes of backup time at full load, providing ample opportunity to save ongoing work and safely shut down your system. Additionally, the package includes shutdown software and a USB cable, enabling remote alerts and automated, smooth shutdown of connected systems.
The Vertiv Liebert PSA PSA500MT3-230U is an uninterruptible power supply (UPS) designed to provide backup power to connected electronic equipment in the event of a power outage or other power-related issues. This model has a capacity of 500VA/300W and is designed for use in home and small office environments.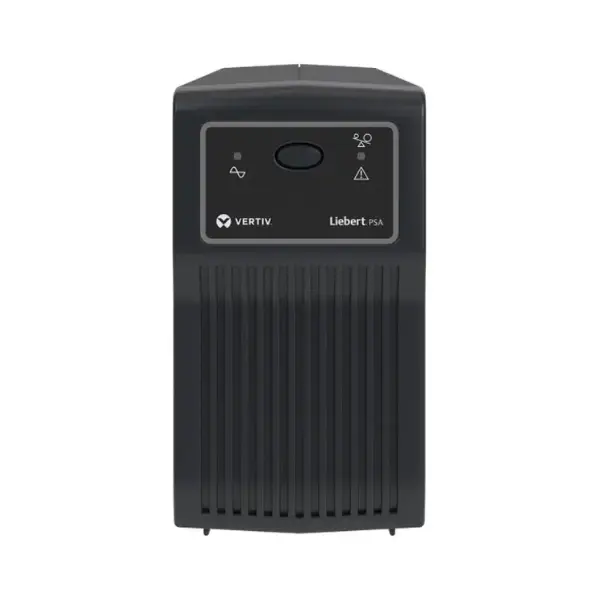 The Liebert PSA UPS offers a range of standard features to safeguard your delicate electronic devices:
The Liebert® PSA comes in four different sizes: 500VA, 650VA, 1000VA, and 1500VA, with options for both 120VAC and 230VAC. Depending on the model size, it offers three to six battery-backed UPS outlets and one to two surge-only outlets, easily distinguished by their color. The package includes USB communications and shutdown software, along with a cable for added convenience. Furthermore, the user-replaceable batteries and built-in Boost and Buck AVR features enhance its practicality and performance.
Enhanced availability:
The Liebert® PSA offers up to five minutes of battery backup time at full load, providing a short but crucial window for critical tasks during power outages. The UPS performs comprehensive, full sequenced battery testing to ensure the batteries are reliable and ready when required. It also provides advanced early warning of UPS shutdown, giving users ample time to respond and prepare. The system incorporates lightning and surge protection (TVSS) to safeguard connected devices from potential damage. Additionally, it features an RJ-45 port for data line surge protection, offering comprehensive defense for data connections.
Perfect fit:
This UPS model is ideally suited for various applications, including professional workstations, small routers and bridges, point-of-sale terminals, and other sensitive electronics.