Vertiv Liebert GXT4-2000RT230E
2000VA/1800W Ups
The Vertiv Liebert GXT4-2000RT230E is a highly efficient and reliable 2000VA/1800W Uninterruptible Power Supply (UPS) designed to deliver continuous, high-quality AC power to connected IT equipment without any interruption when transferring to battery mode. Its on-line design ensures zero transfer time, meaning that even in the event of a utility power failure, the critical load remains supported by a seamless flow of power.
One of the standout features of the Liebert GXT4 UPS is its Active Eco Mode, which provides best-in-class efficiency of up to 97% without compromising availability. This feature helps optimize energy consumption and reduce operational costs. Additionally, the UPS offers controllable power to multiple devices through two independently programmable pairs of outlets, allowing users to prioritize power distribution to critical equipment.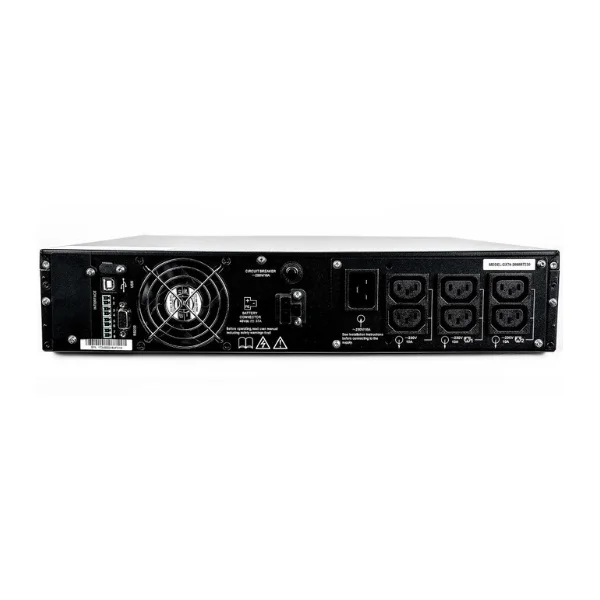 The UPS boasts an intuitive color LCD interface, providing easy access to important UPS data and settings. This user-friendly display supports multiple languages, enhancing its usability across various regions.
With an output power factor of 0.9, the Liebert GXT4 maximizes active power supplied to connected devices, ensuring efficient utilization of power resources. The unit is also ENERGY STAR certified, indicating its energy-saving capabilities and environmental friendliness.
The UPS is equipped with hot-swappable batteries, allowing users to replace batteries without interrupting equipment operation. This feature increases the UPS's availability and minimizes downtime during maintenance.
Furthermore, the Liebert GXT4 UPS offers a range of value-added accessories bundled with the standard unit, enhancing its versatility and adaptability to different use cases.
Its compact 2U high rack/tower design saves valuable space in server racks, making it an ideal choice for data centers and IT environments where space optimization is crucial.
For added protection and extended runtime, users have the option to connect up to six external battery cabinets to the UPS.
The UPS supports automatic frequency sensing and provides excellent input and output performance, ultimately reducing the total cost of ownership (TCO) over its lifespan.
In summary, the Vertiv Liebert GXT4-2000RT230E 2000VA/1800W Ups UPS is a top-tier choice for safeguarding critical IT equipment against power disturbances. Its industry-leading features, compact design, and energy efficiency make it a reliable and cost-effective solution for enterprise-level IT protection