UNV IPC322LB-SF28-A 2MP Vandal-resistant Network IR Fixed Dome Camera - UNV IPC2122LB-SF40-A 2MP 4mm Mini Fixed Bullet Network Camera - UNV NVR301-04LS3-P4 4-ch 1-SATA Ultra 265/H.265/H.264 NVR

UNV IPC322LB-SF28-A 2MP Vandal-resistant Network IR Fixed Dome Camera:
Cutting-Edge Surveillance Technology:
In the realm of advanced surveillance technology, the UNV IPC322LB-SF28-A 2MP Vandal-resistant Network IR Fixed Dome Camera stands as a pinnacle of innovation. Harnessing the power of a 2.0-megapixel CMOS sensor, this camera delivers an unparalleled high-quality image, ensuring that every detail is captured with utmost precision. Its 2MP resolution supports fluid video recording at 30 frames per second, offering a remarkable visual experience.
Robust Design for Unyielding Environments:
Built to withstand the harshest conditions, this dome camera boasts an IK10 vandal-resistant rating, making it impervious to tampering and intentional damage. With an IP67 protection rating, it is fully shielded against dust and water, guaranteeing optimal performance even in challenging outdoor settings. The camera's robust construction, combining metal and plastic materials, ensures durability without compromising its functionality.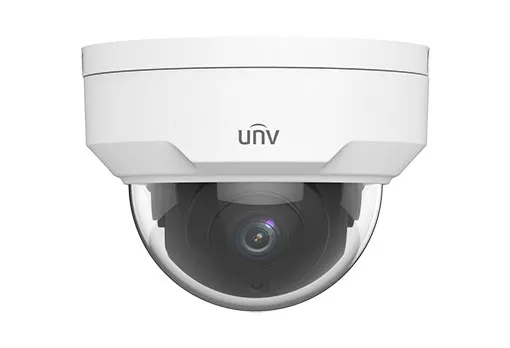 Intelligent Night Vision and Dynamic Imaging:
Equipped with Smart IR technology, this dome camera pushes the boundaries of night vision capabilities. The infrared illumination extends up to 30 meters (98 feet), ensuring that the camera maintains clear and detailed footage in low-light or complete darkness. Additionally, the Day/Night functionality, coupled with an IR-cut filter, seamlessly transitions between day and night modes for consistently vivid and sharp images.
Precision in Every Frame:
The camera's 2.8mm lens with an aperture of F2.0 provides a wide-angle view, covering 106.7 degrees horizontally and 57.1 degrees vertically. The 2D/3D Digital Noise Reduction (DNR) further enhances image clarity by minimizing unwanted artifacts. Whether in bright sunlight or dimly lit environments, the camera adapts effortlessly, maintaining a signal-to-noise ratio (S/N) of over 52dB.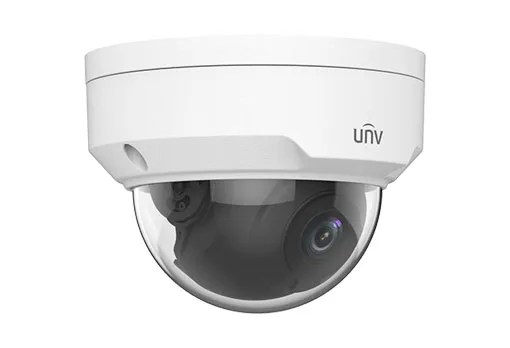 Seamless Integration and User-Friendly Features:
In terms of connectivity, the camera supports Power over Ethernet (PoE), simplifying installation and reducing cable clutter. The user-friendly OSD (On-Screen Display) allows for up to four customized overlays, while privacy masks and motion detection add an extra layer of control. With compatibility across various browsers and integration with third-party applications such as EZStation and EZView, this camera offers a seamless and comprehensive surveillance solution for diverse needs.
In summary, the UNV IPC322LB-SF28-A combines cutting-edge technology, robust design, intelligent imaging, and seamless integration to provide a reliable and comprehensive surveillance solution for both indoor and outdoor environments.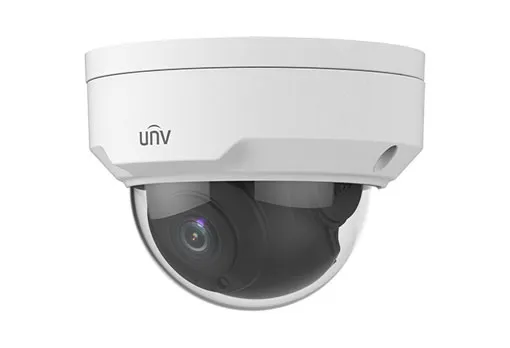 UNV IPC2122LB-SF40-A 2MP 4mm Mini Fixed Bullet Network Camera:
Equipped with a powerful 2MP, 1/2.8" CMOS sensor, the UNV IPC2122LB-SF40-A ensures unparalleled image quality. With a maximum resolution of 1920x1080 pixels and a frame rate of 30/25fps, this mini fixed bullet network camera delivers crystal-clear visuals, capturing every detail with precision.
Advanced Video Compression Technology:
The camera supports cutting-edge video compression technologies, including Ultra 265, H.265, and H.264, ensuring efficient data storage without compromising on image quality. With a versatile range of frame rates and bit rates, it adapts seamlessly to various surveillance scenarios, providing flexibility and optimal performance.
Enhanced Night Vision Capabilities:
Featuring Smart IR technology, this camera guarantees superior night vision with an impressive range of up to 30 meters (98 feet). The Day/Night functionality, along with the IR-cut filter and digital noise reduction (2D/3D DNR), ensures clear and detailed footage even in low-light conditions, making it ideal for 24/7 surveillance.
Robust Design for All Environments:
Designed for durability and versatility, the camera boasts an IP67 protection rating, making it resistant to dust and water. Its 3-axis adjustment capability allows flexible positioning, ensuring optimal coverage. Whether in extreme temperatures ranging from -30°C to 60°C or exposed to humidity up to 95% RH, this camera excels in various environmental conditions.
Powerful and Efficient:
Supporting both DC 12V±25% and PoE (IEEE 802.3af) power options, the camera ensures flexibility in installation. With a maximum power consumption of 5.5W, it strikes a balance between performance and energy efficiency, making it a cost-effective choice for long-term surveillance needs.
Intelligent Image Processing:
Equipped with features like Digital Noise Reduction (2D/3D DNR), White Balance adjustments, and backlight compensation (BLC), the camera enhances image quality under diverse conditions. Its intelligent video analytics, including motion detection, privacy masking, and region of interest (ROI) settings, offer a comprehensive and customizable surveillance solution.
Seamless Integration and User-Friendly Interface:
Compatible with a range of protocols and integration options, including IPv4, RTSP, and UPnP, the camera ensures seamless connectivity in any network environment. Its user-friendly interface supports easy live viewing through web browsers like Chrome, Firefox, and Edge, providing hassle-free monitoring with plug-in-free setup.
Certified Reliability:
Meeting international standards for safety and quality, the UNV IPC2122LB-SF40-A holds certifications such as CE, UL, and FCC Part 15, ensuring reliability and compliance with industry regulations. The camera's surge protection of 4KV adds an extra layer of security, safeguarding it against electrical surges.
In summary, the UNV IPC2122LB-SF40-A 2MP Mini Fixed Bullet Network Camera stands as a robust and advanced surveillance solution, combining high-resolution imaging, night vision capabilities, durability, and intelligent features for comprehensive security coverage in diverse environments.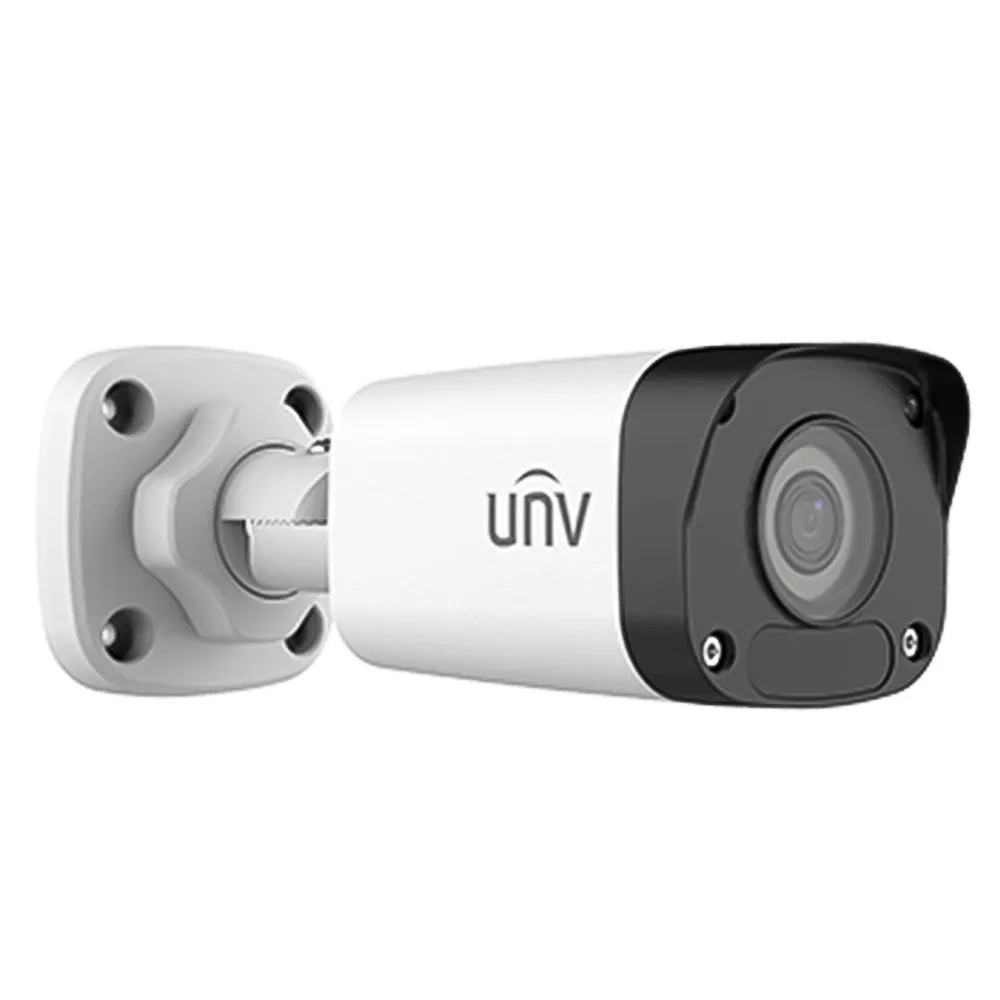 UNV NVR301-04LS3-P4 4-ch 1-SATA Ultra 265/H.265/H.264 NVR:
Cutting-Edge Video Processing and Connectivity:
The NVR301-04LS3-P4 stands out as a top-tier network video recorder, supporting Ultra 265/H.265/H.264 video formats for unparalleled video quality. With a 4-channel input capacity, it accommodates a range of mainstream cameras conforming to ONVIF standards (Profile S, Profile G, Profile T) and RTSP protocols. Its robust network capabilities are highlighted by a generous incoming bandwidth of 64Mbps and outgoing bandwidth of 48Mbps, ensuring seamless remote access for up to 128 users.
Crystal-Clear Display and Recording:
Equipped with 1-ch HDMI and 1-ch VGA outputs, this NVR boasts HDMI at up to 4K (3840x2160) resolution, providing crisp and detailed visuals. Simultaneous HDMI and VGA outputs enhance flexibility in monitoring. The device supports recording at up to 4K resolution, while the 1 SATA HDD slot supports storage capacities of up to 6TB, ensuring ample space for video archives.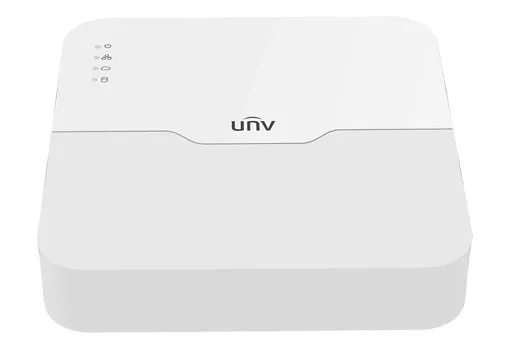 Intelligent Video Analytics and Smart Features:
This NVR goes beyond traditional recording, incorporating intelligent video analytics such as intrusion detection, cross line detection, audio detection, and ultra-motion detection (UMD). Smart features include VCA detection by camera, face search, behavior search, and smart intrusion prevention (SIP), offering enhanced security and surveillance capabilities.
Robust Hardware and Easy Maintenance:
Featuring a compact design at 205mm × 205mm × 46mm, and weighing just 0.6kg (1.32 lb) without a hard drive, the NVR301-04LS3-P4 is easily integrated into diverse environments. Its reliability is reinforced by a 48V DC power supply, consuming less than 9W (without HDD). With certifications including CE, FCC, UL, RoHS, and WEEE, this NVR meets stringent quality and environmental standards.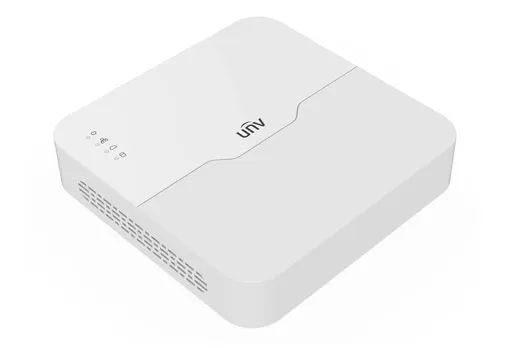 Future-Ready Network Integration:
The NVR301-04LS3-P4 is designed for the future with support for cloud upgrades, ensuring that the system stays up-to-date with the latest advancements in surveillance technology. Its network interfaces include 1 RJ45 10M/100M self-adaptive Ethernet interface and 4 RJ45 PoE interfaces with a total power output of 54W, supporting IEEE 802.3at and IEEE 802.3af standards for Power over Ethernet. This future-ready NVR provides a reliable and scalable solution for advanced surveillance needs.