TP-Link TL-WN881ND
TP-Link TL-WN881ND 300Mbps Wireless N PCI Express Adapter
Wireless N speeds up to 300Mbps are perfect for video streaming, online gaming and internet calls.
MIMO technology with stronger signal penetration, wider wireless network coverage, providing better performance and stability.
Easily set up a highly secure wireless connection with WPS™ (Wi-Fi Protected Setup).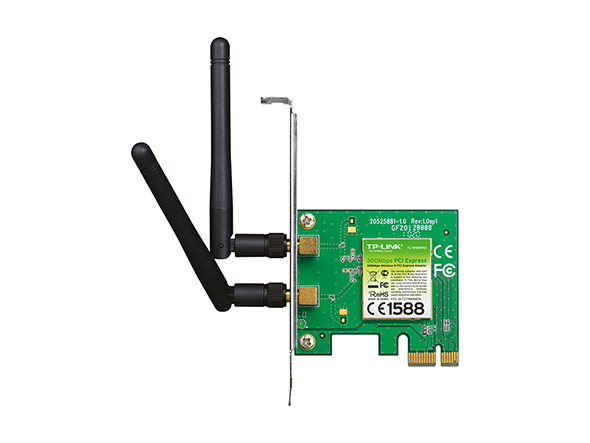 What This Product Does:
The TL-WN881ND Wireless-N PCI Express 2.0 (x1) Adapter allows you to connect your desktop computer to a wireless network and access high-speed Internet connectivity. It complies with the IEEE 802.11n standard and offers wireless speeds up to 300Mbps. TP-Link TL-WN881ND is also useful for online gaming and HD video streaming.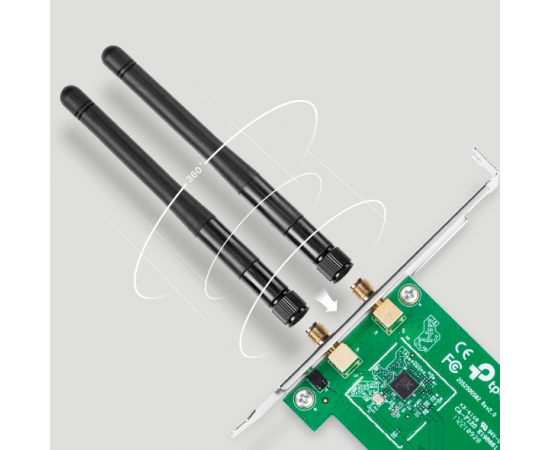 Wireless N - Speed & Range:
MIMO (Multiple Input, Multiple Output Antennas) technology offers an excellent ability to reduce data loss over long distances and obstacles in small offices and large apartments, even in reinforced concrete buildings. First and foremost, it makes it easier to connect to wireless networks over long distances that older 11G products may not be able to connect to.
CCA Technology - Stable Wireless Signals:
Clear Channel Assessment (CCA) automatically prevents channel collisions with clear channel selection to fully realize the benefits of channel bonding and significantly improve wireless network performance.
Features:
WPA / WPA2 Encryptions: WPA/WPA2 encryption standards protect your wireless connection from hackers.
Easy Setup: TP-Link TL-WN881ND with an improved user interface and setup wizard or setup wizard on the CD (included) makes connecting to the Internet quick and easy.