TP-Link TL-SG1016PE
TP-Link TL-SG1016PE 16-Port Gigabit Easy Smart PoE Switch with 8-Port PoE+
switch sports 16 RJ45 ports 10/100 / 1000Mbps
smart switch Powered by 8 PoE + ports for data and one cable.
The total PoE power budget is 110 watts, up to 30 watts per port
Works with IEEE 802.3af / compliant devices to expand home and office networks
Easy network setup and play plug-in connection
Makes it easy to set up a web user interface and management utility
What This Product Does:
switch sports 16-port 8-port Gigabit Desktop / Rack Converter supports PoE + standard. It provides an easy way to expand a wired network by transferring power and data over an Ethernet cable. With a total power output of 110 watts, up to 30W per port, the TL-SG1016PE can generate more powerful devices such as wireless access points (APS), IP cameras or IP phones. Moreover, with innovative energy-saving technology, it can save up to 75% on energy consumption, making it an environmentally friendly solution for your business network.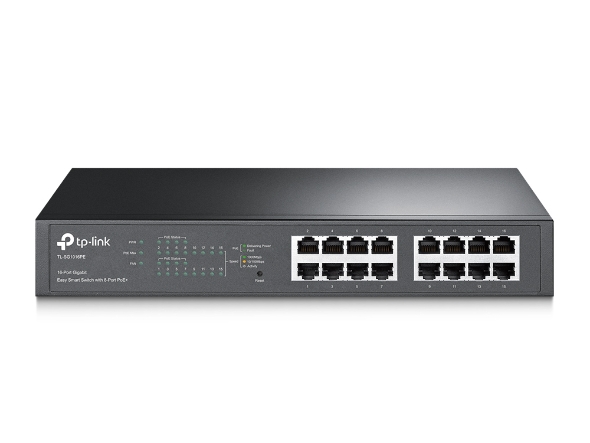 How This Product Works:
switch sports Supports 8-port Power Over Ethernet Plus (PoE +) standard switch, which can automatically detect and provide any IEEE 802.3af compatible device. In this case, the electricity is transmitted over a single cable, which allows you to expand your network where there are cables or power outlets, you need to repair devices such as access points, IP cameras or IP phones.
Overload Arrangement:
The TL-SG1016PE smart switch has a priority function that helps protect the system when overloaded. If the power consumption of all PoE + devices is above or equal to 110 watts, 16 PoE + ports will be given priority, then the system will turn off the low priority port power.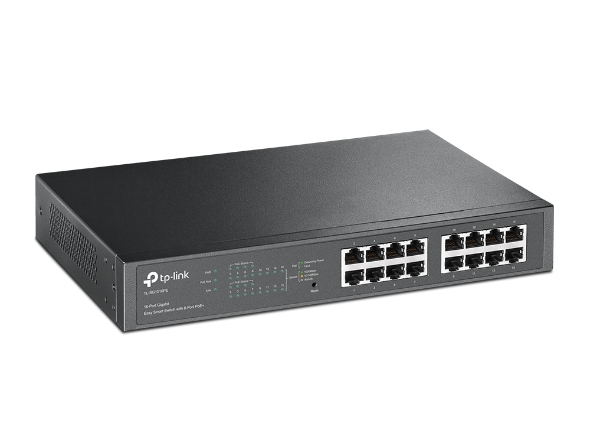 Port Priority Function:
Priority (port 1> port 2> port 3> port 4> port 5> port 6> port 7> port 8) This function helps to protect the system from overload. For example, ports 1, 2, 3, 4, and 5 consume 30W (the maximum power per port is 30W) and the total system power is 110 W (PoE max LED in PoE PD> = 110W if power consumption is green). ). If the 20W optional PD port 4 enters, the system will disable port 5 to protect the system, which means ports 1, 2, 3 use 90W, and port 4 uses 20W, no power supply. Port 5.
Easy To Use:
it is easy to install and use. No configuration or installation required. TP-LINK smart switch 16-port 8-Port PoE Desktop / Rack Mount Switch is a good choice to expand your home or office network.