TP-Link TL-SF1024D

TP-Link TL-SF1024D 24-port 10/100Mbps Desktop/Rackmount Switch
switch sports 24 RJ45 10 / 100M ports.
New energy-saving technology that saves up to 75% energy
Mac address self-learning and self-supporting MDI / MDIX.
Standard 13 "steel case.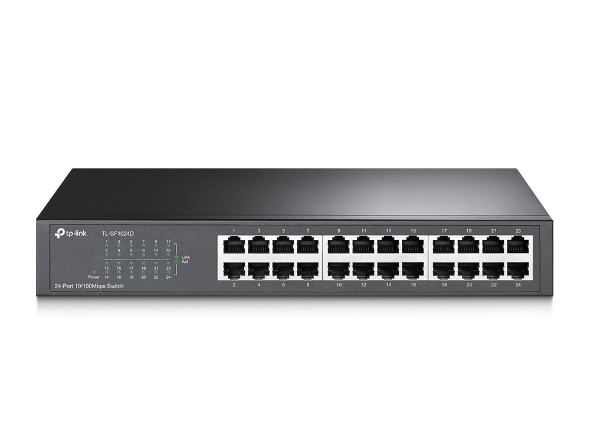 What This Product Does:
The TL-SF1024D switch sports 24-Port 10 / 100Mbps Switch provides high performance, smart switch low cost and easy-to-use real estate network to 100Mbps network seamlessly. All 24 ports support MDI / MDIX automatic sensors, you don't have to worry about cable type, just plug in and play. In addition, with innovative energy-saving technology, it can save up to 75% on energy consumption and recycle 80% of packaging materials, making it an ideal solution for your business network environment.
TP-LINK Green Technology:
This new generation TL-SF1024D switch sports 24-port 10 / 100Mbps switch is equipped with the latest energy saving technology, which greatly increases network usage. It automatically adjusts the power consumption depending on the connection condition and cable length to reduce network carbon emissions. It also complies with the EU's RoHS Directive, which prohibits the use of certain hazardous materials. In addition, 80% of packaging materials can be reused.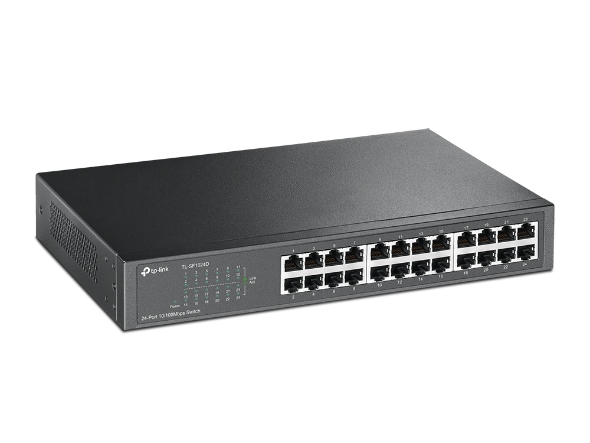 High Performance:
smart switch The shelf-sized steel chassis design combined with a secure internal power supply make the converter a reliable product and extremely cost effective for up to 16 users. Unobtrusive converter architecture, the transmission and wired large packet display for maximum output. The IEEE 802.3x flow controller reduces back traffic for full duplex mode and semi-duplex mode and ensures reliable operation of the TL-SF1024D.
Easy to Use:
smart switch The automatic features of this fast Ethernet Switch make this installation simple and easy. No configuration required. Automatic MDI / MDIX eliminates the need for cable switching. Automatic negotiation at each port clears the network device's connection speed (10, 100 megabytes per second), which effectively adjusts compatibility and performance.