TP-Link TL-ER6120

TP-Link TL-ER6120 SafeStream Gigabit Multi-WAN VPN Router
64-bit dedicated network processor, 512MB of high-speed DDRIII memory for better business network performance
Equipped with 1 Gigabit WAN port, 3 Gigabit WAN/LAN ports and 1 Gigabit LAN port
It supports multiple VPN protocols, including IPsec/PPTP/L2TP, helping users establish VPN connections flexibly.
Supports up to 100 IPsec VPN tunnels using a hardware VPN engine.
The Captive Portal provides a convenient way to authenticate a guest.
Many features including load balancing, bandwidth control and access control.
Professional 4 kV lightning protection ensures the highest safety of your investment
What This Product Does:
TP-Link's SafeStream Multi-WAN Gigabit VPN Router TL-ER6120 has advanced processing capabilities and a powerful set of features including IPsec/PPTP/L2TP VPN, load balancing, access control, DoS protection and bandwidth management. The TL-ER6120 is ideal for SMBs, hotels and other places where a large number of users need a stable and secure connection.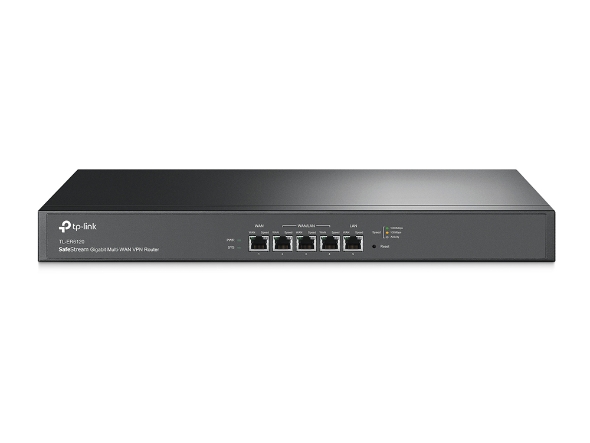 Enterprise-Standard VPN:
The TL-ER6120 supports traffic with multiple VPN protocols, including IPsec, PPTP, and L2TP in client/server mode. It also has a built-in VPN engine hardware, which allows the router to handle and manage up to 100 IPsec LAN-to-LAN/client-to-LAN VPN connections. Advanced VPN features include DES/3DES/AES128/AES192/AES256 encryption, MD5/SHA1 authentication, and master/attacker negotiation modes.
Intelligent Bandwidth Allocation:
The TL-ER6120 is equipped with 1 WAN port and 3 WAN/LAN ports, allowing one device to meet multiple requirements. Intelligent load balancing distributes data flows according to a percentage of each WAN port's bandwidth to maximize multi-channel broadband utilization. IP-based bandwidth control and session authentication features give network administrators the flexibility to control bandwidth usage.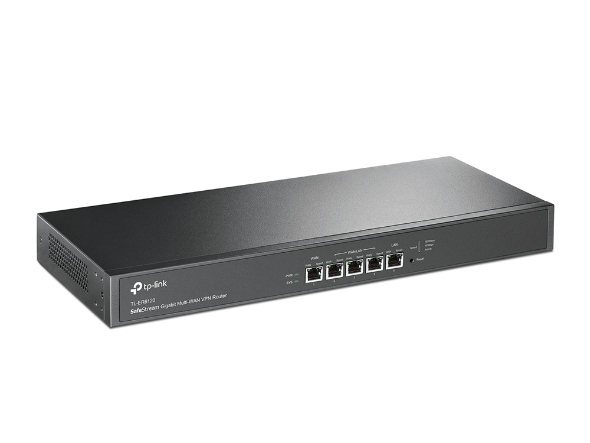 Superior Hardware:
With a 64-bit network processor and 512MB DDR3 memory, the TL-ER6120 can multitask while maintaining superior performance and improved reliability.
Peace of Mind Whatever the Weather:
Professional-grade lightning protection prevents power surges from penetrating your network equipment, instead discharging them safely to ground. Designed to withstand 4kV electricity with excellent stabilization, this router ensures that your network investment is as protected as possible from Mother Nature's wrath.