Camera
F/NO: 2.4; Focal Length: 4mm
TP-Link Tapo TC70

Pan/Tilt Smart Home Security Wi-Fi Camera
HD Video: Each image is recorded in high definition up to 1080p.
Pan and tilt: 360 degrees horizontal, 114 degrees vertical
Enhanced Night Vision: Offers a viewing distance of up to 30 feet.

Motion detection and notification: When motion is detected, the camera will notify you.

Sound and Light Alarm: Turn on sound and light effects to scare away unwanted visitors.

Two-way audio: Communicate through the built-in microphone and speaker.

Secure storage: Up to 128 GB of local storage on a microSD card for 384 hours (16 days) of footage. (based on laboratory conditions)

VOICE CONTROL: Free your hands with voice control: Works with Google Assistant and Amazon Alexa. (Google Assistant and Amazon
Alexa are not available in all languages or countries)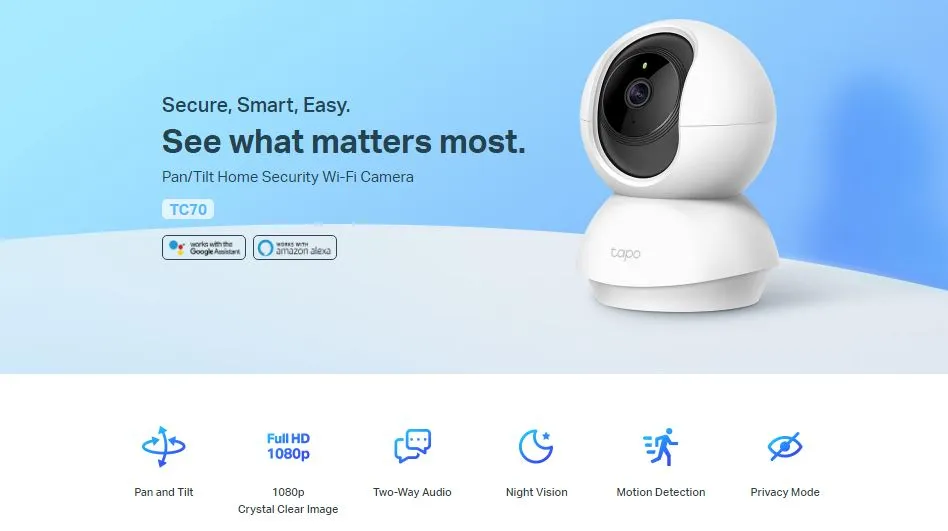 Detects motion and sends you alerts right away:
I want to prevent theft. Position your camera toward the entrance of your home, garage, or basement to keep your family and property safe.
Get notified when the TC70 detects motion in your home. This could be a notification of the arrival of a suspicious package or break-in. Turn on sound and light effects to scare away unwanted visitors.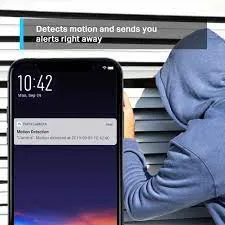 Advanced night view helps guard you while you sleep:
Safe sleep at night. Quickly monitor your home with a camera while you sleep. 850nm infrared night vision up to 30ft supports automatic color switching filter in low light.
Privacy mode and safe local storage ensures your privacy:
Enabling privacy mode can actually close the viewer for added privacy security. Additionally, a local microSD card prevents hacking over the internet.
Privacy Mode: Physically close the camera lens.
128GB Micro SD Memory: Supports up to 128GB (microSD card not included)

High definition video:
Capture every detail in up to 1080p HD. See exactly what's happening in front of your camera when it's on. Find out if your child is safe, well cared for, or in trouble.

Live view and two-way audio:
Even when you go on a trip, you can be sure that your furry little ones are safe or have a nanny to look after them. Two-way voice lets you say you want to meet (or prevent you from sharing food).

Get a detailed look at your room:
Comprehensive coverage to capture every moment.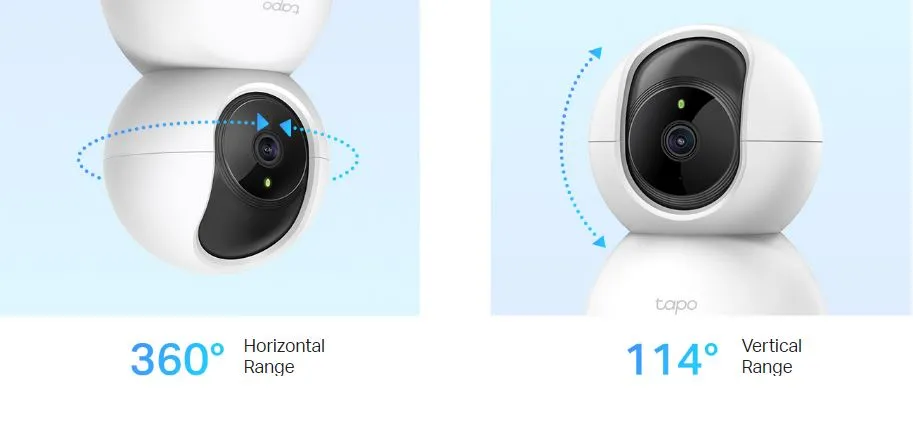 Share every memorable moment:
Great and funny moments are worth sharing, especially with loved ones who are far away. Stay up to date with your daily activities and make the precious moments you share a part of your life.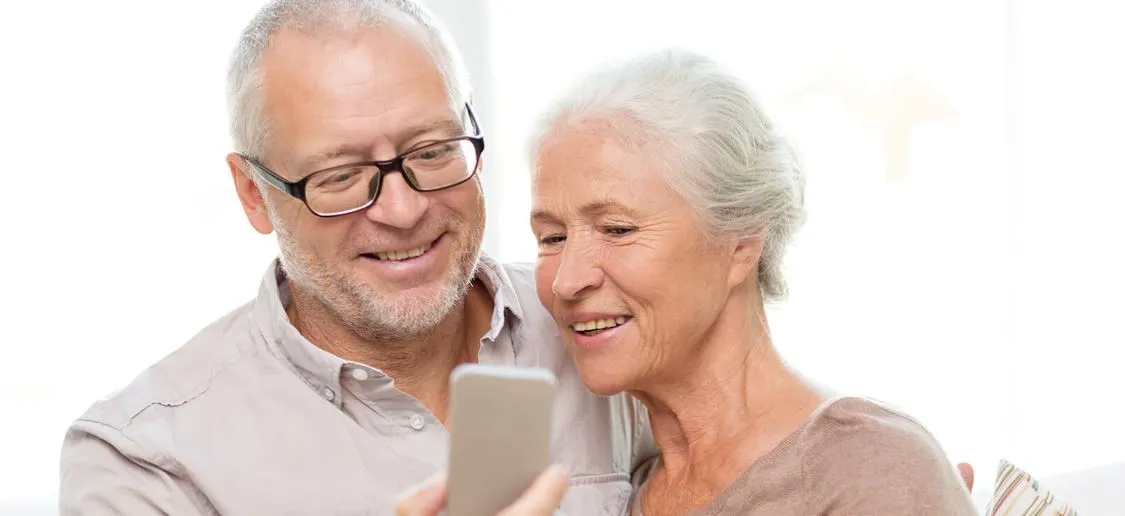 A tap leads to what matters most to you:
Everything you need is at your fingertips with the free Tapo Camera app.
Check the video box to play previous recordings. Select a specific camera and search for the desired date.
Set a schedule to check videos regularly. Automatically record video according to schedule whether the camera detects motion or not.
Find and hold a fixed angle. Clicking on this placeholder in your app will instantly transform you into this angel.
Check multiple views simultaneously. Watch more than you need from a variety of devices. It has 4 views per page and supports up to 32 cameras in one application. Click on any one to see more.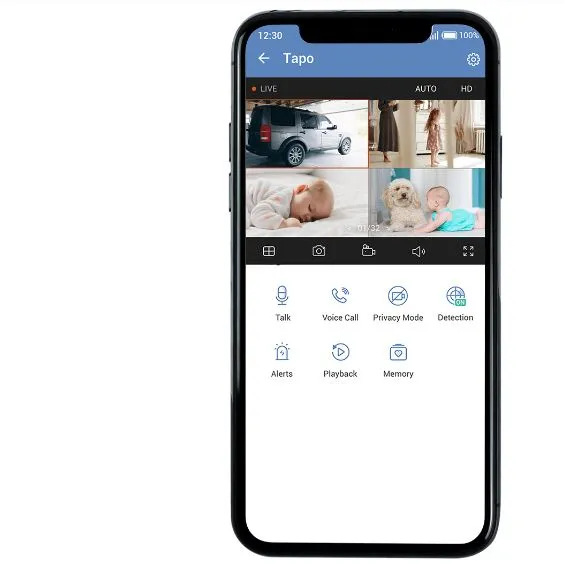 Easy setup with soft AP configuration:
With a convenient app, you can set up your camera in minutes.