Modem Router
Range Extender, Access Point
1 x 10/100M Ethernet Port (RJ45)
5 GHz:Up to 867 Mbps, 2.4 GHz:Up to 300 Mpbs
IEEE 802.11a/n/ac 5 GHz, IEEE 802.11b/g/n 2.4 GHz
Wi-Fi Range Extender RE315, Quick Installation Guide
Find similar
TP-Link RE315
TP-Link RE315 AC1200 Mesh Wi-Fi Range Extender
Eliminate weak signal areas with full home Wi-Fi coverage.
Dual-band Wi-Fi provides more stable wireless connectivity at 2.4 GHz (300Mbps) and 5GHz (867Mbps).
Creates a mesh network by connecting the full house cover to the TP-Link OneMesh ™ router.
Adaptive Line Selection - Automatically connects to the fastest router connection path and runs at high speed.
High Speed Mode - Increase the speed, perfect for HD streaming and play using a single Wi-Fi band as a separate connection.
Access point mode. Create a new Wi-Fi hotspot to optimize your cable network with Wi-Fi capability.
The Smart Signal Indicator shows the signal strength and helps you find the best place for optimal Wi-Fi coverage.
To easily connect to a router, press the WPS key and manage it seamlessly from the Tether app or web UI.
Works with any Wi-Fi router or wireless access point.
Why get a Mesh Wi-Fi Extender:
Can't connect to Wi-Fi in your bedroom, balcony or bathroom?
Do you lose contact when you move around the house?
Do thick walls and floors weaken your Wi-Fi signal?
Tired of multiple network cables?

Boost Whole Home Wi-Fi with Your Existing Router:
A router has limited Wi-Fi coverage and always creates Wi-Fi hotspots. The RE315 connects wirelessly to an existing router and extends the Wi-Fi signal to areas that do not automatically connect. Enjoy stable network performance from home.
Wi-Fi keeps Strongest for Unlimited Moving:
With TP-Link Mesh technology you can easily set up a single Wi-Fi mesh network to fully cover your home. Simply connect the RE315 to the OneMeshTM router. Always enjoy the strongest Wi-Fi when moving without the need for a stable connection.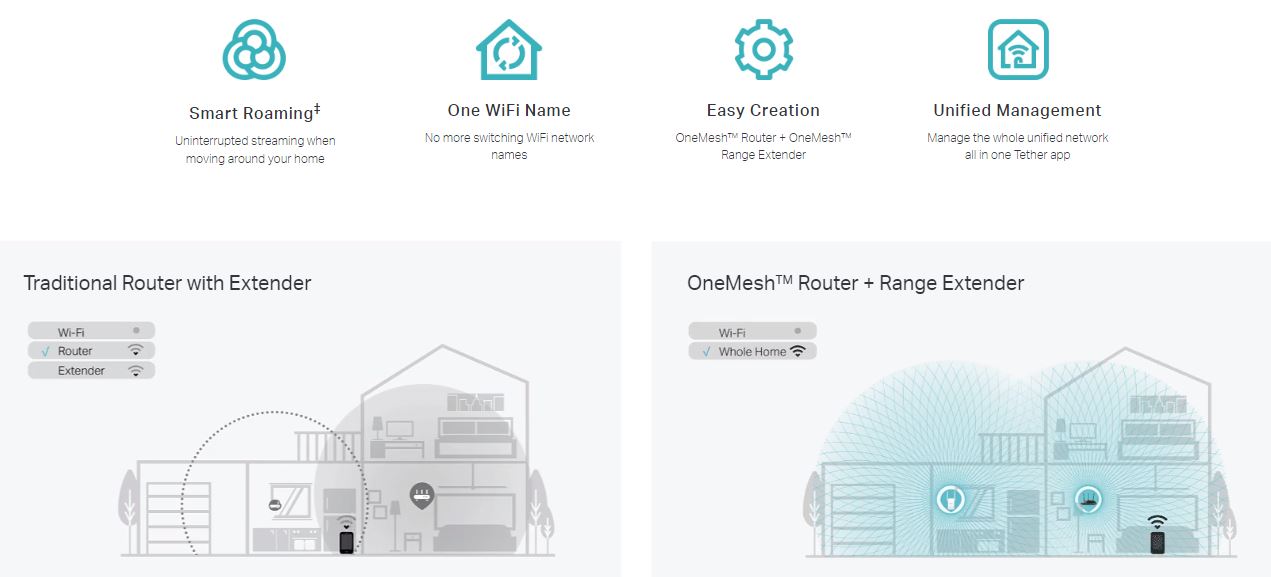 Enjoy a Mesh Network with Your Existing Router:
Looking for an interconnected web? Do you hesitate to replace your current router and purchase a network kit?
TP-Link OneMesh ? solves your problem.

Faster Dual Band Wi-Fi up to 1200 Mbps:
RE315 provides dual band (2.4GHz and 5GHz) for Wi-Fi signal transmission, doubling the performance of each band. Thanks to dual bands at 2.4 GHz at 2.4 GHz and 867 Mbps at 5 GHz, it allows you to connect more devices at the same time. Use 2.4 GHz band for email and web browsing, and 5 GHz band for play and HD streaming.
Keeps Itself Working at Top Speed:
Practical route selection automatically activates your network by selecting the fastest connection path to your router. Always keep your device fast and stable - Suitable for congested network environments with a large number of devices and applications.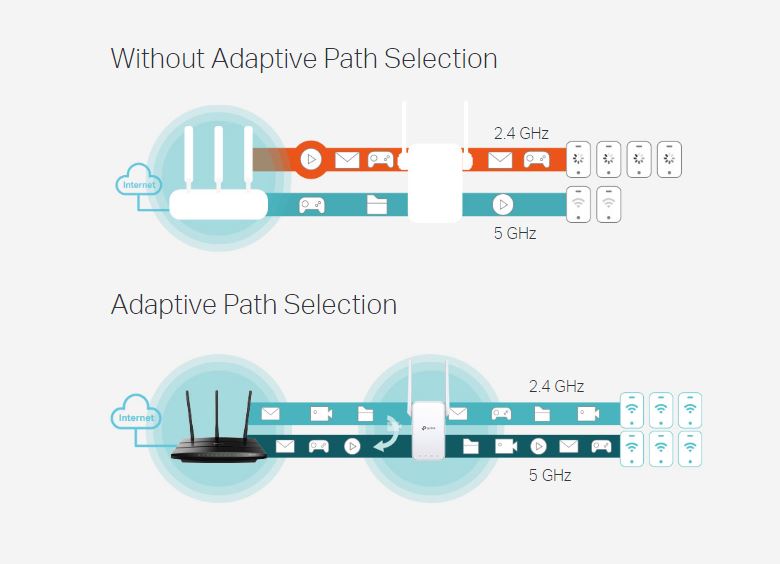 High Speed Mode:
Increases the Wi-Fi bandwidth to use the extended Wi-Fi band as a link and another special Wi-Fi band as an access point.

Built-In Access Point Mode:
RE315 is more than just wireless signal enhancement. Simply plug the Ethernet cable into the Ethernet port and easily switch your wired Internet connection to a dual-band MIMO 2x2 wireless access point.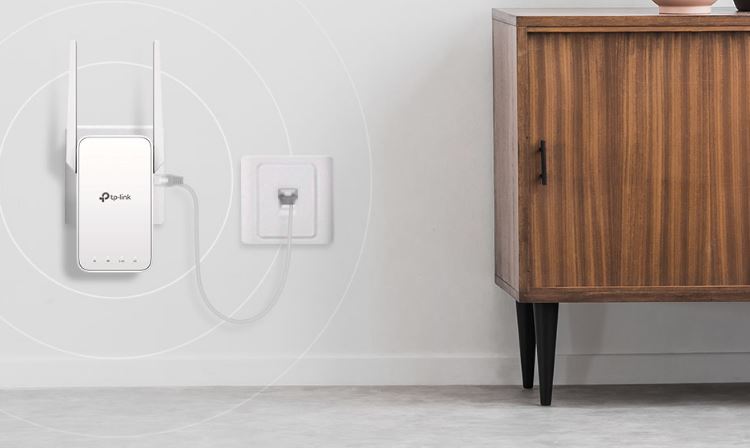 Secure One-Touch Connection for Easy Setup:
Step 1 Simply press the WPS key on the router and within 2 minutes the WPS key on the RE315 will connect to the network.
Step 2: Once connected, place the RE315 in a better place - without reconfiguring it.

Find the Best Location with the Smart Signal Indicator:
The Smart Signal Indicator lets you preview the signal strength of your current router. You can easily find the best place to install Signal Enhancement to expand your Wi-Fi network.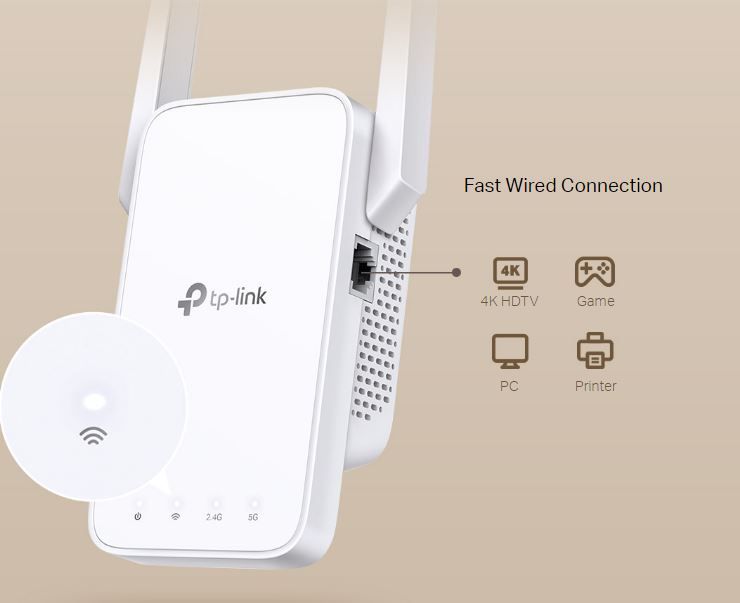 Control at Your Fingertips:
Manage your Wi-Fi network with the TP-Link Tether app from your smartphone (Android, IOS), TP-Link routers and range extensions.