Modem Router
3 fixed external antennas
WPS Button, Wireless On/Off Button, Power On/Off Button, Reset Button
VDSL/ADSL Modem Router, Wireless Router,3G/4G Router
3 10/100 RJ45 LAN Ports, 1 10/100/1000 RJ45 LAN/WAN Port, 1 RJ11 Port, 1 USB 2.0 Port
867Mbps at 5GHz, 300Mbps at 2.4GHz
IEEE 802.11a/n/ac 5GHz, IEEE 802.11b/g/n 2.4GHz
AC1200 Wireless VDSL/ADSL Modem Router Archer VR400, External Splitter, RJ11 DSL Cable, RJ45 Ethernet Cable, Power Adapter, Quick Installation Guide
Find similar
TP-Link Archer VR400
AC1200 Wireless VDSL/ADSL Modem Router
Speedy Wi-Fi: Experience excellent wireless connection with dual-band Wi-Fi 867Mbps (5GHz) + 300Mbps (2.4GHz).
Superior Range: Two fixed universal antennas provide stable wireless connection and good coverage through optical technology
Versatile Connectivity: Fully compatible with VDSL2 / ADSL2 + / ADSL2 / ADSL standards, as well as 3G / 4G fiber, cable and Internet services
Whole-Home Coverage with OneMeshTM: It works in conjunction with TP-Link OneMeshTM products to create a durable embroidery network.
MU-MIMO Technology: At the same time it transmits information to multiple devices, reducing delays
Full Gigabit Ports: Make full use of broadband speeds of up to 1 Gbps
Tether App: TP-Link Tether provides an easy way to access and manage your router on iOS and Android devices.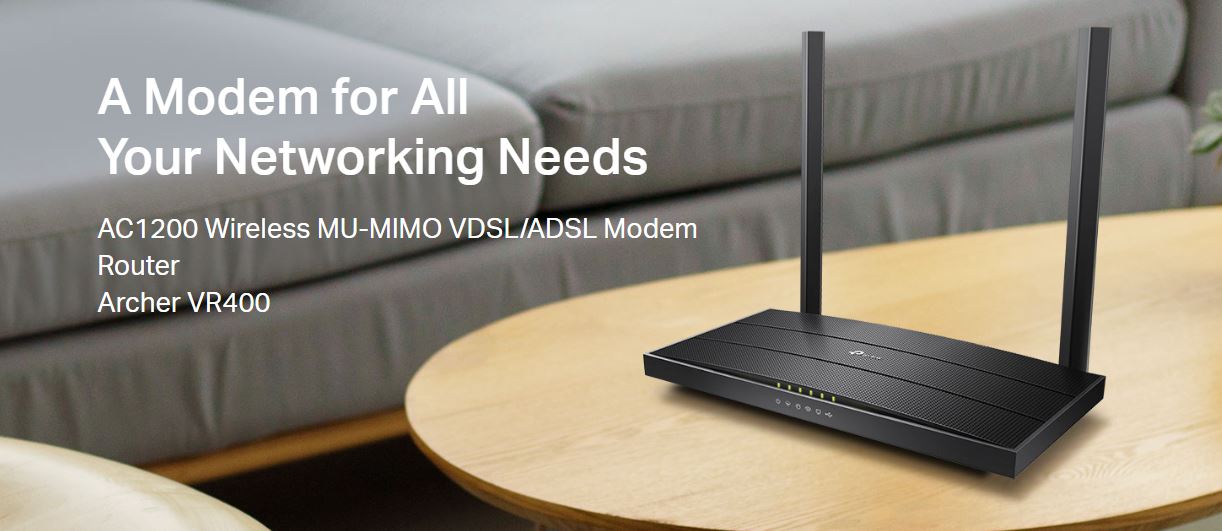 Superfast Wi-Fi Up to 1.2 Gbps:
The TP-Link Archer VR400 shows the full potential of your internet connection, eliminating delays and keeping your online activities up to 1.2Gbps with dual-band Wi-Fi speeds, 867Mbps on 5GHz band and 300Mbps on 2.4 GHz band. Two dedicated Wi-Fi networks support additional devices and reduce wireless interference for stable connection.

High-Speed VDSL Modem Router:
With advanced VDSL2 technology, the Archer VR400 delivers stunning VDSL broadband speeds of up to 100Mbps — up to 4x from ADSL2 +. The Archer VR400 doubles as a DSL modem and wireless router, combining two devices into one.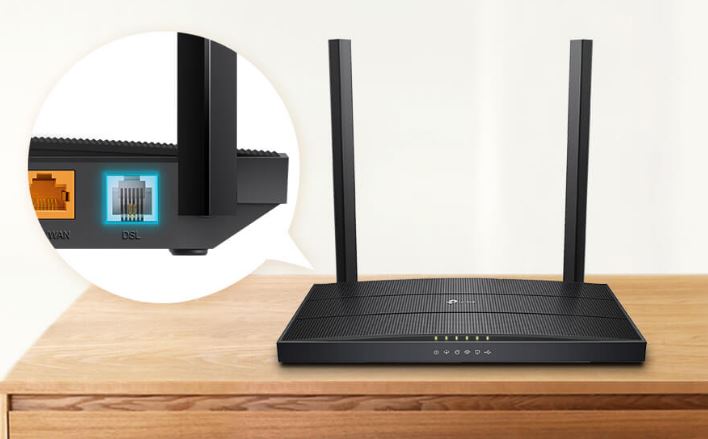 Versatile Backup Connectivity:
With multiple ports, the Archer VR400 offers a variety of options when connected to the Internet. As a backup, the LAN / WAN port archive allows the VR400 to receive connections over cable and fiber modems over Ethernet cable. The USB port also supports 3G / 4G dongle connection.

Flexibly Create a Whole Home Wi-Fi:
OneMesh is an easy way to set up a single Wi-Fi mesh network for flawless coverage in your home. Simply connect the OneMeshTM range extension to your OneMesh ™ TP-Link Archer VR400 router. No more looking for a stable relationship.
Wi-Fi Dead-Zone Killer: Avoid weak signal areas with Wi-Fi coverage throughout your home
Smart Roaming: Continuous flow as you move around the house
One Wi-Fi Name: No longer changing Wi-Fi network names.
Unified Management: Manage your entire home Wi-Fi network with node management through the Tether app.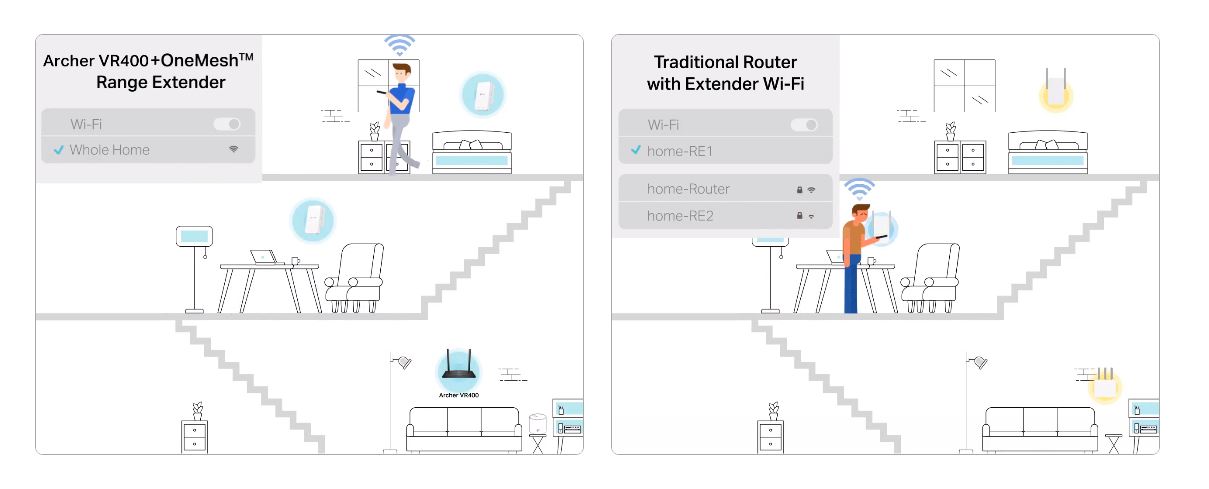 Superior Range and Stability:
Two array VR400 high-performance external antennas help build an extended home network. Advanced bumpering technology automatically detects wireless devices and creates the most efficient and targeted wireless connection.

MU-MIMO for Higher Efficiency:
MU-MIMO technology serves multiple devices at once, reduces downtime, increases the Wi-Fi transmission speed of each device, and makes each transmission more efficient.

Blazing Fast Wired Performance:
Router Gigabit Ethernet ports are 10 times faster than standard Ethernet to help your wired devices achieve higher performance. TP-Link Archer VR400 with Full Gigabit ports provide fast and secure wired connections to PCs, TVs and game consoles.

Easy Setup and Use:
Configure the Arrow VR400 with a familiar web interface and powerful Tether app in minutes. Tether allows you to manage your router network settings from any Android or IOS device, including parental controls and guest networks.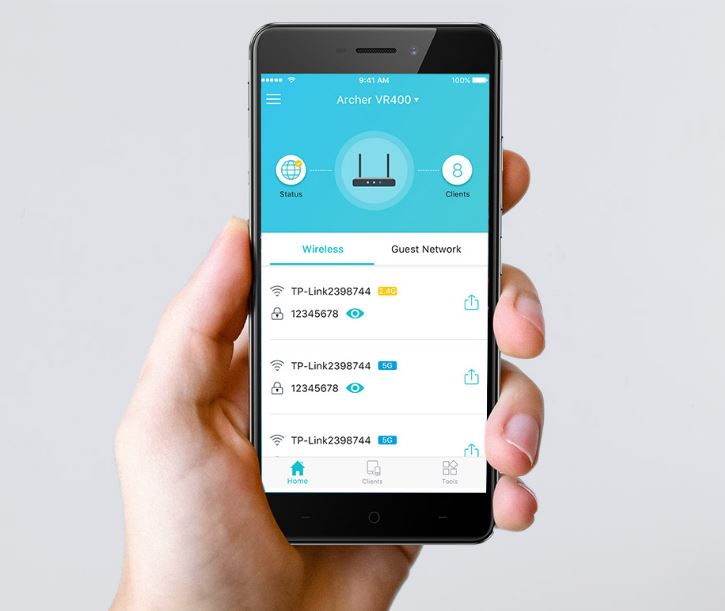 Ports & Dimensions:
1.Dimensions: 215.6 x 201 x 31.6 mm
2.Ports: Power, Wi-Fi, WPS / Reset, Gigabit LAN Ports10× faster than standard Ethernet, USB 2.03G/4G Dongle supported for backup connection, VDSL/ADSL Connect to the internet, Gigabit LAN/WAN port Internet access from Cable Modem or Fiber Modem