Modem Router
Wi-Fi On/Off Button, Power On/Off Button, WPS/Reset Button
Router Mode, Access Point Mode
1× 10/100 Mbps WAN Port, 4× 10/100 Mbps LAN Ports
5 GHz: 867 Mbps, 2.4 GHz: 450 Mbps
IEEE 802.11ac/n/a, IEEE 802.11n/b/g
Wi-Fi Router Archer C60, Power Adapter, RJ45 Ethernet Cable, Quick Installation Guide
Find similar
TP-Link Archer C60

TP-Link Archer C60 AC1350 Dual Band Access Point/ Wi-Fi Router
Get faster Wi-Fi in the 2.4GHz (450Mbps) and 5GHz (867Mbps) bands.
Advanced AC Wi-Fi technology maximizes the performance of all wireless devices
Three 2.4GHz antennas and two 5GHz antennas provide excellent Wi-Fi coverage.
Beamforming technology enables high-performance wireless communication (supported in version 2.0 and later)
Advanced software features such as parental controls and guest networks
The Tether app makes it easy to manage your router in the palm of your hand.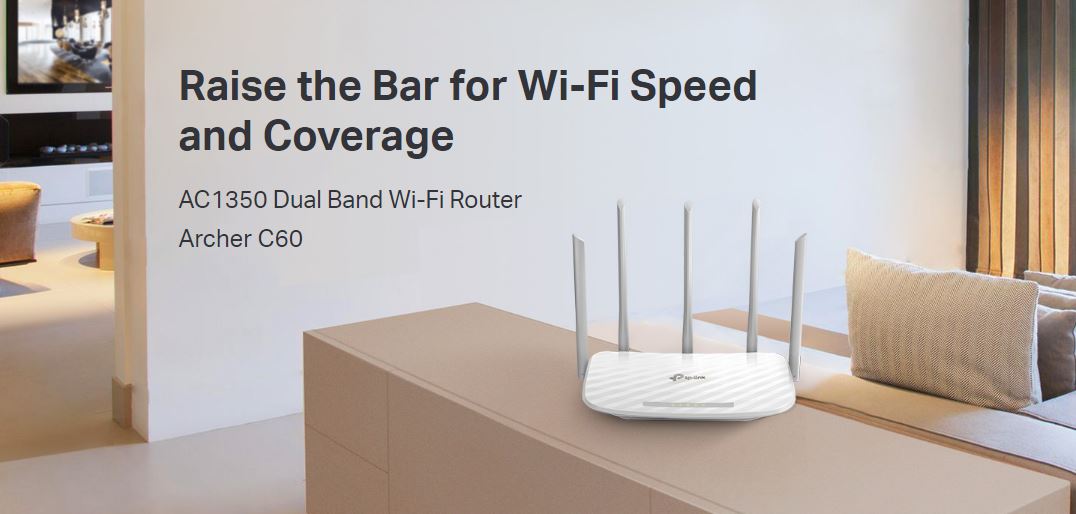 Fast AC Wi-Fi Standard for an Advanced Online Experience:
Archer C60 supports the high-speed 802.11ac wireless standard. Designed for high-traffic online activities, this advanced Wi-Fi can run applications up to three times faster than previous 802.11n standards. The result is a faster, more powerful Wi-Fi network that can be used with all wireless devices.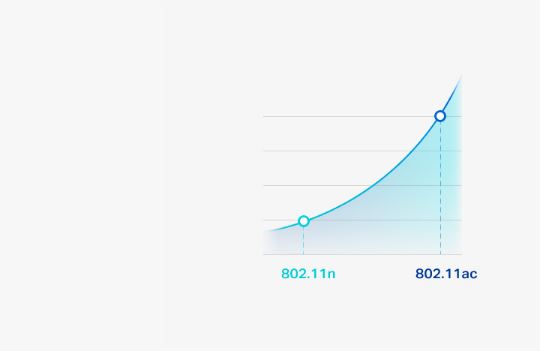 Fast, Concurrent Dual Band Wi-Fi:
The Archer C60 provides simultaneous dual band Wi-Fi connectivity.
5 GHz band 867 Mbps: It provides up to 867Mbps delay-sensitive Wi-Fi for entertainment, allowing you to stream HD video, play online games, and video chat all at the same time without delay.
2.4 GHz band 450 Mbps: 3x3 MIMO technology creates fast and stable Wi-Fi at 450Mbps, making it ideal for everyday applications such as sending email, browsing the web, and playing music.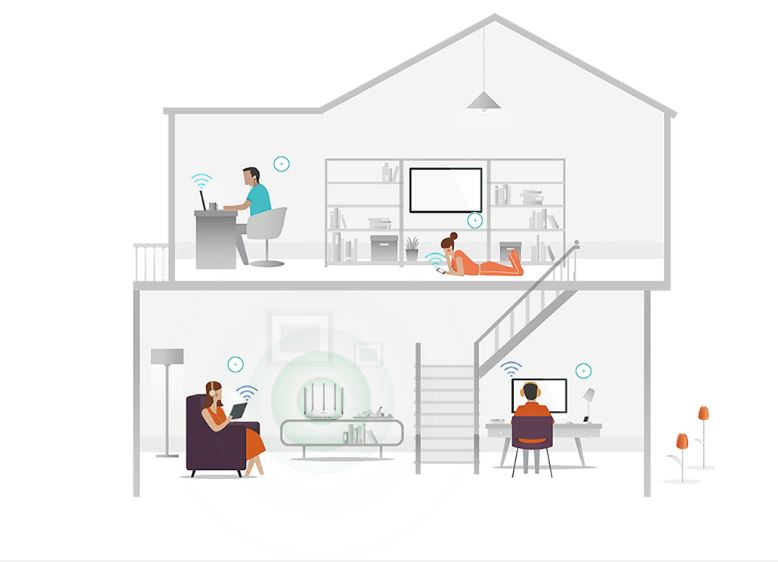 Arranged Coverage, Enhanced Stability:
The Archer C60's innovative design includes five antennas (three at 2.4GHz and two at 5GHz). They are staggered to optimize dual-band 802.11ac Wi-Fi, creating transmission with wider coverage and less interference.
Organized Antenna: The transmitting antennas alternate at the same frequency to reduce interference and provide a cleaner and more stable dual band connection.
Disorganized Antenna: Antennas transmitting at the same frequency are too close together, causing interference and signal instability.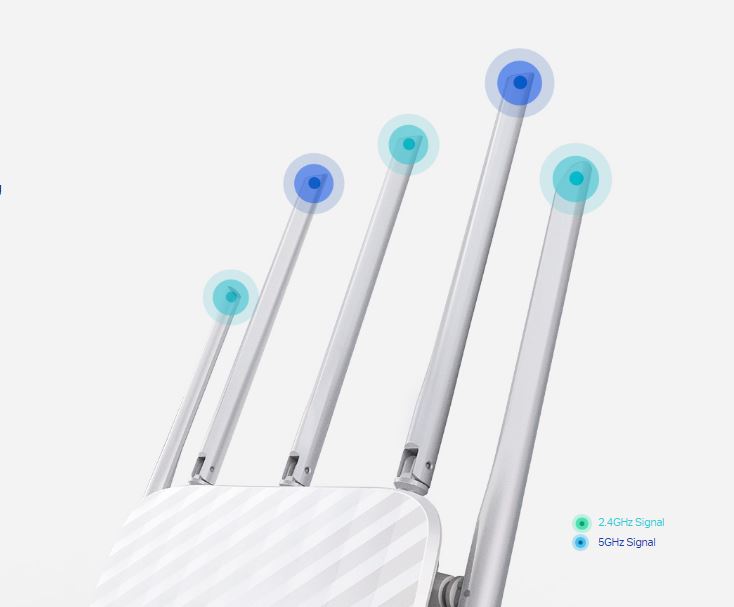 Management:
Parental Controls: Controls when and how connected devices access the Internet. Use URL blocking to easily blacklist or whitelist and limit the level of Internet access.
Guest Network Access: Allows guests to connect to his Wi-Fi network while protecting their privacy. Simplify replacement and maintain security.

Impeccable Design:
In addition to advanced features, the Archer C60 offers elegant textures and colors that perfectly match the elegant decor of your home.

Easy Setup and Management:
Set up Archer C60 in minutes using an intuitive web interface. Settings are also in the palm of your hand using Tether, a powerful TP-LINK app that is the easiest way to access and manage your router from your smartphone.