Toshiba
V300, 1TB, 3.5" Inch, Hard Drive,
Video Stream:
With up to 3TB of Toshiba V300 video streaming hard drive, you can stream, record, edit, and play video content with the performance and reliability you need on your DVR, TV, or NVR. The 64MB buffer ensures smooth operation, and temperature control technology reduces heat buildup, prolongs life and increases reliability. With Toshiba Silent Seek technology and reduced power consumption, the engine runs quieter and more efficiently than ever before.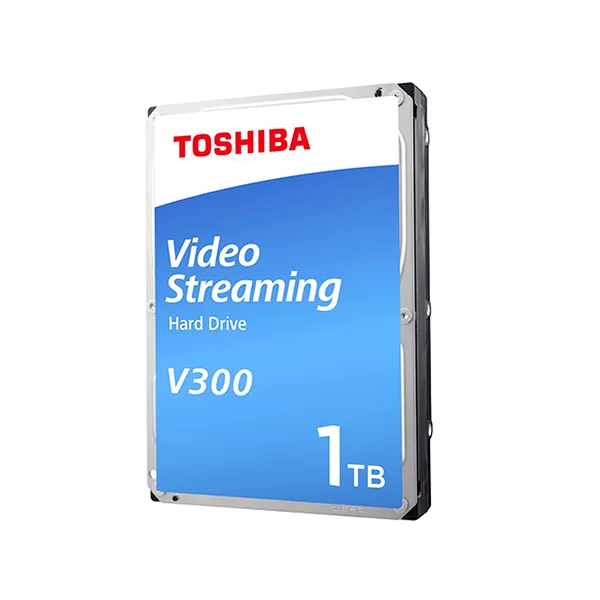 Capacity At Your Service:
The V300 is available in a variety of storage capacities to meet specific requirements up to 3TB. This set of 3.5-inch internal hard drives is equipped with a 64MB internal data buffer to keep the video from slowing down. And with a standard SATA interface that delivers speeds up to 6 Gb / s, the action never stops.
Streaming Performance You Can Depend On:
The V300 is designed to ensure that multiple HD streams are delivered simultaneously, taking video content delivery to the next level. The 64MB buffer ensures smooth operation, and the long life due to brake heat generation helps prevent overheating.
Optimised For The Viwers Experience:

The speed and performance of the V300 is delivered in a muffled sound thanks to Toshiba's silent seek technology, which reduces noise and heat during operation. The low frequency sound of the hard drive is enhanced for the simultaneous recording and live streaming provided by today's DVRs and STBs. With this quality, nothing interferes with a great viewing experience.
Keeping Cool When The Action Heats Up:
The V300's efficient, slow design helps reduce video recording, editing, and streaming power consumption by up to 25% (compared to P300, 7200rpm). Due to the extended temperature range, hard drives are optimized for today's standard VCRs and set-top boxes, even in high temperature environments.
Specifications:
Form factor
3.5-inch
Interface
6.0 Gbit/s
Number of cameras supported
16
Drive bays supported
up to 8
Advanced Format (AF)
Yes
RoHS compatible
Yes
Halogen Free Yes
Shock Sensor
Yes
Performance
Rotational speed
5940 rpm (3 TB), 5700 rpm (1 TB - 2 TB)
Buffer size
64 MB
Native Command Queing (NCQ)
supported
Reliability
Workloads
72TB/year
Unrecoverable error rate
1 per 10E14 bits read
24/7 operation
Yes
Load / Unload Cycle
300,000
Power Management
Supply voltage
5VDC (±5%) / 12VDC (±10%)
Consumption (operating)
5.40 W typ. (3 TB), 4.70 W typ. (2 TB), 5.70 W typ. (1 TB)
Consumption - Active Idle
4.20 W typ. (3 TB), 3.30 W typ. (2 TB), 3.00 W typ. (1 TB)
Environmental
Temperature (operating / non-operating)
0 to 65° C / -40 to 70°C
Vibration (operating)
0.67 G (5 to 500 Hz)
Vibration (non-operating)
1.04 G (2 to 200Hz)
Shock (operating)
70 G / 2 ms duration
Shock (non-operating)
300 G / 2 ms half sine
Acoustics (idle mode)
24 dB typ. (3 TB), 22 dB typ. (2 TB), 19 dB typ. (1 TB)
Physical
Dimensions
147 (L) x 101.85 (W) x 26.1 (H) mm
Weight (approx.)
700 g max. (2 TB, 3 TB), 450 g max. (1 TB)
Box Content
3.5-inch internal HDD - V300 Video Streaming Hard Drive