Point Of Sale Spec
100 to 240VAC ± 10% 50/60 Hz
Find similar
Star
TSP100III,Receipt Printer,
Easy To Use Anywhere:
The TSP100III is suitable for kiosks and food trucks and has several advantages over other receipt printers. Connecting wireless devices to the network can be difficult and does not use Bluetooth.
A USB:
Recognizing the extremely high demand for power and sockets in portable point-of-sale terminals, a star-type AUSB connector has been added to the printer to power tablets and other mobile devices. The TSP100III comes with everything you need for your mPOS device, from power cables to enclosure brackets, so you can print your documents within minutes of box opening.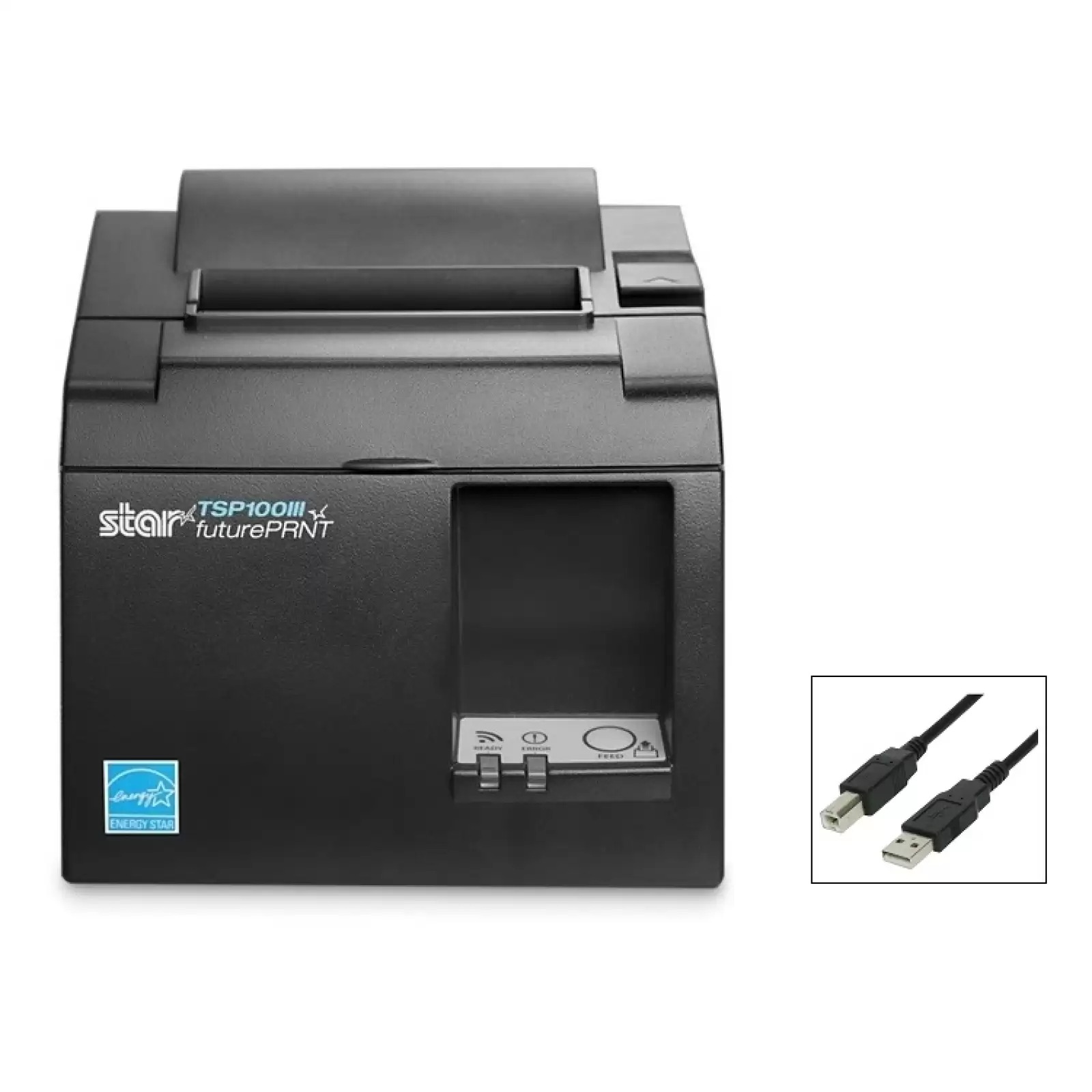 Fast Printing:
Having a reliable printer is essential for any retail or restaurant business. Print speed with 43 checks per second and automatic guillotine ensures fast and clean transaction printing. Add paper download and digital receipts for all receipts, TSP100III required for mobile sales point.
Features:
Available in white or gray petra
Bluetooth connection is very easy
Adds a USB Type-A connector to Power Mobile devices
futurePRNT Windows Software
The guillotine is an auto-cutter monument
AllReceipts features a digital receipt application

Specifications:
Series
TSP100futurePRNT Series
Model Name
TSP100IIIW
TSP100IIILAN
TSP100IIIBI
TSP100IIIU
Max. Print Speed
250 mm/second
Resolution
203 dpi
No. of Columns
48 / 64 col Depending on Paper Width
Autocutter (Guillotine)
Partial cut (Leave centre point)
Paper Width
80 mm (58 mm Using Paper Guide)
Paper Thickness
0.053–0.085 mm
Paper Roll Standard Option
83 mm
Media Presentation
User Selectable Paper Delivery Options with Mounting Bracket included
Print Width
51 mm (58 mm Paper) 72 mm (80 mm Paper)
Sensors
Paper End, Cover Open
Interface
Wireless LAN (*1) Virtual Serial Port
Ethernet Virtual Serial Port
Bluetooth® Virtual Serial Port
USB Virtual Serial Port
Unique Ethernet Print on Disconnection Feature
Standard
–
Power Supply
Internal with Power Cable included
Power Consumption
65W at 240V ASCII Printing
3.5W at 240V Standby
Energy Star
Energy Star Certified Internal Power Supply with Power Cable
Reliability
60 million lines 2 million cuts
Safety Standard
VCCI: ClassA, FCC: ClassA, EN55032: ClassB, UL
Dimensions (W x D x H)
142 x 204 x 132 mm
Weight
Approx. 1.68 kg (without paper roll)
Options
Splash Proof Cover (SPC-T100), Buzzer (BU01-24-A) Display Stand for Vertical Use (VS-T650)