Star
TSP 700 II, Receipt Printer,
Easy To Use:
Due to its robust design and ease of use, the TSP700 is ideal for fast, high volume applications that require high quality text, graphics, and barcode output at 250 mm / s. The TSP700II is compatible with most operating platforms and has been successfully installed in thousands of retail kiosks, hotels and self-service kiosks around the world. The TSP700II multifunction printer combines speed, reliability and ease of use with the ability to print high resolution graphics and barcodes on tickets, receipts and labels.
High Quality:
The TSP700II is also a cost-effective MFP that can print high quality fixed length cards and labels on paper up to 0.15 mm thick. The TSP700II can be used as a standard black mark sensor with high quality cutters at precise intervals, so it can be used as a movie theater, theme park, event label printer, lottery printer, ticket printer.
It is suitable for any place:
The TSP700IIBI Bluetooth POS printer is ideal as a high quality wireless receipt printer for retail stores and restaurants.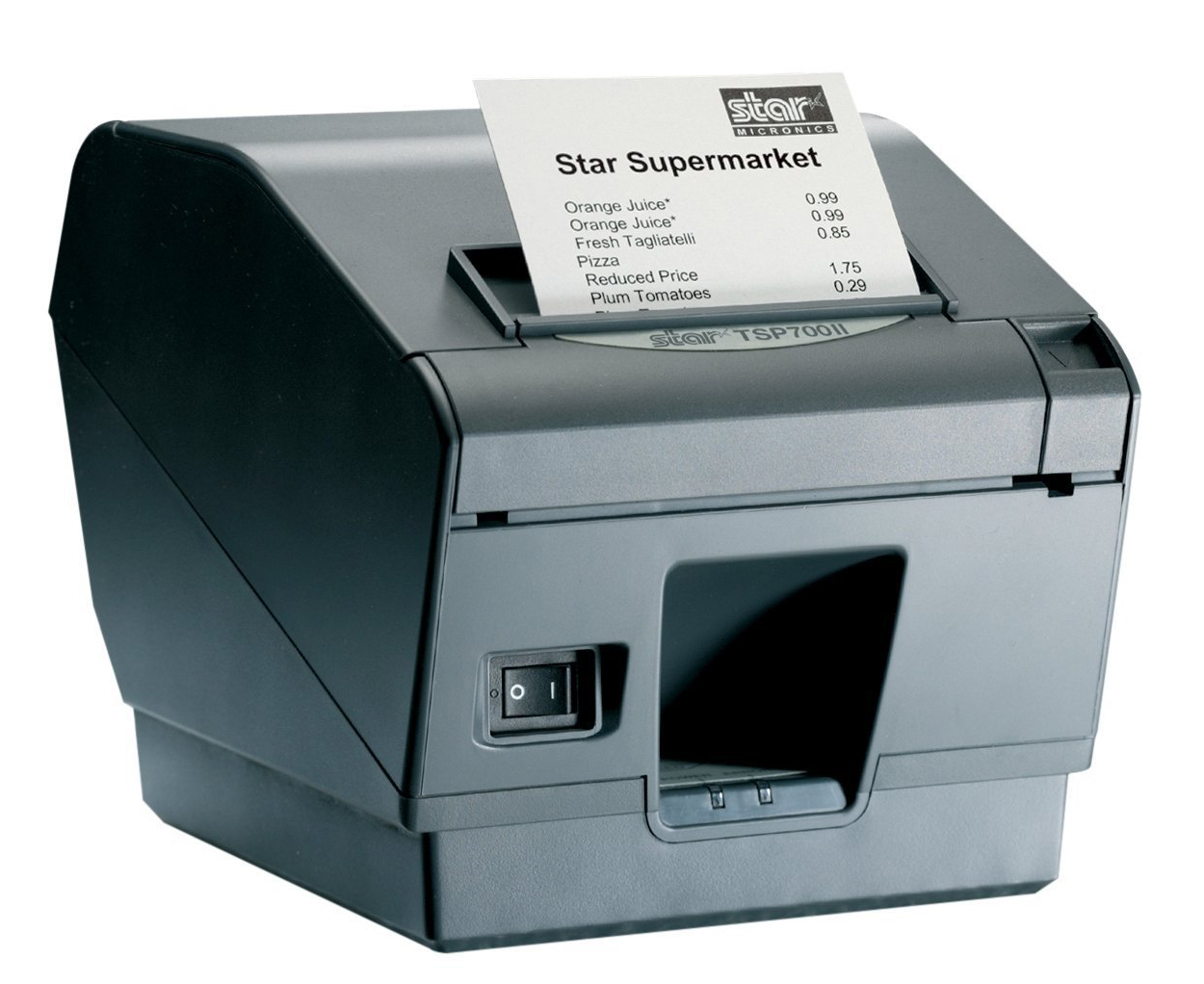 Specifications:
Max. Print Speed
250mm/sec.
Resolution
203 dpi, 406 x 203 dpi selectable
No. of Columns
48 / 64 or 53 / 71 col. Depending on Paper Width
Autocutter
Full or Partial Cut (Guillotine)
Paper Width
82.5mm, 80mm, 58mm selectable (80mm Standard with User Installable Paper Guide Fitted)
Paper Thickness
0.065 – 0.15mm
Paper Roll Standard Option
100mm
Media Presentation
User Selectable Paper Delivery Options with Mounting Bracket included & Optional Paper Exit Guide
Print Width
80mm Maximum
Sensors
Black Mark, Paper End, Cover Open, Near End Horizontal & Vertical
Interface
Serial, Parallel, USB and Non Interface versions.Plug-In Options: Serial (IFBD-HD03), 9-pin Serial (HN03), Parallel (HC03), Ethernet (HE07) NEW Bluetooth (Apple iOS, Android, Windows) version available
Unique Ethernet Print on Disconnection Feature
Standard with IFBD-HE07 Option
Power Supply
External Option PS60A
Power Consumption
1.8 Amps Printing 0.15 Amps Standby
Energy Star
External, Energy Star Qualified PS60 (Optional)
Reliability
60 Million Lines 2 Million Cuts
Dimensions (W x D x H) mm Weight
147 x 213 x 148 1.75kg
Options

Buzzer
T700 Splash Proof Cover
Blue or Green & Red LED Paper Exit Guide
Plug-in Interfaces (see above)
"Plug-In" WebPRNT interface solution for simple Web printing
Star WebPRNT Browser, Download option for TSP743IIBTi from the App Store & Google Play