U.P.S Specifications
Multi-function LCD status and control console
CD with software , USB cable , User Manual, RS232 cable
Schneider SRVS3KRI
Easy 1 Ph On-Line SRVS 3000VA/2400W 230V Ups
Easy UPS 1 Ph On-Line offers vital power protection for small to medium businesses, guaranteeing stable and dependable connectivity even in the face of unpredictable power conditions. This ensures uninterrupted operations during crucial moments.
With Schneider SRVS 3000VA, you will enjoy high quality and dual conversion to let you all your power Saving needs in the event of a power outage, as well as a user guide, USB cable, CD with software, RS232 cable.
The Schneider SRVS3KRI Easy 1 Ph On-Line UPS is a reliable power protection solution designed for small to medium businesses. Here are the key specifications and features of the UPS:
Input Voltage: The main input voltage is 230V, with support for other input voltages including 220V and 240V.
Output Voltage: The main output voltage is 230V, with support for other output voltages such as 220V and 240V.
Power Capacity: The UPS has a rated power of 2400W (Watts) and 3000VA (Volt-Amps), providing sufficient power for connected devices.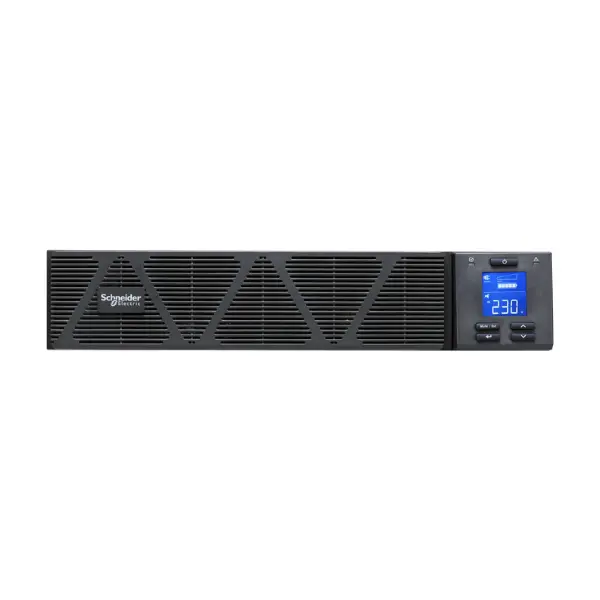 Input and Output Connections: The input connection type is IEC 60320 C14, while the output connection types include 6 IEC 60320 C13 and 1 IEC 60320 C19.
Rack Units and Mounting: The UPS occupies 2U of rack space and can be mounted in the front with a lower preference in a rack-mounted configuration.
Physical Dimensions: The UPS has a height of 8.6 cm, width of 43.8 cm, depth of 63.2 cm, and a net weight of 27 kg. The color is black (RAL 7010).
Efficiency and Battery: The Schneider UPS operates with an efficiency of 88% at full load and features a lead-acid battery with a voltage of 72V. The battery life is estimated to be between 3 to 5 years.
Communication and Management: The UPS offers a multifunction LCD status and control console for easy monitoring and control. It also includes alarms for low battery and overload conditions.
Environmental Considerations: The UPS operates within ambient air temperatures of 0 to 40 °C, with relative humidity ranging from 0 to 95% (non-condensing). It has an IP20 degree of protection.
Certifications and Standards: The UPS is CE and UKCA certified, conforming to standards such as EN/IEC 62040-1:2019/A11:2021 and EN/IEC 62040-2:2006/AC:2006.
Surge Protection and Filtering: The UPS provides surge protection with a surge energy rating of 600 J.
Packaging: The UPS is packaged in a single unit with dimensions of 22.9 cm (height), 56.9 cm (width), 79.5 cm (length), and a weight of 31.7 kg.
In summary, the Schneider SRVS3KRI Easy 1 Ph On-Line UPS is a reliable and efficient power protection solution suitable for small to medium businesses, offering stable power output, multiple input and output connections, and a range of features for monitoring and control.
Features:
3000VA / 2400W Ups
220V, 230V, 240V Input Voltage
220V, 230V, 240V Output Voltage
Up to 10 Years battery life
2 Year warranty included battery