Schneider SRVS240RLBP-9A
Easy On-Line SRVS 240V Rackmount Battery Pack for 6/10kVA
Schneider Electric has introduced a new range of uninterruptible power supplies (UPS) called Easy UPS On-Line single-phase SRVS. These UPS units are specifically designed to cater to the power protection needs of small to medium-sized organizations, even in highly unstable power conditions. The Easy UPS SRVS series offers flexibility, accommodating a wide voltage range and variable power situations, while providing a pure sinewave output. This ensures that professionals worldwide can rely on its quality, guaranteeing certainty in an interconnected world. To address extended power outages, Schneider Electric offers a battery extension pack that can enhance the backup capacity of Easy UPS On-Line UPS systems. This pack is designed to seamlessly integrate with the UPS units, allowing for increased runtime during prolonged power disruptions. It is possible to connect multiple modules simultaneously to achieve the desired backup duration.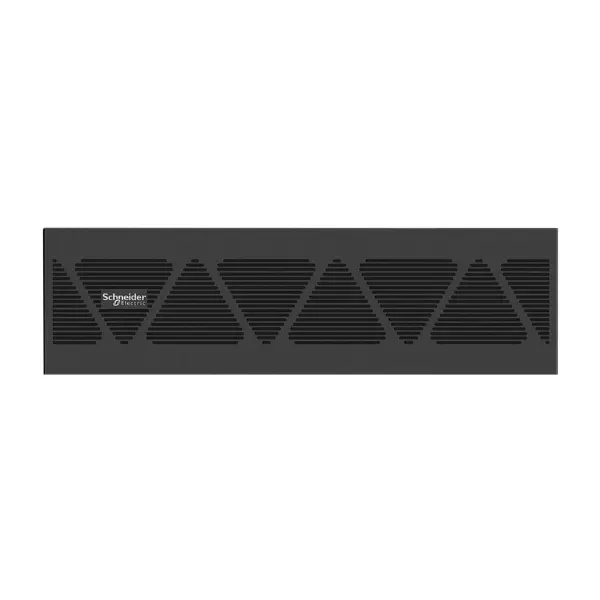 The Schneider SRVS240RLBP-9A Easy On-Line SRVS 240V Rackmount Battery Pack is a 3U rack unit designed for use with 5/6/10kVA systems. It features lead-acid batteries and comes with a user manual, rack mounting brackets, and battery cables. The battery pack is black in color and has dimensions of 13.3 cm (height) x 43.8 cm (width) x 61.5 cm (depth). It weighs 63 kg and is specifically designed for rack mounting using the provided kit. The battery pack does not have USB compatibility.
In terms of conformance, it has product certifications including CE, UKCA, EAC, and compliance with EN/IEC 62040-1 standards. The operating conditions include an ambient air temperature range of 0 to 40 °C, relative humidity of 0 to 95% non-condensing, and an operating altitude of 0 to 3000 m. For storage, the recommended ambient air temperature is -15 to 40 °C, with a relative humidity of 0 to 95% non-condensing and a storage altitude of 0 to 15000 m.
The battery pack consists of 20 battery blocks per string and is designed for rack mounting. The battery voltage is 240 V.
Regarding packaging, the unit is packaged as follows: Package 1 is a PCE type with dimensions of 25.000 cm (height) x 58.000 cm (width) x 87.000 cm (length) and weighs 69.839 kg. Package 2 is a P12 type with dimensions of 75.000 cm (height) x 80.000 cm (width) x 120.000 cm (length) and weighs 431.000 kg.+
Features:
9 Ah Battery capacity
240 V Battery voltage
Rack-mounted with kit Installation mode
-15…40 °C ambient air temperature
2 Year warranty included battery