Schneider BVS800I-GR
800VA/450W 230V Ups
Schneider Electric Easy UPS 1 Ph Series BVS:
Schneider Electric is launching the Easy UPS 1 Ph BVS series, specifically tailored to meet the power protection requirements of homes and small offices, even in challenging and unstable power conditions. This versatile UPS series is built to deliver reliable performance in intermittent power applications, ensuring the high-quality power supply that millions of users worldwide depend on from Schneider Electric.
Flexible design for high and low power applications:
The Schneider BVS800I-GR is an 800VA/450W 230V UPS that offers a versatile design suitable for both high and low power devices. It has the capability to provide power to low-power devices like modems, routers, and VOIP systems, while also being able to handle high-power devices such as computers and game consoles.
Stay connected for hours not minutes:
With the Schneider BVS800I-GR, you can maintain a stable internet connection by securely powering your home router or modem, even when your computer or other high-powered devices are powered off.
Automatic Voltage Regulation:
The Schneider BVS800I-GR is designed to effectively mitigate the risks associated with sudden voltage drops or spikes by promptly adjusting them to a safe level. This feature is particularly crucial in areas with unstable power supply. Additionally, the UPS helps prolong the battery life by compensating for DC voltage fluctuations without unnecessary draining of the battery power.
Reliable surge protection
The Schneider BVS800I-GR offers reliable protection for your valuable electronic devices, safeguarding them from potentially damaging events such as lightning, power surges, and voltage spikes.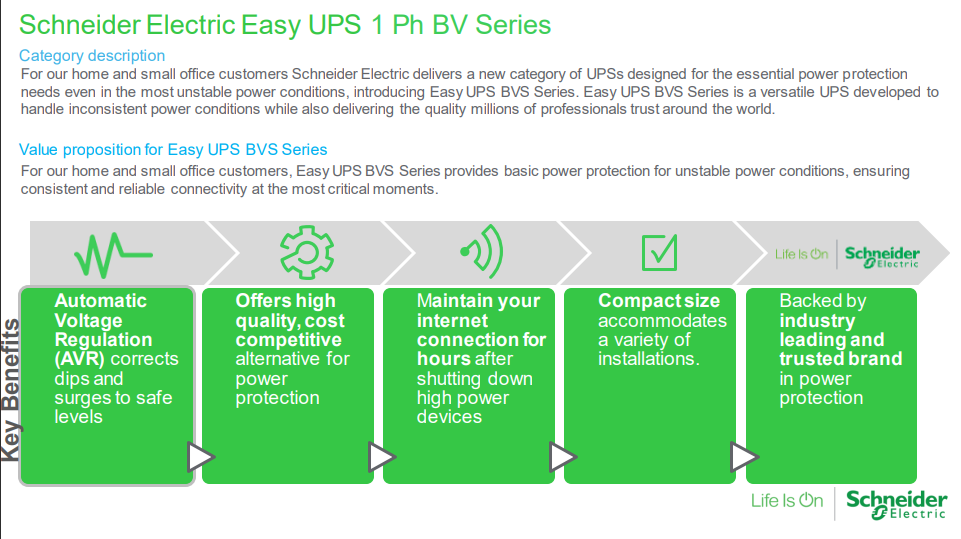 Wall mounting sockets
The Schneider BVS800I-GR features convenient keyhole sockets that allow for easy mounting of the UPS in various locations such as structured wiring closets, behind desks, basements, and garages.

Specs:-
The Schneider BVS800I-GR is an 800VA/450W 230V UPS that provides reliable power backup. It supports input voltages of 230V and delivers output voltages of 230V as well. With a battery life of 5-10 years, it offers long-lasting performance. The UPS also comes with a 2-year warranty, including the battery.