U.P.S Specifications
CD with software | User manual
Schneider APVS9601
Easy Ups Online SNMP Card
The Schneider Easy UPS Online SNMP Card is designed to facilitate remote management of the SRVS Easy UPS. It allows for reliable network-based shutdown of multiple servers and ensures maximum uptime and improved efficiency through real-time event notifications. Additionally, the card supports the use of DHCP to provide network (TCP/IP) values for the Network Management Card (NMC).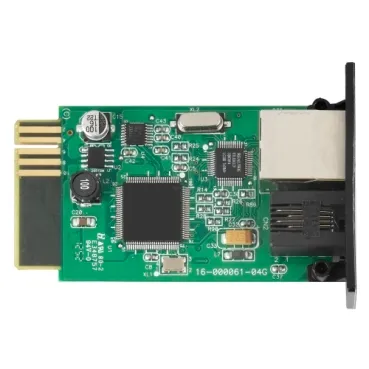 The Schneider Electric UPS Network Management Card enables secure remote monitoring and control of individual APC Easy UPS On-Line SRVS units through network browsers or external command line interfaces. With the NMC card, users can directly connect and control a specific Easy UPS On-Line SRVS UPS unit using SNMP. The configurable notification features of the network card ensure that users stay informed of any detected problems in real-time.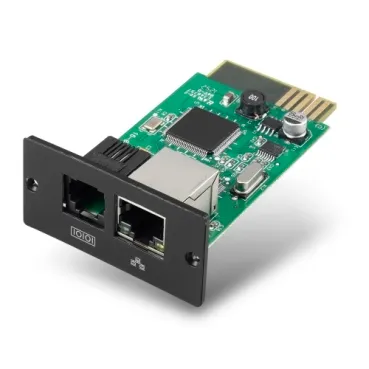 The Schneider APVS9601 Easy Ups Online SNMP Card is a network management card designed to remotely monitor and control Schneider Electric Easy UPS units. It serves as a UPS management accessory that provides contact closures for remote monitoring purposes. The card supports communication protocols such as TCP/IP, SNMP v1, SNMP v2, SNMP v3, and UDP. It comes with a CD containing software and a user manual.
The Easy Ups Online SNMP Card is part of the Easy UPS 1Ph Management Accessory Cards & Management Software product range. It features a physical interface with one Ethernet port (10/100BASE-T) and uses RJ45 connectors. LED indicators are present to display port communication at either 100 Mbps or 10 Mbps.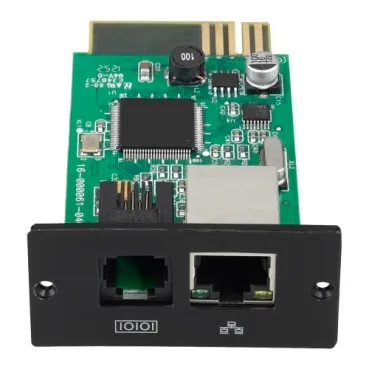 In terms of environmental conditions, the card can operate within an ambient air temperature range of 0 to 40 °C, and it can be stored within a temperature range of -15 to 45 °C. The relative humidity should be kept below 95% and should not be condensing.
Physically, the card has a compact design with dimensions of 1.5 cm in height, 4.7 cm in width, and 2.3 cm in depth. It weighs approximately 0.11 kg.
The packaging options include Package 1, which is a single unit package with dimensions of 4.191 cm (height), 16.789 cm (width), 13.208 cm (length), and a weight of 0.299 kg. Package 2 is a larger package type (CAR) that contains 52 units of the card. It has dimensions of 30 cm (height), 36 cm (width), 61 cm (length), and a weight of 20.6 kg.
The Schneider Easy Ups SNMP Card comes with a contractual warranty of 1 year.