Redragon M721 PRO Lonewolf 2
Gaming mouse
Professional Gaming Mouse:
The M721-PRO mouse is equipped with 5 customizable DPI levels ranging from 1000 to 16000, with the option to adjust DPI by ±100 from 100 to 32,000. It also features an advanced PMW3335 sensor and 4 polling rate options (125/250/500/1000 Hz) to provide optimal gaming accuracy and response. Additionally, the mouse is designed to maintain tracking accuracy at any DPI level.
Customizable RGB Backlight:
The mouse has extensive customization options with 16.8 million RGB colors that can be turned off if desired. It also includes 10 programmable buttons and 5 memory profiles, each easily identifiable with a specific bright color. Additionally, the mouse comes with a magnetic weight adjustment kit (9.4g) that can be easily adjusted to suit different gaming needs.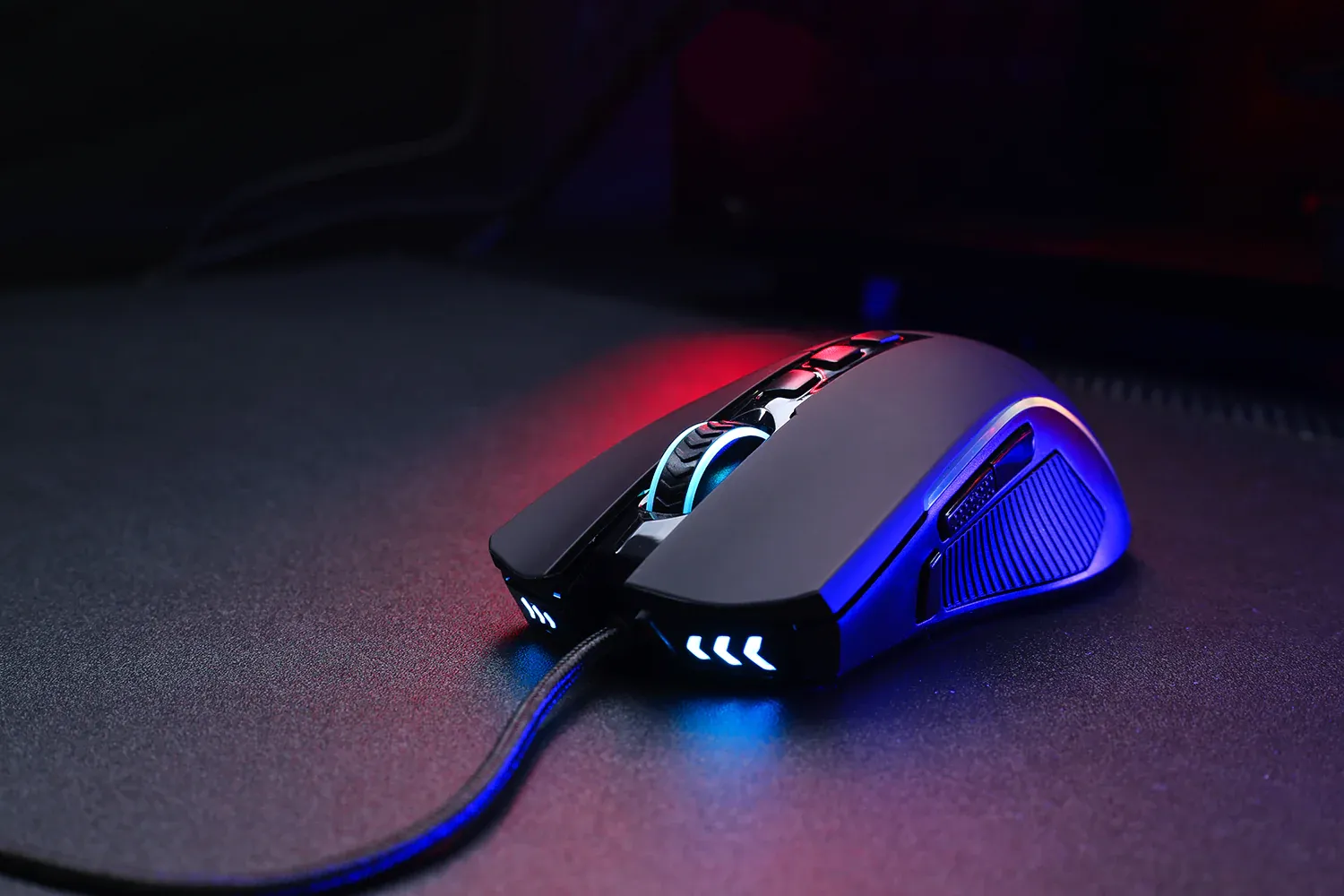 10 programmable buttons and a fire button:
This gaming mouse is designed with macro functions and 10 programmable buttons, enabling quick access to specific gaming actions without the need for complicated keystrokes. Additionally, the rapid Fire button provides an advantage during intense FPS battles, giving you the edge you need to succeed.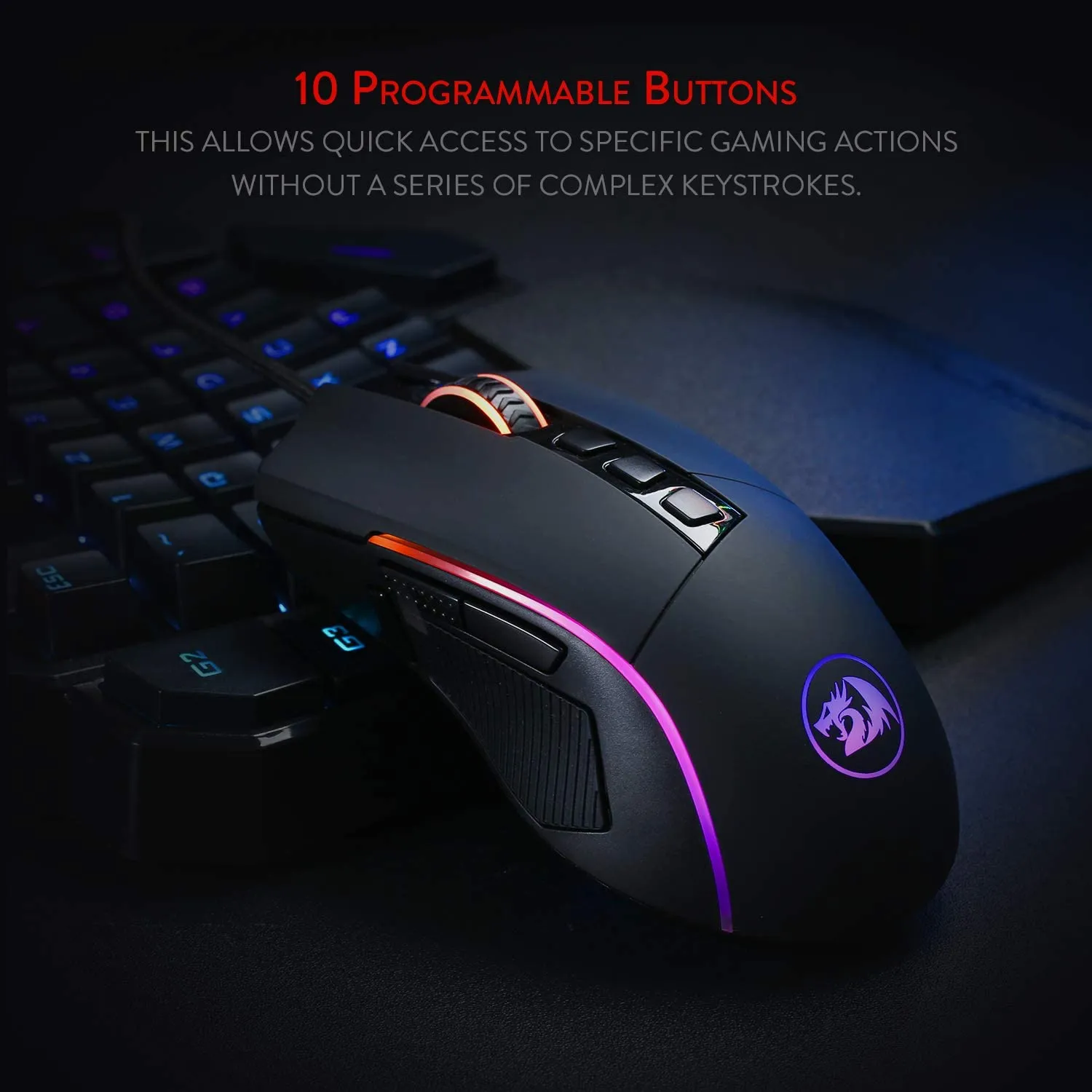 Comfort & Precision at Your Hands:
Die-hard gamers need look no further than this gaming mouse, which boasts an aggressive design tailored to fit comfortably in your hand. Our durable desktop and laptop gaming mouse delivers unmatched comfort, lethal accuracy, and precise movements. You can enjoy a seamless clicking experience without disturbing those around you, making it an optimal choice for use in the office, library, dormitory, or any other location of your choice.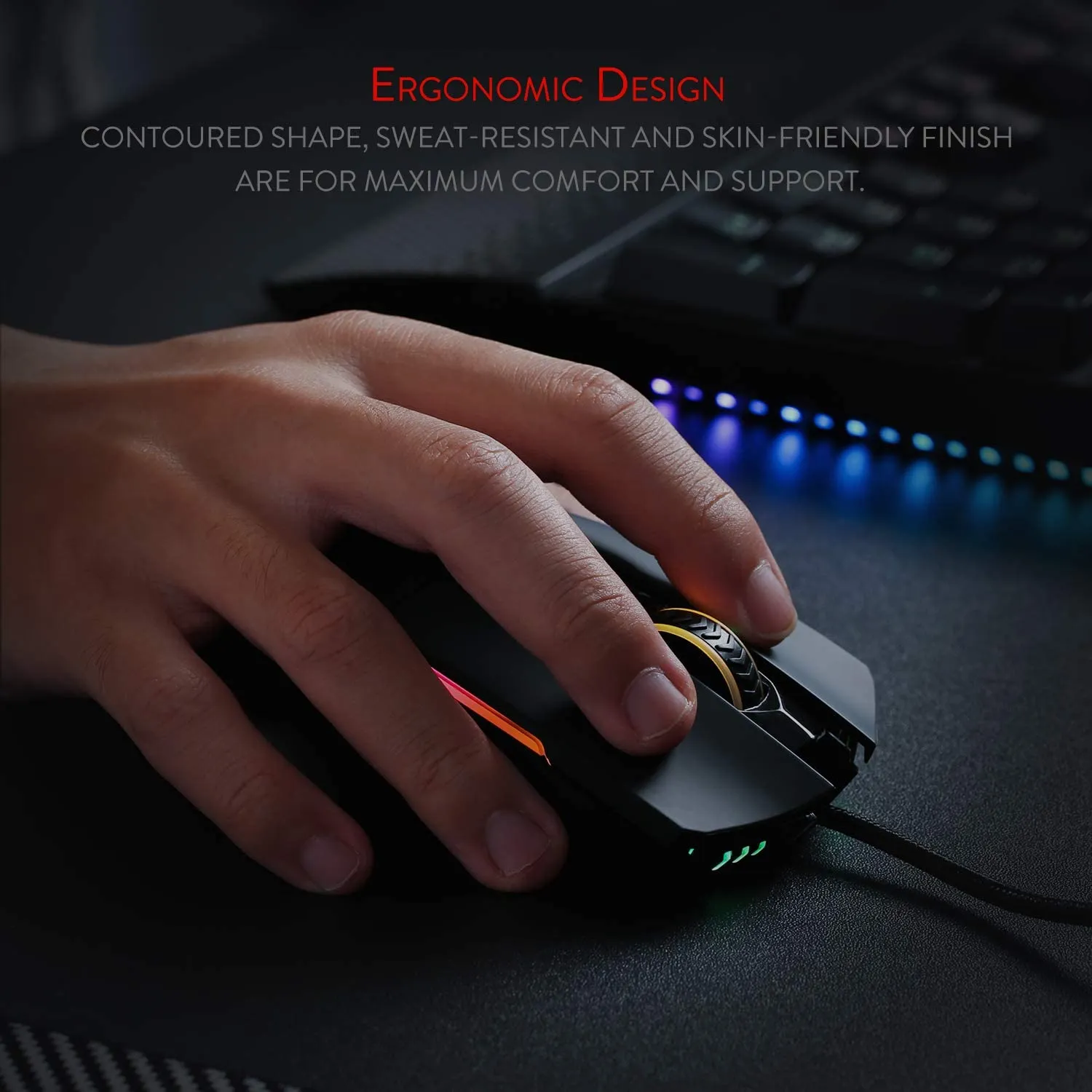 Durable and Wide Compatibility:
The gaming mouse comes equipped with durable TEFLON feet pads that provide optimal control during gameplay. With a lifespan of 20 million clicks, the mouse is built to last. Additionally, its 6ft braided-fiber cable and gold-plated USB connector ensure greater durability. The mouse is perfectly compatible with Windows 2000/ME/XP/03/VISTA/7/8/10 systems for programmable use, and with Mac OS for normal use.
Redragon M721-PRO Gaming Mouse:
The Redragon M721 RGB gaming mouse is perfect for gamers, thanks to its 32,000 DPI optical gaming sensor that delivers advanced tracking and high-speed motion detection for precise control. The mouse allows for adjustable DPI, with increments of 100 from 100 to 32,000. Additionally, the mouse features 10 programmable buttons and switches, providing a professional gaming experience with superior productivity and efficiency to meet all your gaming needs.
Powerful Driver:
You can assign custom actions to most buttons on this gaming mouse, enabling you to achieve combo keys for your gaming needs. Additionally, you can set the click times and delay times of each key. The mouse can record up to 59 actions, which can be triggered with a single click.
7 RGB Lighting Effects:
The Redragon RGB Lighting system offers a variety of lighting effects, including Breathing, Rainbow, Full, Wave, Go without Trace, Reactive, and Flash modes. With 16.8 million customizable color options, you can create a gaming mouse that is truly unique and tailored to your preferences.