Redragon M608
Redragon M608, Wired Gaming Mouse,
WIRED GAMING MOUSE:

BUILT FOR GAMING - redragon m608 gaming "Inquisitor" LED Gaming Mouse, up to 3200dpi (user configurable 1000/1600/2400/3200dpi), 10G acceleration. Partial switches are game tested up to 5 million clicks for durability, improved reliability and maximum responsiveness.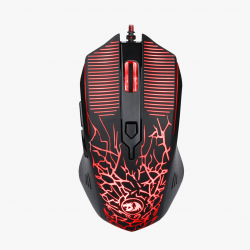 LED BACKLIT PROGRAMMABLE PC GAMING MOUSE:
mouse redragon m608 Six mouse buttons, including two side buttons. Each DPI setting has its own LED color mode (red, blue, green, purple).
ERGONOMIC GAMER MOUSE:
Built for comfort, redragon m608 mouse gaming mouse has an ergonomic shape that fits naturally in your hand and customized buttons to reduce click fatigue. It provides esports pros with an ultra-comfortable gaming experience even during the most proven MMO marathon gaming sessions such as League of Legends, Steam, SIMS, Fortnite, PUGB, Overwatch, Call of Duty and FPS.
PC GAMING MOUSE FEATURES:
The Redragon M608 mouse features; a non-slip scroll wheel, and a durable soft TEFLON pad for ultimate gaming control. There are 6 buttons in total. The mouse works great with the Redragon gaming keyboard and mousepad. It comes with a durable 6' 3mm braided high-speed fiber optic cable, magnetic ferrules, and corrosion-resistant gold-plated USB connectors for a secure connection.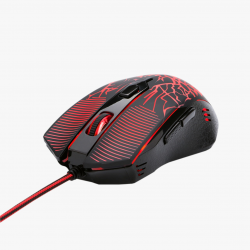 PC GAMING MOUSE COMPATIBILITY:
Windows 10, Windows 8, Windows 7, Windows Vista, or Windows XP, Limited Mac OS support. Works well with all major Computers Brands and Gaming PCs and Keyboards MSI, Dell, Corsair, Alienware, Razor, Logitech, Asus and others. Redragon M608 INQUISITOR Programmable Gaming Mouse with 4 LED backlight modes. The Redragon M608 is a cost-effective ergonomically designed customizable wired gaming mouse. The Gaming Mouse is elegantly and comfortable thanks to a contoured smooth ergonomic design and offers smooth and precise movements due its high precision sensor. This makes the mouse perfect for long lasting gaming sessions providing maximum comfort and support.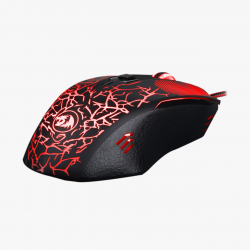 Features:
5 user programmable buttons (Total 6 buttons)
Anti-skid Tactile Scroll Wheel
up to 3200 DPI (1000/1600/2400/2200 DPI User adjustable)
4 LED color modes corresponding with selected DPI setting
10g acceleration
Durable TEFLON feet pads for smooth and accurate movements
6 foot, 3mm high-speed braided fiber cable and with magnet low pass filter to reduce electromagnetic interference
Gold-plated corrosion free USB connector for a reliable connection
Product dimensions 126.5x66x39.5 mm Product weight: 6.14oz
System Requirements PC with USB port Windows 10, Windows 8, Windows 7, Windows Vista and Windows XP
Supports Plug & Play