Keyboard
Easy-Switch Technology (Multi-device pairing)
No
Palm Rest for added comfort
No
Redragon K568 Dark Avenger
RGB Mechanical Gaming Keyboard
N-KEY ROLLOVER:
The Redragon K568 keyboard has 87 keys and features 100% anti-ghosting, which means that each key is controlled by an independent switch. This allows you to press multiple keys at the same time without any conflict, resulting in a fast and accurate response. This feature enhances your gaming and typing experience to a new level.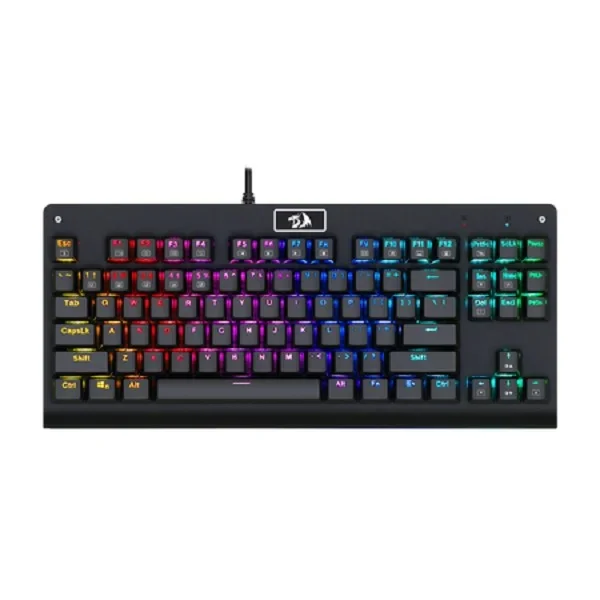 Ergonomic, durable and waterproof design:
The keyboard's keycaps have a stepped layout and are concave to suit the naturalcurve of your fingertips, resulting in a comfortable typing experience with each key press.
9 LED modes:
The Redragon K568 Keyboard features RGB LED backlighting that is adjustable with nine different lighting modes. You can adjust the brightness of the backlighting using the keys "FN+↑" and "FN+↓". Additionally, the keyboard has a single backlit mode with seven colors.
High resolution and game-level responsiveness:
The blue switches offer excellent sound and tactile response, and have been tested to withstand 50 million keystrokes. They require a key force of 60+/-15 grams and have a stroke travel of 4.0+/-0.2mm. They are an ideal option for gamers, programmers, writers, typists, and other similar users.
Removable Flexible Keycaps and Wide Compatibility:
This product comes with a Key Cap Puller and can be used on various computer systems such as Windows 10, Windows 8, Windows 7, Mac OS X, Windows XP, and Windows Vista, among others.
Features:
This keyboard is designed to be long-lasting, with keys that can withstand up to 50 million keystrokes. It is made of a sturdy metal material with a matte-finish texture that protects it from scratches, bumps, and corrosion.
Additionally, a complimentary key cap puller tool is provided with the keyboard, which can be used to easily remove and clean key caps or to frequently change them.
The keyboard is built to be very strong and durable, with an over-engineered metal and ABS casing. It is also compatible with various computer systems, including Windows 10, Windows 8, Windows 7, Mac OS X, Windows XP, and Windows Vista.
Keyboard Setting:
87 standard keys
9 backlight models
All non-conflict keys; 12 multimedia keys; adjustable input speeds
WIN keys can be disabled when gaming; laser engraved chiclet keycaps
Technical Specification:
Connector: Gold-plated USB 2.0
Cable: Fiber braided cabling
Multimedia keys: 12
Material: ABS
Package List:
1 x Redragon K568 RGB 87-key waterproof mechanical gaming keyboard.
1 x User manual
1 x Keycap Puller