Keyboard
Easy-Switch Technology (Multi-device pairing)
No
Palm Rest for added comfort
Yes
Redragon K563 Surya
RGB LED Backlit Mechanical Gaming Keyboard
5 MACRO KEYS:
The keyboard features five programmable macro keys (G1 to G5) that allow users to record macros without the need for any additional software installation. It also offers a convenient and user-friendly editing system, making it easy to customize the keyboard according to one's preferences. Please note that there is no CD software included.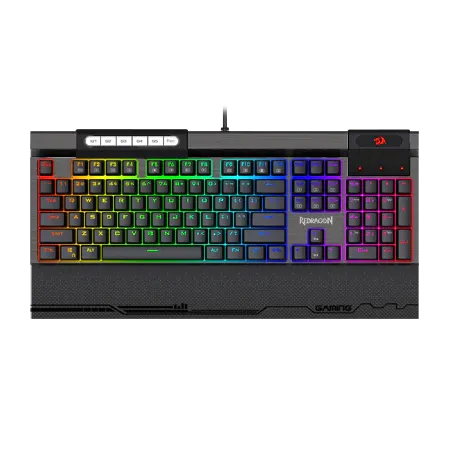 N-KEY ROLLOVER:
Featuring 104 keys with anti-ghosting capability, this keyboard enables you to press multiple keys simultaneously without any issues. The floating keys and blue switches provide a fantastic gaming experience, delivering swift responses and satisfying clicky sounds.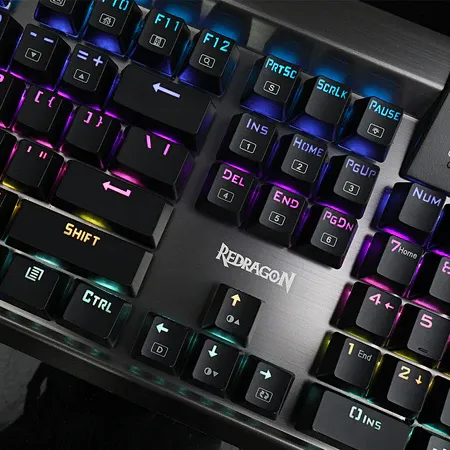 RGB BACKLIGHT & BREATHING LOGO LIGHT:
The Redragon K563 Surya keyboard comes with 18 backlight options that enable typing in low light conditions. The brightness of the backlight can be adjusted using the FN + Up/Down keys, while the arrow keys work in any non-breathing mode. Additionally, the keyboard includes a logo light that can be set to three different modes - ON, OFF, and Breathing - to enhance the overall aesthetic appeal.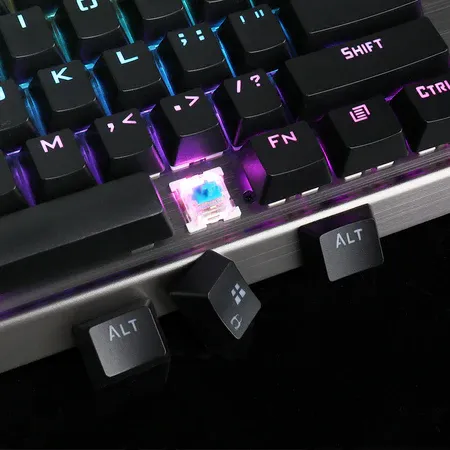 ERGONOMIC DESIGN:
The Redragon K563 keyboard is equipped with a detachable padded wrist rest, designed to provide maximum comfort during long gaming sessions and prevent hand fatigue.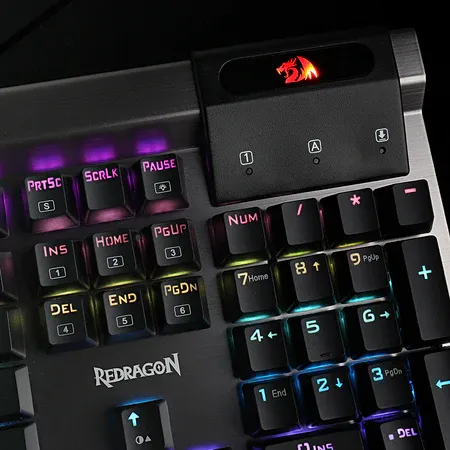 Durability:
This Gaming Keyboard has undergone a rigorous 50 million keystroke test and features a low actuation force and short travel distance, making it highly responsive. The keycaps are specially designed with double-shot injection molding to prevent fading of key colors. The keyboard's base is crafted from durable materials like ABS and Aircraft-Grade Aluminium, making it water-proof and capable of withstanding prolonged use.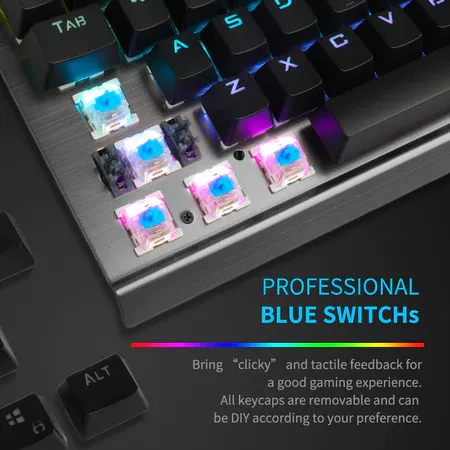 Features:
5 programmable macro keys
quick release wrist rest
Game WIN key can be disabled
12 dual action and multimedia FN keys
Illuminated Redragon logo with on/off/breathing modes
All 104 keys are 100% conflict free and protected against phantom attacks.
Full size keyboard with 104 standard keys, full numeric keypad
Adjustable RGB LED lighting offers 6 lighting themes and 18 lighting patterns. The brightness of the LED is 4 levels.
Extremely easy to operate with macro storage and internal memory for lighting adjustments without software installation.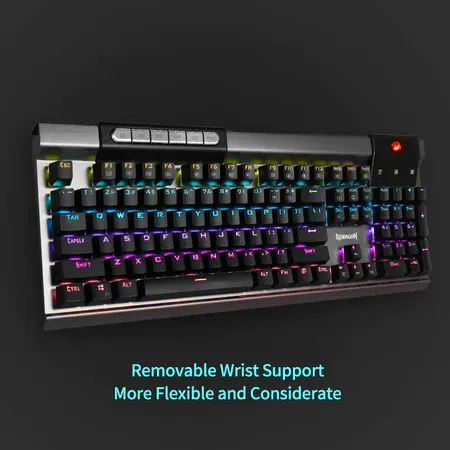 Keyboard Setting:
Marco Recording Function
Marco recording function: (LED's of num-lock, cap-lock, and scroll-lock will twinkle at same time during recording)
Step 1: Press the FN+desired G key (G1-G5)
Step 2: Press keys to be recorded
Step 3: Press FN+(G1-G5)to save the recording
For example, record 123on G1:FN+G1→123→FN+G1
Delete the recording:
To delete a single recorded macro key: Press FN+desired G key (G1-G5) you need to delete, then press again. For example, to delete Macro recording 123 on G1: Press FN+G1, then Press FN+G1 again.
2. Logo Backlighting Control
FN+PAUSE:1: ON 2. Breathing 3.Off