Redragon H230
Ajax Stereo Gaming Headset
The Redragon H230 is a gaming headset manufactured by Redragon, a company that specializes in gaming peripherals. The H230 is designed to provide high-quality audio and comfort during gaming sessions.
The headset features 40mm neodymium drivers, which deliver powerful bass and clear treble. It also has a noise-cancelling microphone, which helps to eliminate background noise and ensures that your voice comes through loud and clear.
The H230 is also designed with comfort in mind. It has an adjustable headband and soft ear cups that are made of breathable materials to keep your ears cool and comfortable during long gaming sessions.
In addition to its gaming features, the H230 can also be used for listening to music and watching movies. It is compatible with a variety of devices, including PCs, Macs, and gaming consoles.
Overall, the Redragon H230 is a solid choice for gamers who are looking for a comfortable and high-quality headset at an affordable price point.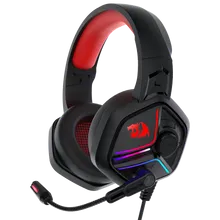 RGB and Volume In Control:
The Redragon H230 headset features a convenient volume control earcup, allowing for precise adjustments without any hassle. Additionally, the earcup and microphone head have dynamic RGB backlighting, providing an immersive gaming atmosphere.
2.0 Channel Surround Sound:
The Redragon H230 gaming headset is equipped with a 53mm audio driver and intelligent extreme bass technology, which enhances sound clarity and provides a phenomenal sound field. This makes it a valuable tool for playing various games.
Convenient Clear Mic:
With the Redragon H230 gaming headset, the microphone is designed to pick up your voice loud and clear without any intermittent delays, making it perfect for in-game and online chat. You can easily disable the mic by rotating it upwards when it is not needed.
Feel the Comfort:
The Redragon H230 gaming headset comes with approximately 1 inch thick memory foam earpads that provide comfort during marathon gaming sessions or tiring business trips. You won't be burdened by discomfort when wearing this headset for extended periods of time.
Stay in The Game:
The Redragon H230 gaming headset comes with a braided cable that can be powered via 3.5mm and USB connections, as well as a 2 x 3.5mm cable splitter for microphone and audio. This makes the H230 fully compatible with all major gaming platforms, including PCs and consoles.