Mouse Accessorise
Windows XP/Vista/7/8/10 macOS iOS Android Chrome OS
Find similar
Rapoo, M600, Silent, Multi-mode, Wireless, Mouse,

Secure multi-mode wireless connection is connected via Bluetooth 3.0, 4.0 and 2.4 GHz

Connect it to multiple devices
Switch between connected devices with one click
Soft and extremely thin aluminum alloy design
Compact travel design
1300 dpi High accuracy adjustable sensor
Click Silent
Battery life up to 6 months
Complete interference-free wireless connectivity:
Rapoo Multiplayer Wireless Technology, designed to improve the professional workflow, ensures full compatibility and automation. Your device supports Bluetooth 3.0 or earlier, Bluetooth 4.0 or higher, or if you want to connect to a 2.4 GHz Wi-Fi adapter, you can be sure that the M600 Mini Silent Mouse is compatible.
Intelligent switching between Bluetooth 3.0, 4.0 and 2.4GHz ensures stable wireless transmission up to 10 meters and 360 degree coverage. You can still use the desktop set, whether the USB port is lost or not or the receiver is missing.
Switch among multiple connected devices in one click:
Connect to all your devices with the M600 Mini Silent. It automatically parses your work tool, connects to multiple devices and easily switches between them when one button is touched. It has never been easier to perform multiple tasks on devices.
1300 DPI invisible tracking engine:
Practice full control. Thanks to the 1300 DPI invisible tracking engine, accuracy is no longer a matter of chance. Enjoy responsive and smooth cursor control on any page.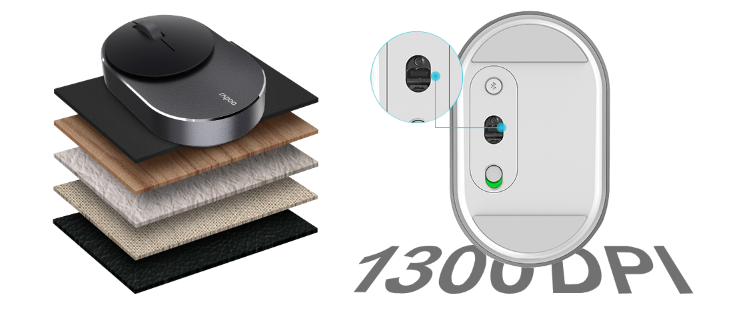 Premium design and durability:
The aluminum alloy gives a very nice hand grip. It also provides long-lasting mouse comfort and light weight, both for home and office use and on the go. In addition, the magnetic closure below is an excellent and convenient feature. It provides easy access to the battery and USB key during full protection.
The sound of silence:
Silent mouse keys allow you to use the mouse freely without disturbing others. This mouse is ideal for night projects at home, public use and on the go.
Up to 6 months battery life:
With Rapo's energy-saving technology and power switch, you can use the M600 Silent Mini Mouse without changing the batteries for up to 6 months.
Perfect for on the go:
The smart material selection and the very small M600 Mini Silent make it the perfect mouse to carry in your bag and carry with you wherever you go. This mouse is made available to you when you need it. Whether you are working on a train, an airplane, or doing some minor work in between, this special mouse will definitely be useful.
Specifications:
Connectivity:
| | |
| --- | --- |
| Connection Modes | Bluetooth, Wireless (dongel) |
| Wireless Transmission | 2.4 GHz |
| Bluetooth version | Bluetooth 4.0, Bluetooth 3.0 |
| Operating Distance | Up to 10 m range, 360° coverage |
| USB Type | 3.0 |
| Nano USB Receiver | Plug & Play |
| Nano USB Receiver Storage Compartment | Yes |
Features:
| | |
| --- | --- |
| Buttons | 3 |
| Silent Click | Yes |
| DPI | 1600, Adjustable |
| DPI Switch | No |
| Tracking Technology | Optical |
| Drivers | Yes |
Model Information :
| | |
| --- | --- |
| EAN | 6940056185525 |
| SKU | 18552 |
| Model Name | M600 Mini Silent |
| Color | |
Power:
| | |
| --- | --- |
| Battery Included | Yes |
| Battery | 1 AAA Alkaline |
| Battery Life | 6 months |
Compatibility:
| | |
| --- | --- |
| Windows XP/Vista/7/8/10 | Yes |
| macOS | Yes |
| iOs | Yes |
| Android | Yes |
| Chrome OS | Yes |
Dimensions:
| | |
| --- | --- |
| Height | 22 mm |
| Width | 46 mm |
| Depth | 73 mm |
| Weight | 48 g |