Projection System :
VGA (640 x 480) to 4K UHD (3840 x 2160) ,VGA(640 x 480) to Full HD(1920 x 1080)
802.11 a/b/g/n/ac (2.4G/5G)
Display :
24-bit (16.7 million colors)
a. Normal 20000 hrs ,b. ECO 30000 hrs
Optical :
Projection Offset (Full-Height)
100%
1D, (Auto) Vertical ± 40 degrees
Compatibility :
VGA (640 x 480) to 4K UHD (3840 x 2160) ,VGA(640 x 480) to Full HD(1920 x 1080)
I/O Interface :
(x2) ,HDMI-1 (1.4b/HDCP1.4) ,HDMI-Internal (1.4b/HDCP1.4)
Audio :
(x2) ,4W , Woofer 8W Chamber
Audio out (3.5mm Mini Jack)
(x1)
Environment :
AC 100 to 240 V, 50/60 Hz
Typical Power Consumption (110V)
65W@100 ~ 240VAC
Acoustic Noise (Typ./Eco.)(dB)
29dBA/27dBA
Dimension & Weight :
Dimensions (W x H x D) (mm)
120 *195.8 *185
Find similar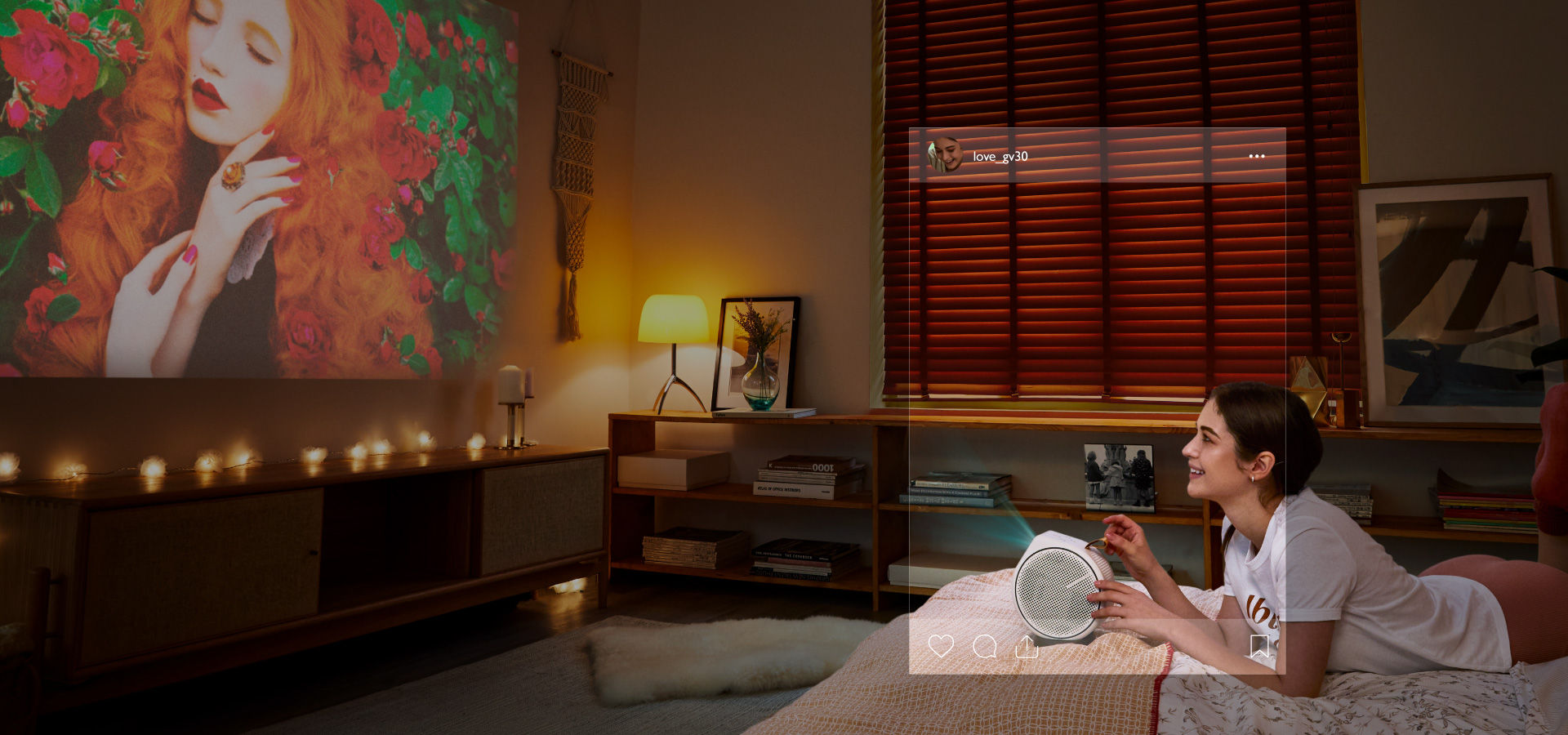 Let Your Spirit Sing Free
Your personal style, passion, and preferences create a unique sense of ritual and speak loud when it comes to streaming movies and music. BenQ GV30 displays your favorite content in exceptional big-screen images with the spontaneous creativity of anywhere, anytime portability and stirring 2.1-channel audio, showcasing your taste with impeccable detail and quality.

Bluetooth Speaker with Extra Bass

135° Projection Angle

Auto Focus & Vertical Keystone

HD 720p & 300 ANSI Lumens

HDMI & USB-C Connectivity

Android TV and Wireless Casting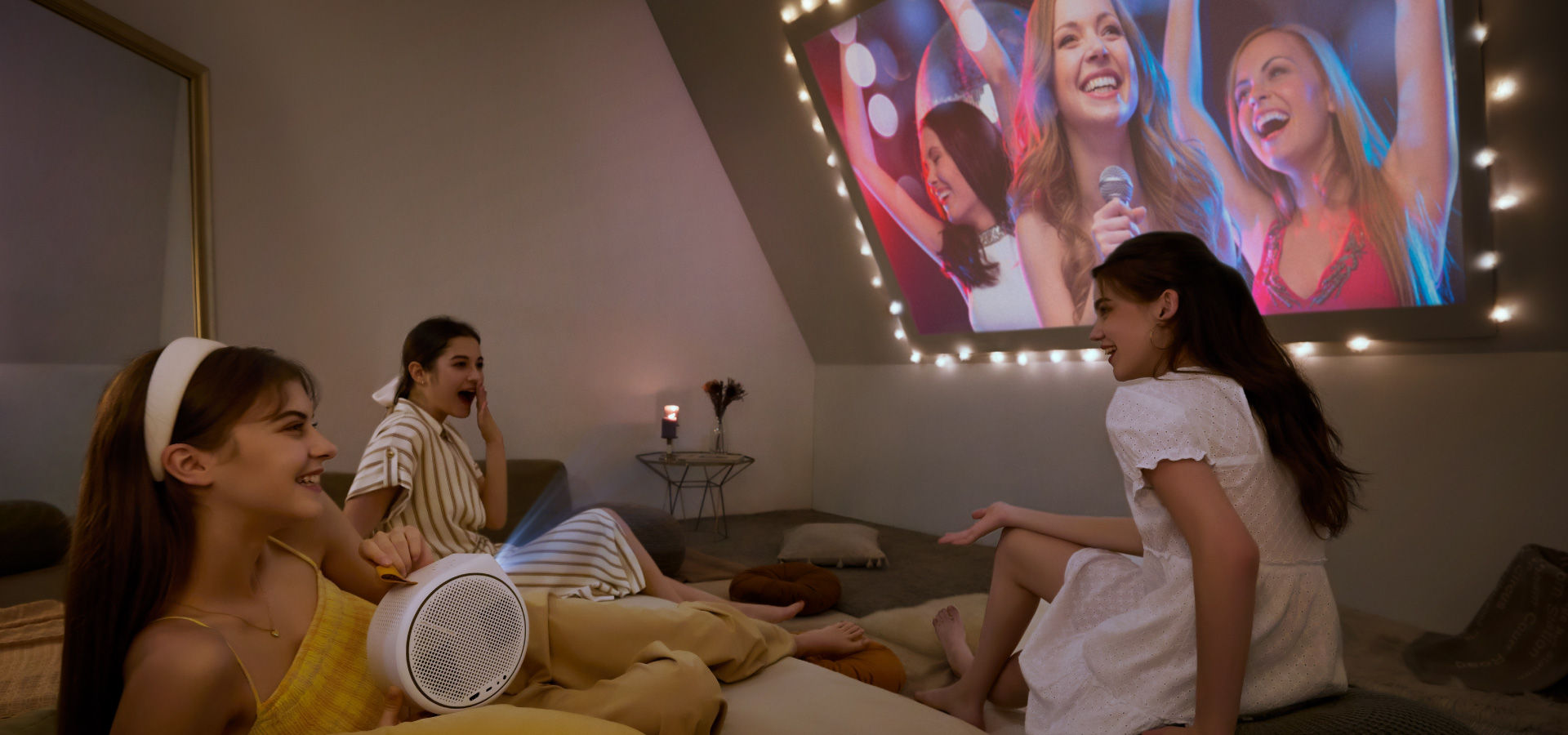 2.1 Channel Audio Adds Life
Solid audio performance elevates mundane movie-watching to five-star film events. GV30's 2.1 channel audio delivers resonant bass, solid mid-range, and crisp treble. Dialogue, music, and subtle effects all come through clearly. And its versatile design doubles as a portable Bluetooth speaker.
Extra Bass for Emotions in Details
Offering an enhanced cinematic immersive experience, the built-in 2.1 channel features dual 4W midrange tweeters with a powerful 8W woofer. You can thus hear the subtle flow of water, falling leaves, as well as the booming explosions. Optimized sound modes for the best audio quality in movies, shows, sports, games, and music.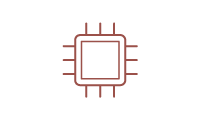 DSP IC
Undistorted lows and clearer highs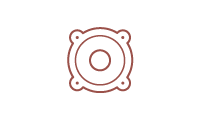 Woofer
Natural, gentle, and low distortion bass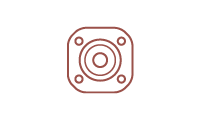 Midrange Tweeter
Detailed, crisp, pure mids and highs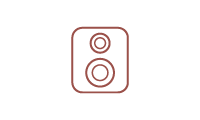 Cabinet
270-degree sound output design
Learn more
Mesmerized by Vibrant and Lasting Colors
True colors impart your deepest feelings and leave a lasting impression. True professionalism and dedication display true colors powered by BenQ CinematicColor. Optimized Picture Modes and 97% Rec. 709 color space coverage convey authentic images, GV30's 300-lumen brightness and 720p HD clarity showcase vivid contrast and lifelike scenes in movies, shows, videos, and sporting events.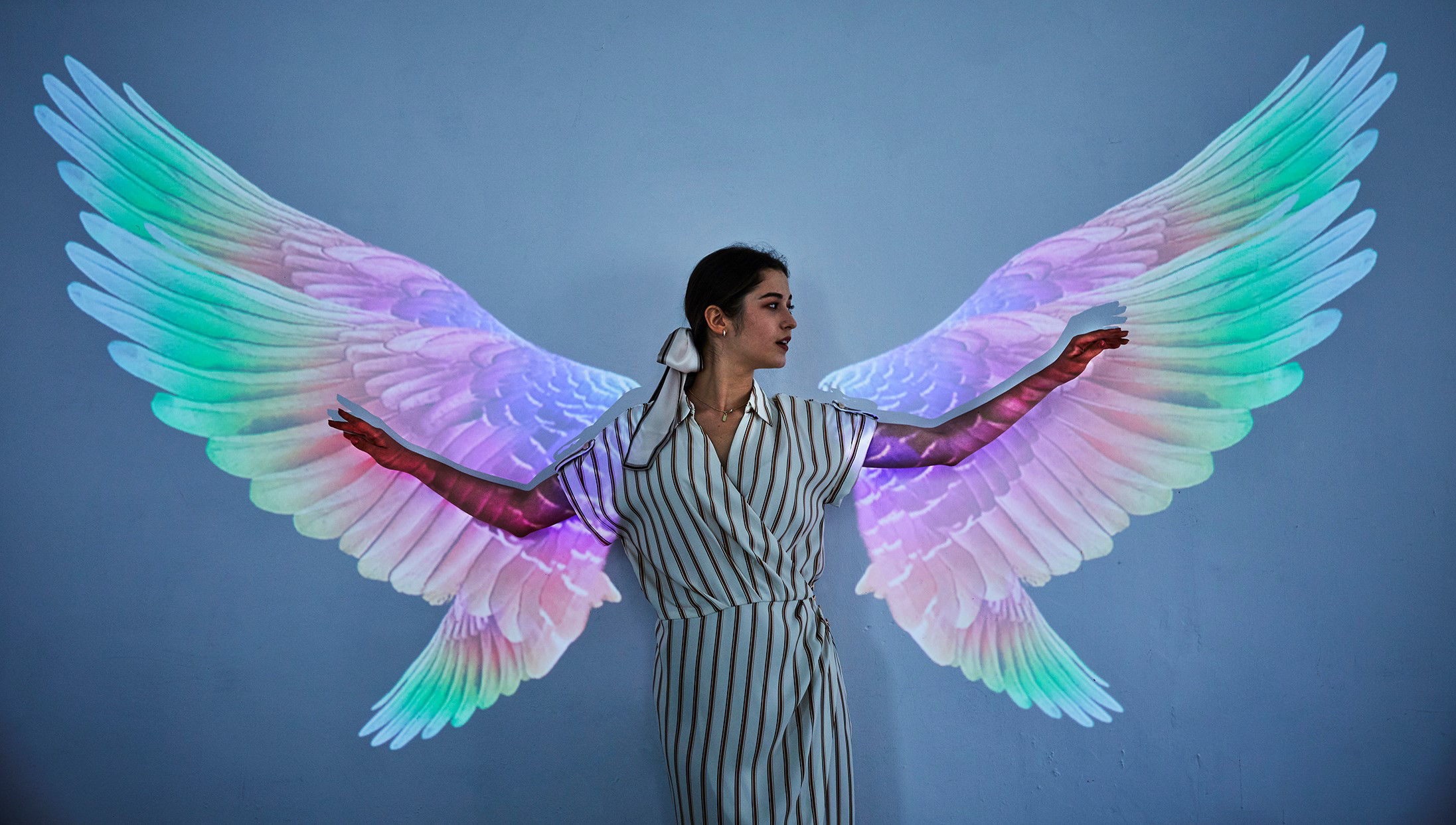 Broaden Your Lifestyle
Its 135° wide-angle capability lets you project in novel locations and enjoy your content from unusual points of view. Plus, Cinema Mode and Day Time Mode adjust darker areas of the screen, even under bright ambient lighting, for immaculate image quality anywhere.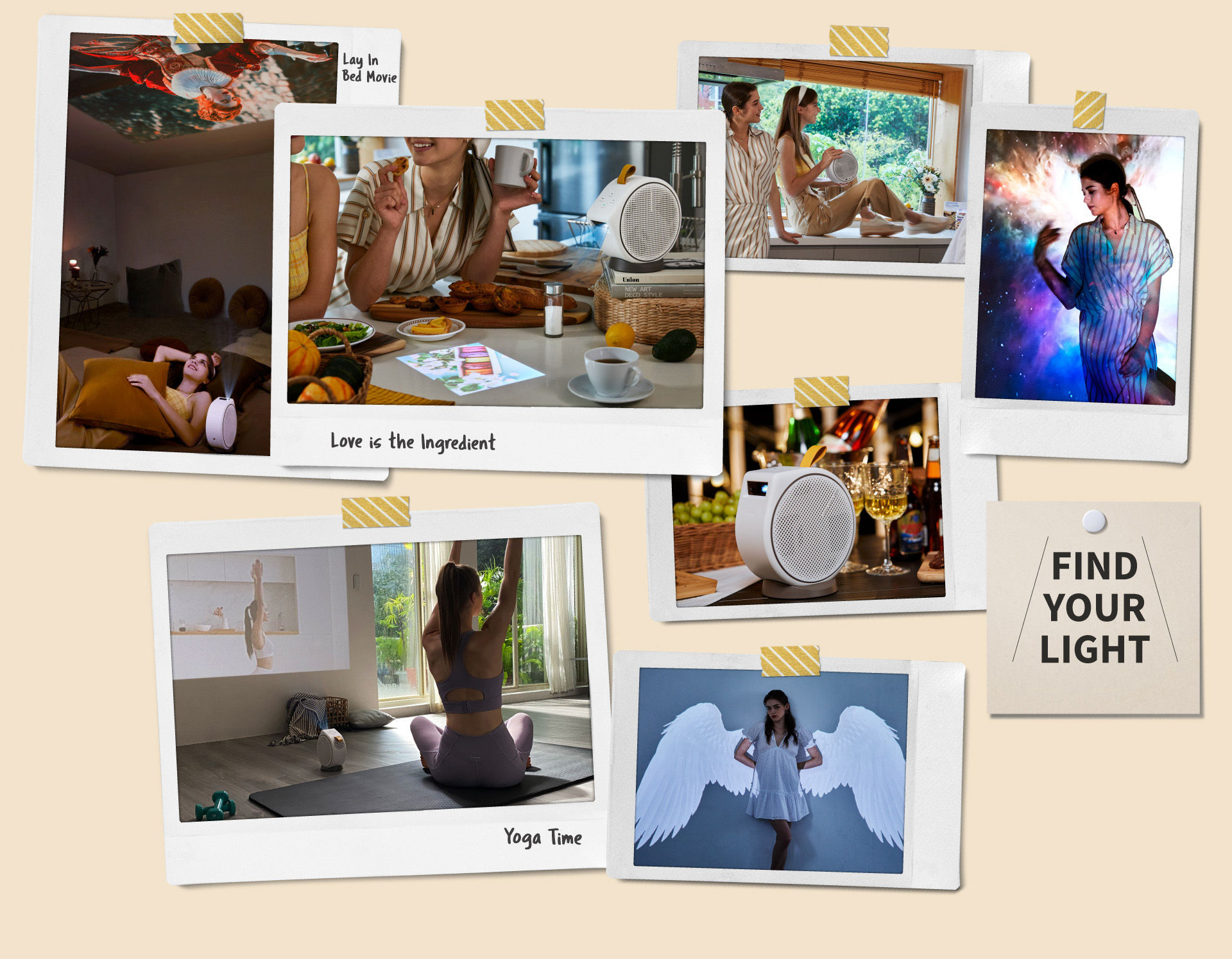 Cast Your Content with Ease
Supporting wireless projection for multiple OS and devices, instantly cast any content from your smartphone, tablet, or laptop onto the big screen without cables or setup.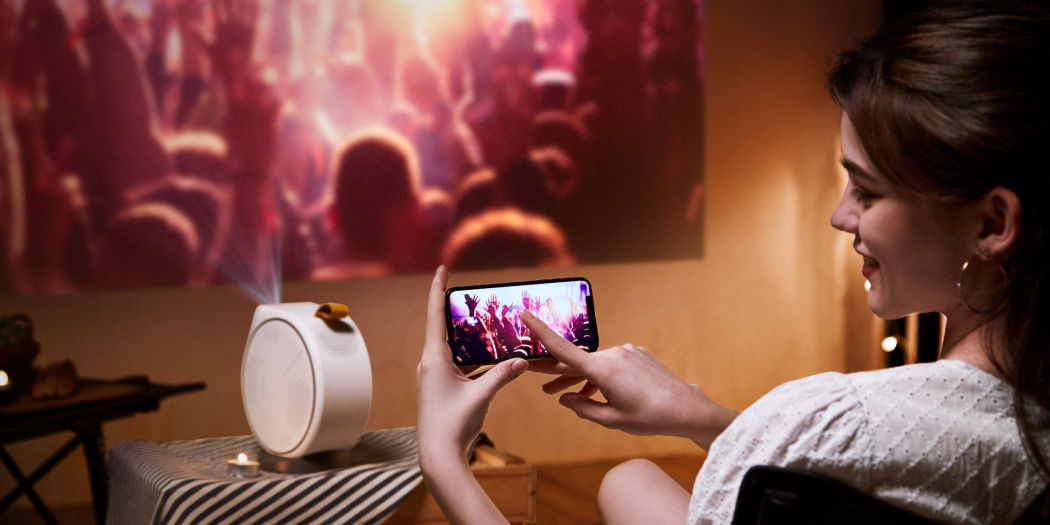 Easy Setup in Four Steps Step 1. Focus in one second
Turn it on for autofocus.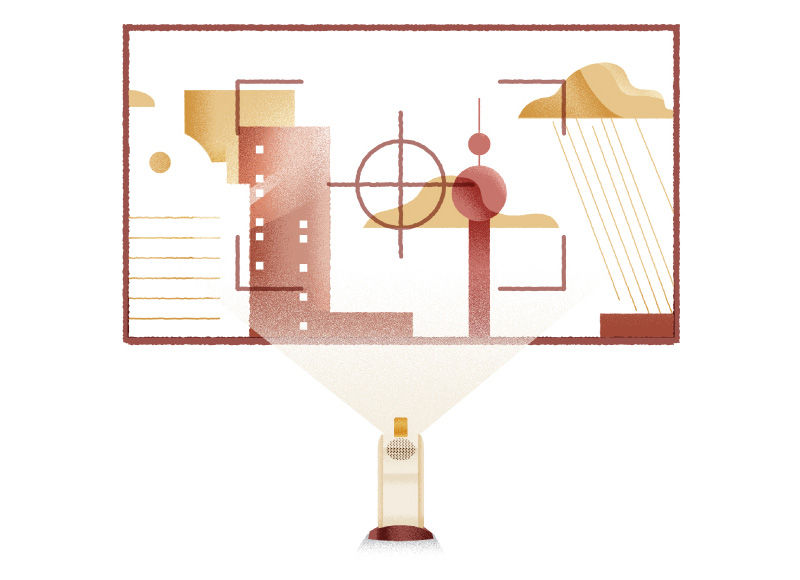 Step 2. Adjustable for comfort
Adjust up to 135° projection angle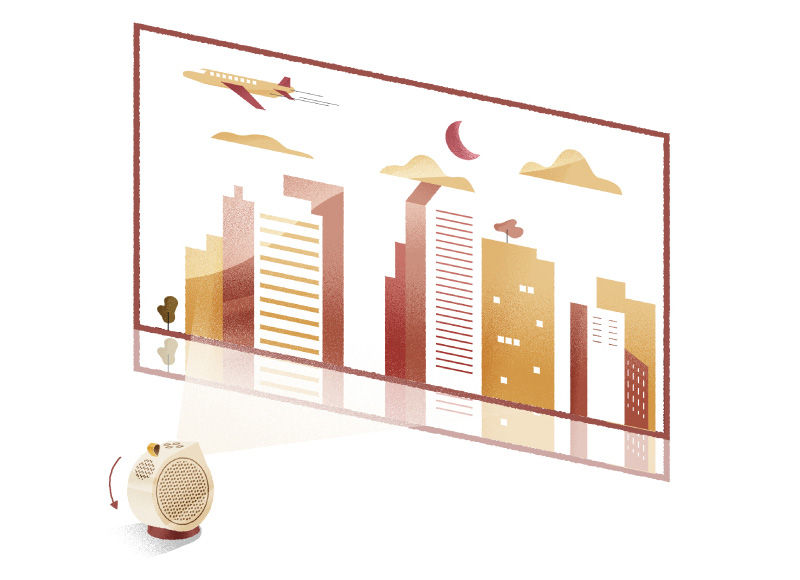 Step 3. From anywhere you like
Let auto vertical keystone and four corner adjustment square the image.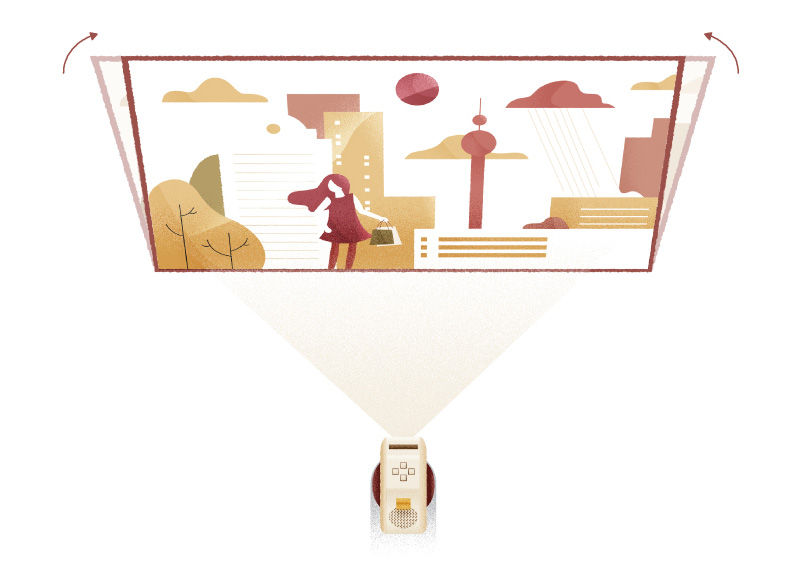 Step 4. Enjoy wireless viewing
Wireless Projection for iOS, MacOS, Android, and PC devices.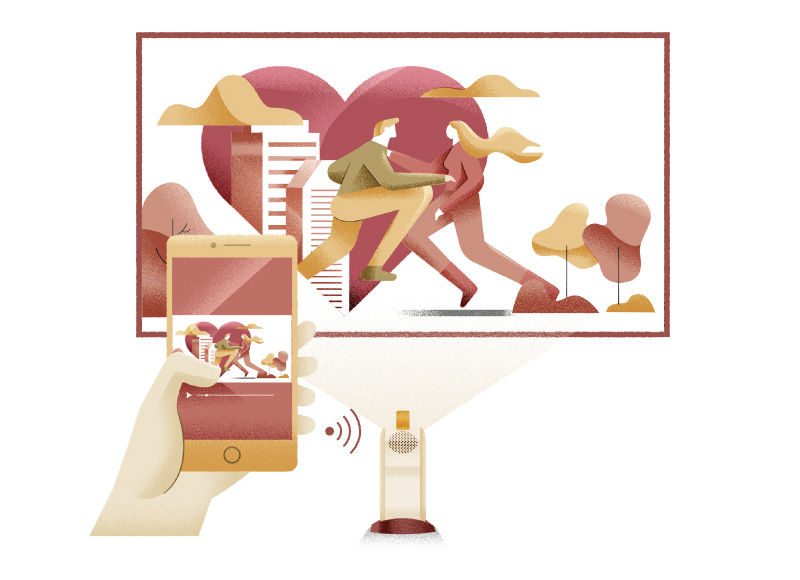 Optimal Viewing Distance and Screen Size
GV30 lets you achieve the optimal screen size and viewing distance with ease. Its table-height drop-proof design adds reassurance.
*Projection screen size can reach from 30" to 120" depending on viewing distances. For ideal viewing enjoyment, we recommend screen size between 80" and 100".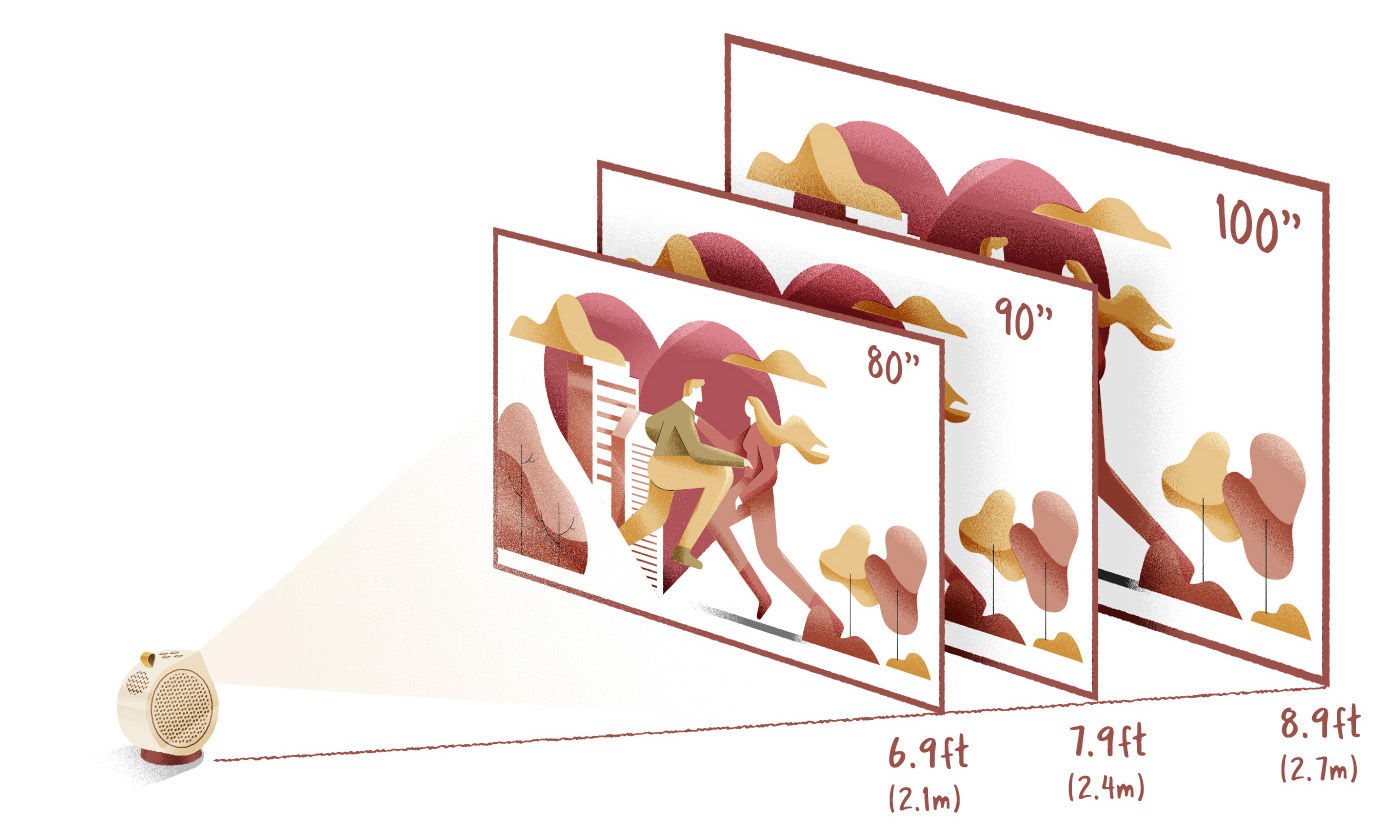 Multi-platform Casting from Any Device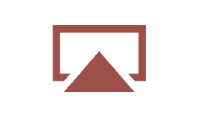 AirPlay
You can stream to your projector right from your iPhone, iPad, or Mac. Or share your photos with everyone in the room.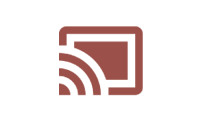 Chromecast Built-in
Google-certified Android TV has built-in Chromecast technology. Cast your favorite entertainment—movies & TV shows, music, games, sports, photos, videos and more—from your Android or iOS device, Mac or Windows computer, or Chromebook to your projector, all without needing to purchase a TV stick.
*Mobile, laptop and projector must be connected to same wireless network.
*You can cast Netflix content ONLY via your laptop Chrome browser casting, but CANNOT via the mobile device Chrome browser due to the Netflix policy.
*To run Chromecast: On iOS: Download a Chromecast-supporting app like Video Cast. Select the projector from the top right hand of your screen.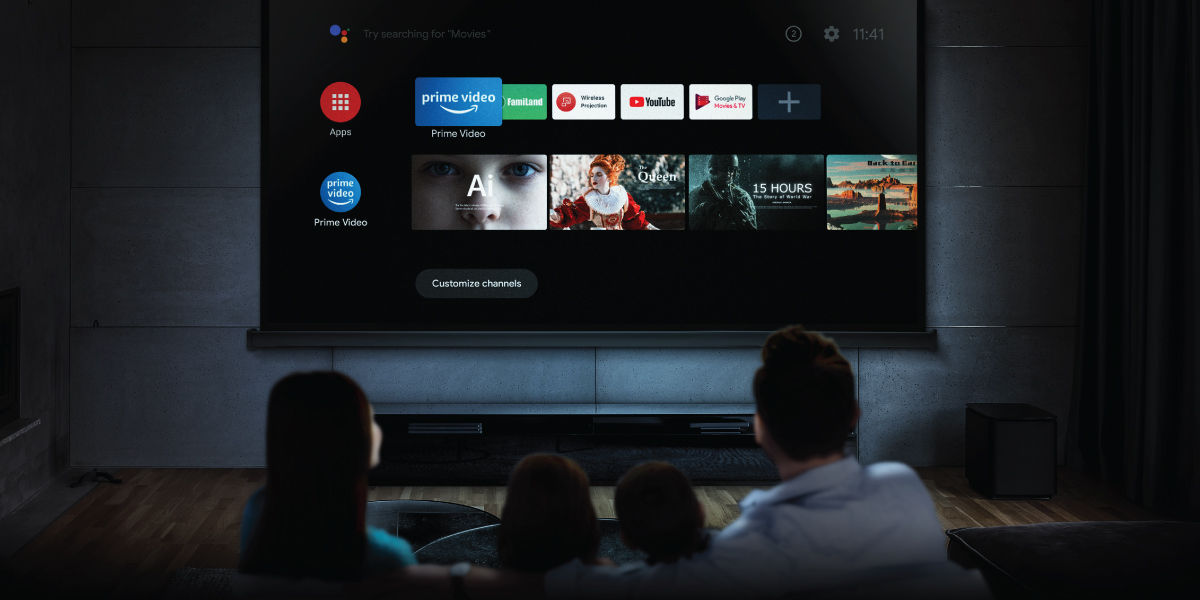 Enjoy Streaming with Android TV
GV30 sparks magical moments when streaming your favorite films or binge-watching via Android TV 9.0. Sharing curated content with loved ones or enjoying quality alone time is always better with uncomplicated, easy-to-enjoy entertainment.

One Google Account for Seamless Streaming Fun
The Google-certified Android TV keeps your favorite content front and center, and easy to access. Find your next binge or revisit an old favorite with ease and convenience.

5,000+ Google Play's Latest Apps
Enjoy 5,000+ of the latest Android apps, movies, TV shows, live sports, news, games, music, and more. Anytime, anywhere, across your devices, there's something here for everyone to love.

Amazon Prime Video Originals
One-button app access to exclusive Amazon Prime originals and a huge collection of 4K movies and shows.
Notice: Netflix only supports specific authorized devices and is not natively available on BenQ smart home projectors. Please follow these recommended viewing procedures.
Enjoy Netflix by either casting from a Google Chrome browser, connecting your device with an HDMI cable, or manually installing compatible apps directly from Google Play*.
To enhance your streaming experience, it is recommended that you install the Apps Manager so that you can enjoy popular streaming Video-On-Demand apps. Most importantly, please be sure to install "BenQ Smart Control" app for better navigation.
*The quality of service and level of technical support for apps that are installed from Google Play are entirely subject to the respective app's publishers.
How to install BenQ Smart Control app
In Control of Your Own Beat
GV30 is designed to entertain even large crowds with its exhilarating 2.1-channel Bluetooth speaker and 2.5-hour battery life. You'll always stay in control of the action with BenQ Smart Control app directing its every move from your smartphone.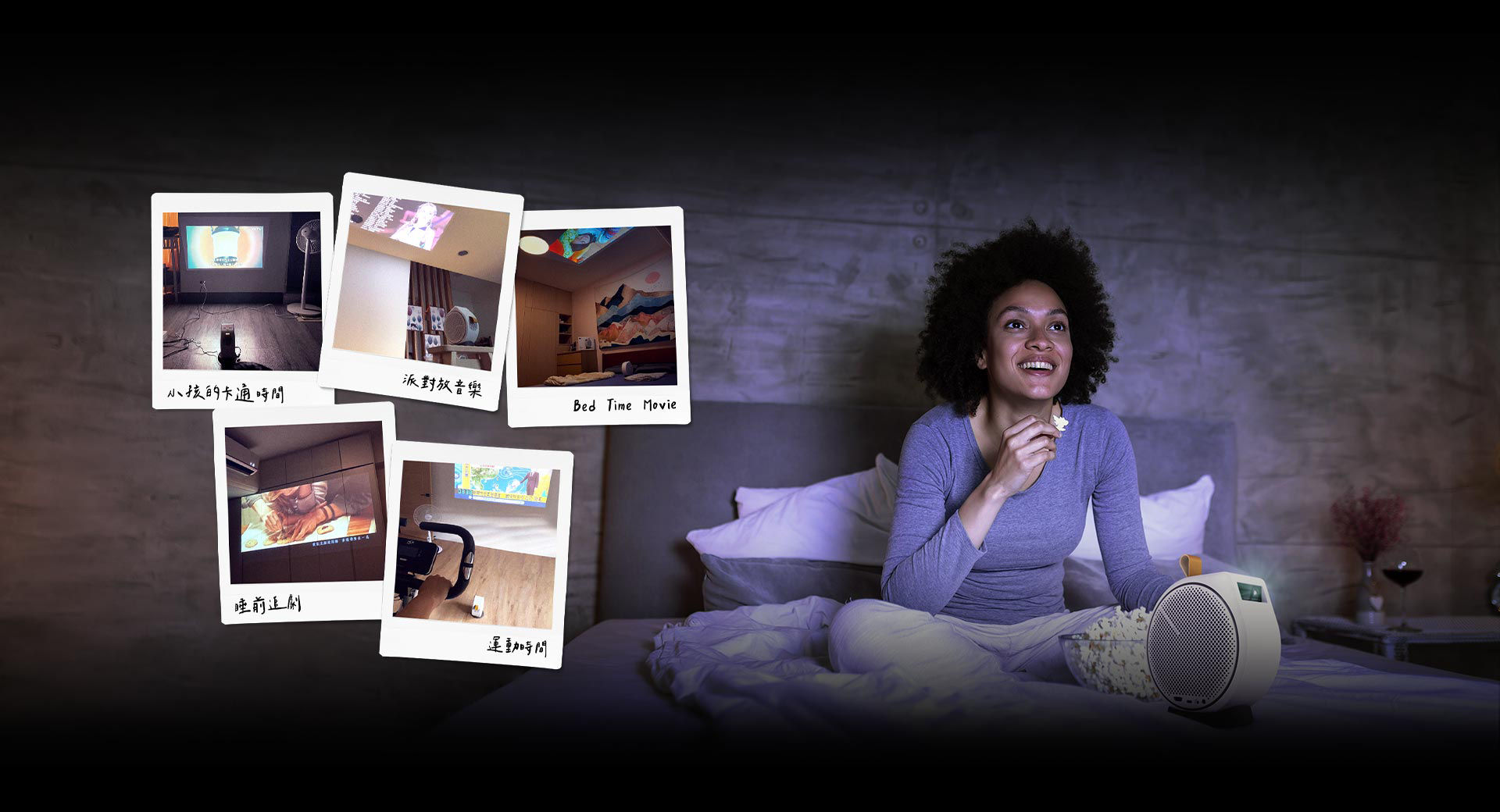 Connect with Personality and Versatility
Opening the world of options – whether it's a smart, streaming, Bluetooth, or accessory device, it'll work with GV30's HDMI and USB-C with DisplayPort Alt Mode and data capability.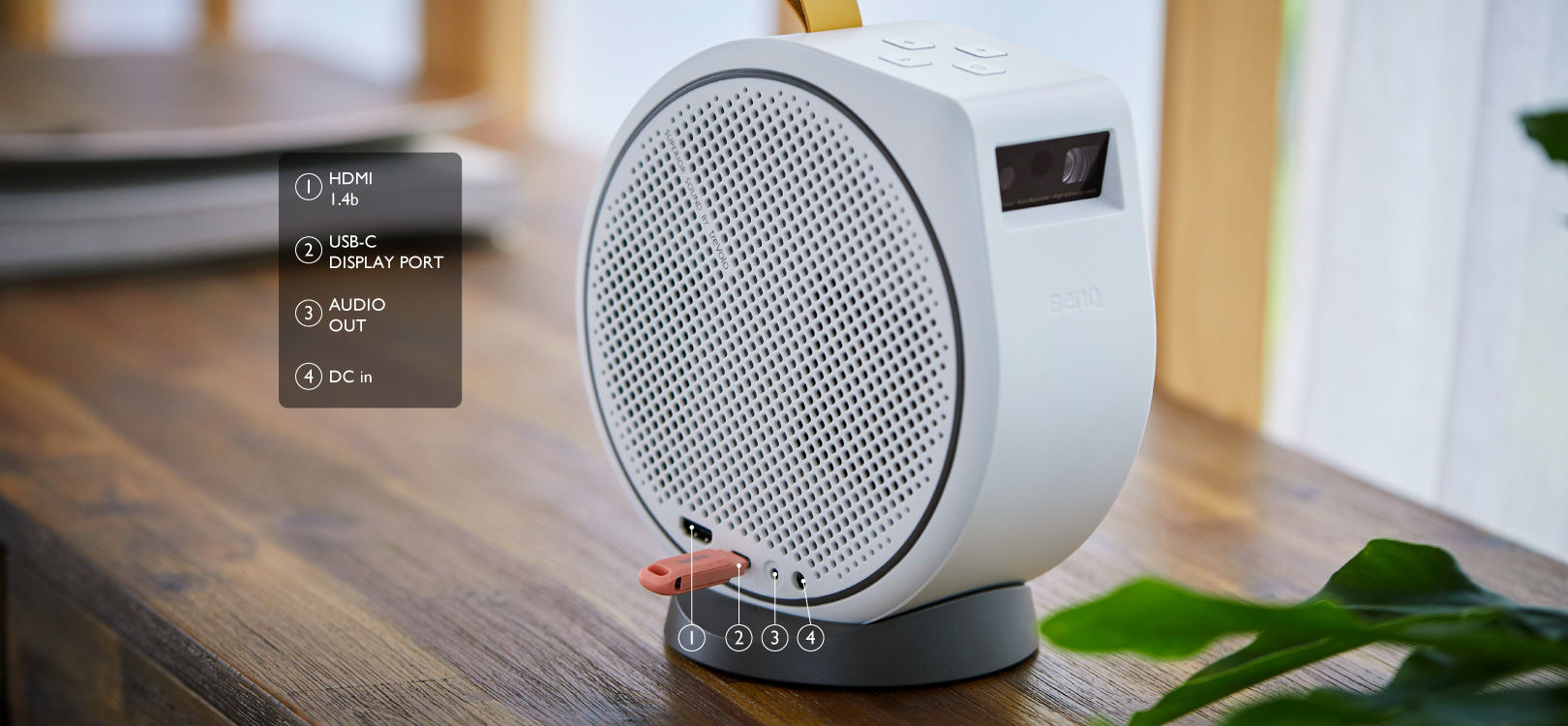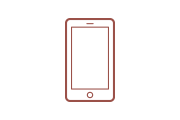 Mobile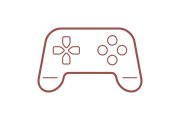 Game Console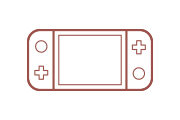 Handheld Game Console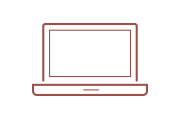 Laptop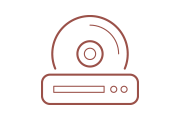 Blu-ray Player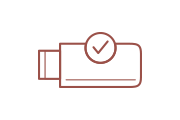 USB
Easy-to-Carry Portable Party
GV30's handy leather strap and carrying case make it easy to take it wherever the party goes. Whether it's cocktails on a rooftop deck or a BBQ on the patio, you can get the show started anywhere, anytime.