Monitors Features
1 x HDMI (1.4) 1 x Display port 1 x VGA
Find similar
Philips 78M6QJEB
Philips, 78M6QJEB, 27" Inch FHD, UWC, MVA, 165Hz, 1Ms, Curved, LCD, Gaming Monitor,
The new Momentum curve screen keeps you on your toes. Fast movement with AMD Free Sync technology and fast 144Hz refresh rate looks great on full HD screen. Thanks to Ultra Wide-Color technology, the scenes look more realistic.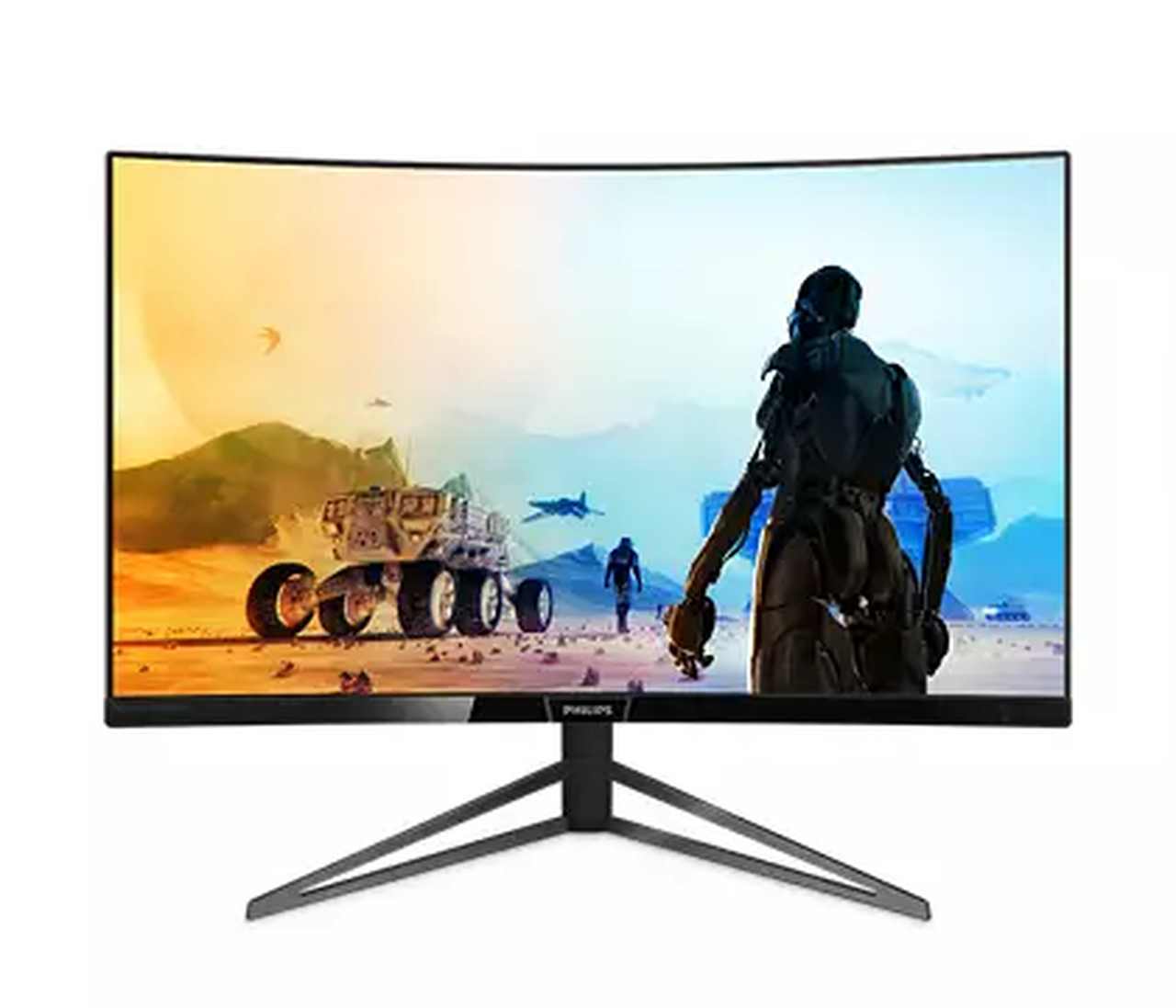 Curved display design for a more immersive experience:
Desktop displays provide a personalized user experience that goes well with distorted design. The twisted screen provides a nice and subtle immersive experience that focuses on you in the middle of your desk.
Ultra Wide-Color wider range of colors for a vivid picture:
Extensive color technology provides a wide range of colors for a bright image. The wide Ultra Wide-Color gamut produces more natural green, bright red and deep blue. Thanks to Ultra Wide-Color Technology, bring your entertainment, photography and productivity to bright colors.
AMD Free Sync™ Premium; tear free, stutter free, fluid gaming:
Games should not be a choice between a chop game or a broken frame. AMD Free Sync ™ Premium provides players with a high-performance, soft and fluid gaming experience. No deal, play with high renewal rates, low frame rate compensation and low delay confidence.
144 Hz refresh rates for ultra-smooth, brilliant images:
You play intense competition games. You are requesting a super-smooth, back-to-back screen. This Philips monitor changes the screen image up to 144 times per second, which is 2.4 times faster than a standard monitor. Low frame rates make enemies feel like they are jumping off the screen, making them harder to hit. At 144 Hz frame rate, you will find missing images on the screen to easily touch the enemy movement. With the extremely low input latency and zero latency, this Philips Monitor is your ideal gaming partner.
Smart Image game mode optimized for gamers:
The new Philips Game Monitor provides instant access to the on-screen menu, which is specifically designed for gamers and offers a variety of options. FPS (first person shooter) mode enhances dark features in games to see hidden objects in dark places. Racing mode adjusts the screen for faster response time and higher color reproduction as well as image settings. The RTS (Real Time Strategy) mode has a special smart frame mode that allows you to highlight certain areas and adjust the image and size. Gamer 1 and Gamer 2 allow you to set individual settings for different games, which ensures optimal performance.
Low-Blue Mode for easy-on-the-eyes productivity:
Just as ultraviolet rays can cause eye damage, studies have shown that short-wavelength blue light emitted from LED screens can damage the eye and damage vision over time. Designed for luxury, Philips Low-Blue Mode uses intelligent software technology to reduce harmful blue light at short wavelengths.
Less eye fatigue with Flicker-Free technology:
Due to the brightness control on LED backlit screens, some users blink on the screen, causing eye strain. Phillips Flickr: Free technology uses a new solution to blink and reduce blurred viewing experience.
MVA Display for wide viewing angles and deep contrast levels:
The Philips MVA LED display uses advanced multi-domain vertical alignment technology that delivers extremely bright and vibrant images. While standard office applications are easy to work with, they are especially suitable for photography, web browsing, movies, games and graphics-based applications. Advanced pixel control technology provides a wide 178/178-degree viewing angle for clear images.
Height adjustment for ideal sitting position:
Smart Ergo Base "Human-friendly" stand for improved ergonomics screen swing, swing, tilt and height adjustments and smart cable management for a smoother workplace.