Cisco Switch 5 Port Desktop 10/100 / SF110D-05

SF110D-05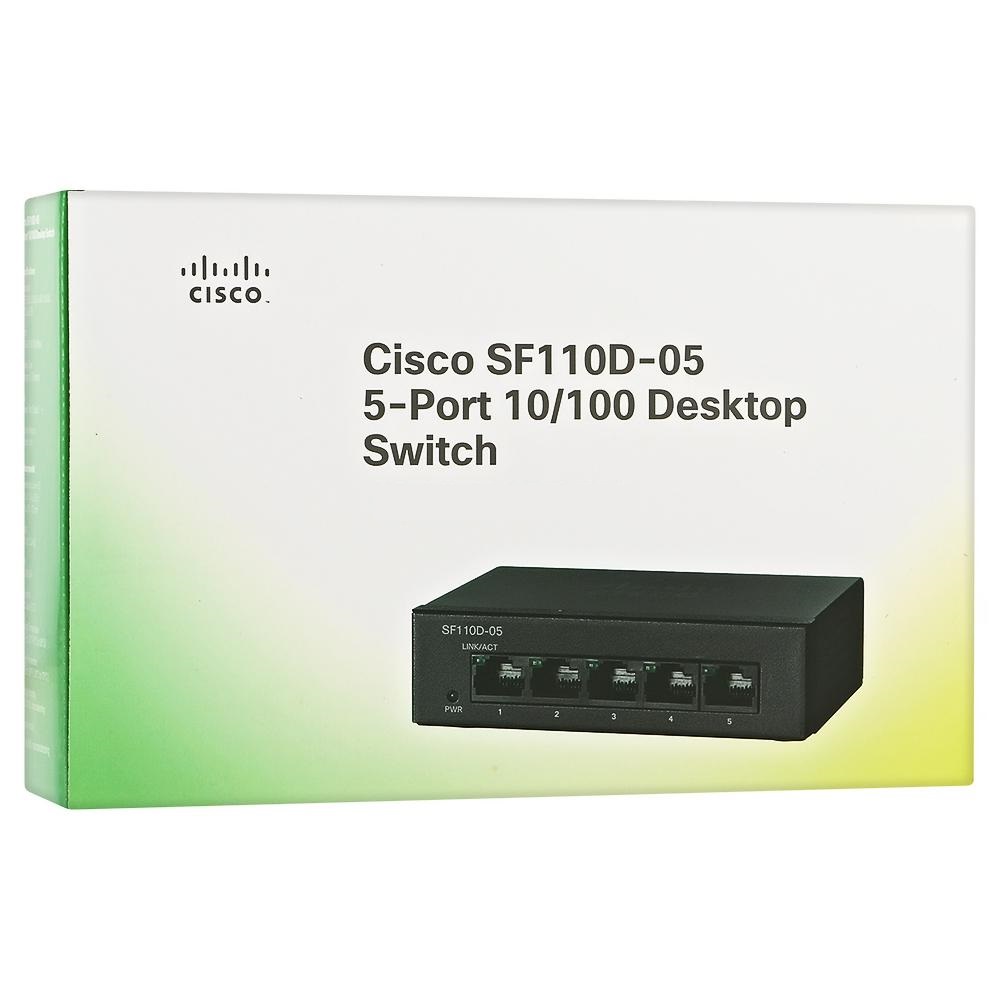 Highlights and Advantages:
Cisco 110 Series switches give a simple to-utilize answer for your independent company organize.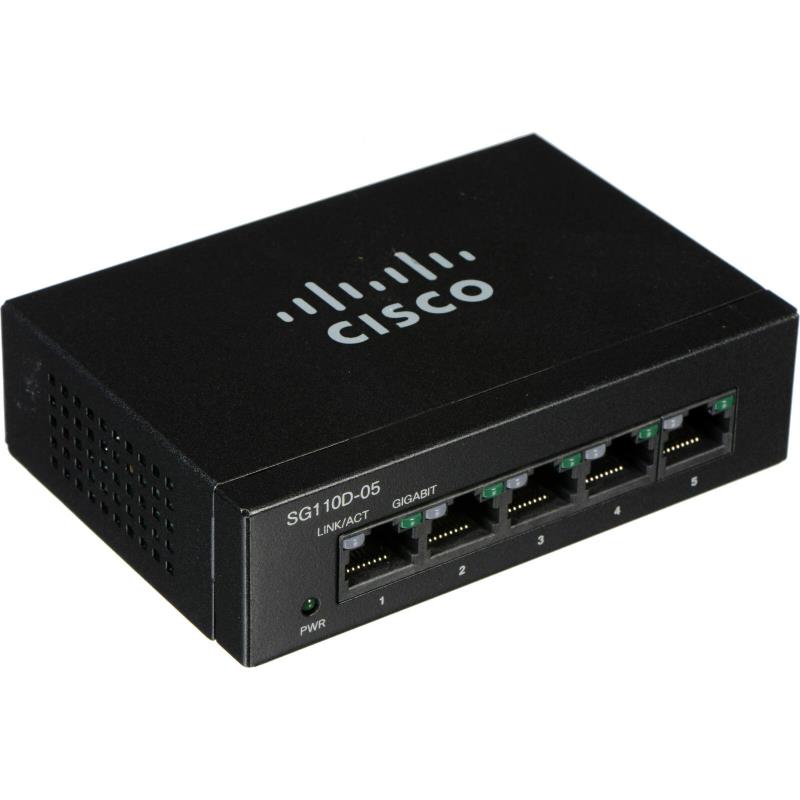 Convenience
Cisco 110 Series switches work directly out of the crate, with no product to introduce and nothing to design. Each switch port freely sets itself for the ideal speed and decides if to run down the middle or full-duplex mode naturally. As a measures based Cisco Series, Cisco 110 Series switches provide an easy-to-use solution switches are additionally intended to promptly suit the entirety of the gadgets in your system, including:
Backing for 10 megabits for every second (Mbps), 100 Mbps, and up to 1 gigabit for every second (1000 Mbps) gadgets in a similar system
Programmed link location, so you don't need to stress over utilizing an inappropriate link type
Similarity with arrange gadgets from different sellers
Straightforward Arrangement
Intended for little office spaces, Cisco 110 Series switches are accessible in both minimized work area and rack-mount models. The work area models offer a divider mount alternative for watchful mounting under a work area or on the mass of an office or gathering room.
High Performance
Cisco 110 Series switches convey the exhibition you have to maintain your business applications, including transmission capacity serious video benefits, and dodge moderate and drowsy systems. They bolster Gigabit Ethernet speeds, opening another degree of limit and execution in your business system and letting you move enormous records in short order.
Decreased Vitality Expenses
Cisco 110 Series switches are intended to help save vitality by streamlining power use without trading off execution, which ensures our condition and decreases your vitality costs. Also, they bolster the Vitality Proficient Ethernet (IEEE 802.3az) norm, which lessens vitality utilization by checking the measure of traffic on a functioning connection and placing the connection into a rest state during calm periods. The majority of the switches have no fans, so they run quietly and inconspicuously while bringing down vitality costs.
Power over Ethernet (PoE)
Cisco 110 Series switches are accessible with PoE ports on both Quick Ethernet and Gigabit Ethernet models. This ability improves the organization of IP communication, remote, video observation, and different arrangements by permitting you to associate and force organize endpoints over a solitary Ethernet link. With no compelling reason to introduce separate force supplies for IP telephones or remote passageways, you can exploit propelled interchanges advances all the more rapidly and at a lower cost.
Support for Advanced Technologies
All switches incorporate propelled Cisco traffic-dealing with highlights to keep your applications running at top execution. Coordinated QoS knowledge on all models consequently organizes delay-touchy administrations, for example, voice or video to improve your system's exhibition. Circle identification finds circles in the system that you may have unintentionally made, in this manner staying away from communicate storms that will carry your system to a slow down. Link diagnostics help to rapidly recognize and investigate organize cabling flaws and issues. Quick store-and-forward exchanging distinguishes harmed bundles and keeps them from being gone on through the system. These highlights run naturally, with no administration or arrangement required.
Genuine feelings of serenity
Cisco 110 Series switches convey the unshakable dependability you anticipate from a Cisco switch. The arrangement has been thoroughly tried to ensure ideal uptime and execution. Likewise, the constrained lifetime equipment guarantee gives genuine feelings of serenity.
| | |
| --- | --- |
| General | |
| Device type | Switch - 5 ports - unmanaged |
| Enclosure type | Desktop |
| Ports | 5 x 10/100 |
| Power over Ethernet (PoE) | N/A |
| Performance | Switching capacity: 1 Gbps ¦ Forwarding performance (64-byte packet size) : 0.74 Mpps |
| MAC address table size | 1000 entries |
| Jumbo frame support | N/A |
| Features | Flow control, Layer 2 switching, auto-negotiation, auto-uplink (auto MDI/MDI-X), Weighted Round Robin (WRR) queuing, quality of service (QoS), cable diagnostics, loop detection, Energy Efficient Ethernet |
| Compliant standards | IEEE 802.3, IEEE 802.3u, IEEE 802.3z, IEEE 802.3ab, IEEE 802.3az, IEEE 802.1p, IEEE 802.3x |
| Status indicators | Power, link/activity, cable diagnostics, loop detection |
| Expansion and Connectivity | |
| Interfaces | 5 x 10Base-T/100Base-TX - RJ-45 |
| Power | |
| Power device | Power adapter - external |
| Voltage required | DC 12 V |
| Electric current required | 500 mA (operating) |
| Miscellaneous | |
| Width | 3.7 in |
| Depth | 3.6 in |
| Height | 1.1 in |
| Weight | 7.5 oz |
| Fanless | Yes |
| Compliant standards | UL 60950, FCC CFR47 Part 15, CSA 22.2 |
| Localization | Chinese (simplified), German, French, Italian, Spanish, Japanese |
| Software/System Requirements | |
| OS required | N/A |
| Manufacturer Warranty | |
| Service and support | Limited lifetime warranty |
| Service and support details | Limited warranty - replacement - lifetime ¦ Limited warranty - power supply and fans - 1 year ¦ Technical support - phone consulting - 1 year |
| Environmental Parameters | |
| Min operating temperature | 32 °F |
| Max operating temperature | 104 °F |
| Humidity range operating | 10 - 90% (non-condensing) |
| Min storage temperature | -4 °F |
| Max storage temperature | 158 °F |
| Humidity range storage | 10 - 90% (non-condensing) |