Speakers
Works with any device with a headphone jack 0.14 in (3.5 mm) input
Find similar
Logitech Z607
Logitech Z607, 5.1 Surround, Sound, Bluetooth Speaker,
5.1 SURROUND SOUND DELIVERS POWERFUL AUDIO:
This 160W 5.1 speaker system fills your space with high quality sound with great sound. Enjoy true surround sound from any source, including video, phone, computer and games. You can also play audio content directly from an SD card, USB drive, or FM radio. logitech z607 connect to tv The 133.35mm subwoofer provides punchy bass, and an extended rear cable and remote control make it easy to set up and use.
TRUE 5.1 SURROUND SOUND:
Immerse yourself in the sound of your favorite movies, music and games with a 5.1 speaker system with left, right and center channels, two rear satellites and one subwoofer. Enjoy powerful sound from all directions. The Z607 transforms stereo music into room-enhancing sounds to maximize your audio experience.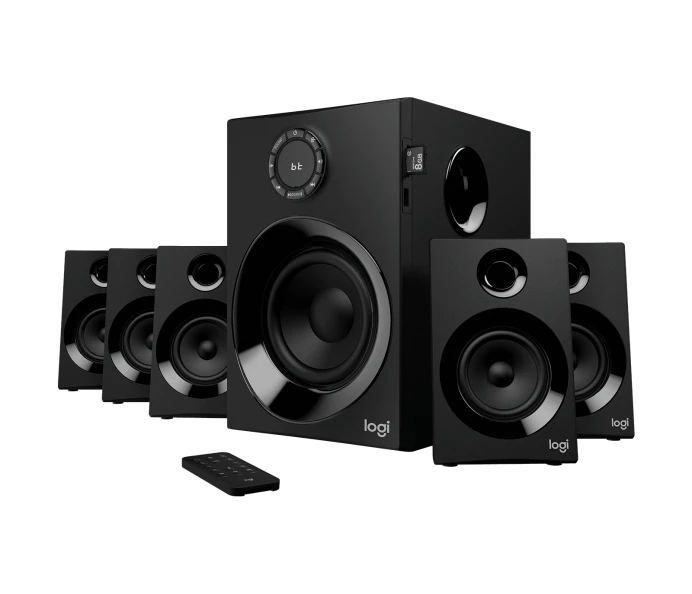 160 WATTS OF ROOM-FILLING SOUND:
With 160W peak power and 80W RMS power, the 133.35mm bass driver fills your room with logitech surround system incredible sound. Get sparkling treble (up to 20 kHz) and deep, powerful bass (up to 50 Hz) with a speaker system designed for audiophiles. The Z607's powerful wide audio platform ensures that you and your guests always have the perfect place to listen to it all.
PUT IT ALMOST ANYWHERE:
You no longer need to relocate your room to set up and enjoy great sound. The extremely long 5.1 speaker system rear speaker cable is ideal for living rooms, gaming areas, offices, bedrooms and other places where you need it. Place them on a table, console, end table, or easily mount them on the wall.
YOUR AUDIO FROM VIRTUALLY ANY SOURCE:
Listen to audio from virtually any source from your computer, phone, tablet, TV, Blu-ray / DVD player. Connect wirelessly via Bluetooth or virtually connect using a 3.5mm audio jack or RCA cable to listen to games, music, movies and more. You can also listen to audio from SD cards, USB sticks and FM radios.
BETTER BLUETOOTH:
Enjoy high quality sound and ease of use with less stress with Bluetooth 4.2 technology. Bluetooth 4.2 support provides excellent wireless sound quality and a reliable connection that transfers data 2.5 times faster than Bluetooth 4.1. Stream wirelessly from connected devices up to 15 meters (line of sight).
INTUITIVE CONTROLS:
With a compact remote control, you can control audio from anywhere in the room (up to 10 meters). Play, pause, skip, adjust volume, select inputs, change radio stations, etc. There is a volume control directly in front of the subwoofer, with LEDs indicating the current source input and volume level.
BOOMING BASS:
Feel the beat of music and the bark of movies and games with a subwoofer that delivers deep bass throughout the room. With a maximum output of 50W and an RMS 25W, the 5.25-inch woofer provides powerful bass with ultra-low frequency extensions added by a rounded cabinet.
COMPACT SPEAKERS, BIG SOUND:
All of this is audible over a very wide frequency range. The satellite speakers feature a bass reflex design that extends the bass through a finely tuned port tube. Whether you're recording a concert, movie, or your favorite video game, the driver provides crisp, detailed high-frequency sound that makes you feel like you're at the center of the sound.