Logitech
Logitech, Wireless ,Presenter Spotlight Slate,
Spotlight is a whole new standard in presentation control — specifically designed to keep people engaged. From the boardroom, classroom or living room, you can control your presentation while helping your audience follow what you're saying whether they're in-person, virtual, or a hybrid of both.
TAKE YOUR PRESENTATIONS TO THE NEXT LEVEL:
Spotlight is a brand new presentation management standard designed to keep people engaged. Control your presentation from the boardroom, classroom, or living room and let your audience understand what you're saying, whether it's face-to-face, virtual, or a combination of both.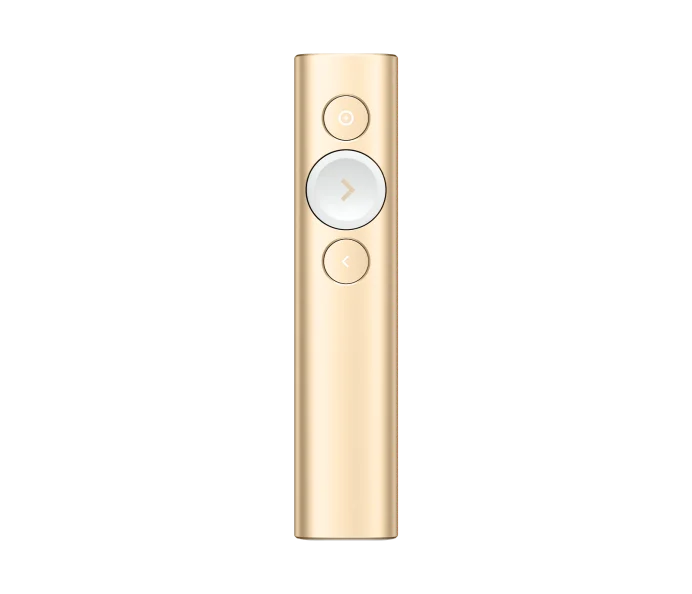 ILLUMINATE EVERY POINT YOU MAKE:
Spotlight has three advanced pointing modes that work on various presentation environments: projectors, TV screens, video conferencing and setups with multiple screens. Highlight creates a spotlight-effect on screen. Magnify zooms-in on details. And Digital Laser precisely pinpoints information.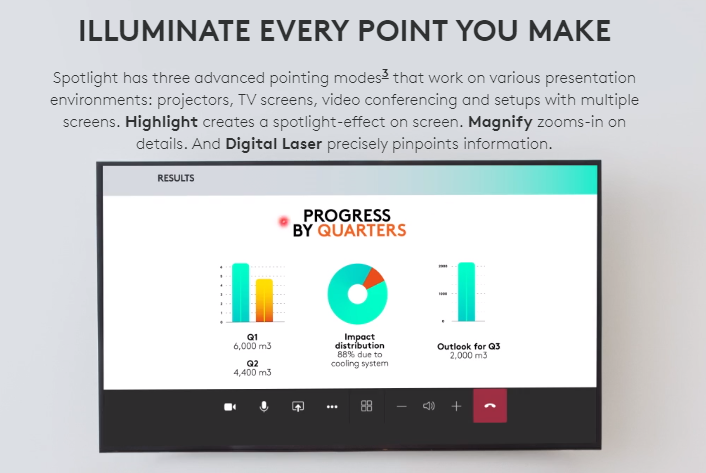 INTUITIVE SLIDE NAVIGATION:
Spotlight's intuitive 3-button interface will get you up and running in no time.
LONG OPERATING RANGE:
Move freely and move forward up to 100 feet (30 meters).
BROAD COMPATIBILITY:
Use Spotlight on Windows and macOS. Powerpoint®, Keynote®, Acrobat®, Google™ Slide and Prezi™ presentations. So are the video conferencing apps Zoom®, Microsoft Teams®, and Blue Jeans.
TWO WAYS TO CONNECT:
Instantly connect and play Spotlight on your compatible computer via USB receiver, or connect via Bluetooth® Wireless Low Energy. Spotlight also keeps your computer connected and active during your presentation.
FAST RECHARGING:
Use the included USB-C charging cable and get 3 hours of presenting after a 1-minute charge. Spotlight fully charges in as little as 60 minutes. The device will vibrate and the battery indicator glows red when it's time to recharge.

SOFTWARE & CUSTOM CONTROLS:
Choose from a variety of customizable controls to suit every presentation. Use the app to customize Spotlight functionality, button functionality, gesture control, volume control, and more.
SMART TIME MANAGEMENT:
Use the app to set a timer on the screen that starts when you click the first slide. You can also set various time milestones that send vibration alerts directly to Spotlight to keep you driving to the last slide.