Mouse Accessorise
Windows, Mac, Chrome OS, Linux
Find similar
Logitech M590
Multi Device, Silent, Wireless, Mouse,
SILENT PRODUCTIVITY:
Powerful, accurate, and quiet, the m590 logitech is designed with performance in mind, so it also improves performance. The curved right shape allows you to work comfortably for hours, and the compact design and two-year battery life give you the freedom to work wherever you are. Five programmable buttons and multi-device streaming reduce clicks by 90% and increase silent productivity m590 multi device silent . This means full concentration for you and a calmer environment for the people around you.

LESS NOISE, MORE FOCUS:
You can concentrate on your work without being distracted by noise. Logitech Silent Touch technology reduces clicks by over 90% while maintaining optimal mouse performance. That is, m590 you can feel it every time you click, but you hear almost nothing.
ALL-DAY COMFORT:
Designed for hours of comfort, the M590 features a curved shape that comfortably supports the palm, soft rubber side grips, and a scroll wheel for superior control. The ergonomic design is compact and wireless, so you can play anywhere in the office, school, or at your desk at home.
CONNECT YOUR WAY:
Work easily on Windows, macOS, Chrome OS, and Linux 7 by connecting to your PC, laptop, or tablet via bluetooth mouse silent wireless technology or an integrated USB receiver and not having to worry about annoying interruptions or delays up to 10 meters. I can do it. Options are not available on Linux via Logitech. And Android ™ and iPad OS.
MULTI-DEVICE WORKFLOW:
The M590 silent bluetooth mouse is designed for high performance. With Flow , you can use the M590 to move the cursor between two computers, a Mac or PC, and seamlessly transfer text, images, and files between screens. With Easy-switch , you can connect your mouse to two devices and switch between them with a single click.
NEXT-LEVEL NAVIGATION:
The M590 takes mobility and efficiency to the next level. Precision micro scroll wheels have many grooves per millimeter, allowing you to scroll long web pages faster and more accurately. The tilt wheel provides comfortable left-right horizontal scrolling for web pages, large spreadsheets, or images.

GAIN TOTAL CONTROL:
Use the Logitech option to change pointer speeds, enable streaming technology, and assign your favorite keyboard shortcuts to up to five customizable buttons for increased productivity. Additional thumb buttons and tilt wheels can be customized to suit your needs such as front and back navigation on the web, opening browser windows, switching apps, and full screen view. Intuitive software makes setup easy.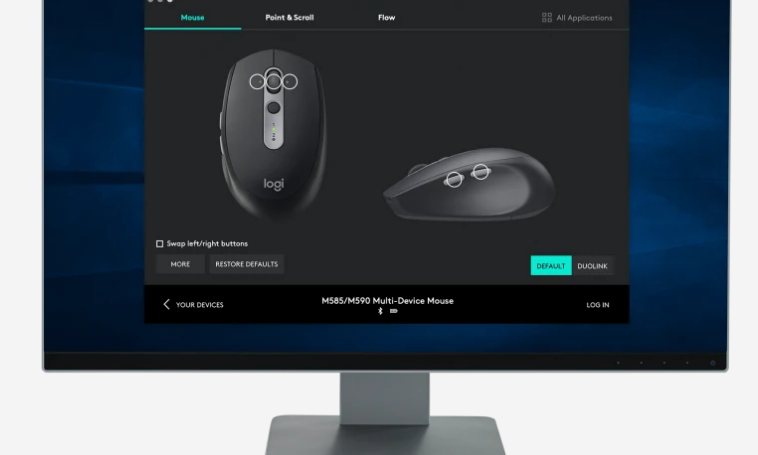 QUALITY YOU CAN COUNT ON:
The mouse is built to the same high quality standards that made Logitech the world leader in mice and keyboards. button.