Mouse Accessorise
Windows, Mac, Chrome OS, Linux
Find similar
Logitech G300S
Logitech G300S, Optical, Wired, Gaming Mouse,
9 PROGRAMMABLE CONTROLS:
Get great results with the default settings right out of the box, or set a one-button trigger for an action that normally requires a menu search. Keep Push-to-Talk handy. Reduce the DPI timer. Use Logitech LGS to remap a game command or multicommand macro to one of nine programmable buttons.
SCULPTED AMBIDEXTROUS SHAPE:
With a versatile design in a compact form factor, this mouse is designed for comfort and durability. The balanced shape is suitable for both left and right hands.
PROGRAMMABLE LIGHTING:
Assign a unique color and ID to each user profile using up to 7 different colors to see the active settings during playback.
ON-THE-FLY DPI:
Enjoy logitech g300s mouse Fast DPI switching allows you to switch between two sensitivity settings with a single click. If the target resolution is 250dpi, the maximum is 2500dpi. Use LGS to adjust the DPI settings to suit your playstyle. In the DPI cycle, you can also select up to 5 DPI settings during playback.
1-MILLISECOND REPORT RATE:
Try to execute each command as quickly as possible. The G300S captures movement as quickly as possible, eight times faster than a standard USB mouse.
DURABLE BUILD:
Our engineers accurately test and evaluate key fobs with 10 million keystrokes and 250 km of travel. Built to withstand the most intense gaming sessions, the G300S will last a long time.
SLICK FEET:
Low-friction polytetrafluoroethylene (PTFE) legs eliminate friction on almost any surface for smooth movement, precise pointer movement, and increased accuracy.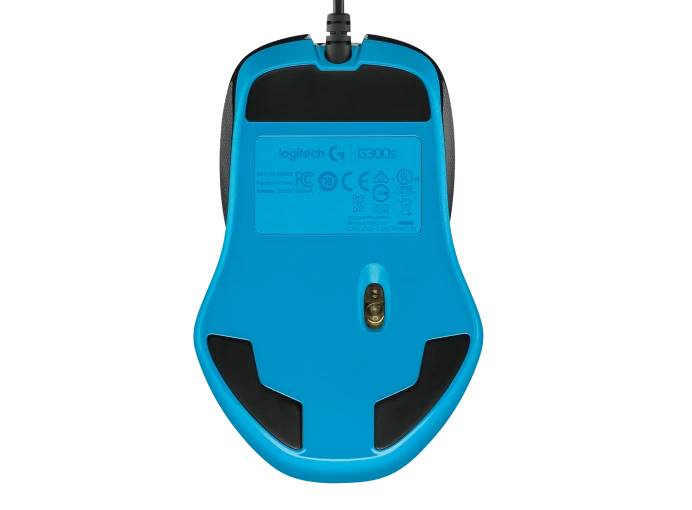 EASY-TO-USE CONFIGURATION SOFTWARE:
Completely set up your favorite game team with the optional LGS. Customize buttons and tracking with simple drag-and-drop settings. Alternatively, use logitech g300s the preconfigured settings for automatic game detection.
ONBOARD MEMORY PROFILES:
If you bring the G300S, you can make custom settings. By saving your settings in the LGS's internal memory, you can use them on another computer without installing software or changing the settings.