Logitech C925e
Logitech C925e, Business Webcam,
VIDEO COLLABORATION, ENHANCED:
The logitech c925e is a 1080p HD webcam that delivers professional video and audio. The C925e is certified for business, affordable and designed for all-day use. It provides scalable video coding (SVC) and UVC 1.1 for H.264 encoding, reducing reliance on computer and network resources and ensuring consistently reliable video conferencing even with bandwidth c925e business webcam.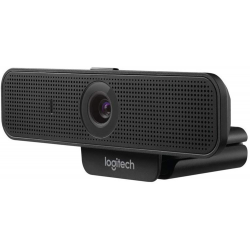 LOOK PROFESSIONAL:
Show off your professional style on every video call. The c925e offers HD 1080p / 30fps and high-resolution autofocus for realistic clarity with a stable 78-degree field of view that's perfect for people. In addition, RightLight 2 technology works in the background to continuously and intelligently adjust image quality logitech c925e webcam.
COMMUNICATE WITH EXCEPTIONAL CLARITY:
The C925e features dual built-in omnidirectional microphones optimized to capture clear sound up to 1 meter, so conversations always sound natural and clear.
HIGH QUALITY, LOW BANDWIDTH:
Improve your meeting productivity with seamless video streaming, even when bandwidth is limited. The C925e supports H.264 with a scalable video codec (SVC) and UVC 1.1 codec. This reduces your reliance on computer and network resources and delivers crisp, clear video every time.
TAKE CONTROL WITH TUNE DESKTOP:
Logi Tune Desktop makes it easy to manage and configure your personal device on some models, including the logitech webcam c925e. Widgets run unobtrusively on the screen, provide seamless video collaboration, provide zoom, color presets, color adjustments, manual focus adjustments, and make firmware updates easy to download.