Linksys LGS328PC
24 Port Managed Gigabit PoE+ Switch
Title: Linksys LGS328PC 24-Port Managed Gigabit PoE+ Switch: Empowering Your Network Infrastructure
The Linksys LGS328PC 24-Port Managed Gigabit PoE+ Switch with 4 1G SFP Uplinks 250W TAA Compliant is a powerhouse solution designed to elevate your office network infrastructure. With its robust feature set, high-speed gigabit ports, and advanced management capabilities, this Linksys switch promises to streamline your networking needs. Whether you need to expand your network reach, enhance security, or optimize performance, the Linksys LGS328PC has you covered. In this detailed overview, we'll delve into its key attributes and how it can revolutionize your network environment.

Key Features:
Powerful PoE+ Support: The Linksys LGS328PC, boasts a substantial 250W PoE+ power budget, making it ideal for powering a variety of network devices, such as IP cameras, phones, and access points, without the need for dedicated AC outlets. This feature enhances flexibility and reduces cabling clutter.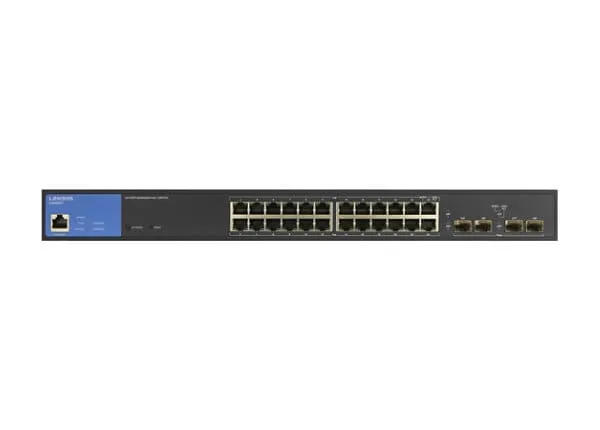 Advanced Networking Capabilities:
Static routing ensures efficient data routing across your network.
Internet Group Management Protocol (IGMP) Multicast optimizes the handling of multimedia traffic.
802.1q VLAN Tagging facilitates network segmentation for enhanced security and traffic management.
Access Control Lists (ACLs) add an extra layer of security by controlling data flow based on defined rules.
Versatile Management Options:
Web interface simplifies configuration and management, making it accessible to users of all levels.
Command Line Interface (CLI) support provides advanced users with fine-grained control.
802.1x RADIUS Authentication enhances network security by controlling access based on user credentials.
Network Optimization:
Port Mirroring aids in network troubleshooting and monitoring.
Link Aggregation increases bandwidth and redundancy.
Port Security ensures unauthorized devices cannot access your network.
802.1p Quality of Service (QoS) guarantees prioritized traffic for critical applications.
Bandwidth and Storm Control prevent network congestion and outages.

Easy Integration:
The Linksys LGS328PC can be rack-mounted, saving valuable space in your server room or data center. Its compact design and external power cord offer convenience in installation.
Indicator Lights:
A range of indicator lights, such as POWER, FAULT, PoE MAX, PoE MODE, LAN MODE, SPEED, and LINK/ACT, provide real-time status updates for quick diagnostics.
Browser Setup:
Setting up and managing the switch is a breeze with the latest versions of Google Chrome™ and Firefox® browsers.
Package Contents:
The package includes the Linksys LGS328PC switch, a quick start guide, rack mounting kit with screws, rubber feet, and an internal power supply compatible with 100V–240V AC at 50–60 Hz, 4.0A.
The Linksys LGS328PC 24-Port Managed Switch represents a reliable and feature-rich solution to meet the evolving demands of modern office networks. With its high-speed gigabit ports, extensive PoE+ support, advanced management options, and security features, it's an essential component for businesses seeking to enhance network performance, efficiency, and scalability. Whether you're looking to expand your network or optimize existing resources, the Linksys LGS328PC provides the versatility and power needed to transform your network infrastructure for the better. Upgrade your network with confidence and experience the benefits of enhanced connectivity and control.