Intel® Core™ i5-1035G1 (4C / 8T, 1.6 / 4.2GHz, 6MB)
Optional: 9.0mm slim DVD RAMBO
22″ Inch FHD (1920×1080) IPS Anti-glare
Integrated 100/1000M , 2x2 802.11ac Bluetooth® 4.0
2 x USB 3.1 (Gen 2) 4 x USB 2.0 3-in-1 card reader HDMI-out HDMI-in RJ45 Headphone / mic combo Kensington lock slot
Find similar
Lenovo All-In-One V30A-22IIL
Lenovo, All-In- One, V30A-22IIL, Intel Core I5-1035G1, 512GB SSD, 8GB Ram, Intel Integrated UHD, 22" Inch, FHD,
Good performance in a small space The Lenovo V30a All-In-One 22-inch, Intel can handle your workload without taking up too much space. As the compact size reduces congestion, the 10th Gen Intel Core processor increases performance. Smart Conference promotes collaboration, powerful security
features complete the perfect PC for your business project.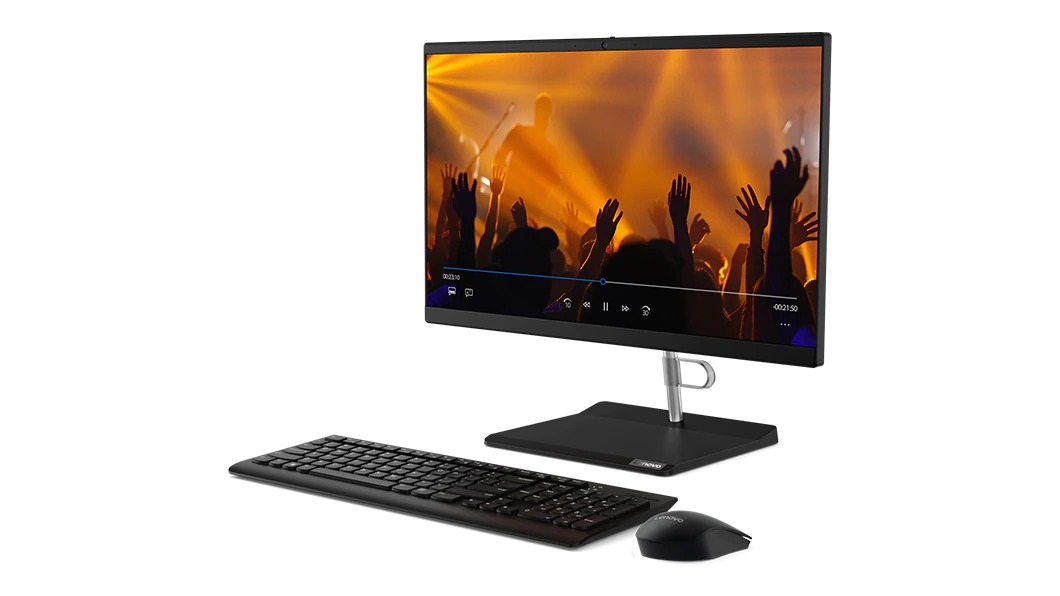 Performance means productivity:
Up to 10 Intel® Core ™ i5 processors, fast PCIe SSD and up to 32MB DDR4 memory, Lenovo V30a 22 "All-in-One All-in-One is a powerful and fast business PC. 21.5-inch screen with large spreadsheets and long documents It's great to see.It provides up-to-date instant email updates and VoIP access while minimizing your power consumption even if your computer is not working.
Protect your data & privacy:
Restrict access to smart USB protection port to prevent data theft. Security features Ports and Webcam completely disable your computer's BIOS, securely delete data, and restrict access to the hard drive with a password. Protect your privacy with the camera provided on the second camera.
Improved user comfort:
With 92% screen-to-body ratio and full HD resolution, the 21.5-inch anti-glare screen provides stunning image clarity. If your workplace needs to be mounted on the wall, do not worry - the monitor will also comply with VESA. Or use an ergonomically designed stop that is suitable for lifting, tilting, and swinging. Low blue light and very low noise levels make you comfortable while working.
Enhanced video conferences:
Smart conference simplifies teleconference with clear voice. Filter background noise and amplify the speaker's voice from either direction, either at a one-on-one or multi-party meeting. Make collaboration smoother and smoother.
Ports And Slots:
DVD RAMBO Power button HDMI Power-in RJ45 2 x USB 2.0 USB 3.1 (Gen 2) Kensington lock slot 2 x USB 2.0 USB 3.1 (Gen 2) 3-in-1 card reader Headphone / mic combo