Computer Components
Intel Core I5-12400F Processor
Lexar NM620 256GB M.2 SSD
ASUS Dual Radeon™ RX 6400 4GB GDDR6
Antec AX61 4Fan Gaming Case + 650 PSU
Intel Core I5-12400F Desktop Processor - Asus Prime H610M-K-D4 Motherboard - Lexar NM620 256GB M.2 SSD - Crucial 8GB DDR4-3200 UDIMM 1.2V CL22 - ASUS Dual Radeon™ RX 6400 4GB GDDR6 - Antec AX61 4Fan Gaming Case + 650 PSU
Intel Core I5-12400F Desktop Processor:
The Intel Core i5-12400F Desktop Processor is designed to cater to the needs of the next generation of gamers. With a strong emphasis on gaming performance, this revolutionary processor architecture ensures that gamers can compete with confidence and get fully immersed in new virtual worlds.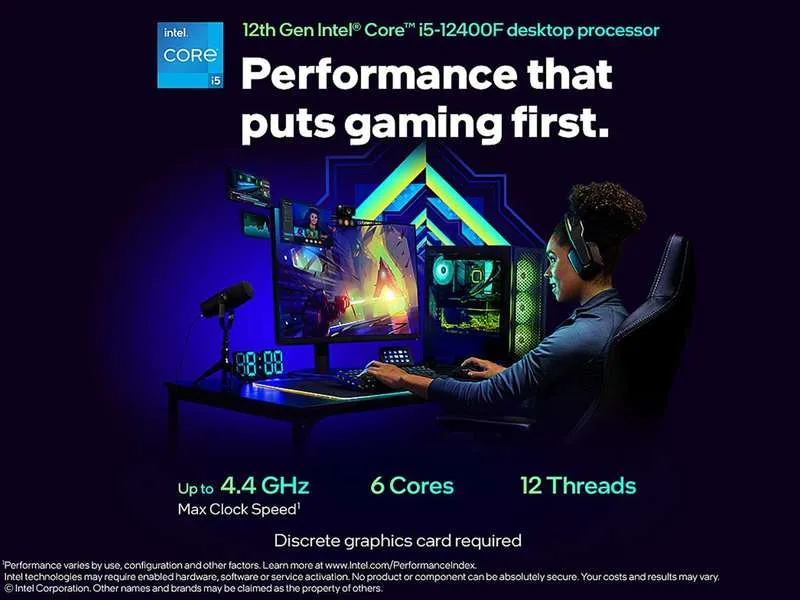 Essentials:
The i5-12400F belongs to Intel's 12th Generation Core i5 processor series, known as "Alder Lake." This processor is specifically designed for desktop computers, aiming to provide powerful performance. It was released in the first quarter of 2022 and is manufactured using Intel's advanced 7-nanometer lithography process. With its versatile design, the i5-12400F is well-suited for a wide range of applications, including PCs, client devices, and tablets.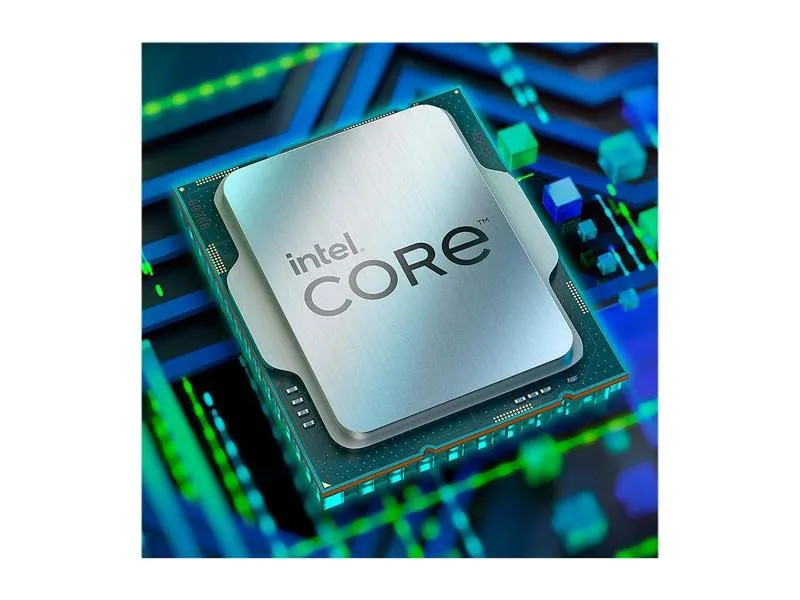 CPU Specifications:
The i5-12400F features a total of 6 cores, all of which are performance cores. It does not have any efficient cores. With 12 threads, this processor offers excellent multitasking capabilities. The maximum turbo frequency is 4.40 GHz for both performance cores and overall performance. The base frequency for the performance cores is 2.50 GHz. It is equipped with 18 MB of Intel Smart Cache and has a total L2 cache of 7.5 MB. The processor has a base power of 65 W and a maximum turbo power of 117 W.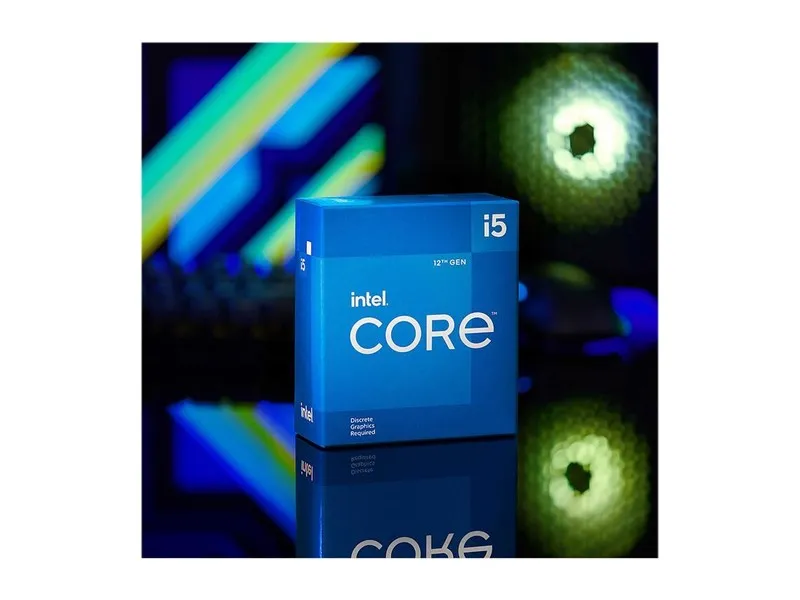 Advanced Technologies:
Intel® Gaussian & Neural Accelerator 3.0
Intel® Thread Director No
Intel® Deep Learning Boost (Intel® DL Boost) Yes
Intel® Optane™ Memory Supported ‡ Yes
Intel® Speed Shift Technology Yes
Intel® Turbo Boost Max Technology 3.0 ‡ No
Intel® Turbo Boost Technology ‡ 2.0
Intel® Hyper-Threading Technology ‡ Yes
Intel® 64 ‡ Yes
Instruction Set 64-bit
Intel Core I5-12400F Instruction Set Extensions Intel® SSE4.1, Intel® SSE4.2, Intel® AVX2
Idle States Yes
Enhanced Intel SpeedStep® Technology Yes
Thermal Monitoring Technologies Yes
Intel® Volume Management Device (VMD) Yes
Security & Reliability:
Intel® Standard Manageability (ISM) ‡ Yes
Intel® AES New Instructions Yes
Secure Key Yes
Intel® OS Guard Yes
Execute Disable Bit ‡ Yes
Intel® Boot Guard Yes
Mode-based Execute Control (MBEC) Yes
Intel® Control-Flow Enforcement Technology Yes
Intel® Virtualization Technology (VT-x) ‡ Yes
Intel® Virtualization Technology for Directed I/O (VT-d) ‡ Yes
Intel® VT-x with Extended Page Tables (EPT) ‡ Yes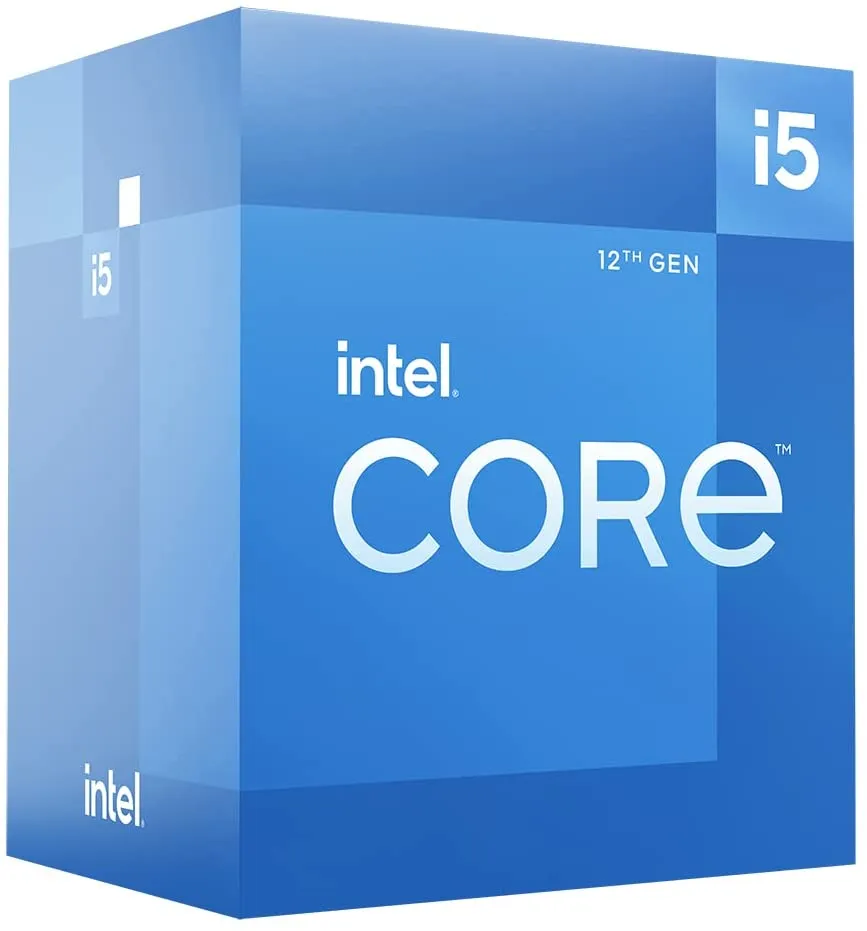 Asus Prime H610M-K-D4 Motherboard
Intel® LGA 1700 Socket: Ready for 13th and 12th Generation Intel® Processors
All-round cooling: PCH radiator and Fan Xpert
Ultra-fast connectivity: 32Gb/s M.2 slot, Realtek 1Gb Ethernet and USB 3.2 Gen 1 support
5X Protection III: Multiple hardware protections for comprehensive protection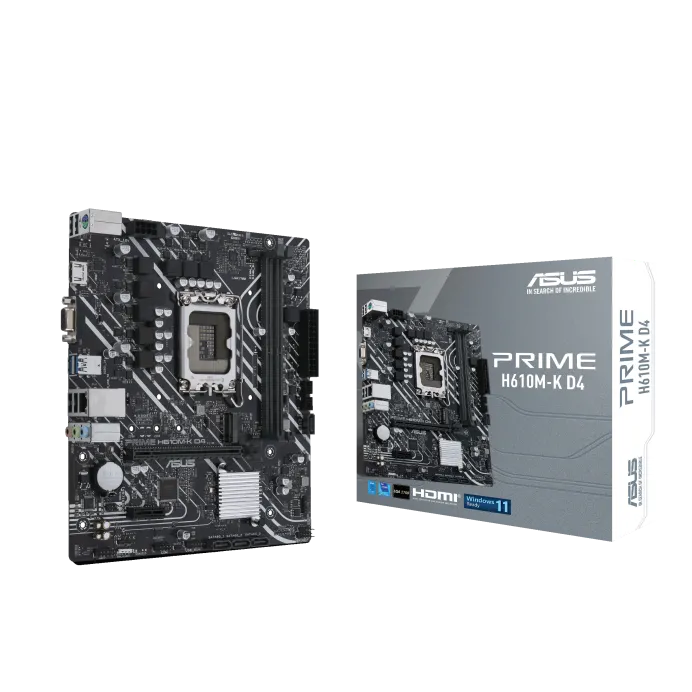 Prime:
The ASUS Prime series motherboards are designed with great expertise to maximize the capabilities of Intel's 13th and 12th Generation processors. With a strong power design, effective cooling solutions, and smart tuning options, the Prime H610 offers users and PC enthusiasts a variety of performance customization choices through user-friendly software and firmware features.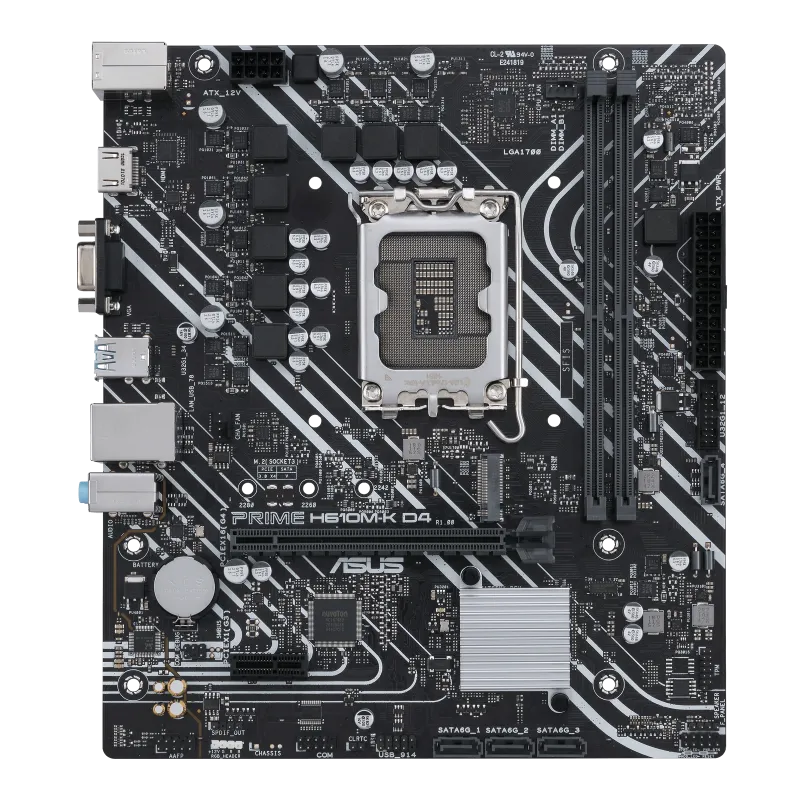 FLEXIBILITY
The ASUS Prime series is built on a foundation of extensive controls. The Prime H610 motherboard provides a wide range of flexible tools that allow you to fine-tune every aspect of your system. These tools enable you to make performance adjustments that align with your specific work style, ultimately maximizing productivity.
overall energy efficiency
The Energy Processing Unit (EPU) of the ASUS Prime series motherboard automatically optimizes power usage and enhances energy efficiency. It achieves this through the implementation of Away mode, an intelligent setting that creates an extreme energy-saving scenario by shutting down unused I/O controllers. This feature aims to maximize energy savings and promote efficient power consumption.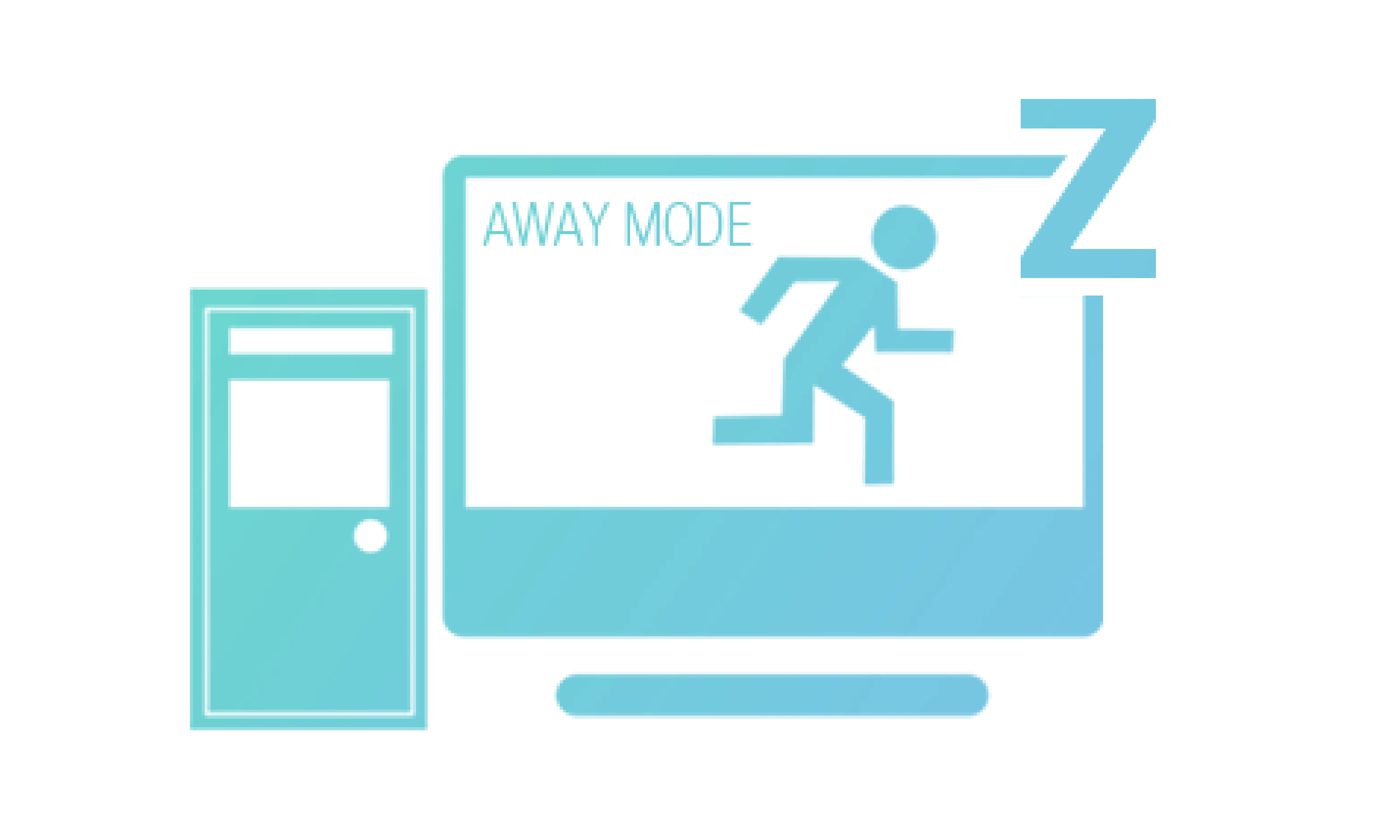 Flexible cooling controls
The Prime 600 Series motherboards provide extensive control over system fans through the included Fan Xpert software. With the Auto-Tuning mode, users can easily configure all fan parameters intelligently with just a single click. This feature simplifies the process of optimizing fan settings and ensures efficient cooling performance for the system.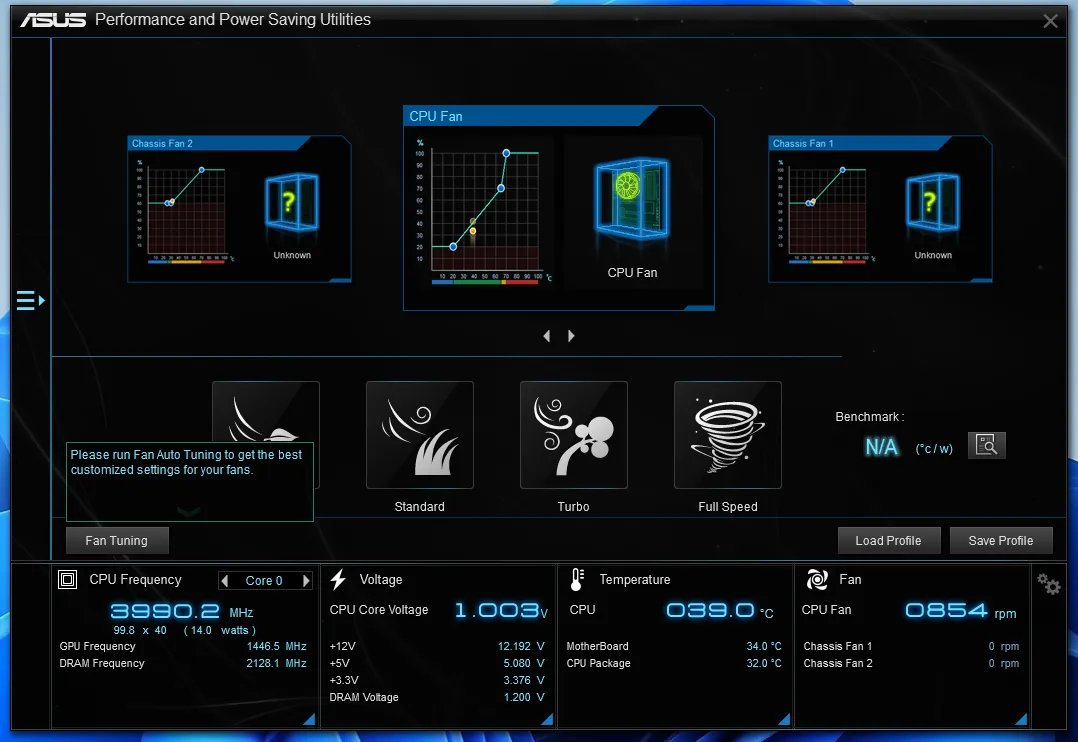 Accurate digital power control
The Digi+ voltage-regulator module (VRM) of the ASUS Prime series motherboard provides precise control over voltage droop in real-time. It automatically adjusts frequency and power-efficiency settings, ensuring optimal performance. Additionally, it offers the ability to fine-tune the CPU for enhanced stability and maximum performance, allowing users to customize their system according to their needs.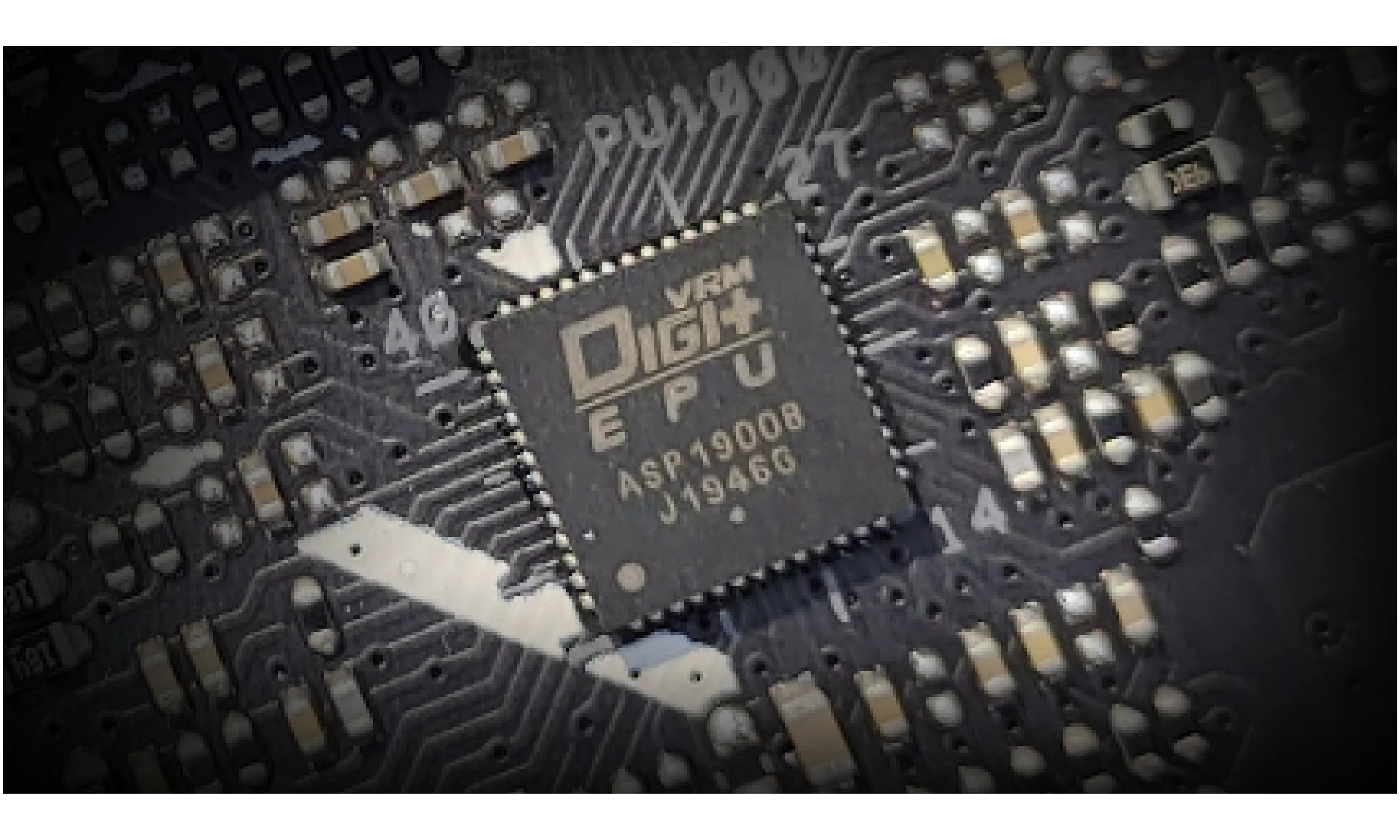 UEFI BIOS
The ASUS UEFI BIOS, well-known for its excellence, offers a complete set of tools for configuring, adjusting, and optimizing your system. It provides user-friendly options that are intelligently simplified for beginners in PC DIY, while also offering comprehensive features for experienced veterans. Regardless of your skill level, the ASUS UEFI BIOS caters to your needs, making system customization and tuning accessible to all.
Advanced Tuning for Serious Tweakers
Through the UEFI, an intuitive Advanced mode empowers users with complete control over their system. The inclusion of a built-in search feature simplifies the process of finding specific options, while various advanced functions enable intelligent and nuanced adjustments. This allows users to finely tune the system's performance according to their specific preferences, providing a personalized and tailored experience.
Quick and Simple Setup
The EZ mode of the ASUS UEFI BIOS presents essential settings and statistics in a user-friendly manner. It provides guided wizards, drag-and-drop functionality, and one-click application of crucial settings. These features are designed to facilitate a quick and effortless setup process for your system, ensuring that you can get your rig up and running in no time.

COOLING
The Prime H610 series is carefully designed with a range of hybrid fan headers to guarantee optimal cooling and stability for your system, even during demanding workloads.
Cooler by Design
The Prime H610 series is equipped with comprehensive cooling controls that can be easily configured either through the Fan Xpert software or directly within the UEFI BIOS. These controls provide users with the flexibility to customize and fine-tune their cooling settings according to their specific needs and preferences.
Multiple Temperature Sources
Each header in the Prime H610 series has the capability to dynamically monitor three thermal sensors. With the help of Fan Xpert, you can assign the temperature readings from compatible ASUS graphics cards to optimize cooling performance for tasks that put a heavy load on the GPU and CPU. This feature ensures that the cooling system responds efficiently to the specific demands of intensive workloads.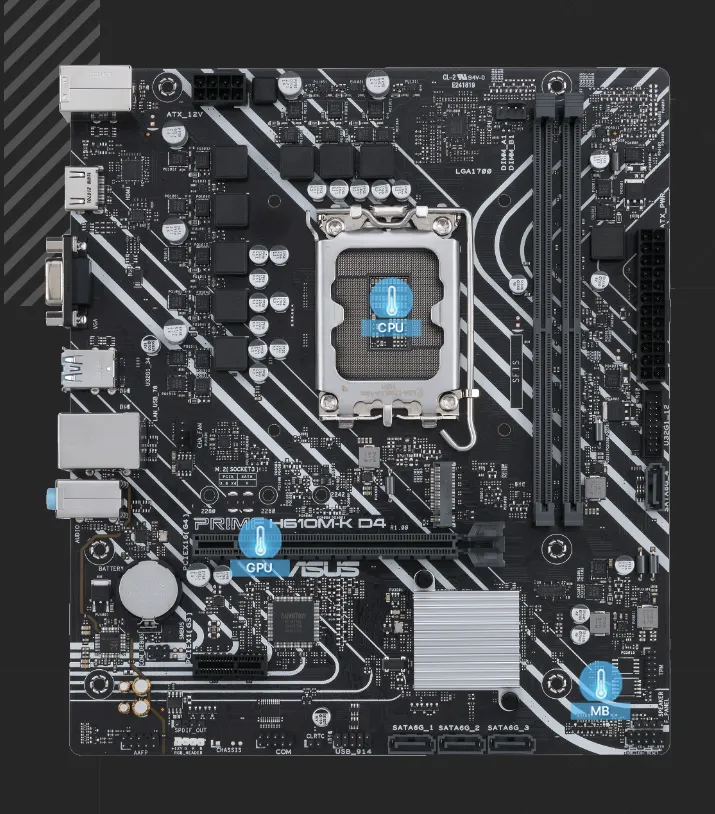 PERFORMANCE
The Prime H610 series is designed to work with the additional cores and increased throughput of 13th and 12th Generation Intel® Processors. ASUS H610 motherboards have everything you need to boost your daily productivity, so your system is ready to go with stable power, intuitive cooling, and flexible porting options.
Storage
M.2 slot (up to 32 Gbps)
The Prime H610M-K D4 motherboard provides one M.2 slot that supports high-speed data transfers of up to 32 Gbps through the PCIe 3.0 interface. This enables faster boot-up and shorter application loading times when using operating system or application drives.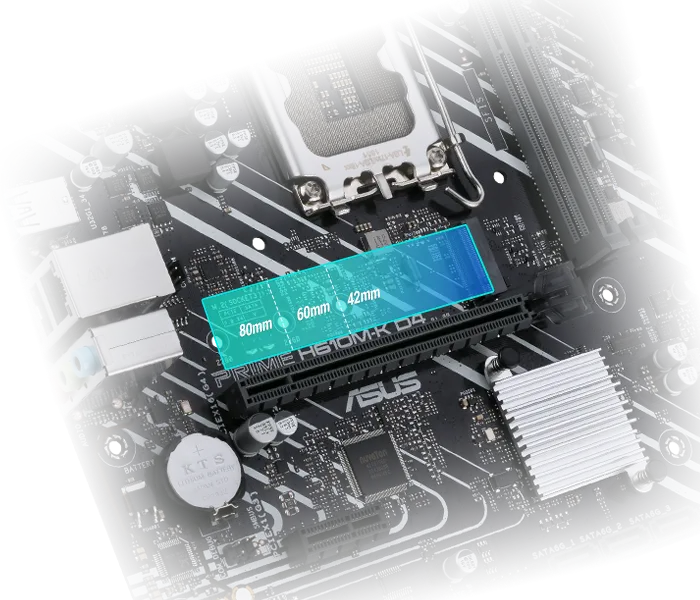 PCIe® 4.0
The Prime H610 motherboards are meticulously engineered to cater to the 13th and 12th Generation Intel® Core™ CPUs, providing optimal compatibility. These motherboards also feature PCIe® 4.0 connectivity, ensuring seamless integration with the latest GPUs. With its wide bandwidth and high-speed transmission capabilities, the Prime H610 enables the creation of robust and feature-rich builds that can effortlessly handle demanding workloads.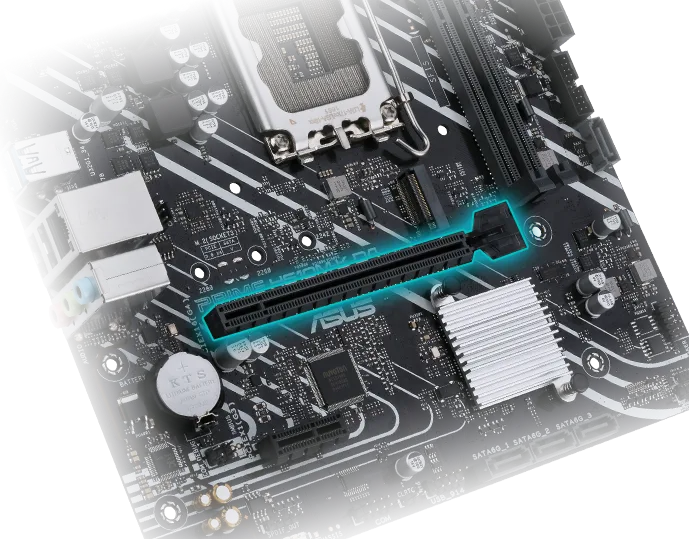 USB 3.2 Gen 1 Type-A
The Prime H610 motherboards offer a multitude of USB ports, making them suitable for high-end rigs equipped with various peripherals. This includes rear-panel USB Type-A connectors that provide fast USB 3.2 Gen 1 connectivity, enabling seamless compatibility with compatible cases and ensuring efficient data transfer speeds.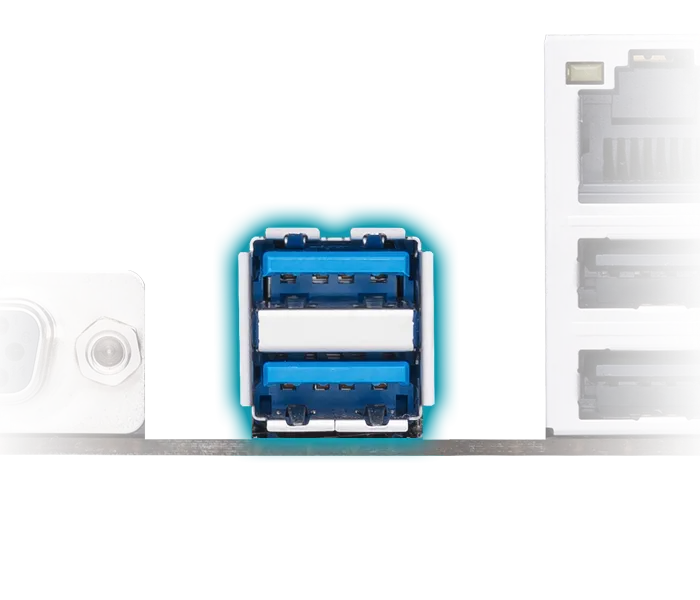 Armoury Crate
Armoury Crate is a recently developed software utility that offers a centralized control hub for managing supported ASUS products, all through a user-friendly interface. With Armoury Crate, users can easily access and adjust settings for various ASUS products, including keyboard and mouse preferences. Additionally, the software provides dedicated features such as product registration and highlights, allowing users to stay connected with the ASUS community and receive important updates.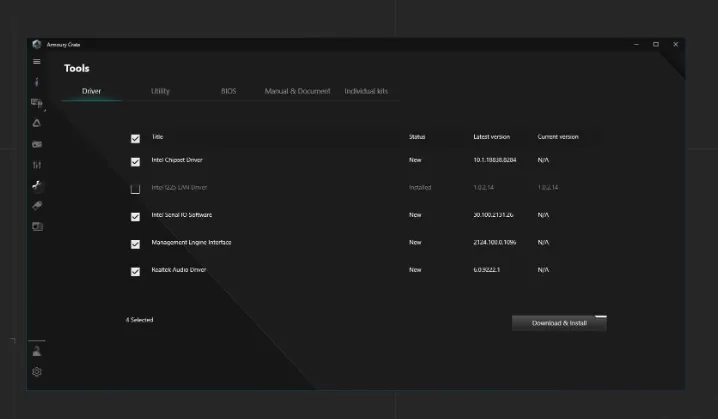 Q-LED Core
The Q-LED Core display on the motherboard utilizes the power LED to generate light patterns during the Power-On Self-Test (POST). These patterns are designed to assist users in troubleshooting potential issues that may arise during the startup process.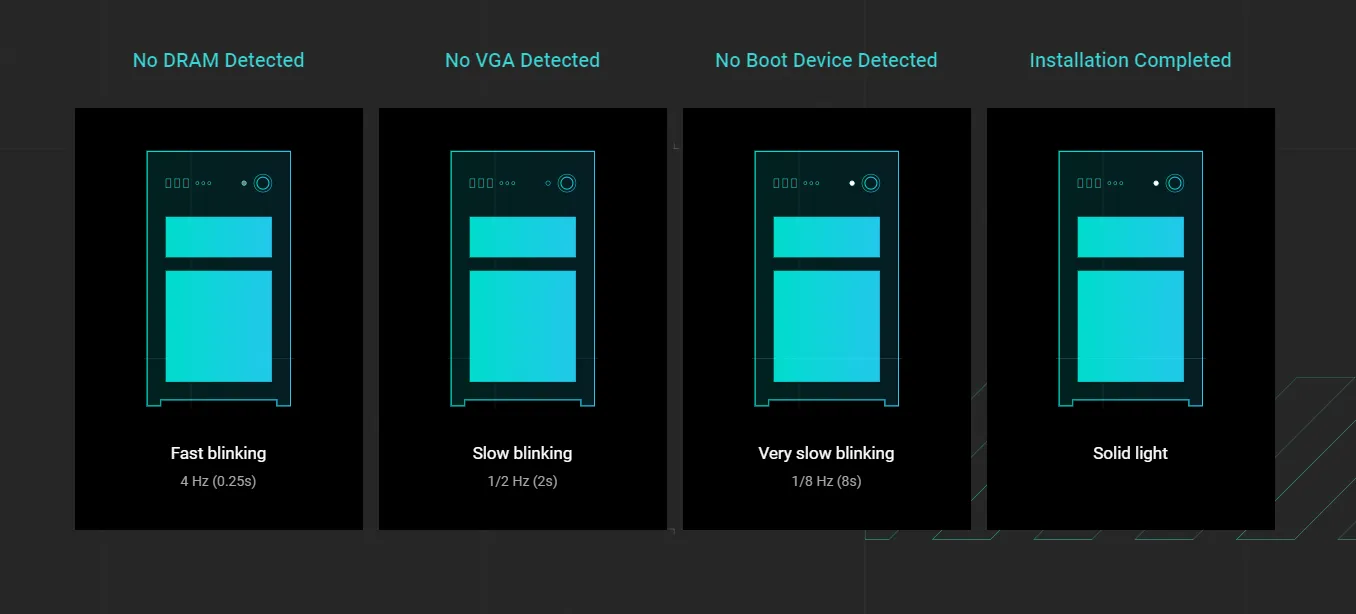 Fortified PCIe slot prevents damage
SafeSlot Core is an exclusive PCIe slot from ASUS that offers enhanced durability and stability. This specialized slot design is securely anchored to the motherboard using a special hook, providing 1.6 times stronger retention and 1.3 times greater resistance against shearing compared to standard expansion slots. SafeSlot Core ensures a more robust and secure connection for your graphics card or other expansion cards.
Lexar NM620 256GB M.2 SSD
Designed for intensive workloads, the Lexar NM620 M.2 2280 PCIe Gen3x4 NVMe SSD delivers next-level performance with compute speeds up to 3300MB/s read and 3000MB/s write1. increase. This is supported by the PCIe Gen3x4 technology standard. It supports NVMe 1.4 and is designed with the latest 3D NAND flash.
Up to 3300MB/s read speed is 6x faster than SATA SSD3. NM620 accelerates computing and delivers amazing performance for demanding creative workstations and games.
Low Density Parity Check (LDPC) technology makes data transmission more reliable than ever by correcting data errors before they slow down.
Unlike traditional hard drives, the NM620 SSD has no moving parts, so it's built to last. Plus, it's shock and vibration resistant 2, making it a robust and reliable SSD.
It consumes less power and runs cooler, resulting in longer battery life than traditional hard drives.
All Lexar products are rigorously tested in Lexar Quality Labs, which house thousands of different cameras and digital devices, to ensure performance, quality, compatibility and reliability.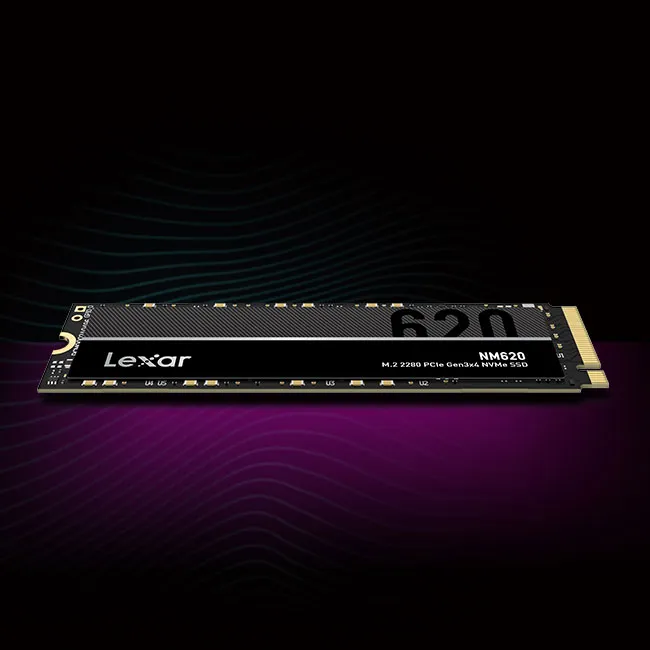 Crucial 8GB DDR4-3200 UDIMM 1.2V CL22
Boosting your desktop's performance can be a breeze, and the quickest solution is to increase its memory. Crucial® Desktop Memory is your ticket to a faster, smoother system, and it won't break the bank. With this affordable upgrade, you can enjoy faster program downloads, improved response times, effortless use of data-heavy applications, and enhanced multitasking capabilities on your desktop.
Speed Up Your PC Across the Board
Upgrade with Crucial 8GB DDR4 3200 UDIMM PC for Seamless Multitasking Simple Installation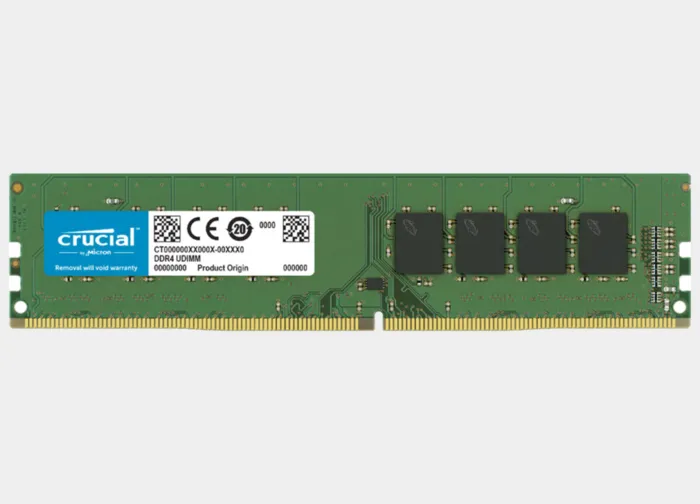 Enhance Your System's Value
Elevate overall PC performance with Crucial 8GB DDR4 3200 UDIMM PC Memory is a critical component that grants your computer quick access to data for tasks like launching applications, web browsing, and spreadsheet editing. The speed and amount of memory in your system directly impact its immediate operations. By accelerating your memory and expanding its capacity, you can significantly reduce application load times.
Effortless Multitasking with Crucial 8GB DDR4 3200 UDIMM PC If you're a multitasker like us, your computer often juggles multiple tasks simultaneously—editing documents, viewing photos, and surfing the web, for instance. This can strain your system's performance, as every running application demands memory resources. To conquer this challenge, consider installing high-density memory modules in every available slot to enable smooth multitasking.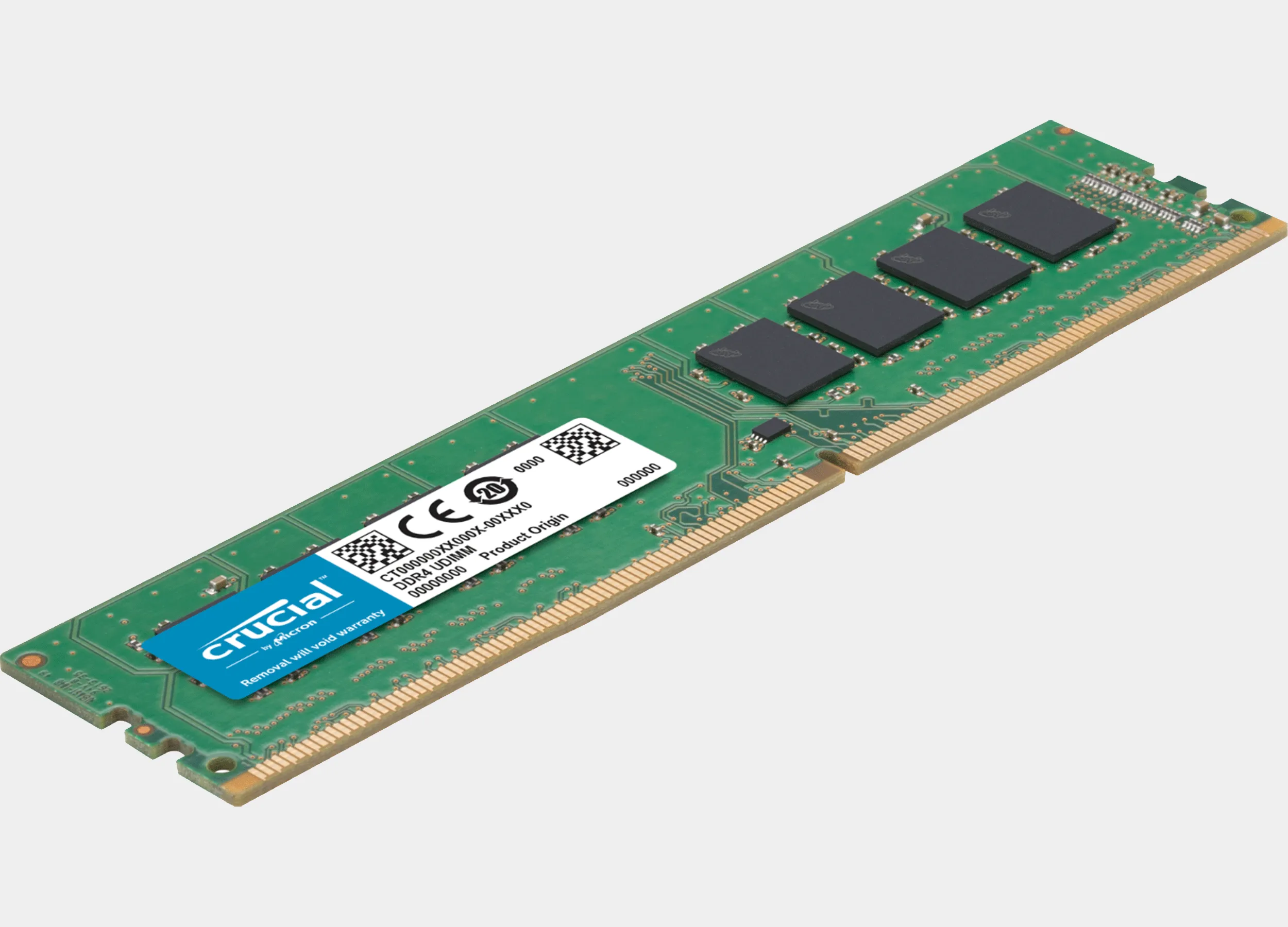 ASUS Dual Radeon™ RX 6400 4GB GDDR6
The axial-tech fan design incorporates a compact fan hub, enabling the use of extended blades, while also introducing a barrier ring to boost downward air pressure.
Utilizing a 2-slot design, it optimizes compatibility and cooling efficiency, delivering outstanding performance even in compact cases.
The dual ball fan bearings offer durability, with a potential lifespan twice that of sleeve bearing designs.
Auto-Extreme Technology employs automation to enhance the overall reliability of the components.
A safeguarding backplate is in place to prevent any PCB flex or trace damage.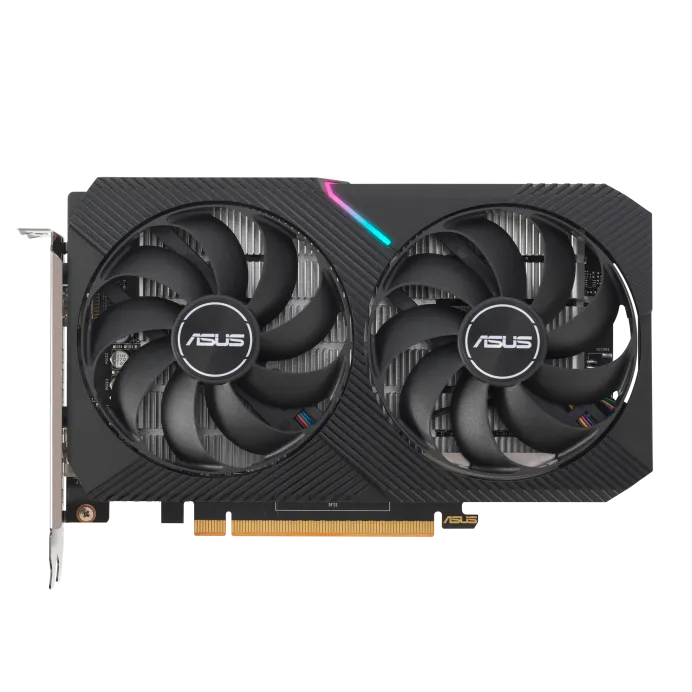 2x Fans. 2x Fun.
Utilizing the latest AMD RDNA™ 2 architecture, the ASUS Dual Radeon™ RX 6400 seamlessly blends dynamic thermal efficiency with extensive compatibility. Drawing inspiration from high-end graphics cards, it incorporates advanced cooling solutions, such as dual Axial-tech fans, to optimize airflow to the heatsink. This 20 cm long, 2-slot card packs a punch in a smaller form factor, offering enhanced power within a limited space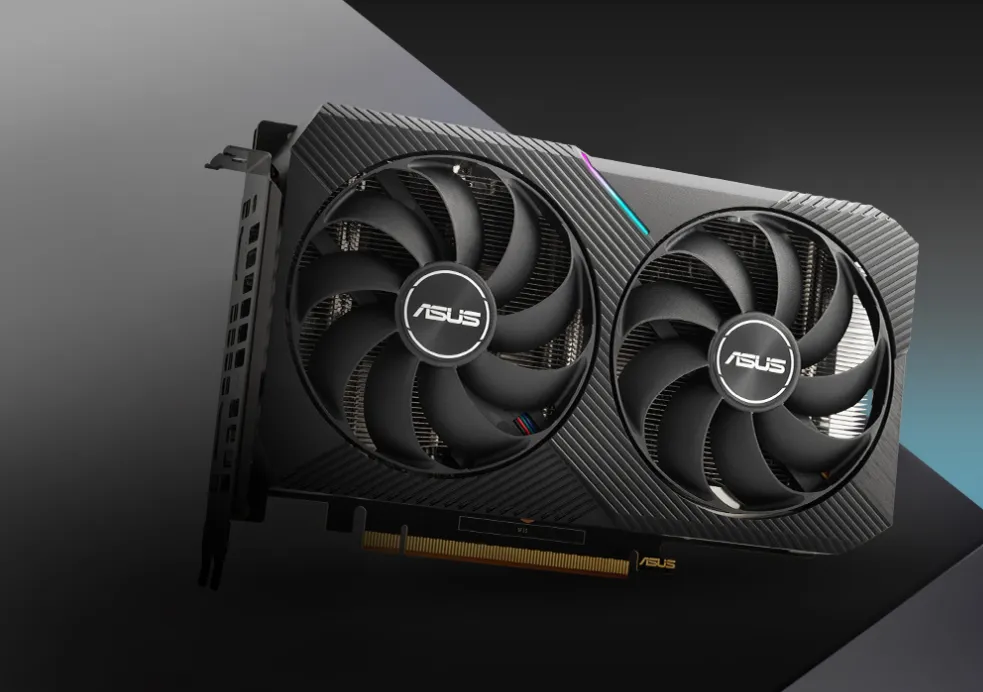 Axial-tech Fan Design
Better, faster, stronger
Two reliable Axial-tech fans incorporate a reduced hub size, enabling longer blades, and introduce a barrier ring to enhance downward air pressure.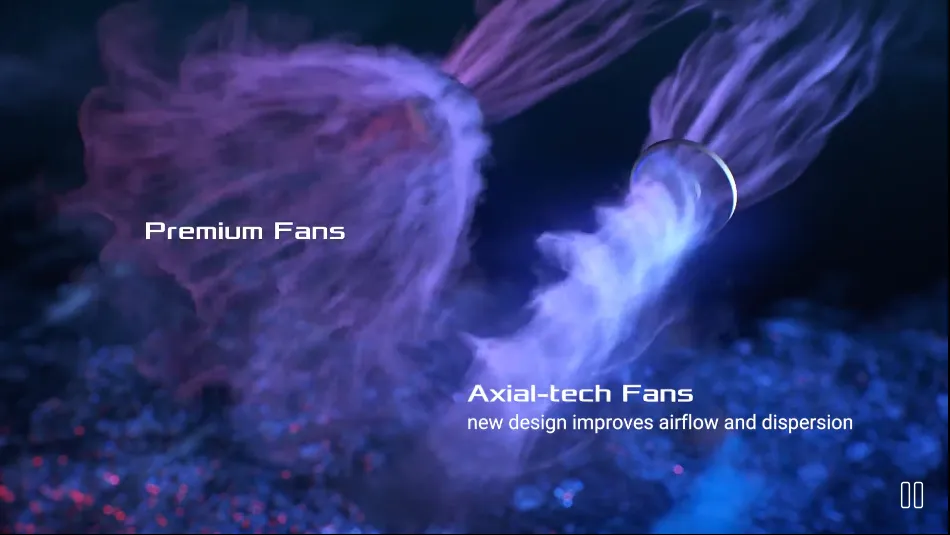 0dB Technology
Quiet intelligence
In order to minimize unwanted noise, a stop mode is activated, pausing all fans when the GPU temperature drops below 52 degrees and power consumption remains low.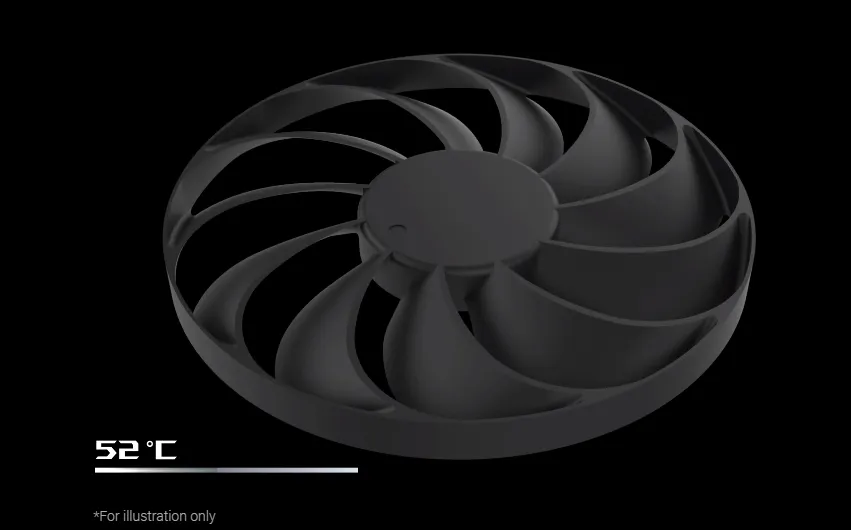 Dual Ball Fan Bearings
2x longer lifespan
Various types of bearings have their distinct advantages and disadvantages. Ball bearings, for instance, stand out in terms of longevity, with the potential to endure up to twice as long as sleeve bearing designs.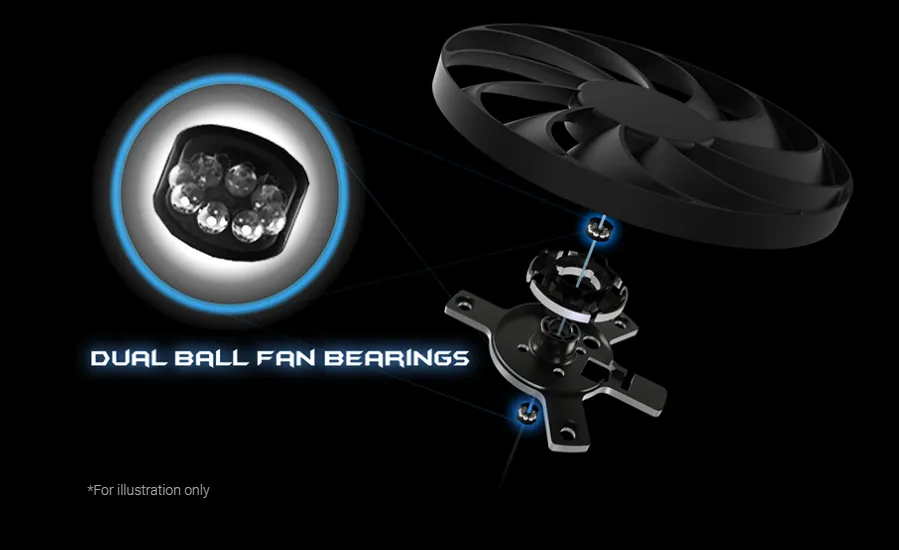 2-slot Design
Sink your heat into this
Through meticulous design of the shroud, heatsink, and heatpipe layout, the two Axial-tech fans can effectively utilize side-panel ventilation from the chassis, providing thermal performance that defies the card's compact size.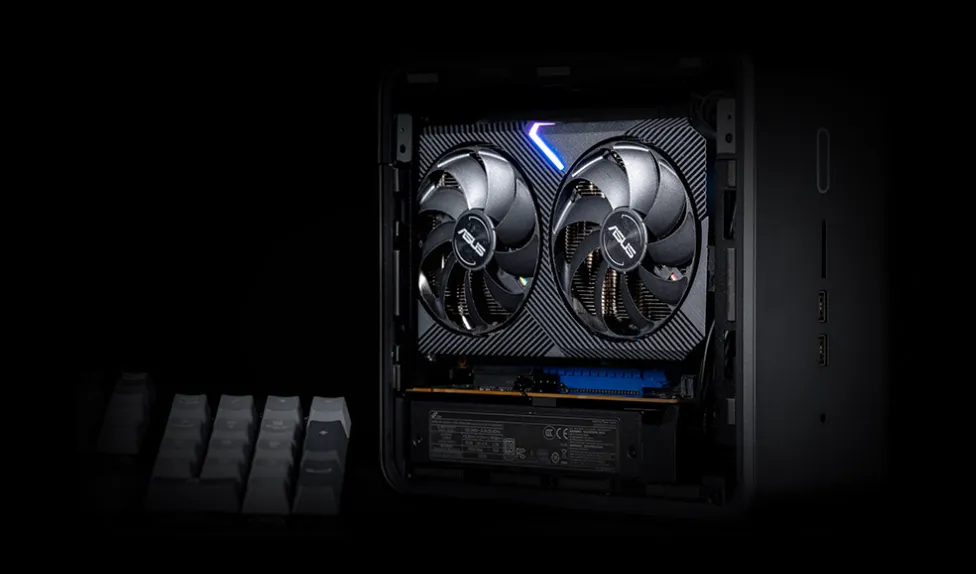 Protective Backplate
Stainless Steel Bracket
Steel yourself
The mounting bracket on the Dual has been reinforced using 304 Stainless Steel, a material known for its increased hardness and superior resistance to corrosion.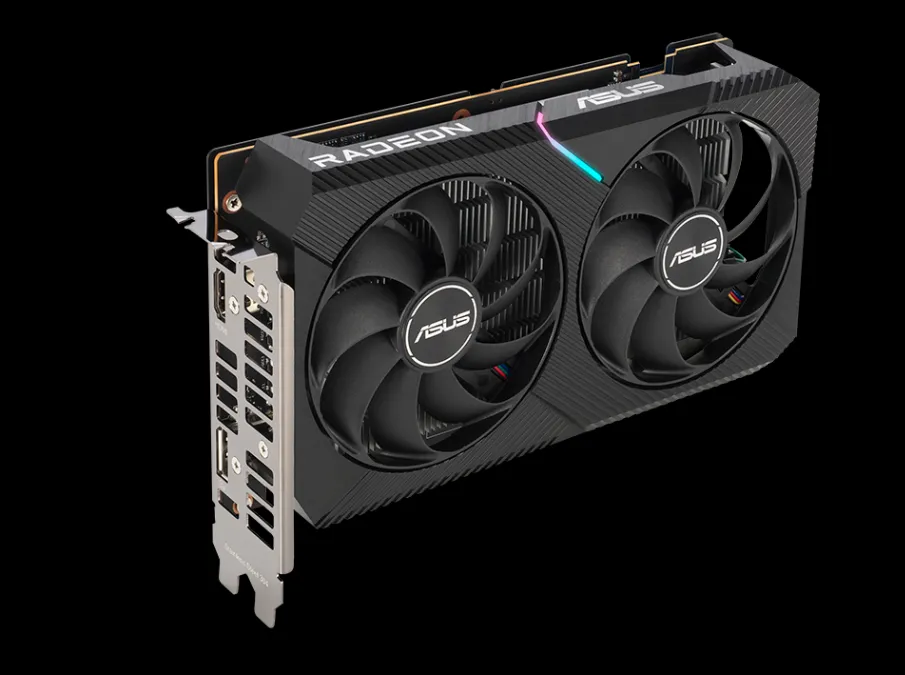 144-hour Validation Program
"Extensive" may be an understatement
Before shipping, every card undergoes strict assessments to ensure both performance and reliability. Performance and stress tests are conducted using popular, high-demanding titles such as Fortnite, League of Legends, Overwatch, and PlayerUnknown's Battlegrounds. Additionally, comprehensive reliability trials, including a 144-hour stability test and a sequence of 3DMark benchmarking runs, are carried out to guarantee the card's optimal performance even under extreme conditions.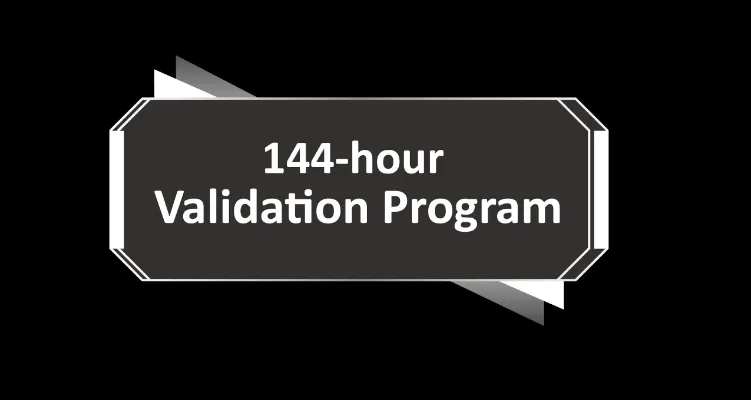 Subtle Lighting
A bit lit
The shroud incorporates a discreet illuminated strip, adding a stylish accent to your build.
AMD Radeon™ Software
Change the way you game
The most recent Radeon™ Software empowers your GPU to its maximum potential by offering day-0 drivers tailored for new game releases, ensuring optimal performance, and providing a highly customizable gaming experience.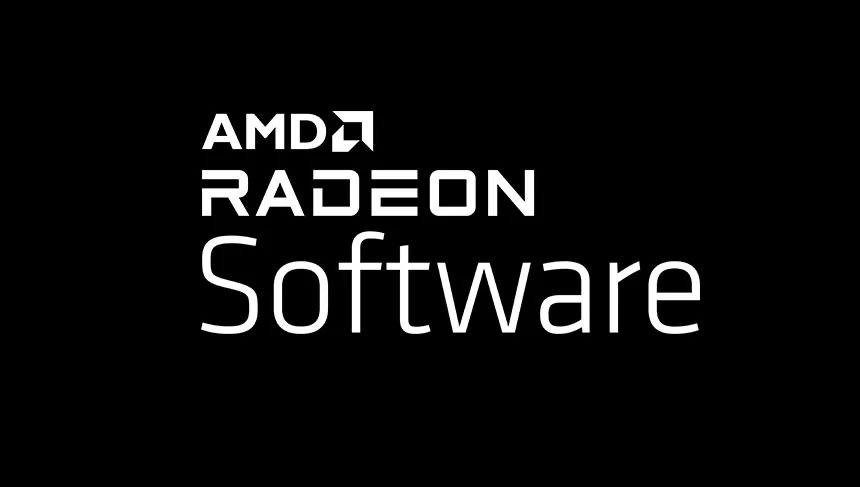 Antec AX61 4Fan Gaming Case + 650 PSU
Unique Design &Powerful HeatDissipation
The front panel features a spacious mesh design adorned with geometric elements to enhance airflow and minimize dust buildup. The ARGB lighting system produces a range of captivating visual effects.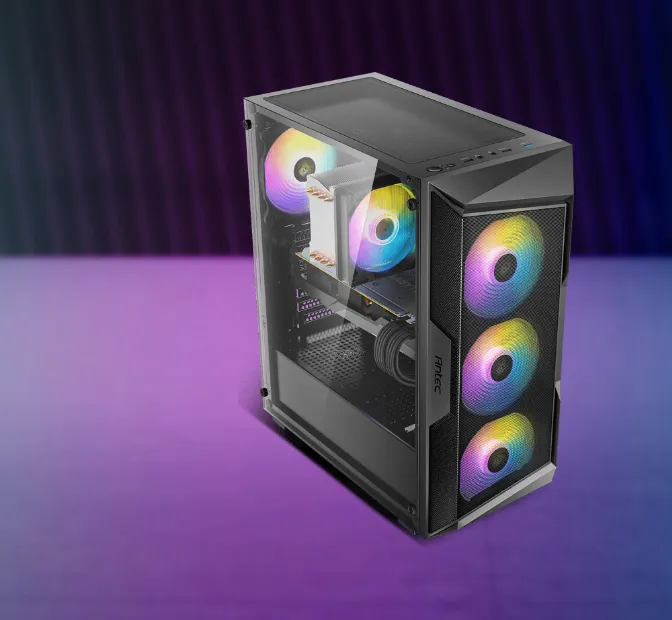 Stylish Mesh Front Panel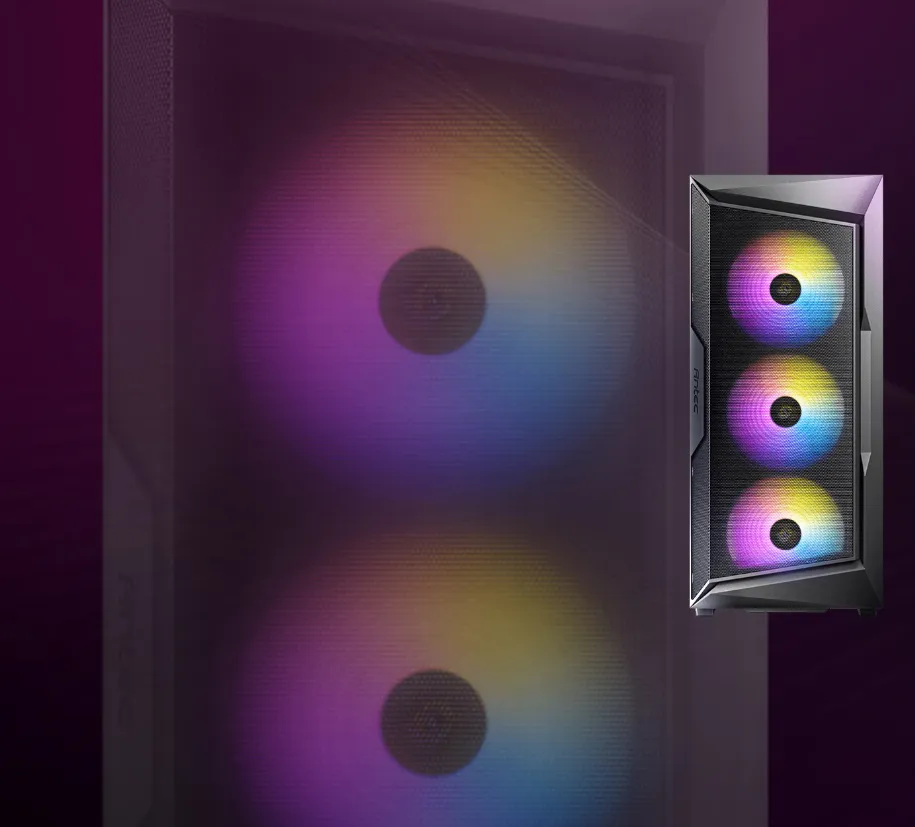 High-Airflow Front Panel
Comprehensive airflow pathways deliver exceptionally efficient cooling, with air intakes positioned at both the front and bottom to ensure exceptional heat dispersion.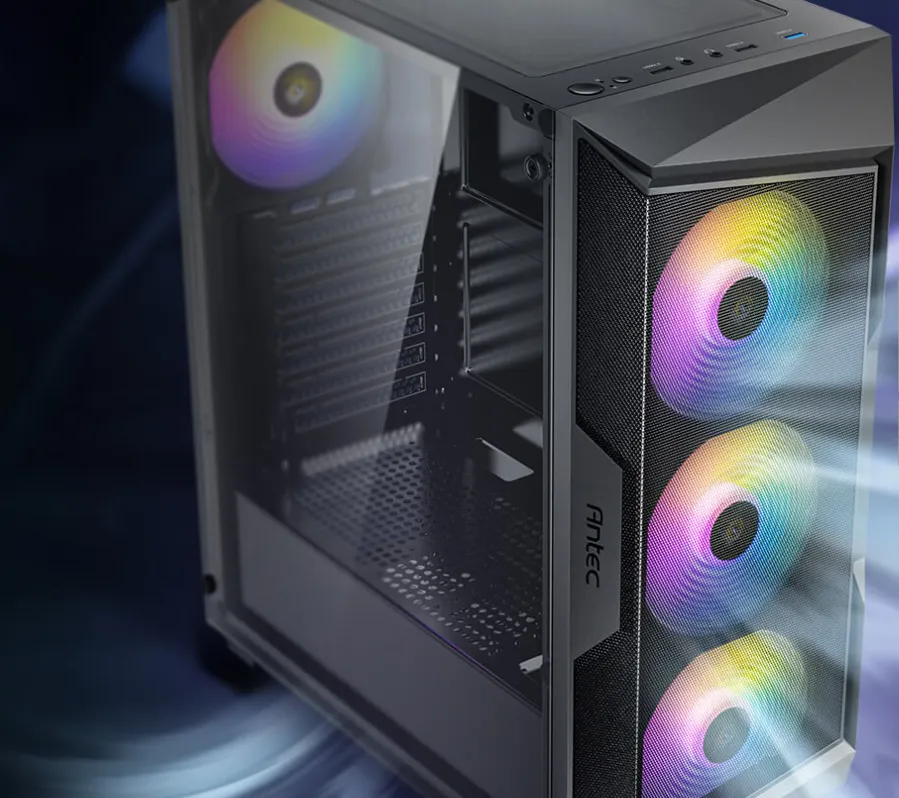 Pre-Installed 4 x 120mm ARGB fans
Operate in coordination with the motherboard.
In Sync with Motherboard for ARGB Lighting
Utilize the primary case fan to daisy-chain the other two fans, enabling synchronized ARGB lighting and allowing you to craft your unique personal style.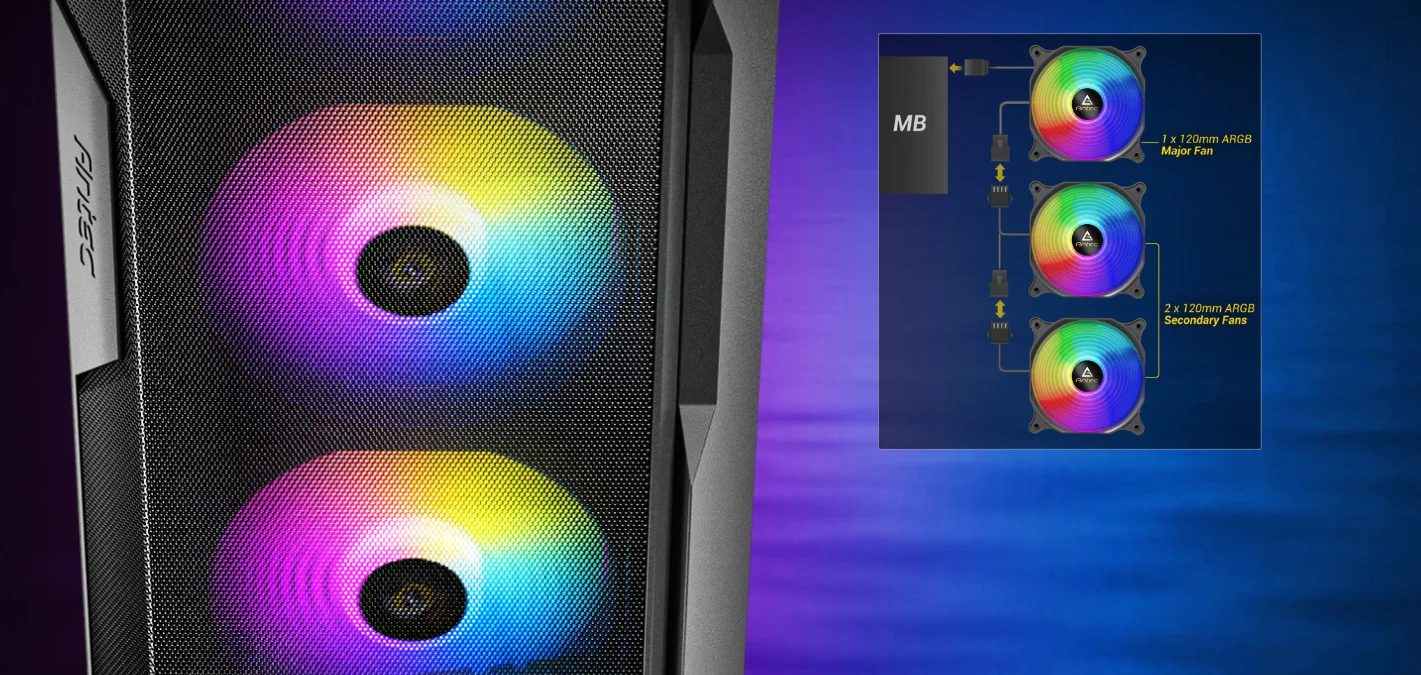 I/O panel includes a power button, LED control button, two USB 2.0 ports, microphone and HD audio jacks, and one USB 3.0 port.

Neat Build within Reach
There is a 24mm depth on the left side and a 13mm depth on the right side, facilitating convenient cable management.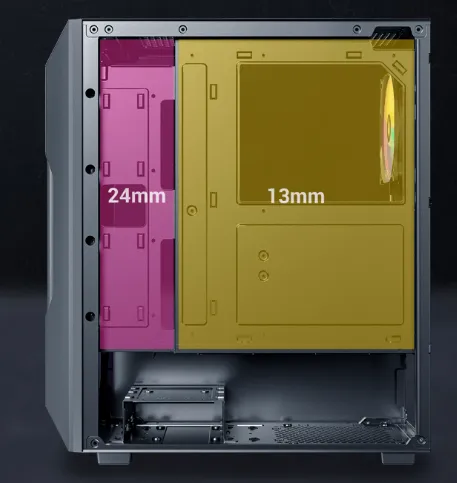 Up to 8 x 120mm Fans Simultaneously
Impressive Cooling Compatibility: Maximum CPU cooler height of 160mm, offering support for a wide range of high-end air coolers.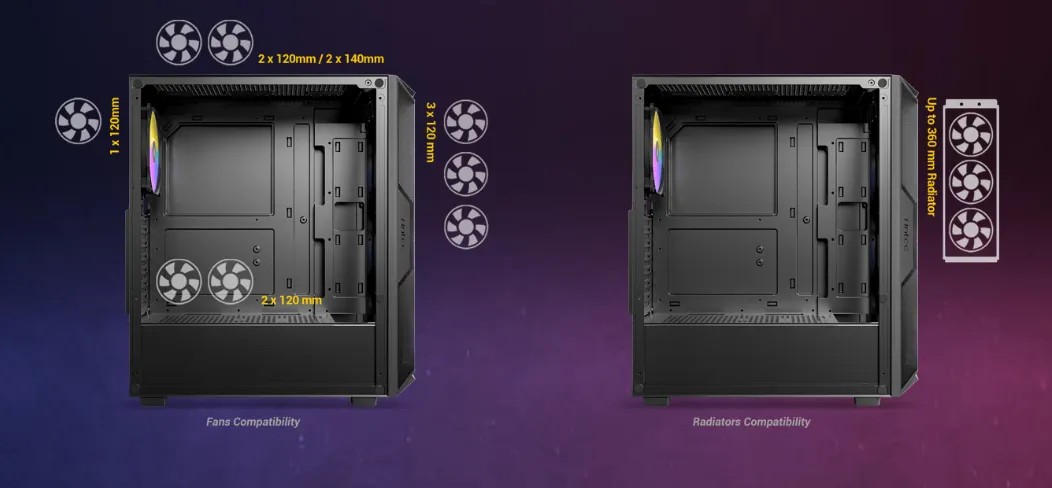 Compatibility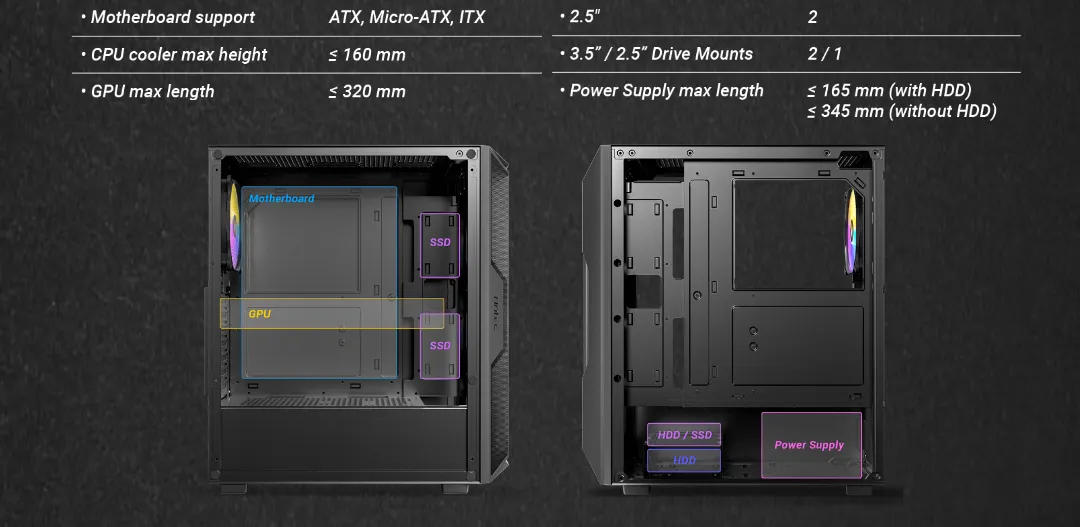 Limitless Performance: Supports graphics cards with a maximum length of 320mm.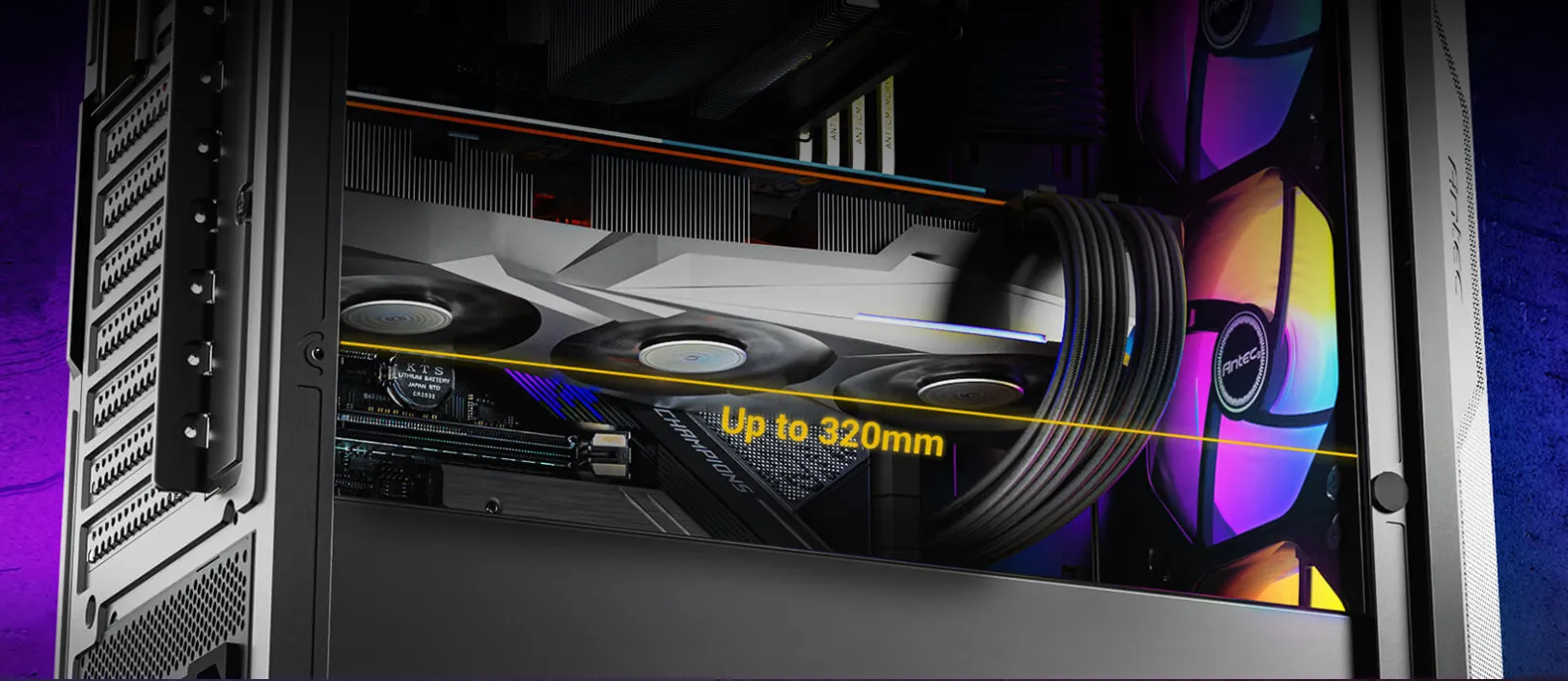 لم يتم العثور على أي تقييمات