Computer Components
Acer HT100 8GB 3200Mhz Ram
ASUS Phoenix Radeon RX 6400 4GB GDDR6 Graphic Card
Case Antec NX291 4Fan(3*120M ARGB) (1*120M)Normal+PSU Antec Atom V550
Intel Core I5-11400F Desktop
Processor - Asus Prime H510M-K
Motherboard - Lexar 256GB M.2
SSD - Acer HT100 8GB 3200Mhz Ram -
ASUS Phoenix Radeon RX 6400 4GB
GDDR6 Graphic Card - Antec NX291
4Fan Gaming Case + Antec Atom V550
PSU
Intel Core I5-11400F Desktop Processor:
11th Gen Intel Core i5-11400F desktop processor.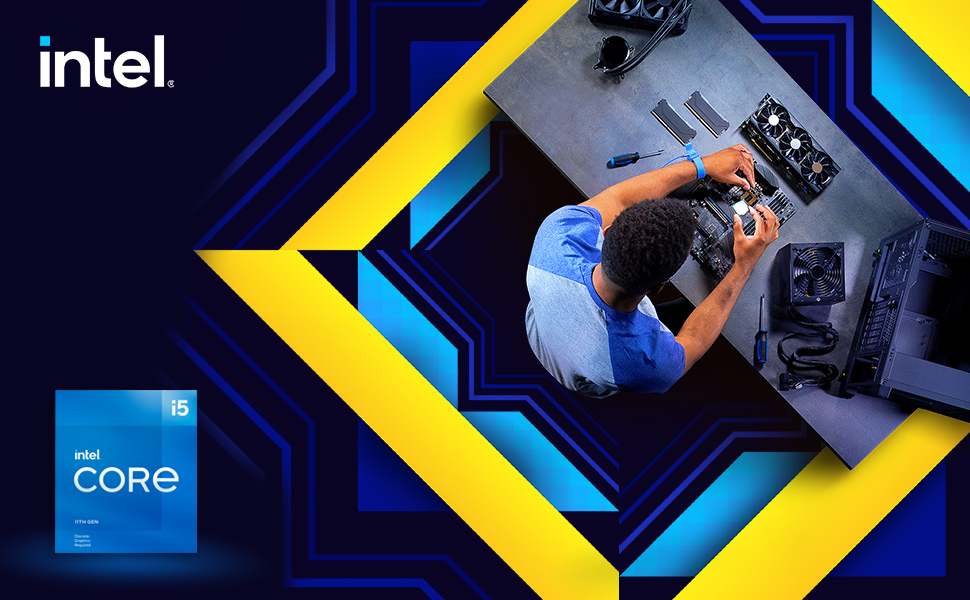 Engineered for play:
Intel's latest desktop processor architecture and fast clock speeds deliver high frame rates and low latency for competitive play and more immersive experiences.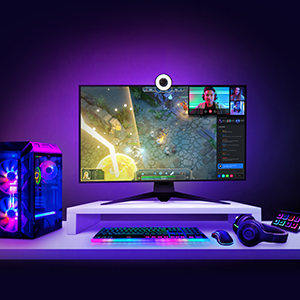 Works hard, too:
The improved productivity of the 11th Gen Intel Core processors will help you get your work done fast and back in the game in no time.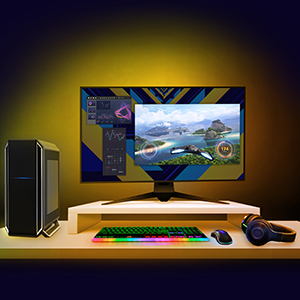 Game for a crowd:
The efficient multi-threaded performance of the 11thGen Intel Core processors allow you to maximize your streaming quality and maintain high FPS while gaming.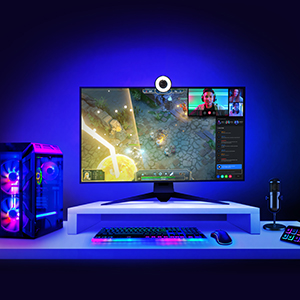 Asus Prime H510M-K Motherboard:
Intel® H510 (LGA 1200) micro ATX motherboard with PCIe 4.0, 32Gbps M.2 slot, Intel® 1 Gb Ethernet, HDMI, D-Sub, USB 3.2 Gen 1 Type-A, SATA 6 Gbps, COM header, and RGB header.
Intel® LGA 1200 socket: Ready for 11th and 10th Gen Intel® Processors
Ultrafast connectivity: PCIe 4.0, 32Gbps M.2 slot, Intel® 1 Gb Ethernet and USB 3.2 Gen 1
Comprehensive cooling: PCH heatsink and Fan Xpert
5X Protection III: Multiple hardware safeguards for all-round protection
Lexar 256GB M.2 SSD:
256GB LEXARLNM620SSD Designed for intensive workloads, the Lexar NM620M.2 2280 PCIe Gen3x4 NVMe SSD offers the next level of performance for fast lanes with read speeds up to 3300MB / s and speeds of 3000MB / s... It features the PCIe Gen3x4 NVMe 1.4 technology standard and is designed with the latest 3D NAND flash.
Acer HT100 8GB 3200Mhz Ram:
Specially selected premium ICs
Supports XMP 2.0 one-click overclocking
Compatible with Intel & AMD motherboards
ACER HT100 DESKTOP MEMORY MODULES WITH DDR4 SPEED UP TO 3600 MHz:
Acer HT100 DDR4 memory is a high-performance RAM designed for gaming, overclocking, professionals, and content creators. It has speeds up to 3600 MHz, comes in single module of up to 32 GB and supports XMP 2.0 for one-click overclocking. It has a unique design with a dense aluminum heatsink spreader and is compatible with both AMD and Intel DDR4 systems.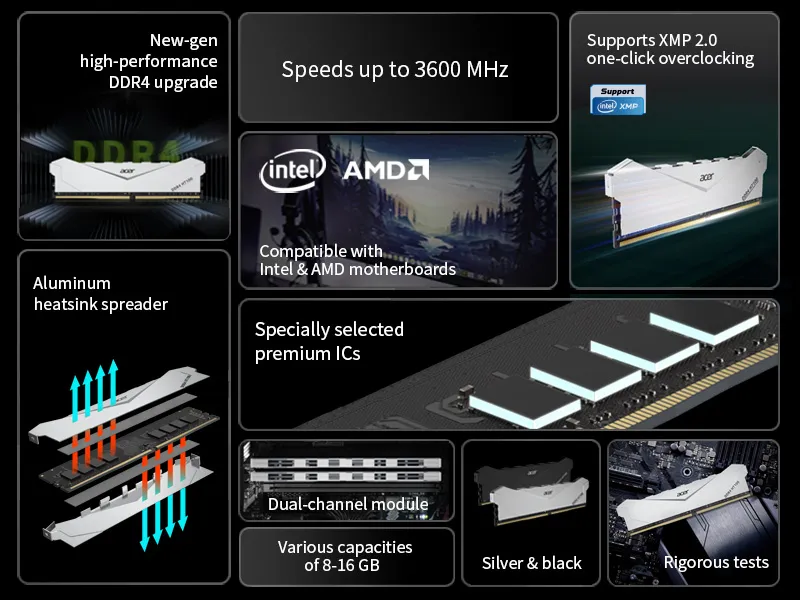 GET A FASTER DESKTOP, ENJOY HIGHER PERFORMANCE:
Acer HT100 memory is ideal for overclockers, PC builders, and gamers who demand higher performance and low power consumption from their desktops. It is a next-gen DDR4 upgrade with dual-channel mode, available in capacities of 8, 16 and 32 GB.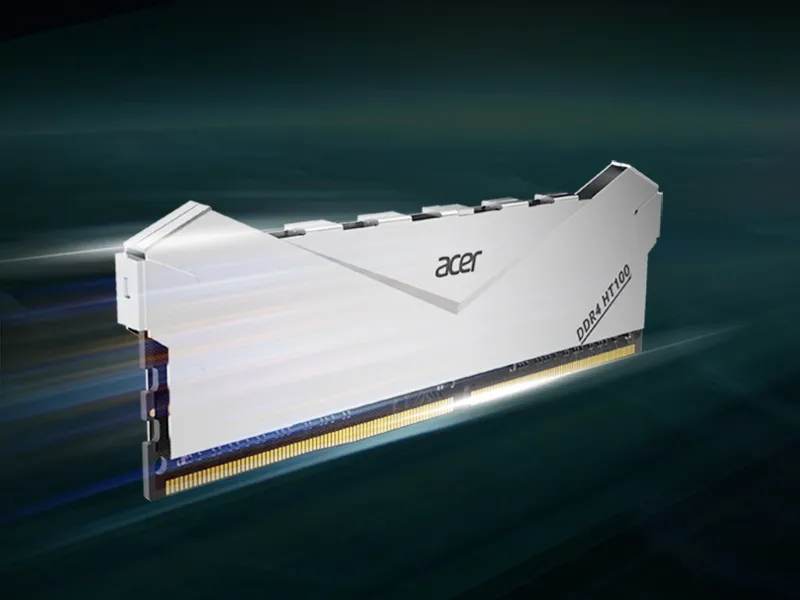 CHOOSE YOUR OWN SPEED, REDUCE LAG AND LATENCY:
Acer HT100 DDR4 memory is available in various speeds (2666 MHz, 3000 MHz, 3200 MHz, and 3600 MHz) with low timings. Upgrading to HT100 DDR4 will improve your desktop's bandwidth, performance, and potential, making it the best way to enhance speed for work or play.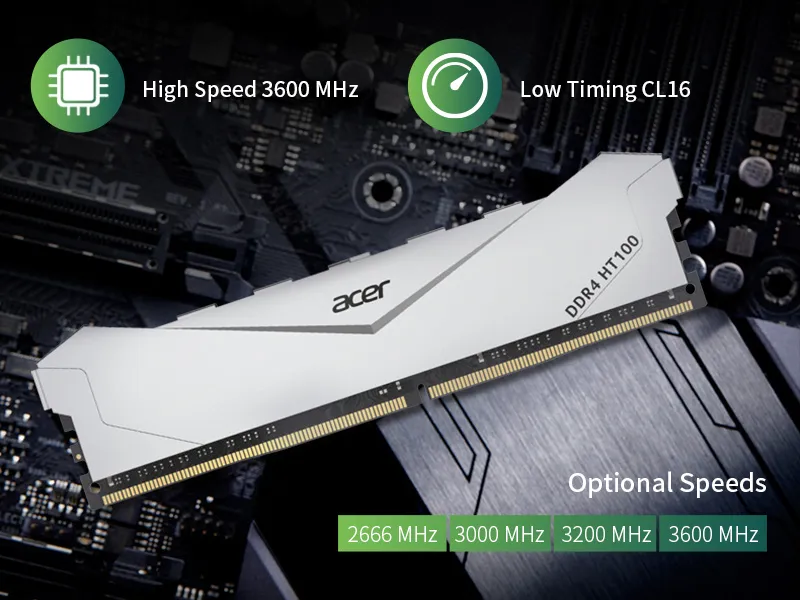 BUILT WITH HIGH STANDARD ICs, RIGOROUSLY TESTED KITS:
each HT100 memory kit contains high standard ICs selected through a rigorous selection process. The kits are rigorously tested for reliability, compatibility, and performance to ensure they are free from defects.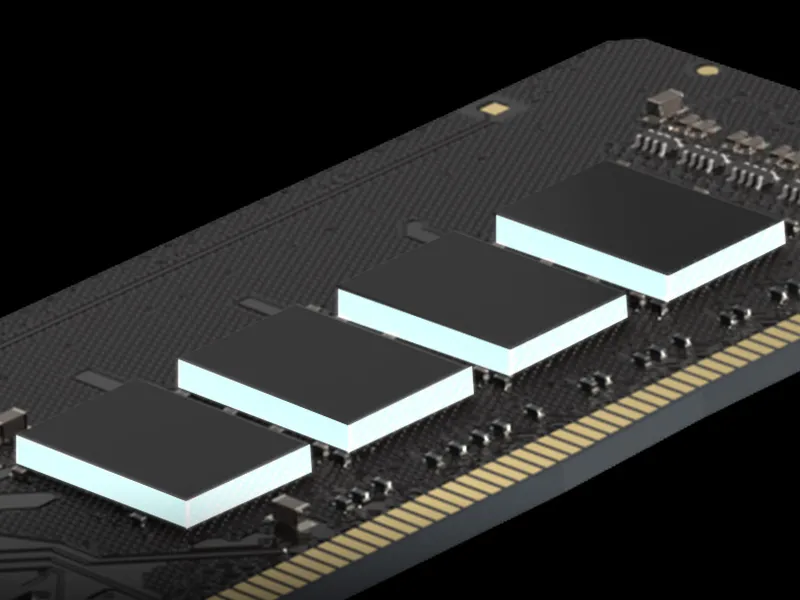 LOW POWER, LESS HEAT LONGER BATTERY LIFE:
Acer HT100 DDR4 memory requires only 1.2V per module and consumes less power, generating less heat. This results in reliable performance and longer battery life for computers despite heavy use.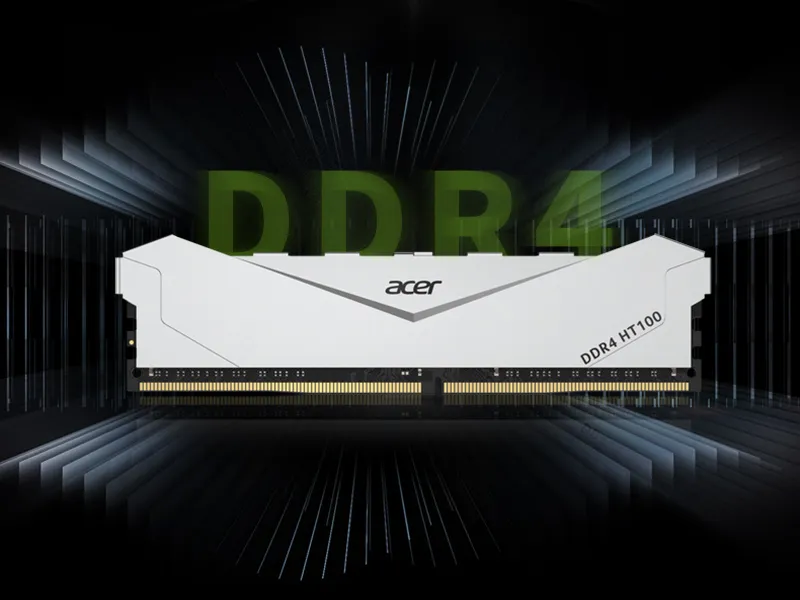 DENSE HEAT SPREADER, SILVER AND BLACK DESIGN:
Acer HT100 has a dense aluminum heat spreader with a silver and black design, providing an attractive look and efficient heat dissipation. The high-quality aluminum spreader ensures optimal heat dissipation for an excellent desktop experience without any speed problems.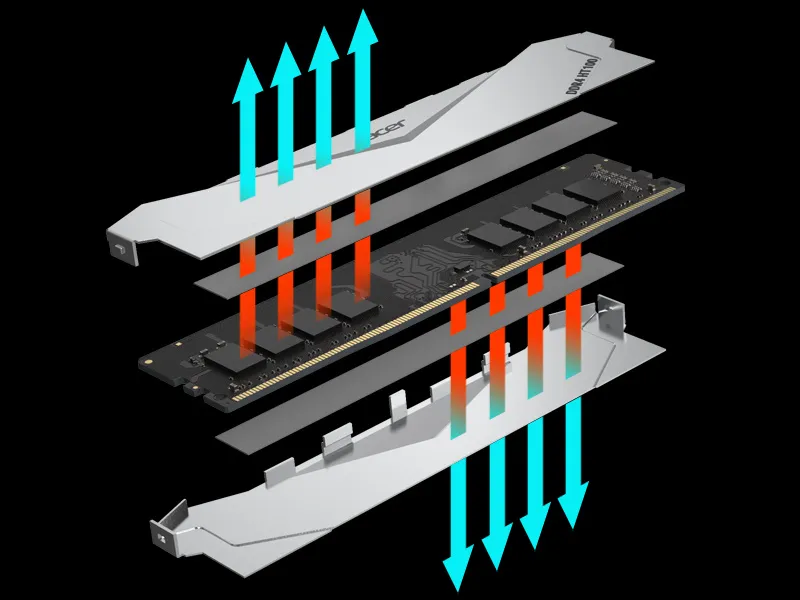 OPTIMIZED FOR INTEL XMP 2.0 PLUG-AND-PLAY OVERCLOCKING:
Acer HT100 has been tested for compatibility with a wide range of motherboards and seamlessly integrates with both Intel and AMD-based systems. It features plug-and-play automatic overclocking and is ready for Intel XMP 2.0.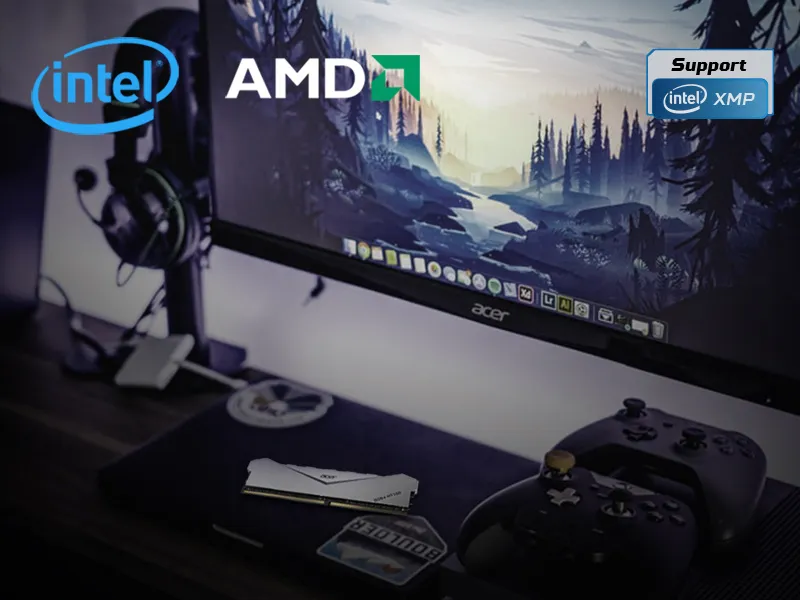 DUAL-CHANNEL MODE SPEEDS UP DATA TRANSFER:
Acer HT100 memory kits are recommended for users who want to take advantage of dual-channel mode for improved performance. Using HT100 in a dual-channel setup will increase memory bandwidth, speed up data transfers, and avoid compatibility issues.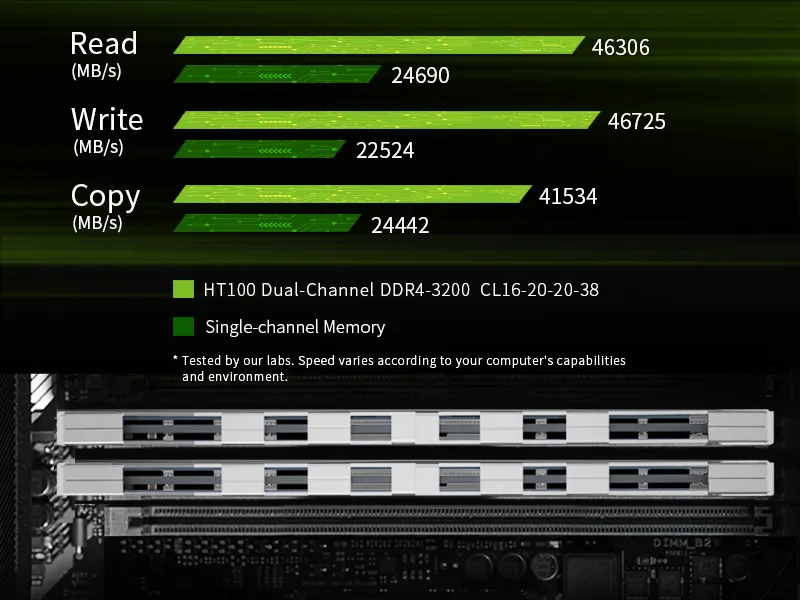 FASTER MULTI-TASKING FOR GAMING, WORK, LEARNING:
Acer HT100 DDR4 memory comes in capacities of 8, 16, and 32 GB and enables faster multitasking. It improves frame rate, enhances gaming performance, and speeds up video editing. It's a smart choice for an easy upgrade for education, business, or entertainment needs.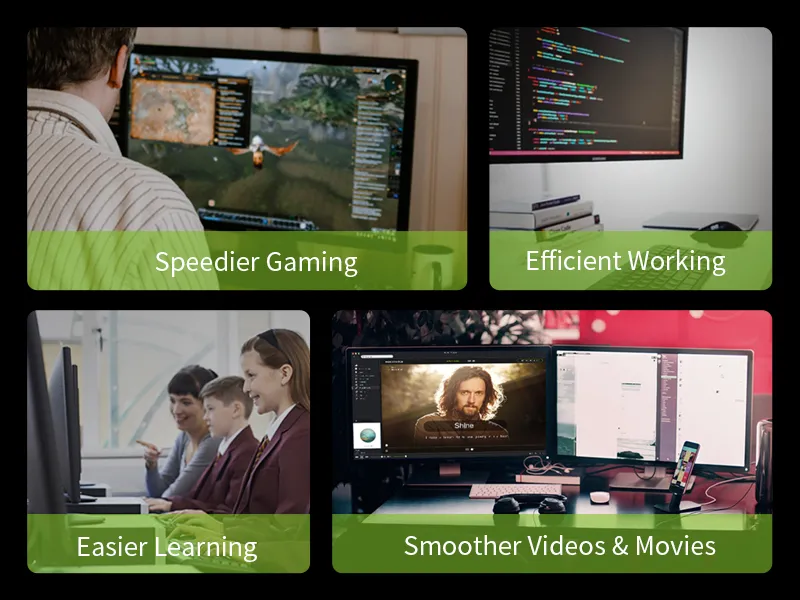 ASUS Phoenix Radeon RX 6400 4GB GDDR6 Graphic Card:
ASUS Phoenix Radeon™ RX 6400 4GB GDDR6 brings ultra high frame rates for today's most popular titles.
Axial-tech fan design features a smaller fan hub that facilitates longer blades and a barrier ring that increases downward air pressure.
Dual ball fan bearings can last up to twice as long as sleeve bearing designs.
A stainless steel bracket is harder and more resistant to corrosion.
A 144-hour validation program puts cards through a series of stringent tests to ensure compatibility with the latest games
Auto-Extreme Technology uses automation to enhance reliability.
Packs a Punch:
The ASUS Phoenix Radeon™ RX 6400 derives its name from a high performance output in a robust package. A large single fan takes advantage of our Axial-tech fan design and a dual-ball bearing fan that lasts twice as long as sleeve-bearing alternatives. To raise the bar, each card is manufactured using our fully-automated Auto-Extreme Technology manufacturing process and put through a 144-hour gaming stress test. If you're looking for a long-lasting companion to powe
Axial-tech Fan Design:
Better, faster, stronger
A large Axial-tech fan features a smaller hub that facilitates longer blades and a barrier ring to increase downward air pressure.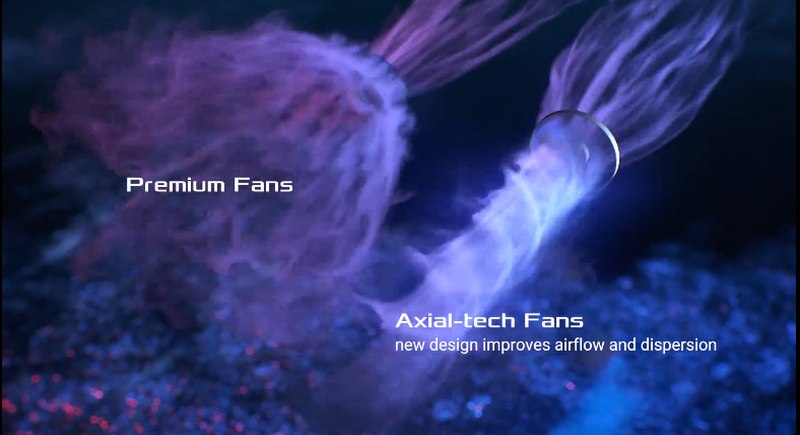 Dual Ball Fan Bearings:
2x longer lifespan:
Different bearing types have unique pros and cons. Ball bearings excel at durability and can last up to twice as long as sleeve bearing designs.
Auto-Extreme Technology:
Precision automated manufacturing:
Auto-Extreme Technology is an automated manufacturing process that sets new standards in the industry by allowing all soldering to be completed in a single pass. This reduces thermal strain on components and avoids the use of harsh cleaning chemicals, resulting in less environmental impact, lower manufacturing power consumption, and a more reliable product overall.
Stainless Steel Bracket:
Steel yourself:
The mounting bracket of the Phoenix has been beefed up with 304 Stainless Steel that is harder and more resistant to corrosion.
144-hour Validation Program:
"Extensive" may be an understatement:
Each card must meet rigorous performance and reliability standards before it ships. Performance and stress tests are run with the latest chart-topping titles like Fortnite, League of Legends, Overwatch, and PlayerUnknown's Battlegrounds. We also carry out reliability trials that include a 144-hour stability test and a series of 3DMark benchmarking runs to ensure the card performs well when pushed to the limits.
AMD Radeon™ Software:
Change the way you game:
The latest Radeon™ Software unleashes the full potential of your GPU with day-0 drivers optimized for new game releases and a highly customizable gaming experience.
Antec NX291 4Fan Gaming Case + Antec Atom V550 PSU:
the NX291 mid-tower gaming case offers a range of features such as USB 3.0 connectivity, multiple storage drive bays, room for expansion, and includes 3 front RGB fans and 1 rear fan. It supports a 360 mm liquid cooling radiator in front and is easy to build and cool.
Net Weight: 4.5 kgs
Gross Weight: 5.3 kg