Computer Components
Asus Prime H610-K-D4 Gaming Motherboard
Intel Core I3-12100F Processor
8GB DDR4 P3200Mhz HP V6 CL16
Asus GeForce GTX 1660Ti EVO
Case Antec NX292 4Fan(3*120M ARGB) (1*120M)Normal+PSU Antec Atom V550
Intel Core I3-12100F Processor - Asus Prime
H610M-K-D4 Motherboard - Lexar 256GB M.2 SSD -
HP V6 CL16 8 Gb DDR4 P3200Mhz Ram - Asus
GTX1660Ti EVO 6GB GDDR6 Graphic Card - Antec
NX292 4Fan Gaming Case + Antec Atom V550 PSU
Intel Core I3-12100F Desktop Processor:
Intel designs advanced, high-performance processors of applications including enterprise-scale servers, , laptops, desktops, workstations, and mobile devices. You can find information, specifications, downloads, and support for each processor by selecting a Processor family.
Essentials:
Product Collection 12th Generation Intel® Core™ i3 Processors
Code Name Products formerly Alder Lake
Vertical Segment Desktop
Processor Number i3-12100F
Status Launched
Launch Date Q1'22
Lithography Intel 7
Use Conditions PC/Client/Tablet
Advanced Technologies:
Intel® Gaussian & Neural Accelerator 3.0
Intel® Thread Director No
Intel® Deep Learning Boost (Intel® DL Boost) Yes
Intel® Optane™ Memory Supported ‡ Yes
Intel® Speed Shift Technology Yes
Intel® Turbo Boost Max Technology 3.0 ‡ No
Intel® Turbo Boost Technology ‡ 2.0
Intel® Hyper-Threading Technology ‡ Yes
Intel® 64 ‡ Yes
Instruction Set 64-bit
Instruction Set Extensions Intel® SSE4.1, Intel® SSE4.2, Intel® AVX2
Idle States Yes
Enhanced Intel SpeedStep® Technology Yes
Thermal Monitoring Technologies Yes
Intel® Volume Management Device (VMD) Yes
Security & Reliability:
Intel® Standard Manageability (ISM) ‡ Yes
Intel® AES New Instructions Yes
Secure Key Yes
Intel® OS Guard Yes
Execute Disable Bit ‡ Yes
Intel® Boot Guard Yes
Mode-based Execute Control (MBEC) Yes
Intel® Control-Flow Enforcement Technology Yes
Intel® Virtualization Technology (VT-x) ‡ Yes
Intel® Virtualization Technology for Directed I/O (VT-d) ‡ Yes
Intel® VT-x with Extended Page Tables (EPT) ‡ Yes
Asus Prime H610-K-D4 Gaming Motherboard:
Intel® LGA 1700 socket: Ready for 12th Gen Intel® processors
Comprehensive cooling: PCH heatsink and Fan Xpert
Ultrafast connectivity: 32Gbps M.2 slot, Realtek 1 Gb Ethernet and USB 3.2 Gen 1 support
5X Protection III: Multiple hardware safeguards for all-round protection.
Prime:
The ASUS Prime series of motherboards are designed to fully support the 12th Generation Intel® processors. They feature a powerful power design, advanced cooling solutions, and easy-to-use software and firmware for tuning performance. The Prime H610 model in particular offers a range of performance tuning options for users and PC builders.
FLEXIBILITY:
The ASUS Prime series of motherboards, including the Prime H610 model, offers comprehensive controls for tuning and optimizing system performance. These flexible tools allow for fine-tuning of every aspect of the system to match the user's specific needs and work style, resulting in increased productivity.
Intelligent Control: All-Around Energy Efficiency:
The Prime H610 motherboard has an Energy Processing Unit (EPU) which automatically manages power consumption to optimize efficiency and save energy. The EPU has an "Away mode" feature that creates an energy-saving scenario by shutting down any unused I/O controllers, thus maximizing energy savings. This feature is designed to provide a smart and easy way to save energy and reduce power consumption.
Advanced Tuning for Serious Tweakers:
The Prime H610 motherboard offers an intuitive Advanced mode through its UEFI (Unified Extensible Firmware Interface) BIOS, which allows users to take full control over their system settings. This mode includes a built-in search feature that makes it easy to find specific options, as well as advanced functions that allow for fine-tuning of performance settings to suit the user's needs. The advanced mode is designed to provide a comprehensive, easy-to-use interface for users to make nuanced adjustments to their system's performance.
PERFORMANCE:
The Prime H610 series motherboards are designed to fully support the additional cores and increased bandwidth of the 12th Generation Intel® processors. ASUS H610 motherboards provide all the basic features necessary to boost productivity and performance. The motherboard offers stable power delivery, efficient cooling solutions, and flexible data transfer options. These features are designed to ensure that the system is ready for any task and can handle the demands of the 12th Generation Intel® processors.
Storage: M.2 slot (up to 32 Gbps):
The Prime H610M-K D4 model of the ASUS Prime H610 series motherboards offers one M.2 slot that supports high-speed data transfer of up to 32 Gbps through the PCIe 3.0 interface. This allows for faster boot-up and application load times when using an OS or application drive. The M.2 slot enables faster storage access and more efficient data transfer, which can improve system performance and productivity.
Connectivity PCIe® 4.0:
The Prime H610 motherboards are specifically designed for the 12th Generation Intel® Core™ processors and provide PCIe® 4.0 connectivity for the newest graphics cards. The wide bandwidth and high-speed transmission capabilities of PCIe 4.0 allow for a feature-rich build that can handle heavy loads and demanding tasks with ease. This makes the motherboard ideal for high-performance systems that require fast data transfer and high-end graphics capabilities.
HP V6 CL16 8 Gb DDR4 P3200Mhz Ram:
DDR4 overclocking DRAM memory module, high performance gaming experience. Overclocking enhances gaming experience with immediate lag-free response.
Top quality DRAM IC sorting ensuring reliability and durability. With high-quality DRAM ICs carefully sorted, it has passed most rigorous tests to guaranty overclocking ability in a stable manner.
Efficient heat dissipation, enhancing performance. The heatsink is made of top-grade aluminum , which allows better thermal conductivity, keep DRAM ICs cool by improving heat dissipation efficiency.
Cool appearance, tech-savvy's choice. With its aggressive looks and performance to back up, V6-series comes in distinctive choice of colors (black, blue and red) which corresponds to different clock speeds.
Individually tested, widely compatible. It has passed compatibility testing with a wide variety of performance motherboards to ensures long-term reliability and stable operation.
Uncompromised high performance. The new generation of DDR4 memory, is available in densities of 8GB and 16GB, and clock speeds ranging from 2400 through 3600MHZ to meet and exceed expectations from most demanding gamers and enthusiasts who want to reach the maximum potential of his PC system.
Lexar 256GB M.2 SSD:
256GB LEXARLNM620SSD Designed for intensive workloads, the Lexar NM620M.2 2280 PCIe Gen3x4 NVMe SSD offers the next level of performance for fast lanes with read speeds up to 3300MB / s and speeds of 3000MB / s... It features the PCIe Gen3x4 NVMe 1.4 technology standard and is designed with the latest 3D NAND flash.
Asus GeForce GTX 1660Ti EVO OC Edition 6GB GDDR6 Graphic Card:
The GeForce GTX 1660Ti is built with the breakthrough graphics performance of the award-winning NVIDIA Turing™ architecture.
Broadcast your gameplay with the GTX 1660 Ti's dedicated hardware encoder that is optimized for Open Broadcaster Software (OBS).
GeForce Experience lets you capture and share videos, screenshots, and livestreams with friends, keep GeForce drivers up to date, and easily optimize your in-game settings.
OC edition: Boost clock: 1845 MHz (OC mode)/ 1815 MHz (Gaming mode)
Space-grade lubricant brings the durability of dual ball bearings to quieter sleeve bearing designs.
Direct CU II copper heat pipes make direct contact with the die for better cooling.
Auto-Extreme Technology uses automation to enhance reliability.
144-hour validation program puts cards through a series of stringent tests to ensure compatibility with the latest games.
TUF compatibility testing runs cards through a suite of tests to ensure TUF Gaming motherboards, chassis, and other TUF Gaming alliance components work together flawlessly.
GPU Tweak II provides intuitive performance tweaking and thermal controls.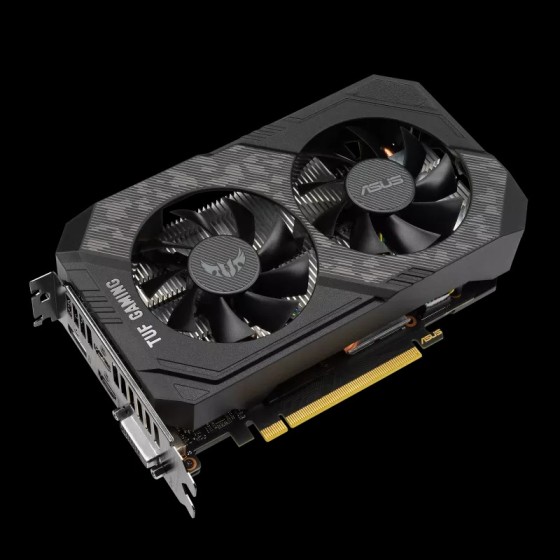 Built TUF:
The TUF Gaming GeForce GTX 1660 SUPER stacks an arsenal of weapons that bring reliable 3D horsepower to the TUF Gaming ecosystem. Each card is built using Auto-Extreme manufacturing, protected by a rigid backplate that prevents PCB flex, and features fans with space-grade lubricant that are sealed to IP5X standards. And it's all backed by a rigorous battery of validation tests to ensure compatibility with the latest TUF components. If you're looking for the tank of graphics cards, lock and load your rig with the TUF.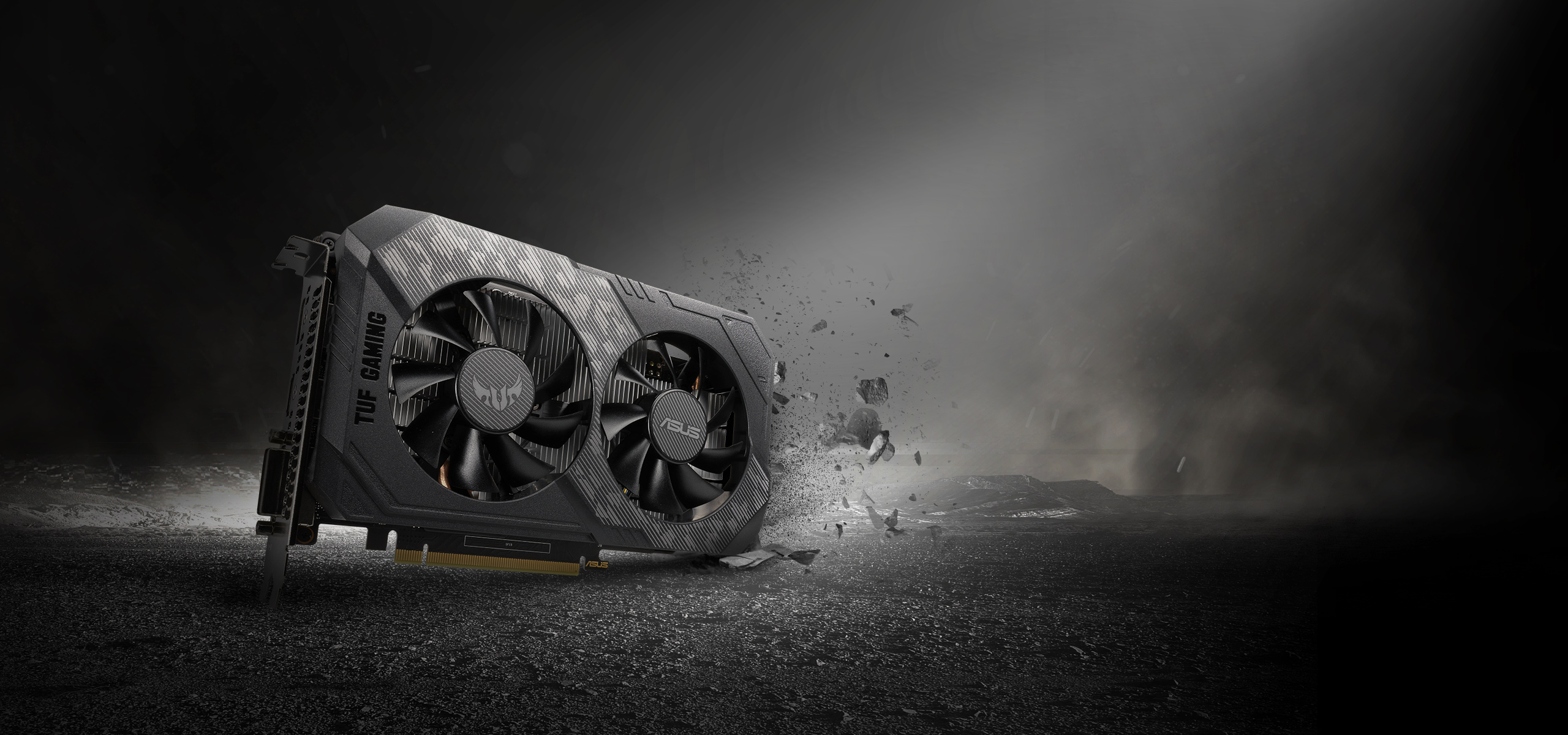 IP5X Dust Resistance:
Keep it clean: Dust is enemy number one for fans. It's easy to clean the blades, but taking the fan apart to remove dust that has made its way inside is not a simple task. IP5X certification keeps nasty particulates out of the housing, so you'll never need that deep clean.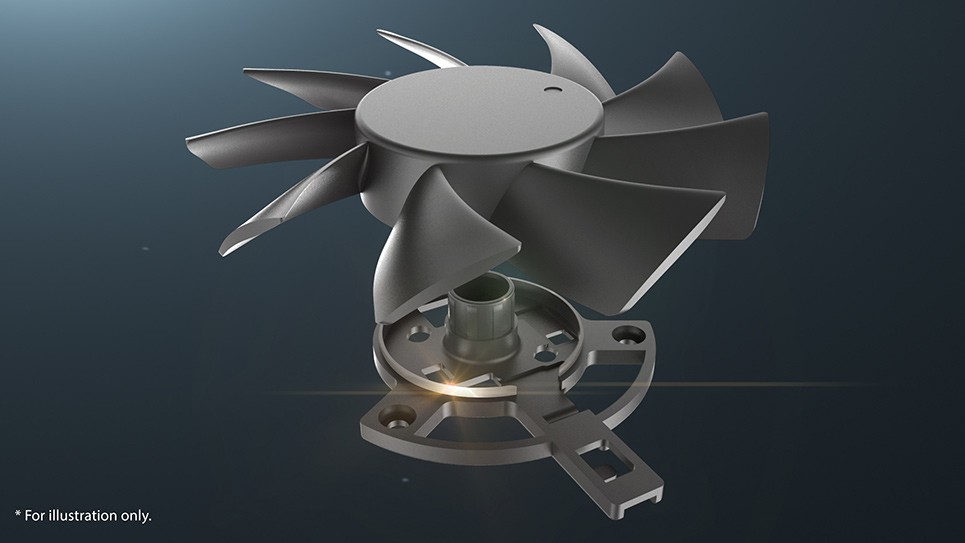 Auto−Extreme Technology:
Precision automated manufacturing: Auto-Extreme Technology is an automated manufacturing process that sets new standards in the industry by allowing all soldering to be completed in a single pass. This reduces thermal strain on components and avoids the use of harsh cleaning chemicals, resulting in less environmental impact, lower manufacturing power consumption, and a more reliable product overall.

GPU Tweak II:
Monitor, tweak, and tune: The ASUS GPU Tweak II utility takes graphics card tuning to the next level. It allows you to tweak critical parameters including GPU core clocks, memory frequency, and voltage settings, with the option to monitor everything in real-time through a customizable on-screen display. Advanced fan control is also included along with many more features to help you get the most out of your graphics card.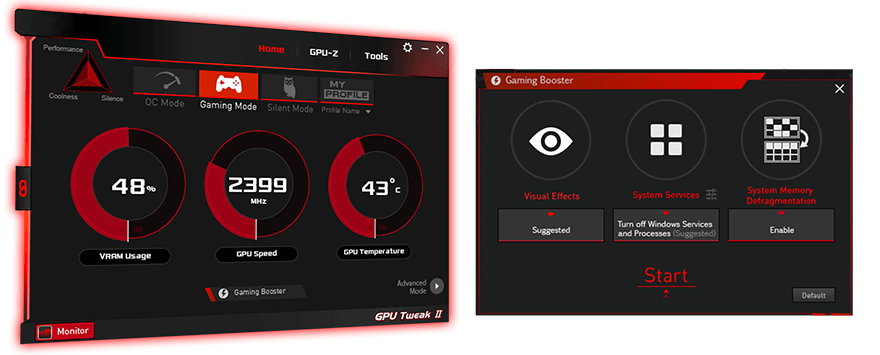 144−Hour Validation Program:
Extensive may be an understatement: Each card must meet rigorous performance and reliability standards before it ships. Performance and stress tests are run with the latest chart-topping titles like Fortnite, League of Legends, Over watch, and Player Unknown's Battlegrounds. We also carry out reliability trials that include a 144-hour stability test and a series of 3DMark benchmarking runs to ensure the card performs well when pushed to the limits.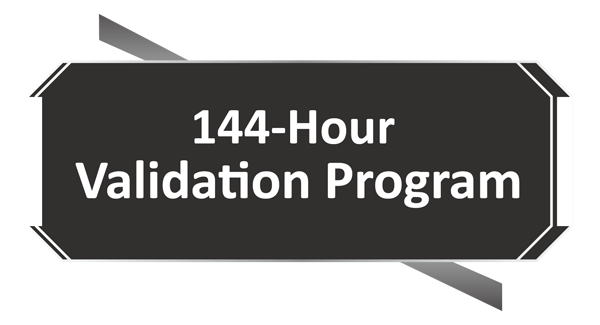 Antec NX292 4Fan Gaming Case + Antec Atom B650 PSU:
The NX292 mid-tower gaming case seamlessly integrates a range of sought-after features, such as USB 3.0 ports, ample storage drive bays, and room for expansion. It also includes 3 pre-installed 120mm fixed-mode RGB fans in the front and 1 120mm fan in the rear. It also offers support for a 360mm liquid cooling radiator in the front and is easy to assemble and keep cool.
Net Weight: 4.5 kgs
Gross Weight: 5.3 kgs