Printer Specification
Copy ,
Email ,
Fax ,
Print ,
Scan
1 Hi-Speed USB 2.0; 1 rear host USB; 1 Front USB port; Gigabit Ethernet LAN 10/100/1000BASET network; 802.11b/g/n / 2.4 / 5 GHZ Wi-Fi radio
HP MFP-M428FDW
Laser Jet Pro Printer
This printer offers a range of functions including printing, copying, scanning, and faxing, along with the convenience of dual-band Wi-Fi. It has a fast print speed of up to 40 pages per minute for black documents. The hp printer supports automatic duplex printing and includes scan-to features. It is equipped with a 50-sheet automatic document feeder and comes with two standard paper trays. One of the standout features is its exceptional security, which can detect and prevent attacks. Additionally, the printer has dynamic security enabled.
Succeeding in the business world requires working efficiently. The HP LaserJet Pro MFP M428 printer is specifically designed to help you optimize your time, allowing you to focus on growing your business and outperforming your competitors.
Ideal for large companies, small businesses, and business groups, HP Office Laser MFPs are engineered to enhance productivity, streamline workflows, and minimize expenses.
The HP MFP-M428FDW printer is built to operate exclusively with cartridges that feature either new or repurposed HP chips. Through dynamic security measures, this printer is capable of preventing the usage of cartridges that contain non-HP chips. Regular firmware updates are implemented to ensure the effectiveness of these security measures and to block cartridges that were previously functioning.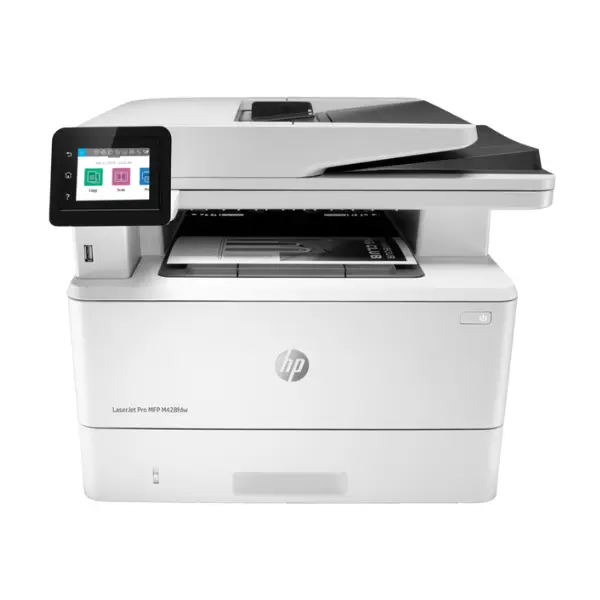 Designed to help you and your business grow:
The HP LaserJet Pro MFP M428 printer offers the convenience of scanning files directly and saving them to various cloud storage platforms such as Microsoft® SharePoint, Google Drive, and Dropbox. It also allows you to save files to email, USB drives, and network folders. By automating complex workflows with a single button press, you can save valuable time. Additionally, the printer supports wireless printing, even when offline, and ensures seamless connectivity through dual-band Wi-Fi and Wi-Fi Direct. With cloud printing capabilities, you can securely print from any device to any HP printer from virtually anywhere, making printing tasks easy and accessible.
Best-in-class security - detect and stop attacks:
The HP MFP-M428FDW printer is equipped with a range of built-in security features to safeguard it against potential attacks. These security measures help protect sensitive information by offering optional features such as PIN authentication or print-on-demand jobs. In the event of security issues, immediate notifications are provided, enabling prompt action to prevent any potential threats. For enhanced security management across your hp printer fleet, the optional HP Jet Advantage Security Manager is available, allowing you to efficiently and effectively protect your printers.
Simple design to make your day easier:
Setting up and managing the MFP-M428FDW is a breeze, enabling you to enhance printing efficiency. The user-friendly 2.7-inch (6.8 cm) color touchscreen provides a simple and intuitive interface, allowing you to complete tasks quickly and effortlessly. With the capability to print Microsoft Office documents and PDF files directly from a USB drive, you can conveniently access and print your files without any disruptions. Designed to streamline your work and boost productivity, HP LaserJet MFPs minimize interruptions and provide a hassle-free printing experience.
Sustainability is smart business.
By using genuine HP toner cartridges, you can eliminate frustrating reprints, unnecessary consumption of consumables, and minimize help desk calls. These cartridges are designed to promote paper-saving practices from the moment they are installed, helping you reduce paper waste. The printer's duplex printing option is conveniently set to paper save mode by default, further optimizing resource usage. Compared to previous products, you can achieve cost savings of up to 22% with this printer. Additionally, the HP Auto-on/Auto-off technology contributes to energy savings by automatically powering on and off the printer as needed.