Printer Specification
Copy ,
Email ,
Fax ,
Print ,
Scan
1 Hi-Speed USB 2.0;1 rear host USB; 1 Front USB port; Gigabit Ethernet LAN 10/100/1000BASET network
HP
MFP-M428FDN
LaserJet Pro Printer
Print, copy, scan, fax.
Print speed: Up to 40 pages per minute (black and white).
Automatic two-sided printing. scan function. 50-sheet automatic document feeder. Two paper trays (standard).
Best-in-class security system that detects and prevents attacks.
Printers with dynamic protection.
The HP MFP-M428FDN LaserJet Pro printer is a smart choice for businesses looking to improve their workflow and stay ahead of the competition. This high-performance printer is designed for large enterprises, small businesses, and business groups to increase productivity, streamline operations, and reduce costs.
To ensure optimal performance and security, this printer is only compatible with cartridges containing new or refurbished HP chips. Includes dynamic security measures to prevent the use of cartridges with chips from other manufacturers. Firmware updates are released periodically to maintain these security measures and prevent previously compatible cartridges from becoming inoperable.
In short, the HP MFP-M428FDN LaserJet Pro is a smart investment for businesses looking to work smarter, be more efficient and stay competitive. Its advanced features and security measures keep your business running smoothly and securely.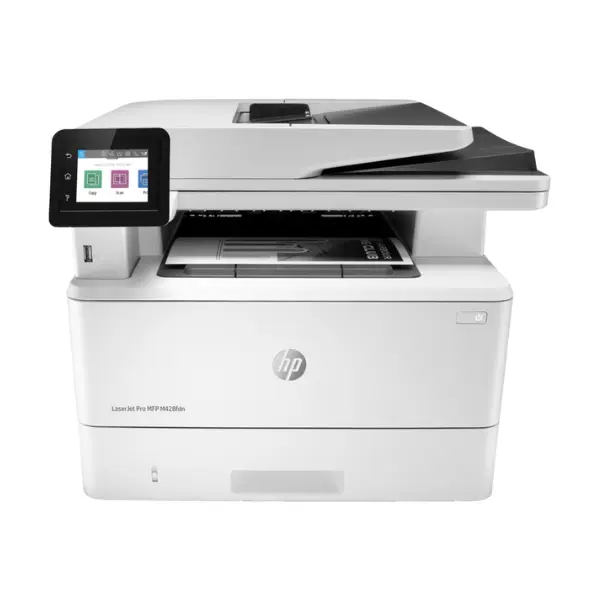 Designed to help you and your business grow:
Simplify the process of transferring files to different destinations like Microsoft® SharePoint, Google Drive, Dropbox, email, USB, and network folders by conveniently scanning them directly. Optimize your workflow by automating intricate tasks with a simple press of a button. Seamlessly print from any location to an HP printer through the cloud, ensuring ease and security.
Best-in-class security - detect and stop attacks:
The LaserJet Printer, model MFP-M428FDN by HP, incorporates a comprehensive set of integrated security features to protect against potential attacks. Safeguard the confidentiality of sensitive data by utilizing options such as PIN authentication and print-on-demand jobs. Stay informed about any security issues through real-time alerts, enabling you to take immediate action to prevent potential attacks. Simplify and enhance the security of your entire printer fleet by considering the optional HP Jet Advantage Security Manager.
Simple design to make your day easier:
Experience quick and hassle-free setup of the HP MFP-M428FDN LaserJet Pro Printer and efficiently manage device settings to optimize your printing operations. The intuitive 2.7-inch (6.8 cm) color touchscreen interface ensures effortless task completion with ease. Enjoy uninterrupted printing of Microsoft Office documents and PDF files directly from a USB drive, streamlining your workflow. Designed for simplicity and enhanced productivity, this printer is tailored to simplify your work processes.
Sustainability is smart business:
By opting for authentic HP toner cartridges, you can prevent the frustration of reprints, minimize unnecessary consumption of supplies, and reduce the need for frequent help desk calls. These toner cartridges come with a default duplex printing option, allowing for paper-saving mode and minimizing paper usage. Compared to earlier versions, these cartridges offer savings of up to 22%. Moreover, the inclusion of HP Auto-on/Auto-off technology enables energy conservation, further enhancing the eco-friendliness of your printing experience.