Printer Specification
Hi-Speed USB 2.0 port; Built-in Fast Ethernet 10/100 Base-TX network port; 802.11n 2.4/5GHz wireless; Fax port
HP MFP-M183FW
Color LaserJet Pro Printer
The HP MFP-M183FW is a versatile multifunction printer (MFP) designed to enhance productivity and efficiency. It offers a wide range of features and wireless connectivity, enabling seamless printing and scanning from various devices, including smartphones via the HP Smart app. By utilizing Smart Tasks, you can simplify repetitive tasks like scanning to email, saving valuable time. Furthermore, this MFP-M183FW model also incorporates a fax capability, providing added flexibility and functionality.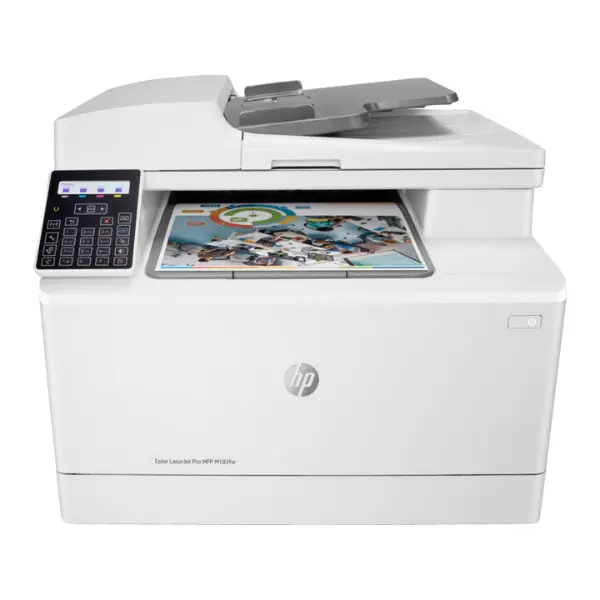 Freedom to work anywhere:
The HP Smart app offers a user-friendly and effective solution for managing your printing requirements directly from your smartphone or tablet. By utilizing Smart Task shortcuts, you can optimize frequently performed tasks, like scanning documents and sending them via email or saving files to your preferred cloud storage, all with a few simple taps. This convenient feature helps streamline your printing experience and enhances efficiency.
HP quality and performance you can trust:
Designed to deliver exceptional printing performance, the HP MFP-M183FW offers superior color output that meets your highest printing standards. Its multifunctional capabilities encompass printing, scanning, copying, and faxing, allowing you to efficiently manage a diverse array of tasks using a single device. This versatile machine ensures that all your printing needs are met while maintaining consistent quality across various functions.
Fundamentals of security, reliable communication:
Equipped with essential security features, the HP MFP-M183FW Printer prioritizes privacy and control to safeguard your data effectively. It incorporates fundamental encryption and password protection mechanisms, ensuring the security of your sensitive information. These measures are particularly valuable when sharing the printer with others, as they help maintain the confidentiality of your data and provide you with peace of mind.
Get high-quality wireless color printing and smart mobility and security solutions:
Best-in-class mobile printing apps:
With the user-friendly HP Smart app, printing and scanning from your mobile device, whether it's an iPhone, iPad, or Android smartphone or tablet, becomes effortless. Simply by tapping a few options, you can conveniently access your printer, check ink levels, monitor print jobs, and perform other essential tasks. The intuitive nature of the app ensures a seamless printing experience, putting control and convenience at your fingertips.
Automate your scanning tasks and save time:
By utilizing the Smart Tasks feature within the HP Smart app, you can significantly simplify repetitive tasks by creating personalized shortcuts. This innovative functionality enables you to automate common actions, including scanning documents and saving them to your preferred cloud storage or sending them via email, all with minimal effort. With just a few taps, Smart Tasks streamlines your workflow and boosts efficiency, saving you valuable time and effort.
Powerful printing. Energy smart:
Opting for Original HP Toner cartridges featuring JetIntelligence is an excellent choice for guaranteeing exceptional color quality and optimal printing performance with your HP MFP-M183FW printer. By utilizing these cartridges, you can ensure that you achieve the highest standards of printing output, delivering vibrant colors and superior results. It's a reliable and efficient solution to maximize the potential of your printer.
Learn the Basics - Print, Scan, Copy, Fax:
Engineered to be a versatile and efficient printing solution, the HP MFP-M183FW is designed to meet all your printing requirements. Its multifunction capabilities, encompassing printing, scanning, copying, and faxing, enable seamless handling of a diverse array of tasks using a single, all-in-one device. This streamlined approach simplifies your workflow, offering convenience and productivity in one compact package.
Make every print faster:
With its emphasis on speed and efficiency, the HP MFP-M183FW is a high-performance printer that offers rapid print speeds, ensuring swift completion of your business document printing tasks. This accelerated printing capability not only saves you valuable time but also enhances overall productivity, particularly when dealing with a substantial volume of documents that require printing. The MFP-M183FW is engineered to deliver prompt and efficient results, enabling you to optimize your workflow effectively.
Simple and intuitive control panel:
Equipped with a user-friendly control panel, the HP MFP-M183FW simplifies access and management of all the printer's functions and features. Its intuitive controls and well-designed interface allow you to effortlessly navigate and utilize the printer's capabilities. This means you can conveniently print documents directly from the control panel, eliminating the requirement for a computer. The MFP-M183FW ensures a seamless and independent printing experience, putting control at your fingertips.
It's on when you need it and off when you don't.:
With a focus on energy efficiency, the HP MFP-M183FW is intelligently designed to incorporate HP Auto-On/Auto-Off Technology. This innovative feature ensures that the printer automatically powers on when required and powers off when not in use, effectively conserving energy. By implementing this technology, the MFP-M183FW helps reduce energy consumption, contributing to a more sustainable printing solution while minimizing your environmental footprint.
Ready to help protect your business:
The HP MFP-M183FW integrates several security measures to uphold privacy and control. Notably, it incorporates fundamental encryption protocols that safeguard sensitive information during transmission, bolstering data protection. Additionally, password protection is implemented to deter unauthorized access and fortify control over the printer. These comprehensive security features work together to ensure the confidentiality and integrity of your printing environment, mitigating potential risks and enhancing peace of mind.
Your reliable connection:
Equipped with dual band Wi-Fi, the HP MFP-M183FW offers enhanced connectivity compared to single band Wi-Fi alternatives. Dual band Wi-Fi operates on both the 2.4 GHz and 5 GHz frequencies, providing faster and more reliable connections. This flexibility allows you to select the optimal frequency for your network, tailored to meet your specific requirements. The inclusion of dual band Wi-Fi in the MFP-M183FW ensures seamless and efficient wireless connectivity for a variety of printing and scanning tasks.
No network, no problem:
The HP MFP-M183FW incorporates the convenient "HP Smart app" feature, enabling direct connection between your smartphone or tablet and the printer, bypassing the need for a network. This functionality simplifies the printing process by allowing you to print documents, photos, and various content directly from your mobile device, eliminating the step of transferring files to a computer. With the HP Smart app, you can effortlessly print your desired materials, enhancing convenience and streamlining your printing experience.