Printer Specification
Print, Copy, Scan, Fax ,
Wi-Fi
Up to 19 ppm, Color (normal) Up to 4 ppm
Hi-speed USB 2.0 port, Fast Ethernet 10/100Base-Tx network port, Dual band Wireless 802.11 b/g/n
HP MFP-179FNW
Color Laserjet Printer
Experience the convenience of a compact all-in-one printer that offers high-quality printing, scanning, copying, and faxing capabilities. With print speeds of up to 19 ppm in black and 4 ppm in color, you can quickly produce your documents. The printer features dual band Wi-Fi connectivity and a 150-sheet paper tray as standard, making it easy to print and scan directly from your mobile phone using the HP Smart App.
HP MFP-179FNW are specifically designed to meet the needs of individuals or small workgroups seeking an affordable, reliable, and versatile desktop device. Despite their compact size, these printers deliver efficient performance and produce professional-quality color prints, scans, copies, and faxes.
To ensure the security of your hp printer, it is equipped with dynamic security features. It only works with ink cartridges that contain an original HP chip. Cartridges from other manufacturers may not be compatible, and even current cartridges may not be supported in the future.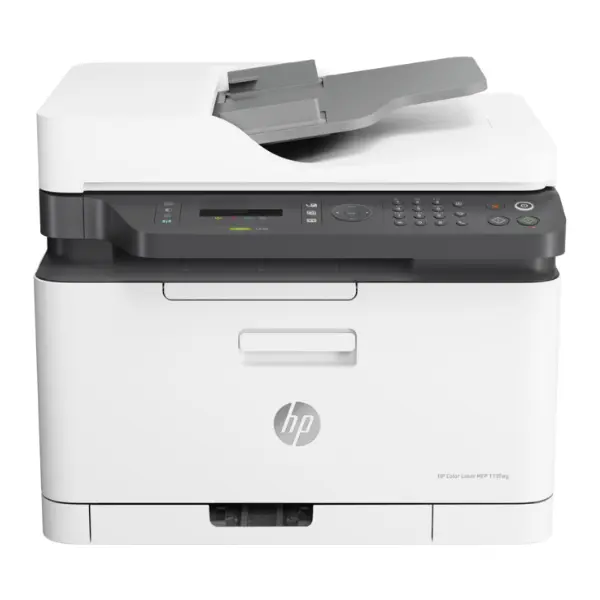 Legendary quality, affordable price:
Experience exceptional print quality with this compact laser printer that consistently delivers sharp text, rich blacks, and vibrant color graphics. Enjoy high-performance printing at an affordable price, allowing you to achieve professional results without breaking the bank. Stay connected without interruptions, thanks to the self-healing Wi-Fi feature that ensures a reliable wireless connection.
Designed to fit your space:
Boost your productivity with the world's smallest in-class compact MFP. This efficient device offers print speeds of up to 19 ppm in black and 4 ppm in color. Experience the convenience of hands-free operations as you effortlessly print, scan, copy, and fax using the 40-page automatic document feeder (ADF). Take advantage of HP Voice-activated printing, which allows you to seamlessly interact with your printer using popular voice assistants such as Amazon Alexa, Google Assistant, and Microsoft Cortana.
Print and scan easily on the go with the HP Smart app:
Effortlessly set up, print, and scan directly from your smartphone using HP Smart, the leading mobile printing app in the industry. Enjoy the convenience of printing wirelessly from a wide range of smartphones and tablets. Seamlessly share resources and access printing capabilities through wireless and Ethernet networks. Furthermore, you can connect your smartphone or tablet directly to the printer, enabling easy printing without the need for network access.
Uncompromising Laser Quality:
Despite its compact size, this laser printer delivers outstanding print quality on every page. Experience crisp, sharp black text and high-quality color output that brings your graphics to life. Whether you're printing text documents or vibrant graphics, this hp printer ensures exceptional clarity and precision.
appropriate price:
Reliable and affordable, these laser printers offer powerful performance. Enjoy the convenience of using the HP Smart app to effortlessly set up, print, and scan directly from your smartphone. Experience the flexibility and ease of managing your printing tasks using your handheld device.
Your device, your choice:
Simplify printing from a wide range of smartphones and tablets with ease. Extend your printing capabilities by accessing resources and effortlessly printing using both wireless and Ethernet networks. Enjoy the convenience of seamless printing across multiple devices, expanding your printing options for increased flexibility.
No network, no problem:
Establish a direct connection between your smartphone or tablet and the printer, enabling seamless printing without the need to connect to a network. Enjoy the convenience of effortlessly printing directly from your mobile device without requiring network access.
Fast printing:
Get print pets up to19/4 ppm.
Hands-free productivity:
Experience convenient, hands-free operations for printing, scanning, copying, and faxing tasks with the 40-sheet automatic document feeder (ADF). This feature allows you to perform these functions without the need for manual intervention, enhancing efficiency and convenience.
Simple, intuitive control panel:
Enjoy fast and hassle-free printing and faxing directly from the intuitive control panel. With a user-friendly interface, you can easily access the printing and faxing functions without any complications, making the process quick and straightforward.
Attack the rudiments:
Experience versatile performance with the ability to print, scan, copy, and fax with ease. Enjoy the flexibility of this multifunction device, allowing you to perform various tasks efficiently and conveniently.
Small, compact size:
Thanks to its small and compact design, this MFP can fit into almost any space, making it highly versatile and convenient for placement in various environments.