HP M211D
LaserJet Printer
The HP M211d is a compact laser printer specifically designed to enhance productivity and streamline printing tasks. Its rapid two-sided printing functionality enables time-saving and boosts overall output. Setting up the printer is a breeze thanks to the user-friendly HP Smart app, which allows you to conveniently manage your printer directly from your smartphone or tablet. Furthermore, the printer boasts robust security features to safeguard your confidential data, and the controls are intuitive, ensuring a seamless user experience from the get-go. Whether you're working in a small office or from home, the HP M211d is a fantastic option for efficient and secure printing.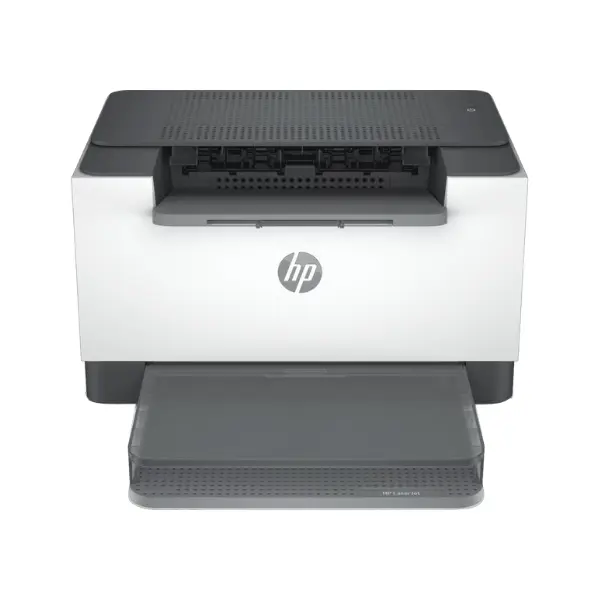 Get to work early. work smart:
Designed to enhance productivity, the HP M211d is a compact laser printer that offers impressive features. One such feature is its fast two-sided printing capability, allowing for efficient printing of double-sided documents. This function proves valuable for individuals and businesses alike, reducing time spent on manual paper flipping and waiting for prints to finish. The printer's compact size is also advantageous, as it takes up minimal space in offices or workspaces, making it an excellent choice for small businesses or home offices. From reports to presentations, the HP M211d ensures quick and efficient printing, enabling you to accomplish your tasks with ease.
Smart ways to save time:
With the HP Smart app, setting up and controlling your HP M211d printer from your smartphone or tablet is a breeze. This app simplifies the process of connecting your printer to your network, enabling you to start printing immediately. It offers convenient shortcuts that grant quick access to frequently used printing options, saving you valuable time. Moreover, the app includes a fax feature that allows you to securely send faxes directly from your device, eliminating the need for a separate fax machine. The HP Smart app presents a user-friendly and convenient interface for effectively managing your HP M211d printer, ensuring you maximize its potential and enhance your overall printing experience.
Solid quality and comfort:
Experience impressive print quality with the HP M211d, delivering sharp, clear, and professional-looking laser prints. Whether it's reports, presentations, or other documents, this printer ensures high-quality results that are sure to impress.
In addition to its remarkable print quality, the HP M211d features smart-guided buttons that enhance user-friendliness. The intuitive interface grants easy access to frequently used printing options, enabling swift and efficient completion of tasks. Regardless of your level of expertise, the smart-guided buttons simplify printer navigation and streamline your workflow. If you're seeking a compact laser printer that offers excellent outcomes and a user-friendly experience, the HP M211d is a top-notch choice.
Moreover, the HP M211d contributes to environmental sustainability by reducing paper waste. Its fast two-sided printing capabilities facilitate double-sided document printing, effectively minimizing paper consumption. Additionally, the printer's compact size ensures energy efficiency compared to larger models, aiding in the reduction of your carbon footprint. HP also offers a selection of recycled and responsibly sourced paper options, further supporting eco-friendly practices. By opting for the HP M211d, you not only enhance productivity and efficiency but also make a positive environmental impact.
Fastest duplex printing speed in its class:
Renowned for its class-leading fast two-sided printing speed, the HP M211d is the perfect choice for those seeking swift and efficient printing. This feature proves particularly advantageous when dealing with extensive multipage documents, allowing for quick completion. By utilizing both sides of the page, the printer not only saves time but also reduces paper waste, delivering cost-effective and environmentally friendly results. Whether you're printing reports, presentations, or various other documents, the HP M211d ensures rapid and efficient printing, making it an excellent option for businesses or individuals requiring timely completion of large print jobs. With the HP M211d, you can accomplish your printing tasks promptly and with ease.
small size. Great performance:
The HP M211d offers a space-saving solution for individuals with limited office or home space, thanks to its compact laser printer design. Its small footprint allows it to be conveniently placed on a desk, shelf, or any other small area, without compromising valuable space. Despite its size, the HP M211d doesn't compromise on performance, delivering fast and high-quality prints with efficiency. Whether you're working in a small office or a home environment, this laser printer is an ideal option for those seeking a compact yet efficient printing solution.
Smooth setting:
In addition to its compact printing capabilities, the HP M211d offers scanning functionality, enabling you to convert your physical documents into digital files for convenient storage and sharing. With its high-quality scanning capabilities, you can expect clear and precise scans that capture all the important details of your documents accurately.
Once you've digitized your documents, sharing them becomes effortless. You can easily distribute them to others through email or popular cloud storage services such as Dropbox, Google Drive, or other similar platforms. This feature enables seamless collaboration on projects and facilitates the sharing of essential information, regardless of your geographical location. The HP M211d's scanning capabilities enhance its versatility for both personal and professional use, while its compatibility with a wide range of sharing options adds further convenience and flexibility.
Amazing scans are now possible with your smartphone:
With its excellent scanning features, the HP M211d enables you to convert your vital documents into digital format. Its precise scans ensure that your documents are accurately captured and preserved.
Sharing your scans is a breeze with the HP M211d, as it provides direct upload functionality to popular cloud storage services like Dropbox, Google Drive, and more. Additionally, you can effortlessly share your scans via email, facilitating collaboration on projects and easy dissemination of crucial information. The HP M211d's scanning capabilities, combined with its versatile sharing options, make it a convenient and adaptable tool suitable for various personal and professional applications.
Increased printing productivity:
Another convenient feature of the HP M211d is its ability to directly print documents and images from your Dropbox and Google Drive accounts. This functionality allows you to access and print files stored in your cloud storage without the need to download them to your computer first. Whether you're in a hurry or on the move, this feature enables you to quickly print important documents or images with ease. The compatibility of the HP M211d with Dropbox and Google Drive enhances its versatility and efficiency, especially for individuals who rely on cloud storage to organize and manage their files and documents.
Legendary laser quality:
Don't be fooled by its compact size—the HP M211d laser printer is surprisingly powerful and capable of consistently delivering high-quality prints. Despite its small form factor, it excels in performance, making it an ideal option for those seeking a compact yet efficient printer that can handle even the most demanding printing tasks. Whether you're running a business, managing a home office, or simply in need of a reliable printing solution, the HP M211d offers exceptional print quality and dependable performance. From reports to presentations and important documents, you can rely on the HP M211d to consistently produce the results you require, time after time.
Smart-guided buttons:
The HP M211d is designed to prioritize user-friendliness, incorporating smart-guided buttons that appear contextually when needed. This thoughtful feature streamlines the printing process and simplifies the management of various tasks like copying, scanning, and faxing. The intuitive nature of these buttons ensures a seamless experience for users of all levels of expertise. With the HP M211d's smart-guided buttons, the printing process becomes effortless, allowing you to effortlessly achieve the desired results. Whether you're an experienced printer user or a beginner, the HP M211d offers an intuitive and user-friendly interface that makes it easy to handle all your printing tasks.
Ready to help protect business:
To safeguard your sensitive information, the HP M211d is equipped with robust security features that prioritize privacy and control. It incorporates basic encryption, ensuring the protection of your data during transmission from your computer to the printer. Furthermore, the HP M211d supports password protection, enabling you to set a password to prevent unauthorized access to the printer and its settings.
With these essential security measures, the HP M211d ensures the safety and security of your confidential information. Whether you're printing sensitive documents or simply want to have peace of mind regarding the protection of your data, the HP M211d delivers the necessary security features. Its commitment to strong security makes it an ideal choice for individuals seeking a reliable and secure printer for their home or office needs.
On when you need it, off when you don't:
The HP M211d is equipped with HP Auto-On/Auto-Off Technology, a smart feature that promotes energy conservation. This technology intelligently turns the printer on when it is required and automatically powers it off when it is not in use. By utilizing this feature, the HP M211d reduces energy consumption, leading to lower energy costs for users.
In addition to energy savings, the HP Auto-On/Auto-Off Technology also contributes to a more sustainable environment by reducing carbon emissions. This eco-friendly approach aligns with the goal of environmental responsibility and makes the HP M211d an excellent choice for individuals who prioritize both performance and efficiency while also being conscious of their environmental impact.
Whether you are using the printer in an office or at home, the HP M211d offers a combination of reliable performance, energy efficiency, and environmental sustainability, making it an ideal choice for those seeking a printer that fulfills their printing needs while also being environmentally responsible.