Printer Specification
Print, Copy, Scan, Fax ,
Wi-Fi
1 USB 2.0; 1 Host USB; 1 Ethernet; 1 Wireless 802.11a/b/g/n; 2 RJ-11 modem ports
HP 9010
Officejet Pro Printer
The HP 9010 Officejet Pro Printer is an innovative and intelligent printing device that adapts to your preferences. It offers convenient shortcuts for tasks, allowing you to save time. With automatic two-sided printing and scanning, seamless communication, and top-notch security features, it provides an enhanced printing experience. You can easily print and scan directly from your smartphone, making it even more convenient. This printer is equipped with dynamic protection mechanisms, ensuring compatibility only with cartridges that have new or repurposed HP chips. Through regular firmware updates, it maintains these security measures, preventing the use of previously functioning cartridges.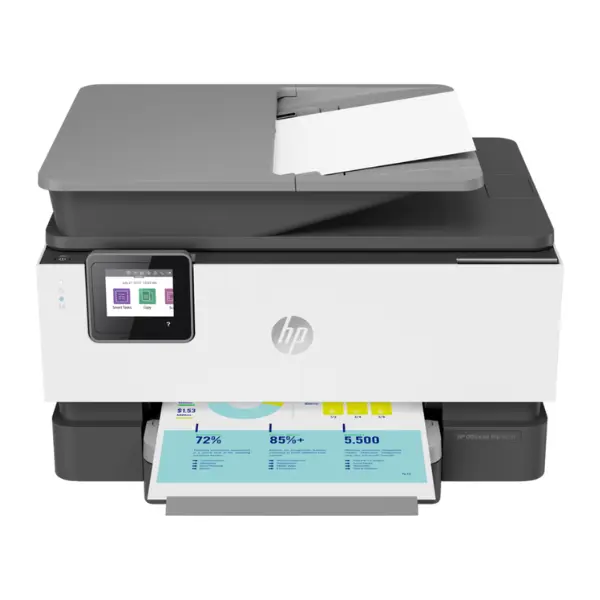 Designed to save you time:
Experience the convenience of automatic two-sided printing and scanning with the HP 9010 Officejet Pro Printer. Save valuable time with the help of Smart Tasks, which streamline your workflow. Additionally, you have the ability to create editable and searchable documents directly from your phone or the printer, enhancing productivity and efficiency.
Freedom to work anywhere:
Achieve productivity on the go with HP Smart, the leading mobile printing app. Enjoy the convenience of printing, scanning, and copying directly from your phone, allowing you to complete your work anytime and anywhere with ease.
Best-in-class security, reliable connections:
Ensure top-notch security measures for privacy and control, and stay seamlessly connected with the Wi-Fi™ self-healing technology provided by the HP 9010 Officejet Pro Printer. Experience the best-in-class security features that prioritize your privacy and give you full control over your printing activities. Additionally, the Wi-Fi™ self-healing technology keeps you connected to your network without interruptions, ensuring a smooth and reliable printing experience.
Ordering ink has never been easier:
With the HP Smart app, you'll receive timely alerts when your ink levels are running low, simplifying the process of ordering new ink cartridges. This feature helps you save time and ensures that you never run out of ink unexpectedly. Furthermore, the HP 9010 Officejet Pro Printer offers time-saving features such as smart tasks and automatic two-sided scanning, enhancing your productivity. Alongside these capabilities, the HP printer also provides best-in-class security measures, giving you peace of mind and protecting your sensitive data.
Customizable shortcuts on your phone or printer:
Skip steps for repetitive tasks with customizable shortcuts in Smart Tasks.
Create editable, searchable documents:
With Smart Tasks in the HP Smart app, you can create scannable and searchable documents from your phone or printer.
Two-sided, hands-free, auto-fed:
Work quickly and hands-free with the automatic document feeder on page 35. Get automatic two-sided printing and scanning.
Ready when you are:
Connect to the cloud using Wi-Fi™ or cellular.
Printing just got more productive:
Quickly access and print documents and photos from Dropbox and Google Drive on your smartphone.
Amazing scanning, now on your smartphone:
Get a high-quality scan and share it to Dropbox, Google Drive, email or the cloud from anywhere.
Your reliable connection:
Minimize interruptions with self-healing Wi-Fi™ technology that keeps you connected.
Best-in-class security:
Get best-in-class security to protect your devices, data and documents.
Worry-free printer support:
Get chatbot support and helpful notifications with the HP Smart app.
Tap, swipe, speed through jobs:
Manage printing, scanning, copying and faxing with a simple touch and swipe on the color touch screen.